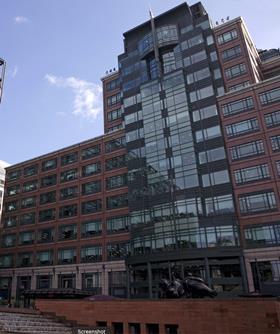 After nearly 30 years, the European Bank for Reconstruction and Development (EBRD) is moving out of its original headquarters, One Exchange Square, a huge office block next to Liverpool Street Station in London. The bank is due to relocate this year to Five Bank Street, a new office tower three miles away in Canary Wharf.
For the owners of One Exchange Square, the expiry of EBRD's lease is an opportunity to overhaul the 1980s building and render it fit for a world grappling with climate change and post-COVID-19 working trends.
In a week when London faced the prospect of 40°C heat, the need to retrofit office buildings and decarbonise the built environment was given a new sense of urgency.
LaSalle Investment Management and development manager M3 Consulting have received a resolution to grant planning permission to redevelop One Exchange Square into a 13-storey scheme with 422,000sqft of workspace and 15,000sqft of retail. The project will be 100% electric and net-zero carbon in operation, and the developers will retain 90% of the existing structure, which they say will have half of the embodied carbon of typical office building of comparable size.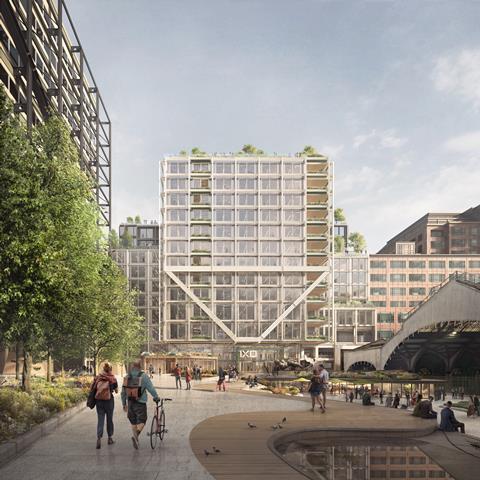 One Exchange Square was acquired in 2012 by Permodalan Nasional Berhad (PNB) from German fund manager KanAm. The Malaysian state-owned institution made the purchase as a core real estate investment. But more recently it has enlisted the help of LaSalle to redevelop the building, placing the investment firmly into value-add territory.
"The business plan for this asset has evolved over time, from a core income strategy into a higher-returning net-zero value-add strategy", says Brett Ormrod, net-zero-carbon lead at LaSalle.
PNB itself has recently introduced a sustainability framework with 10 environmental, social and governance (ESG) 'pillars'. Under the environmental pillar, PNB is committed to achieving a net-zero portfolio by 2050.
One Exchange Square is just one illustrative example of a challenge facing owners of offices across London, the UK and elsewhere. Significant amounts of investment will be needed across swathes of assets to bring them into line with net-zero targets. But this will need to be balanced with financial-performance objectives – as recently explored in the latest edition of IPE Real Assets magazine.
Ormrod says "investment performance was paramount" in the decision to redevelop One Exchange Square. "But it's an object lesson in how financial returns and sustainability can be closely aligned," he says. "We are generating value for our investors by creating a net-zero central London office, which will allow the occupiers to reduce their carbon emissions."
Ormrod, a trained mechanical engineer, joined LaSalle in January this year, having previously led net-zero efforts for Lendlease's urban regeneration projects in the UK. He says LaSalle, a member of the Better Buildings Partnership, is "committed to a refurbishment-first approach" across its portfolio.
"Our refurbishment plans employ circular-design principles which will minimise the use of new construction materials, with more than 10 material types identified for recycling, recovery and reuse from the existing structure," he says. "To put this into perspective, the saving on the steelwork alone equates to around half of that used to construct the Eiffel Tower."
By retaining the building's foundations and 90% of the structure, LaSalle will save approximately 6,800 cubic metres of concrete, avoiding 1,100 truck trips to site. "This translates to a 50% reduction in the building's embodied carbon footprint compared to an industry benchmark for a new building," Ormrod says.
By contrast, the upfront embodied carbon, or the carbon associated with the extraction, manufacture and transportation of a building's construction materials, accounts for around 35% of a newly developed London office, according to research by the Royal Institution of Chartered Surveyors. "In the past, this percentage was typically much lower; however, as the national grid continues to decarbonise through the addition of renewable energy, the share of a building's embodied carbon only grows larger," Ormrod says.
He cites the International Energy Agency, which estimates that two thirds of existing buildings today will still be operating by 2040. "Refurbishments that retain large amounts of the existing structure and envelope will inherently have a lower embodied carbon footprint," Ormrod says. "Ultimately, the strategy of retaining and refurbishing, coupled with improving operational energy performance and electrification of the heating system, will need to be employed at scale if the industry is committed to reaching net zero."