Institutional real estate investors need to start pricing and mitigating physical climate risk now, despite a lack of consistent tools and data, experts told this year's IPE Real Estate Global Conference & Awards in Amsterdam.
Isabelle Scemama, global head of AXA IM Alts, showed how "every second counts" when it comes to decarbonising existing buildings to reach net zero pathways and explained that AXA IM Alts is looking to do this across the 2,400 buildings it owns and manages.
But it was agreed during a panel session that the practice of understanding, reporting on and mitigating climate risk was far behind that of transition risk.
"With transition risk there is now much more evidence that greener or more energy-efficient buildings are showing different indicators in things like rents, vacancy, cap rates and so on," said Steven Devaney, associate professor of real estate appraisal of the University of Reading and the co-author of a recent report on climate risk and commercial property values.
"With physical risk, I think it's interesting because we've got mountains of data on climate change and scenarios but very little information on how differences in exposure to physical risks are being priced."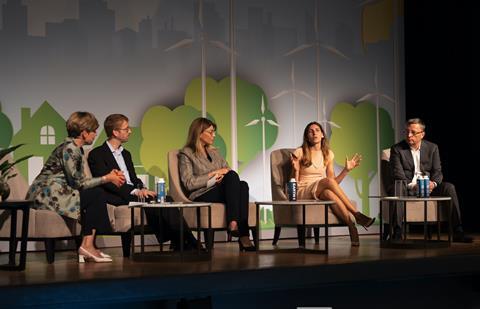 Aleksandra Njagulj, managing director and global head of ESG for real estate at DWS, said the lack of consistent and tools and data was a big challenge for the institutional real estate investment industry.
She said: "How do we measure the resilience of a building and how do we report on the mitigation measures that are in place? What do we have planned to be able to demonstrate to our investors this is the mitigation plan?"
For transition risk, she said, this was "relatively easy" with "established" data and tools, such as the Carbon Risk Real Estate Monitor (CRREM) framework for plotting net-zero pathways.
But despite a proliferation of start-up companies offering "a whole set of tools" to model and mitigate physical risk, these are "not fully aligned and might be using different climate models", she said. "That is the missing piece we really need as an industry."
Christof Reinert, head of risk management partners at Munich Re, said investors need to look at both scenario projections and vulnerability of individual buildings, taking into account new construction practices and local regulations.
"It is the single building to understand, but also the surroundings to understand [and] the governmental impact," he said.
For instance, new buildings can be constructed above the ground to help mitigate flood risk, but if the surrounding area is particular vulnerable to flooding the building might still be rendered inaccessible.
And investors cannot just turn to insurance as the sole method of risk mitigation. "The insurance affordability and the insurance take-up is already changing," he said. "Do you have to reserve your own capital in order to protect your assets?"
The challenge for investors, he said, was to model and measure climate risk consistently and reliably over time. "Climate change has proven that the risk will change over time and, as you better understand it," he said, "the more transparent is your strategy."
Danae Kyriakopoulou, senior policy fellow at the Grantham Research Institute on Climate Change and the Environment at the London School of Economics, warned that investors cannot afford to wait for more clarity and an improvement in the offer of risk mitigation tools and models.
She said: "It all comes back to [Scemama's] first two slides on the conclusions of the IPCC report", which showed that greenhouse gas emissions must peak before 2025 and be reduced by 43% by 2030.
"It is important to keep in mind that, even in the best case scenario 1.5 degree, which is already looking quite out of reach… we will really have to adapt the buildings to be fit for purpose in that kind of world.
"And when you look at the historical trajectory of temperatures, we are already crossing that boundary: we are now already one degree higher – and that is already showing [in, for example, the recent] the floods in Germany. This will affect the real estate stock in the developing countries as well."
Kyriakopoulou admitted that the situation "is very challenging for economic modelling and policy makers and also investors, but it's not something that should hold us back".
She said: "There is this trade-off between do you act with imperfect information or do you wait to have the perfect models? And with climate we just don't have the time."