A debate broke out among institutional investors in Germany last week over whether nuclear should be back on the agenda as part of energy-transition strategies.
Two months after the European Parliament voted against excluding nuclear and gas from the EU Taxonomy for sustainable activities, speakers and delegates at the IPE Real Assets & Infrastructure Global Investor Conference in Munich addressed the question head on.
Sama Bilbao y León, director general of the World Nuclear Association, sought to correct what she said were misconceptions about the energy source.
"It is not a very well-known fact that in OECD countries and in Europe, in particular, nuclear energy today – and for several decades – has been the largest source of low-carbon electricity," she said.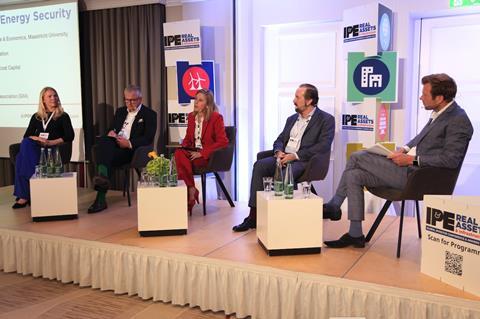 Bilbao y León faced probing questions from the audience, including those relating to the experience of the Fukushima nuclear disaster in Japan and whether the potential costs of accidents are factored into investments.
"Nuclear energy is the safest form of energy production," she said. "If you look at the fatalities, if you look at the environmental impacts of the use of nuclear energy, at a global level it is the safest."
But support for nuclear did not only come from the industry's trade body. Investors more associated with renewable energy recognised that a range of solutions needed to be considered if Europe was to transition to a net-zero economy.
"Nuclear energy is actually being classified as a clean energy source, so from our perspective, as energy market specialists, we actually see that as a great addition," said Karin Kaiser, head of private markets for Europe at Greencoat Capital, a renewables fund managed acquired by Schroders Capital last year.
The openness to considering nuclear varied among investors, she said, with "some who like the proposition" and others preferring to back the development of hydrogen technology. "But the truth also is that we don't know when hydrogen will be ready to actually take that role and complement renewables in the energy mix."
Lawrence Slade, CEO of the Global Infrastructure Investor Association (GIIA), said: "The response I get when we talk about nuclear is there is an interest in it… but from an industry perspective there are still very big questions over how it fits into an ESG portfolio.
"One of the things certainly the big pension funds are getting is a lot of pressure from their stakeholders in terms of where they're investing, and so there are still some big hurdles to be got over."
Slade, whose organisation won Outstanding Industry Contribution at the IPE Real Assets & Infrastructure Global Investor Awards, said there was "potential attractiveness" in nuclear energy in the form of the new generation of small modular reactors (SMRs), which will be able to provide power closer to where it is being used.
Speaking from the audience, international pensions adviser Peter Kraneveld asked how advanced the technology behind SMRs was. "Is it being implemented? Is it just a research project?"
Bilbao y León said: "None of this is research. This is our reality. The technology is well known, and it's being deployed as we speak."
She added: "The business model is different. It is not a project, it is a product. Essentially, you can manufacture these reactors in a factory, you can put them in the back of a truck and bring them to the site of deployment and just put them in and start operating them. So, we are talking about a much faster deployment."
Graham Matthews, infrastructure CEO at Patrizia, which invests in renewables and recently acquired an 80% stake in Italian bio-liquified natural gas producer Biomet, said: "The idea of smaller-scale distributed nuclear I actually think is really interesting."
Matthews said if there was to be a solution to "materially increasing energy supply" over the next three, five or seven years, "it has to be in relation to distributed energy, because big power plants just take too long to build".
He said: "That's important in the short term, but it's also necessary for the long term. Historically, energy markets were built around the idea that you build a big generation plant and then you connect the electrons to people over long distances.
"But the network of the future doesn't look like that at all. It's a much more distributed network, where it's not just a one-way flow of electrons – it's a two-way flow where you have we have more smaller generation units closer to people, you have distributed storage in the network to improve resilience and everything's more distributed.
"So with that long-term, necessary goal in mind, I think that means that in the short term we really need to focus on building a large number of smaller-generation units that are closer to population, closer to demand. Renewables is part of that… but it's much more than that."