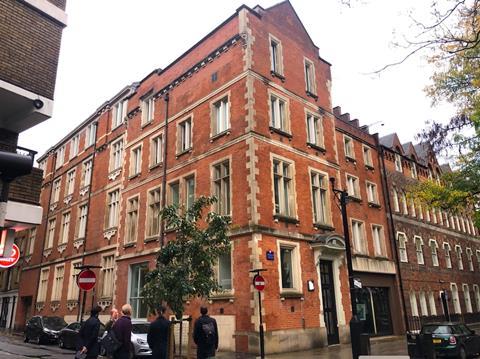 The site of a former members' club has been acquired by AM Alpha and WE-Holding and will be transformed into a new London headquarters for real estate and infrastructure fund manager Patrizia.
The building at 24 Endell Street in London's Covent Garden, which used to be home to the H Club, will be turned into creative office space.
Munich-based family office AM Alpha acquired the asset on behalf of another German family office WE-Holding. Patrizia has agreed to relocate from its current London headquarters in Knightsbridge by 2024, allowing time for the building to be redeveloped.
H Club (formerly The Hospital Club), which catered for those in the creative industries, was one of a number of members' clubs in London to close during the COVID-19 pandemic. AM Alpha intends to retain the TV and music recording studio in the lower ground floors.
The building will be modernised and refurbished in line with Patrizia's "New Work" initiative, which the Augsburg-headquartered company has established for all of its workspaces.
"In 2018, well before COVID, we predicted that the future of offices won't be just places for routine administration and standardised tasks," said Patrizia founder and CEO Wolfgang Egger.
"Our ambition was to create a work environment for even more creativity, collaboration, productivity and more fun at work. New Work is a strong expression of our company culture to be open, curious, creative and flexible."
Simon Woolf, chief human resources officer, said: "New Work at PATRIZIA isn't just about office space, it's about our culture, in essence our organisational DNA.
"The four pillars of this programme of change are defined by the following principles: work free, work flexible, work smart and work well. That's how we recently designed and refurbished our new offices in Frankfurt and Luxembourg, despite the pandemic."
AM alpha said it was able to identify and secure the investment opportunity due to "its close monitoring of the London real estate market".
The company continues to target London and the UK. Martin Lemke, managing director at AM alpha and a former Patrizia managing director, said: "Within Europe, the UK will continue to be a main focus for us and we will actively seek core and value-oriented investments across all sectors."