A strong Polish economy has attracted investors to the country's real estate markets and Warsaw has enjoyed the lion's share. Lynn Strongin Dodds reports
In many ways the commercial real estate market in Warsaw is a victim of its own success. The relatively strong economy and injection of European Union funds has made the city an attractive market for developers and investors. New buildings have sprouted at a rapid rate but the skyline is beginning to look crowded. The future prospects remain bright but selectivity is the watchword for today.
Last year, Warsaw offices were the most popular among investors, with 25 properties sold in 20 transactions. Dominant locations were the city centre, Mokotów district and the south west. Investment activity has continued to be brisk, with Warsaw accounting for around 40% of the €1.4bn conducted in the first half of 2014. Prime yields were around 6.25-6.5% in the central business district (CBD), while outside they increased to between 7.5% and 8%, according to JLL. The most notable transactions were Deutsche Asset & Wealth Management's €300m purchase of the Rondo 1 building from BlackRock and WP Carey's €108m acquisition of Lipowy Office Park.
However, industry participants warn that the office sector will lose its lustre due to overheating. A recent report from JLL shows that approximately 579,000sqm is under construction and an additional 62,000sqm is being refurbished in the capital. The remodelling and renovating of buildings is a limited but regular activity in the city, accounting for 10% of the developed office space.
By the end of 2016, JLL predicts that 5m sqm of stock will hit the market but it is unlikely that tenant demand will be able to absorb it. In the first half of this year tenant demand stood at 258,900sqm, of which 129,500sqm was accounted for by transactions concluded in the second quarter of 2014. Mokotów led the way with 95,900sqm of modern office space leased in the first half of the year, representing a 37% share of all take-up. New deals and renewals were still taking a clear lead, with 50% and 35% shares, respectively.
The incoming and projected supply, though, is pushing up vacancy rates, which climbed to 13.4% as of June, up from the first quarter levels of 11.7%. Central Warsaw was running at the highest – 13.6% – compared with 13.3% in non-central locations, according to the JLL report.
CBRE predicts that vacancies could reach 19% over the next two years if construction continues at the current rate. Its research shows that as much as 190,000sqm of office space has been delivered to the market this year within 18 schemes and another 375,000sqm is scheduled to be released by the end of 2017. Altogether, there are 43 office schemes under construction in Warsaw, offering a total of 633,000sqm, 42% of which will be located in the city centre.
"There are several new buildings planned and the one question is whether they will all be built," says Mike Atwell, head of capital markets at CBRE. "It is now an occupiers' market with vacancy rates rising and rents softening. However, this is less so with the grade-A buildings. Tenants are taking advantage of the lower rents being offered and are moving from grade-B buildings, which are only seven to 10 years old, to these newer buildings."
Tomasz Trzoslo, managing director, JLL Poland, believes Warsaw is "experiencing the classic property cycle in offices, where rents are under pressure due to high levels of supply and therefore rising vacancy rates".
He adds: "The pace of supply is higher than in previous years but the take-up levels continue to be high and tenant demand is stable. We therefore do not see an opportunity for investors in the office sector because they could now find the office product with rents at the bottom, so with additional comfort and safety in terms of rental risk protection. If vacancy rates continue to grow then banks and developers will become more cautious, and that's going to help the market because it will reduce the development pipeline going forward."
Jakub Jonkisz, head of capital markets at Knight Frank, does not expect any major projects to be cancelled, although he sees rents weakening. "Developers have been aggressive and they are offering pre-leases on very competitive terms," he says. "If they are highly leveraged then they will offer grace periods and free rents for a certain amount of time in order to survive."
Figures from Knight Frank show that rent rates are around €16-26/sqm per month in the CBD, while offices in non-central locations currently fetch €11-18/sqm per month. However, its research shows that tenants have been taking advantage of market conditions and pushing down effective rates by around 25-30% below the asking price.
Given the backdrop, it is not surprising that fund managers are looking farther afield than the conventional office haunts. "Poland is still the sweetheart of central and eastern Europe, with most of the international capital focused on Warsaw," says Atwell. "The challenge is finding the right opportunity. CBD and Mokotów have traditionally been the most active but I think they will see greater competition from Wola, which is a new and upcoming district. It is one stop on the new metro line which is opening in the autumn and we are seeing good quality buildings being developed on the same par as CBD. It will be a viable alternative."
Trzoslo agrees that Wola has the potential to be the next hot property spot. "A car journey from CBD takes only 10 minutes, but with the new metro line it will only be two to three minutes. It definitely will develop and there are already major office projects under way, including the Warsaw Spire complex (a 220m-high skyscraper with 100,000sqm of office space, which on completion will become the highest office building in Warsaw), Skanska's Generation Park with 80,000sqm, Golub Gethouse's Prime Corporate Centre (20,000sqm of office space) or Proximo development by Hines (28,000sqm)."
The retail sector should also offer good prospects with prime shopping centres sitting on stable yields of 5.75% and a population that loves to shop. In fact, according to JLL, residents in the greater Warsaw area have the highest purchasing power in Poland at €9,706 per year, 65% above the national average. The problem, though, is the reverse of its office counterparts – limited supply. The city only has 438sqm of stock per 1,000 residents while other Polish cities have up to 621sqm.
The situation is not expected to change in the mid to long term, as there is only one project under construction – Galeria Legionow, a 10,5000sqm shopping centre scheduled to open next spring, while an additional 200,000sqm is slated for the end of 2016m, according to JLL. Around 20% of this will come from extensions of existing properties.
Retail has been Warsaw's brightest spot
The office market in Warsaw during 2013 was more subdued than the retail and industrial sectors, with a total return of 2.6% for office, compared with 3% for industrial and a buoyant 6.3% for retail.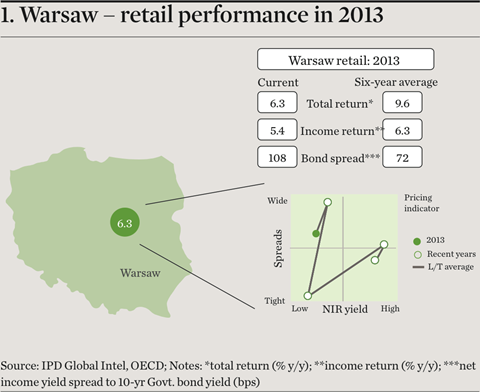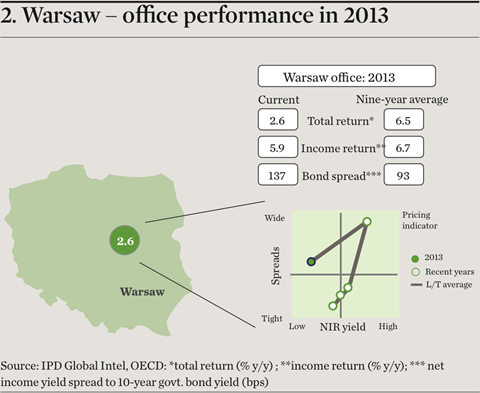 Within the context of the regional office market, however, the Polish capital did not fare so badly. It outperformed Budapest, which returned 2%, and, although Prague was the best-performing regional capital office market, its return of 4.1% highlighted the economic problems across the continent affecting real estate markets.
Retail has been a bright spot for Poland over the past five years, particularly in Warsaw as new shopping centres attract consumers, tenants and investors. Warsaw retail has been the highest performer of all three main sectors across the CEE capitals of Warsaw, Prague and Budapest for each of the last five calendar years.
Value increases in 2011 pushed down yields and they have remained around 5.5% since, below the long-term average of 6%.
This has come at a time of historically low interest rates, with government bond rates finishing 2013 at 4.4%, leaving the spread of Warsaw retail yields over the risk-free rate at just over one percentage point. This is slightly above the average spread since 2009, so pricing remains competitive despite the relatively low property yield.
These supply/demand imbalances in prime centres in Warsaw have pushed retail vacancy rates to a new low of 1.5% in January from 2% in the first half of 2013. Currently, prime rents for a fashion sector tenant in a leading centre in the city stands at €85-100/sqm per month, and JLL expects these to rise by around 5% over the rest of this year.
"Prime and best-in-class retail is always attractive and while there is a long list of willing buyers, these assets do not change hands often," says Trzoslo. "As for secondary retail assets, which might be smaller assets in bigger cities or dominating assets in smaller cities, there are some that are not of the same core quality but others that are of good quality and with solid and proven turnovers. The problem is that funds do not differentiate much in such cases and frequently quote an opportunistic price resulting from the secondary location of the asset, rather than the performance of the specific secondary asset.
"As a result, in order to generate asset trading for secondary retail assets, expectations have to be adjusted. On the buyers' side, pricing needs to improve for better performing secondary assets and, on the owners side, pricing expectations should reduce for less sustainable product."
Another issue, according to Anna Duchnowska, head of Poland at Invesco Real Estate, is that many areas suitable for investment are not yet covered by zoning and master planning. Several changes have been introduced to Polish planning and building laws to simplify the administrative burden, but progress has still to be made. "The other problem is that Warsaw does not have a typical high street like other cities, so the focus is on shopping malls. This has been gradually changing and there are prospects for high-street retail to be developed in the future."
Duchnowska believes that the best opportunities lie in the logistics arena. "GDP is at 2.5% and expected to rise to 3% or 4% next year, while the country is on target to get around €74bn from the European Union over the next six to seven years for infrastructure, agriculture and the development of industry. All this has a positive impact on the economy and we are seeing more companies locating their logistics hubs to Poland. Although there are limited opportunities in Warsaw, there are assets on the outskirts and investors can get close to 7% yield on a long-term lease with a single tenant."
Trzoslo agrees: "Industrial and warehouses are among the most popular real estate investment products now, especially with large private equity firms. This trend continues over the past 12 to 24 months. Trends in e-commerce are driving this industrial and warehouse product investment demand. We forecast a continued strong demand for warehouses as the economy continues to improve and people increasingly shop online."
Warsaw: A victim of its own success
1

Currently reading

Warsaw: A victim of its own success

2

3