Invesco Real Estate has raised €327m of equity for its first European value-added real estate fund.
The Invesco European Value-Add Fund, which will have up to €800m to invest when factoring in leverage, attracted 13 institutional investors from Germany, Denmark, the UK, Luxembourg and the US.
It will target a gross internal rate of return of 14-16% by investing in assets in strong locations where intensive asset management can transform properties with a view to selling to core buyers.
Kevin Grundy, managing Director of fund management at Invesco Real Estate, said: "We are approaching this strategy in a unique way using the breadth of the [Invesco] platform across Europe to focus specifically on small to medium-sized equity investments where we believe the value-add opportunities to be the most attractive."
The fund has already committed €109m of equity to six investments, including a 155,000sqm, pre-leased Amazon distribution centre in Poland (pictured), and a warehouse development located 15 minutes from Madrid city centre. It has also committed to a portfolio of residential projects in Madrid and Valencia where the majority of apartments have been pre-sold.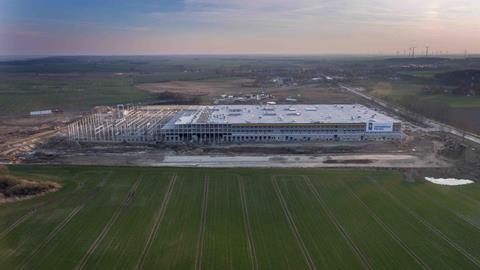 Invesco said a pipeline of €160m of additional equity investment across Europe in the office, retail, logistics and residential sectors is currently at an advanced stage of negotiation.
Invesco already manages value-added funds in the US and Asia, but the fund is its first targeting Europe.
Andy Rofe, managing director at Invesco Real Estate, said: "We continue to see increasing interest from our institutional investors for a broader return appetite.
"Following the successful close of our first European Value-Add Fund, we are looking for additional investment opportunities in this higher returning sector and will continue to expand these strategies in Europe."