A clean energy infrastructure fund launched by Legal & General Investment Management (LGIM) and NTR has acquired a Finnish windfarm from German developer ABO Wind.
Renewable energy specialist NTR said it bought the Pajuperänkangas windfarm for the L&G NTR Clean Power (Europe) Fund, without disclosing the price.
The fund was launched earlier this year, attracting Japanese and European investors, including the NatWest Group Retirement Savings Plan, and co-investment from Legal & General insurance group.
It invests in across wind, solar and energy storage and is classified as an Article 9 fund under the EU's Sustainable Finance Disclosure Regulation.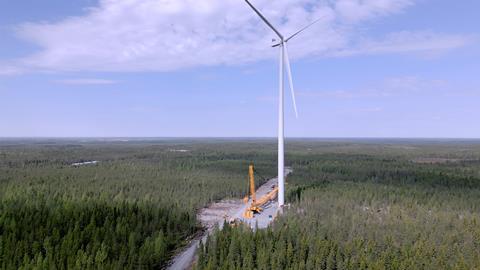 Situated in the municipality of Haapajärvi in Finland's Northern Ostrobothnia province, Pajuperänkangas windfarm has been in construction since 2022 and is scheduled to achieve commercial operations in the coming months.
Pajuperänkangas is the fund's first windfarm investment located in Finland, although NTR said it has been active in the country since 2019.
The 86.8 MW project is designed to provide clean energy for the equivalent of 36,800 homes across Finland once fully operational. Purchase power agreements are in place with Grundfos, the Danish pump manufacturer, and Statkraft, the Norwegian energy generator.
German bank NORD/LB provided financing and ABO Wind will provide asset management for the next 10 years.
Anthony Doherty, CIO of NTR, said: "It is hugely exciting to be diversifying into wind assets and entering a new geographical market for the fund, further expanding NTR's presence in Finland.
"With commercial operations date due in the coming months, the team has worked hard to ensure the timely delivery of this project, enabling significant contributions to the country's clean energy transition as well as the potential to provide almost immediate returns to investors.
"Following the addition of three solar projects in Spain and a wind project in France earlier this year, we are continuing to hit significant milestones for the fund as we work closely with LGIM to deliver new clean energy projects across Europe."
Bill Hughes, global head of real assets at LGIM, said: "Expanding our portfolio and reach with the Pajuperänkangas windfarm is a really positive step for the fund, demonstrating our continued strong pipeline of capital deployment.
"Clean power assets remain an essential lever in the energy transition. With their combination of resilient cashflows – underpinned by robust fundamentals – and sustainability credentials, we believe the asset class offers institutional investors a compelling opportunity.
"As the need for investment in clean power intensifies, we will continue to build on our positive momentum with NTR, providing investors with exposure to assets which sustainably meet Europe's energy needs."