Thomas Arnold, David Ling and Andy Naranjo highlight new research on listed real estate
In a world of uncertainty, institutional investors are always trying to anticipate what investments will generate superior returns for a desired level of risk. In recent years, commercial real estate has generated strong risk-adjusted returns. According to Preqin, an alternatives reporting firm, more than 7,600 institutions had real estate allocations within their portfolios in 2020.
Among the ways of accessing real estate, the closed-ended private-equity real estate fund has proven popular. Since these types of funds typically employ more leverage and are less liquid than real estate investment trusts, many investors perceive that closed-ended private-equity real estate funds will offer additional returns relative to REITs.
This orientation towards weighting private-equity real estate may be causing investors to under-estimate many of the advantages of investing in REITs which have demonstrated strong risk-adjusted performance over our period of study.
In recent research, Private Equity Real Estate Fund Performance: A Comparison to Listed REITs and Open-end Core Funds, we compare the performance of private equity real estate funds to listed REITs. Our findings may prompt investors to take a fresh look at their real estate allocation strategy.
In contrast to prior research on the topic comparing uninvestable private real estate benchmarks to REIT or other public market (and investible) benchmarks, our research uses a stylised 'horse race' approach comparing the performance of individual closed-ended private-equity real estate funds to the performance each fund's investors would have realised had they invested in an index of equity REITs over the same investment horizon.
Our study is based on 375 comparisons between closed-ended private-equity real estate funds that invest primarily in the US and the FTSE/Nareit US index over various time periods between 2000 and 2014. Our exclusion of post-2014 funds (as well as funds based on other appropriate criteria) was used to minimise the risk of including funds whose performance was not final and still based on manager interim reporting.
Our initial comparison resulted in a distribution where the REIT index outperformed 53% of the closed-ended private-equity real estate funds by an average of 165bps. We then considered the fact that the private real estate funds typically: employ more leverage than the equity REITs; are less liquid than equity REITs; and impose an opportunity cost on investors not present in the public markets because the timing of their capital calls is uncertain, which requires fund investors to maintain liquidity to meet these uncertain capital calls.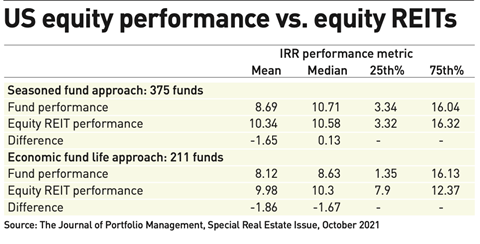 The additional return required for incremental leverage, the cost of illiquidity and the opportunity cost of maintaining dry powder for future capital calls varies over time and across investor class, even among similar types of investors.
However, we incorporated what we believe to be a conservative internal rate of return estimate for each: +100bps for additional leverage, +200bps for illiquidity, and +125bps for the opportunity cost of maintaining dry powder and the uncertainty of investment timing.
With this 425bps IRR risk-adjustment, only 32% of the funds outperformed the REIT index. The average REIT IRR outperformance was 590bps (165bps plus the 425bps for including the three additional risk premia). We find very similar results when comparing closed-ended private-equity real estate funds with significant investments in non-US properties to a global REIT index that excludes US REITs.
These findings suggest that investors may benefit from re-evaluating the relative weighting of their real estate allocations. There is a case to be made for using REITs to gain general market or sector-specific exposures and private real estate funds more tactically to gain exposures not otherwise obtainable through the public markets.
Thomas Arnold is the former global head of real estate of the Abu Dhabi Investment Authority, senior adviser to McKinsey & Company; David C Ling is the McGurn Professor of Real Estate and Andy Naranjo is the John B Hall Professor in the Eugene F Brigham Finance, Insurance & Real Estate Department, Warrington College of Business, University of Florida.
Guest view: The growing appeal of listed infrastructure
1

2

Currently reading

Guest view: Why REITs beat closed-ended private real estate funds

3

4