With cities like Cape Town facing 'day zero' crises, Monika Freyman explains why investors need to be alive to water risks
Harvard's $37bn (€32.5bn) endowment took a $1.1bn write-down last year after withering criticism about its farmland acquisitions and water-use practices in Brazil, California and other resource-sensitive regions. More mining projects in South America are being put on hold due to local water supply concerns. Large infrastructure projects in Africa are also under a microscope as the effects of drought deepen.
All of these examples highlight why investors need to focus on water risks and other sustainability concerns during due diligence. With climate and natural-resource pressures mounting, investors need to understand where future problems could arise and how they can reduce their exposure before making big investments.
Private-equity analysts Marc Robert, chief operating officer at Water Asset Management, and Jason Scott, managing partner of Encourage Capital were among a group of institutional investors who collaborated with Ceres to create the Private Equity Water Due Diligence Tree, a guide within the Investor Water Toolkit, to help investors determine whether there are 'red flags' related to water issues in a region or for a specific project.
Cape Town, South Africa attracted attention this year when it launched a countdown to its 'day zero' water crisis – the point at which the city will be forced to turn off water supplies. People have blamed climate change for the problem.
But the real issue, according to Upmanu Lall, director of the Columbia University Water Center, is that the South African government has invested more in irrigated agriculture and approved the release of more water to this sector, while not planning for these increased water demands. "Actions taken by
the government led to the exacerbation of the risk, but it went unnoticed until the problem became acute," Lall said.
The issue does not just affect Cape Town. São Paulo, Brazil's largest city and industrial centre, suffered a similarly devastating drought in 2015, which was exacerbated by poor water resource management. Other large global cities are using outdated climate and water models that could lead to similar problems.
Many water and natural resource problems can be anticipated and planned for, but before looking at risks related to individual projects, investors need to start with the regional context in terms of physical, regulatory and stakeholder risks. These include mapping existing natural resource issues, possible future conflicts and whether local stakeholders are unhappy about these issues.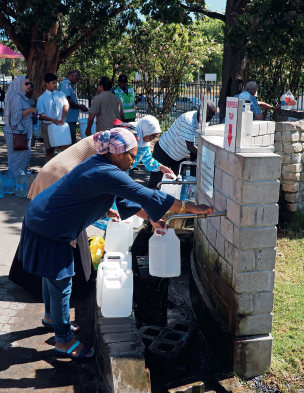 Investors need to engage with important stakeholders in areas where they are going to be making major investments. They need to start systematically embedding an understanding of water and other natural resource issues into their due diligence, and recognise that through direct investment in infrastructure or large private businesses, they too become important direct stakeholders.
Investors need to "almost think like water", because it does not have boundaries that are limited to city limits or state lines, Robert says. "You have to examine the watershed in which the investment might find itself and ask if there are issues within that watershed that could impact your investment." Such issues are relatively easy to measure, he says, "you just have to know what questions to ask".
This should include making sure local water authorities have a diversification plan and, if they are operating in a potentially drought-constrained area, to identify and invest in alternative water supplies. During the São Paulo drought, investors were surprised at how many water-intensive industries had no idea that the city was close to running out of water and had no back-up plan, according to Robert.
Stakeholder risks are among the most difficult to manage. "As a long-term investor, if your economic goals are not aligned with key stakeholders, you will probably have trouble in the future, including potential regional backlash against the project," Scott says. "Understanding local stakeholders is crucial before you put money to work."
Harvard's endowment is a case in point; it missed many red flags when it made a big bet on forest and farmland a decade ago. Harvard invested directly in more than 800,000 hectares of land, much of it in sensitive areas such as Brazil's Cerrado region, and water-stressed parts of California. Many of the deals and farming activities have come under fire amid local complaints and lawsuits about mistreatment of farmers, deforestation, pollution and impacts on water.
The endowment has written off $1.1bn on the portfolio and is also selling some assets, including forest and farmland in north-east Brazil. "A few [of our holdings] have significant challenges," wrote Harvard Management Company's CEO NP Narvekar in a 2017 annual report.
If investors find that a region has poor long-term planning they do not necessarily have to walk away from the region. They can be a key partner in improving water and land management practices.
Working with other large investors and companies in a region can also improve water stewardship and other natural resource protections, a real win-win for investors, regional economies and local communities.
Monika Freyman is director of investor engagement on water at Ceres