---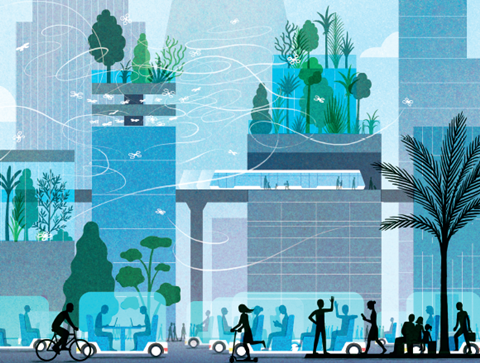 Technology is set to transform city transportation. As Christopher O'Dea reports, real estate investors should get wise to the potential knock-on effects on property values
Like a scene from the Hitchcock classic, the Birds seemingly came out of nowhere, wreaking havoc and confusion on cities. But this was a very 21st century arrival, in the form of rentable electric scooters by company Bird.
It is an urban transit innovation that was as unexpected as it was unwelcome by city officials. Bird, a company started by an alumnus of ride-sharing services Uber and Lyft, and other e-scooter companies like Lime have triggered a fierce debate in US cities. Proponents see an affordable, reliable, convenient and environmentally friendly mode of transportation. They argue it is well suited to short trips in increasingly dense urban areas by people who do not want to bother with car ownership or the cost of taxis or ride-sharing services.
Many cities have removed scooters, usually because they are either not permitted under city laws or their laws do not account for them. But just as seagulls mark their presence on the dock, the scooter startups have left signs of their presence with curves of rubber stains on streets and plazas.
The more serious signs are the discussions that continue even after scooters have been removed. At a high level, those discussions resemble the transportation debates that cities been having for decades, with transit professionals weighing pros and cons to craft standards for city council approval. But the similarity ends there. The scooter craze highlights how transport has become the most important factor in urban planning and, at the same time, one of the most vexing for real estate investors.
The challenge is to underwrite today's real estate transactions in light of current transportation systems, while keeping a keen eye on future transportation technologies that might impact building valuations. Investors need to predict when those technologies might be adopted widely enough to affect property markets.
E-scooters magnify the challenges arising from the emergence of electric and autonomous vehicles (AVs) – most obviously the need for charging stations. Building owners already need to determine how to retrofit existing structures and plan for charging-capable designs in new assets. They will soon need to determine how to construct areas for passenger drop-off and pick-up, and when those new features should be added to existing buildings or designed into new ones.
City planners face the challenge of how to generate and distribute the power required by new types of vehicles – and how to finance it. AVs will also require an enormous number of new sensors, and will very likely prompt changes in the construction and operation of traffic signals, which will need to keep AVs moving while continuing to regulate the rest of the traffic.
On a more pedestrian level, property investors are monitoring the need for parking spaces and parking structures, while honing their capabilities to adapt to fast-changing transportation preferences. The rise of bike lanes and bike-sharing services like Divy have given property owners a glimpse of the future; some are already adding special bike rooms with real-time video links to news channels on social media that provide riders with updates on traffic volume and construction. Bike lanes carved out of existing streets have made riding safer, but have reduced street capacity, just as ride-sharing has become popular, and the influx of thousands of vehicles offering ride-shares at rush hour often adds to the congestion that these they were intended to reduce.
Investors believe AVs could have the biggest affect on property assets, but those changes might be as far away as a decade due to the lack of infrastructure to support them, such as sensor networks for navigation and battery-charging stations.
Investors, city planners and technology analysts say the timing of the next urban transit revolution is uncertain due to the inherent differences between the physical and digital domains – people can now create new forms of mobility much more rapidly than building owners and city planners can change streets and other infrastructure. But there is no escaping the fact that property investors will need to integrate new modes of transport into the assets they own to attract and retain tenants.
Mass transition
It is one thing to drop a few scooters on street corners without warning, but the transformation of urban transit is not going to happen overnight. "Recent hype about new ways of getting around obscures the fact that the evolution of transportation systems follows the population shifts that result from economic development," says Tim Wang, managing director and head of investment research at Clarion Partners. "Let's take a step back," he says. "Don't forget about traditional mass transit."
Over the past three decades, Wang says, the US has transformed from a manufacturing economy to a knowledge-based service economy. "The creation of services-oriented knowledge jobs in major metropolitan areas has led to re-urbanisation, and cities are getting crowded," he explains, and "mass transit systems are a key ingredient for urban success in the new knowledge economy." Knowledge-based employers need access to talent and the intellectual resources of major universities with research facilities, which are often concentrated in and around cities. "Transportation infrastructure becomes increasingly important to support this kind of population shift," says Wang.
That is why one of Amazon's criteria for the location of its second headquarters site is the existence of a mass transit system. "Not every city has a mass transit system, so that eliminates a number of locations," says Wang. New York, Boston, Washington DC and Chicago do, while Austin, although popular with tech companies and millennials, does not. "Any city with a mass transit system is going to have a huge advantage in attracting new business, no question."
Those economic effects carry through to property markets. "If a city has a mass transit system and a building is on a transit line, it becomes a premium property," Wang says. While it will take some time to determine how new transportation methods will affect property values, one thing looks clear: "Transit innovations will introduce new risks into office acquisitions, and that will create significant uncertainty."
It is not yet common practice to factor the potential effects of innovations like AVs and Electric Vehicles (EVs) into asset valuations, but the issues that investors will eventually have to face are taking shape. Bike-sharing and scooter rentals can help people get from place to place more easily in very congested city centres, Wang notes, but they are not likely to cause major changes in property investing. "Autonomous vehicles are going to be the game-changer," he says.
When an investor or fund acquires an office building, one of the primary requirements is an adequate ratio of parking spaces to square footage. Wang says, in the future "investors will need to look at the design to see if a building has adequate areas for passenger loading or pickup".
As for all those parking garages, AVs will put a wrench in the gears of this popular alternative sector. "Garages will need to be redeveloped," says Wang. "It's not that we won't need any – driverless cars will need somewhere to park when idle – but certainly we will not need as many garages or parking spaces in the future, because driverless cars will be much more efficient. A car will drop me off at one building and then pick you up at another building five minutes later. Same car – very efficient."
But predictions that driverless cars will be common in just a few years are optimistic, says Wang. "It's more like a 10-year project, even if a self-driving car is ready to go today," he says. The primary reason is that "we do not yet have adequate infrastructure to accommodate AVs".
Bigger questions remain to be answered. "How will city planners design traffic lights, and install all the sensors the driverless cars will need in order to navigate? Those projects require tremendous collaboration between the private sector and the public sector."
Sharing the ride
City planners, property investors and transportation experts are working hard to solve the infrastructure challenges that are holding back transit innovation. In the US, that collaboration takes place almost entirely at the local level, owing to the virtual absence of a national transportation policy. Funding from the federal government is also limited, focused mostly on interstate highways and some mass transit financing. The result is a uniquely American approach, in which private-sector innovation in transportation tends to result in government regulation and sometimes cumbersome planning processes.
The current wave of innovation is focused on EVs and driverless cars, new technologies that are creating new traffic flows and, in turn, a need for new physical systems. In some respects, these post-carbon digital versions of automobile transport promise a way to improve traditional commuting that could be more cost-effective than expanding mass transit systems. Construction of the new Second Avenue subway line in Manhattan highlights the high cost of building new mass transit lines, and raises the question of whether funds might be better spent on other forms of transportation.
The new line was undertaken for the reason that justifies most transit investment – to relieve congestion – and in this case to lighten the load on New York City's Lexington Avenue subways. New York City transit authority data show that the load on the Lex lines did drop as some riders opted for the new line just two blocks away, but overall ridership on the lines rose, and performance on the Lexington lines actually declined. By last summer the cost of the Second Avenue subway was $4.5bn for the first three stations. New York City transit activists contend the more cost-effective way to improve subway travel would have been to upgrade the signal technology used on the Lexington Avenue lines to state-of-the-art Communications-based train control (CBTC) systems. The city's transit agency projects that it would cost about $800m to upgrade two of New York's other major subway lines to CBTC signals, but says it lacks funding to make the improvements, even as it plans to spend another $6bn to extend the Second Avenue subway to Upper East Side of Manhattan.
The lesson from New York City's subway saga is that technology can offer a better way to improve urban transit. One of the most ambitious efforts to bring public and private interests together to create better urban transit solutions is an initiative in Boston to make AVs the "cornerstone of the urban mobility revolution" to improve safety, reduce emissions and free up space for other uses. That is the lofty statement from Boston Consulting Group (BCG), which in 2016 selected Boston as the partner city for testing and developing a strategy for the introduction of autonomous vehicles, a joint effort with the World Economic Forum.
From horse-drawn carriages to the first US subway system and the first car-sharing service, Boston has seen it all. With compact neighbourhoods, some 14% of Bostonians – a relatively high percentage for the US – choose walking as their primary mode of local transportation, according to BCG. But the influx of weekday commuters – primarily drivers – almost doubles the city's population to over one million, leading to some of the country's worst traffic congestion and delays.
Boston echoes the pattern of transit development outlined by Wang. At the centre of a strong technology cluster, Boston offers a culture open to innovation, with a transportation profile combining a healthy mix of car-centric American and public-transit-centric European archetypes. In addition, BCG surmised the city's harsh winter weather and irregular layout would help test the limits of AV technology. The linchpin was a blueprint for public-private co-operation – a detailed transportation vision encompassed in Go Boston 2030, a mobility-oriented strategic plan to improve daily life and economic opportunity.
Boston wants residents and commuters to adopt more sustainable modes of transport. Its main goal is to reduce solo use of private cars by half, to just 20% of the total number of work journeys, while increasing public-transit use by one-third, to 44% of the total. As if Bostonians do not walk enough already, the plan aims to increase walking by 50%, to 22% of the total. While bicycle rentals garner a lot of media attention in US cities, they are a small part of the mobility equation – a fourfold increase in Boston would bring biking to just 8% of total commutes.
In several recent studies, BCG and WEF found that AVs will have profound impacts on urban transit – a fourth industrial revolution. The core model simulated traffic in the 0.45sqkm area in Boston's downtown near City Hall, using data for trip origin and destination pairs in the area, enhanced with realistic elements such as stops at traffic lights, left turns, and random street blockages.
The team initially looked at two scenarios for a new vehicle mix – a disruptive transition in which shared AVs replaced a substantial percentage of traditional private vehicles and some public-transit trips, and one that projected a more gradual transition. The verdict: disruption works. The number of vehicles in the study area fell by 11% in the evolutionary shift as a result of more care sharing and rides, and travel time dropped by an average of 11%. But the disruptive scenario produced a 28% decline in vehicles in the area, and 30% drop in the average travel time. A second simulation predicted average travel times citywide would decrease by just 4% because commercial vehicles would make the same number of trips each day even as passengers switched to AVs, while mobility-on-demand adds vehicles relative to mass-transit options.
There is a clear message for property investors: autonomous vehicles free up a lot of parking spots. The decline in cars on the street increased free space by 16% in the evolutionary transition, and by a whopping 50% in the AV revolution. The key assumption is that shared vehicles will require a fraction of the current number of parking places for passenger pickup and drop-off and for vehicle charging, because they will either return to their point of origin or go to a parking space that is farther from the city centre.
Consumers surveyed by BCG in 27 cities said the single most important benefit they are looking for AVs to deliver is to relieve the tedium of looking for parking. The redevelopment and redesign of parking space will be a significant opportunity – BCG says the total inventory of street and garage parking space in Boston is about 10sqkm, including street and garage parking.
Linking investors to transit
The AV revolution is gathering speed – and property investors might get a crack at parking redevelopment opportunities sooner rather than later.
When Boston set out on its mobility initiative in September 2016, no companies were testing AVs in the city. In January 2017, nuTonomy completed the first autonomous mile in Boston, and by November 2017, AVs from the partnership of nuTonomy and Lyft, which provided the smartphone booking platform, began carrying passengers. By the end of the year, Optimus Ride and Aptiv were also participating in the autonomous pilot, which had logged more than 1,500 miles across an expanded testing area. Testing continued in 2018, with Optimus Ride receiving approval to conduct passenger-carrying trials with its autonomous vehicles.
At the same time, improved battery technology for EVs is quickening the widespread adoption of EVs. The cost of a battery for an EV has dropped to about $209 per kilowatt-hour (kwh) today, from $1,000 per kwh in 2010, according to Pin Ni, president of Wanxiang America Corporation, the US unit of a Chinese auto-parts group, which owns A123 Systems, one of the world's leading producers of lithium-ion batteries. At a recent presentation in Chicago, Ni predicted that once the cost per kwh reached the $125-130 range, "no more subsidies will be needed" and the cost of EV and combustion engines will be the same. Adoption of EVs will be "right around the corner", Ni said.
With AV tests occurring in more cities, property owners and investors are beginning to plan for the new forms of transportation. One of the first tasks is to determine whether AVs will eliminate the need for existing parking structures, says Jacques Gordon, global head of research at LaSalle Investment Management.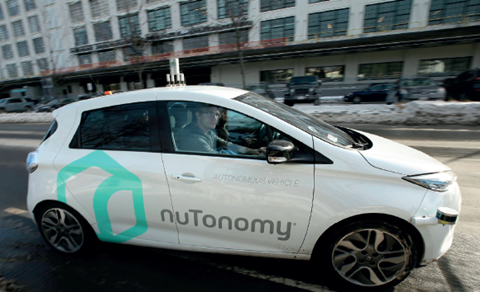 A recent discussion with an acquisition team about parking requirements once self-driving cars become prevalent suggests adaptation will need to take place from the ground up. Fundamental questions soon arose, says Gordon, such as "how is the parking garage built – with ramps or is it built flat?" Such a basic feature could make all the difference. "If a parking structure is built flat, it can probably be adapted to another use, if you invest the capital to redo it," says Gordon. "But if it's ramped, you could face problems."
In short, changes in mobility technology are likely to strongly influence property design and valuation. Traditional structures where employees can park vehicles during the work day might not be as valuable in a world of self-driving cars, he explains, or even the current environment where on-demand ride-sharing is eclipsing personal automobiles in dense urban areas.
Emerging transit methods mean "investors need to look very specifically and granularly at a new parking garage question", Gordon says. That question is an existential one: "Is this an asset with a future, or is it a redevelopment site?
"Can it continue to generate cash flow the way it did over prior decades, and what investment plan will be required if it's necessary to change the asset to preserve its value."
The road ahead is likely to require investors to keep pace with innovations in transportation technology, and the urban planning and occupier preferences that are made possible by new ways of getting around. "Up to now, the way we focused our analysis for targeting investments to buy or to sell was to study an asset in great depth and then overlay statistics on supply, demand, rental rates and so on for a fairly large submarket around the asset," says Gordon. "We still do that, but we've learned that the asset's relationship with its immediate area, and the number of amenities around the asset, matters a lot."
In a sense, then, what matters most to an asset is what is within a 10-minute walk. In addition to considering the impact of everything within a one-mile radius, LaSalle's team examines the amenity mix within four to eight blocks of a potential acquisition. One of the most vital amenities is transportation – placing a premium on an asset's location within its local transportation networks.
Boston's effort to boost walking demonstrates how urban transit capabilities provide a link between the built environment and health trends in society. Buildings are increasingly receiving wellness scores, "and that might someday include the commute", says Gordon. "Commercial property investors will need to take that into account even though an asset may not be within a half mile of a major transit node today, the important analysis is to think about the asset's potential linkage to that half-mile zone. That linkage is improving through exactly what we're talking about when we talk about self-driving cars, on-demand ride-sharing and other innovations."
In the US, at least, there will not be a single solution. Because there is almost no national transit policy and limited funding beyond the US Interstate Highway system, a far cry from the 1960s when federal grants helped build new expressways in some US cities, transportation systems and infrastructure today are mostly a local matter. "No one model is taking hold," Gordon says. "There's a lot of experimentation going on and a lot of it is in the private sector. A good example is the sudden appearance of motorized scooters for rent that are placed on sidewalks of many Western cities by companies like Bird and Lime."
The ideal distance from transit lines is also variable. In his book Street Smart, former NYC traffic commissioner and chief engineer of the NYC DOT, Samuel Schwartz describes how his engineers and planners counted the steps people were willing to take to reach various transit nodes. New Yorkers are willing to hoof it a lot farther than residents of Houston, for example, where heat and humidity discourage walking.
In Street Smart, Schwartz describes how digital technologies that exploit the commercial possibilities of the internet have changed mobility patterns across the US. It is not that the internet makes driving less essential – although it has reduced the need to drive for shopping – but that it makes other transportation options more appealing, Schwartz says. Digital on-demand transit services – scooters, ride-sharing, AVs – make it possible to get up and go without having to drive, and without having to learn or live by the regular schedule of public mass-transit options.
Millennials are driving the change, so to speak. Having grown up in the backseat being ferried around suburbs, Schwartz argues, millennials saw the toll driving took on their commute-addled parents They learned that car buying was just another purchase decision, laden with status stress, one they have happily opted to avoid in favour of transportation at the touch of an app.
While millennials are not buying and driving cars, they still take more bike trips, and many more public transit trips than their predecessors. This points towards a mobility-fuelled correction of what Schwartz calls "50 years of mistaken decisions about America's built environment".
Finding a space
Philippe Op de Beeck is CEO of APCOA Parking
Against the backdrop of increasing urbanisation, innovative transport concepts have a key role to play in shaping towns and cities. Traditional concepts are being disrupted by digital solutions. As cities develop strategies to limit the environmental effects of vehicle emissions, improving public transport systems and reducing the use of private vehicles in city centres have come into focus.
As the quantity of on-street parking spaces decreases, multi-storey car parks will be located out-of-town for park-and-ride users, as well as on the outskirts of inner-cities in low-emission zones. While the use of private vehicles in city centres might decline, inner-city logistics is on the rise and in need of new locations. Therefore, more multi-modal solutions to make urban transport concepts viable must be devised. Parking facilities in city centres have an important role to play.
Parking facilities are more than just places to park. They have become important nodes in a mixed-mobility network of private vehicles, shared vehicles and public transport; and they have the potential to be used in even more ways. In inner cities, parking facilities will become places where people can switch from one mode of transport to another, and where different usage concepts can coexist and create important synergistic connections. Logistics firms and couriers already benefit from having small, decentralised distribution centres for last-mile deliveries.
Parking facilities are often well-suited for logistics companies. And many car parks already have the infrastructure required to support fleets of electric vehicles. Mirroring changes in private-car ownership, companies are switching to electric vehicles and many parking facilities are offering charging points. Car-sharing fleets also rely on inner-city hubs to position their vehicles for customers.
Most parking facilities are owner-run, but many owners lack the know-how to market their facilities. To stay competitive, parking facilities will have to host a variety of services.
Charging points for electric vehicles will be provided in partnership with energy companies, and car manufacturers will allow contactless entry and exit for vehicles. Other potential partners include bike-sharing companies and public transport services.
Furthermore, it is in cities' best interests to enable systems that guide vehicles directly to free parking spaces in order to reduce traffic and carbon emissions. Online reservation of parking spaces is becoming standard.
A scalable, digital platform is the backbone of any such system. It enables providers and users to co-ordinate and navigate services, options, timeslots and locations and can be scaled up as the customer base, and their needs, increases. Mobility concepts of the future will be impossible to implement without digital infrastructure.
Traditional multi-storey car parks and underground parking spaces are not the only facilities to offer untapped marketing potential. The advantage of using a scalable platform is that even limited numbers of parking spaces – for example, on a ground-level company car park, or even a single space – can be marketed effectively and efficiently. Empty car parks in business districts at nights and weekends, or residential parking facilities during the day, represent potential sources of revenue. As parking spaces become more important, owners might reconsider whether it makes financial sense to let their assets go unused. In the densely populated cities of the future, not using parking spaces efficiently will simply not be an option.
To reap the rewards of this new parking business, operators will need to invest in technology that co-ordinates services and users, and handles accounting and invoicing. Data collected from users can then be used to deliver targeted service optimisation.
Parking management companies are leading the way by investing in their businesses and digital infrastructure to improve customer serice. And investors are waking up to the huge potential of car parks, while investment firms are offering a range of specialised real estate funds for parking facilities.
Urban Transit: The future of A to B
1

Currently reading

Urban Transit: The future of A to B

2

3

4

5

6

7