Traditional office landlords are responding the new generation of flexible office providers. Florence Chong reports on the race between incumbents and disrupters
The disrupted are fighting back. Developers and landlords in Asia-Pacific are broadening their investments in flexible workspace and forming joint ventures with co-working-space operators.
Be it Soho China with 3Q, Singapore's CapitaLand with C3, Hong Kong's Swire Properties with Blueprint or the Philippines' Ayala Land with Clock In, landlords and developers are now well and truly in the game (figure 1).
They see an irrevocable shift to what is termed agile (flexible) workspace. By the end of June, Asia-Pacific had 40m sqft of flexible workspace. Since 2013, the market has grown by more than 50% annually – and is growing.
"Historically, flexible workspace accounted for less than 2% of the annual office take-up rate," says Jonathan Wright, Colliers International's director, flexible workspace services, Asia. "Over the last two years, the take-up has been upwards of 30% in key Asian cities. While we don't expect that growth rate to continue, we certainly think double-digit take-up will be the norm over the next few years."
In Hong Kong alone, says Wright, flexible-space operators acquired 600,000sqft over the first six months of 2018, accounting for 40% of take up.
Ada Choi, executive director of research for Asia-Pacific at CBRE Research, says: "Currently, about 1.7% of total stock is flexible space, which does suggest scope for further growth. At what level, and where this growth will come from, is up for industry debate, but consensus remains that flexible space is a rising trend."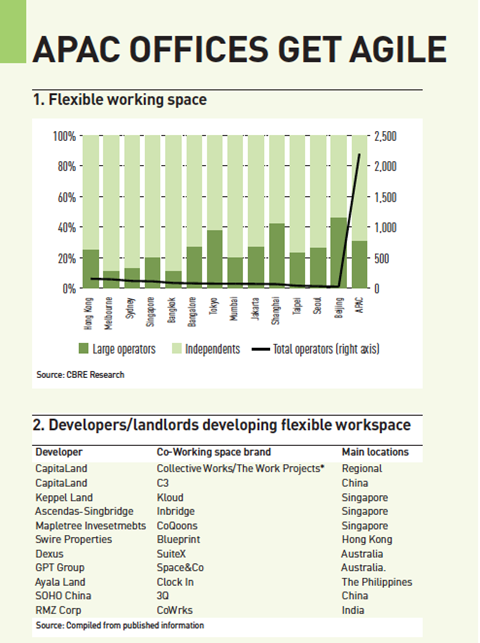 In Singapore, Cushman & Wakefield's senior director for research, Christine Li, says total space taken up by flexible workspace is about 4% of the city-state's total office inventory. "But over the longer term, flexible workspace will form 5-10% of total office stock in Singapore," she says.
Kong Wan Sing, chief executive and founder of JustCo, a rapidly-growing Singapore operator, says: "We believe that, by 2030, 30% of all commercial real estate in APAC will be flexible space. In many markets, flexible space is below 3-4% at present. So we see huge growth potential."
Co-working space in Australia is still "tiny", representing probably 2% of total office space, according to Dexus' head of office leasing, Chris Hynes. But the sector's potential has resulted in a proliferation of flexible workspace across Asia from startups, rapid expansion by existing players, and rationalisation through mergers and acquisitions.
JustCo is one such rapidly growing company rolling out its co-working-space platform across the region. "We are looking at the whole of Asia as our playing field," says Kong. "The model works well in any large metropolis with strong economic activity."
Kong singles out gateway cities in Australia, South Korea and Bangkok as markets "ripe" for expansion. JustCo opened its first flexible workspace office in Bangkok in October and plans to open another soon in Australia. In May, the company received a capital injection from Singapore's sovereign wealth fund, GIC, along with Singapore-based Frasers Property. Together, they invested US$177m (€155m) to build JustCo's presence in Southeast Asia and other Asian markets.
According to CBRE, flexible workspace operators raised US$1.28bn in new capital in the first eight months of this year, surpassing the US$1.13bn raised in 2017. Choi says: "Given the size of the addressable market, flexible spaces in Asia have raised quite a lot."
She says agile operators, including co-working brands, are growing rapidly in China. In fact, 90% of the US$3bn raised in Asia-Pacific for the sector since 2015 has been in China.
In Asia-Pacific and globally, flexible workspace operators are cash rich. Global leader WeWork acquired its Asian rival, Spacemob, last year to enlarge its footprint in Southeast Asia. In April, it purchased the Chinese operator, Naked Hub, for US$400m (€351m). "APAC is a big market, and ongoing growth of domestic flexible-space providers will be complemented by more arrivals from players in other regions," says Choi. "International operators account for about 35% of the total market, while domestic players dominate with over 60% of market share."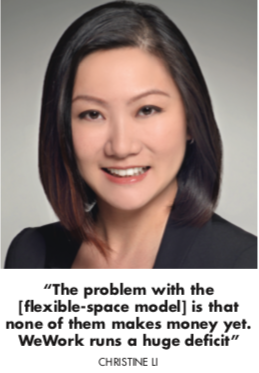 Among domestic players are many small firms that are being courted – and sometimes taken over – by bigger groups as the sector consolidates. Industry observers say landlords and developers are moving into the sector to "defend their territory".
According to a report by Instant Group, 'APAC Flex Market – The fastest growing region in the world', the "flexible industry in Asia-Pacific remains heavily weighted towards independent and localised providers", but the past "12 months saw some larger operators either expand quickly within the region or make bold statements about future expansion plans." (figure 2).
A case in point is Singapore's CapitaLand, which entered flexible workspace through a partnership with Collective Works in 2016. CapitaLand has since expanded its exposure by taking stakes in smaller operators including The Work Project, which operates in Hong Kong and Singapore. These investments have been made both on commercial grounds and to disrupt the disrupters.
Li says that, when WeWork first came up with its flexible workspace concept, it was targeting start-ups and entrepreneurs. WeWork's user base has since changed. Today, the bulk of its new users are bigger enterprises.
The change has been driven by the high cost of real estate, says Li, who describes real estate as "one commodity which is severely under-utilised". She says: "Flexible space operators use technology to make more efficient use of space. They know, for instance, exactly how much usage companies will get from facilities such as meeting rooms."
Colliers International surveyed Asia's top 200 office users which have a global reach. "Most occupiers are already using flexible workspace in some capacity, and looking at incorporating flexible workspace for more than just branch offices and swing space," says Wright. "We will see the flex and core concept being widely adopted as real estate strategies develop. This will lead to landlords forming deeper partnerships with operators to help occupiers deliver this strategy."
Kong says: "Enterprises and [multinationals] with us usually take larger spaces than start-ups, but start-ups are more likely to grow in size during their stay. We have seen start-ups doubling in size in six months."
Kong believes the rapid rise in flexible space in Asia-Pacific comes from a desire to correct a market imbalance. "Large and powerful" property developers dominate the office market, Kong says. "This has created in many cities a strong imbalance of power toward landlords, who have set the rules of the industry for decades. Shared workspace operators are disrupting this model. They are the intermediaries between landlords and tenants."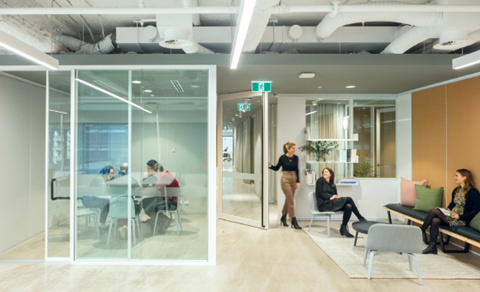 In today's market some landlords have two bites of the cherry. They lease space to co-working operators while also seeking a share of the business. "Developers are getting into the market with their own brands because, if they don't, their market share could be taken over by shared-space operators," says Li. "A lot of investment is coming from developers who are setting up joint ventures."
Australia's largest office landlord, Dexus, signed WeWork as a tenant for its Australian launch in late 2016. Dexus offers more flexible space arrangements for its own tenants. Hynes says the group recognises the need for tenants to have flexibility.
Dexus initially set up what it called Dexus Place in Sydney to provide tenants with meeting, training and seminar space. Dexus Place has since become available in other capital cities, while the latest Dexus innovation – SuiteX – is being trialled in Dexus' home city, Sydney.
Hynes says Dexus is not aiming to compete with co-working companies like WeWork, but it is merely offering options to those seeking flexible workspace. SuiteX provides 10sqm of space per person, compared with 5-6sqm in the co-working model. Between Dexus Place and SuiteX, Dexus tenants have the option of one-hour leasing on short-term licences through to formal leases from one to 10 years or more.
Despite the rapid growth, Li says the flexible-space sector is still in its infancy, and that it is "a bit premature" to expect institutional investment. "The problem with the models is that none of them makes money yet. WeWork runs a huge deficit."
WeWork reported net losses totalling US$723m over the half-year to 30 June, from a US$154m loss a year ago. "But," Li adds, "co-working operators are not short of funding. WeWork has had a US$2bn injection from Softbank alone."
Cho agrees that institutional investors – specifically, sovereign wealth and pension funds – are deploying only limited funds into Asia-Pacific flexible offices, largely because of their conservative investment mandates.
GIC is the sole exception. In the last edition of IPE Real Assets, Lee Kok Sun, GIC Real Estate CIO, said that an increase in the number of freelance professionals, under-served SMEs (including start-ups) and the rise of the millennial workforce, had given rise to a structural change in office usage. At the same time, he said, many companies were seeking to optimise cost and flexibility in their corporate real estate usage.
To date, most investors in the sector are venture capitalists, says Choi. Wright says: "Capital from a number of institutional sources is looking at the market. But not many deals have been executed – yet."
Urban Transit: The future of A to B
1

2

3

4

5

6

Currently reading

Offices: Incumbents take on disrupters

7