The flexible working sector is expected to transform the traditional office market, but will it be able to weather a market downturn? Maha Khan Phillips reports
If you think you can dismiss the buzz around flexible workspaces because of how small a market share it represents of the office sector, think again. Flexible working, which ranges from traditional serviced offices to niche co-working providers and everything in between, only represents about 4% of the global market. But it is growing too rapidly to be ignored.
In 2017 alone, the total amount of flexible space in the 20 largest flexible-space markets globally grew by 30%. Europe's total flexible space grew by 29%, and is set to grow by an average of 25-30% a year over the next five years, according to analysis from JLL, the real estate specialist.
This growth will impact all market participants. "You're looking at a real paradigm shift in this sector," says John Duckworth, managing director of UK and EMEA at The Instant Group. "This will have real ramifications for landlords, occupiers, and the sources of finance that sit behind lending against these assets. This is the biggest challenge the market is facing, not just in a generation, but ever."
As Green Street Advisors states in its Central London Office report of earlier this year, flexible office space is not a new concept. It has been around for decades, with companies like IWG (formerly Regus) offering serviced space in the market – in fact, coming back from a near extinction in the early 2000s.
But now, technological drivers, the rise of automation and big data, as well as a change in the culture of work and the growth of the gig economy, has generated new momentum: the demand for flexible space is being met by supply.
It is not just freelancers or small enterprises that are attracted to the concept. Larger corporates like the adaptability of flexible space, and are attracted to the shorter leases, particularly because many feel we are living in uncertain economic times. They are also using the spaces to attract and retain young talent who want to have access to cutting-edge hubs. Whether they offer free coffee or free prosecco, these hubs create their own work-lifestyle brands.
"Flexible space offers an element of choice for businesses that weren't there before," says Dan Bayley, head of City agency at BNP Paribas Real Estate in London. With the growth of bigger
centres like WeWork and The Office Group, it's a potential home for small to medium-size businesses setting up for the first time, and for project teams of larger businesses, and potentially a home for mid to large businesses who are not sure what the future holds."
It is no surprise then, to see that private-equity companies are muscling into the market. US firm Carlyle Group launched its shared-office business, Uncommon, in partnership with real estate investor the Adir Group, in June 2017. Bowmark Capital, the buyout firm, acquired a stake in The Instant Group, while Softbank's Vision Fund is in talks with WeWork for a majority stake in the company. Softbank acquired a minority stake last year. Real estate investment trusts (REITs) are also paying attention; in June last year, British Land launched Storey, a brand focused on companies of 20-70 people.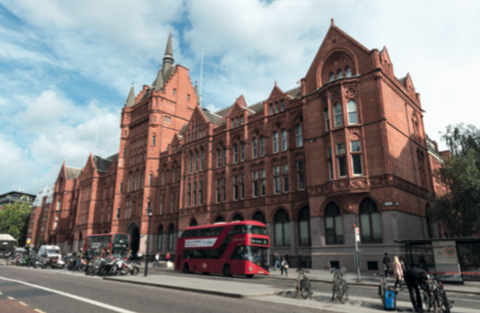 "REITs will have their own model, and are just moving with the times," says Hemant Kotak, managing director at Green Street. "They recognise that flexible space is what tenants want and they are catering to that need."
It means this is a long-term trend, and a significant shake up for landlords who can no longer afford to be complacent. "Landlords are used to doing basic fit outs and then leaving the rest to the occupier," says John Williams, head of marketing at The Instant Group. "But now, with disrupters like WeWork that do a great deal with the space that they have, landlords are realising that they have to put proper customer services in place. They need to speak to their clients and make sure they are happy. They need to build their brands."
They also have to reassess leases. Bayley says: "The growth in choice in Europe has put pressure on landlords, and they have had to react by offering more flexible leases themselves, and by working a bit harder in terms of what they deliver."
Alex Colpaert, head of offices research at JLL, believes the trend means investors will have to consider their ability to think of long-term market developments. "At the moment, demand-and-supply dynamics provide us with a view on future market rental growth," he says. "Flexspace will take some of the transparency away, because it will be, for example, a little more challenging to make accurate predictions about real vacancy rates in the markets."
They will also have to think about their valuation models. "One key area is valuations," says Peter Hensby, head of European office capital markets at JLL. "If you think about the fact that 20% to 30% of a space in a building is suddenly going to be on short-term leases, it's a much more operational model, and that will have an impact on the valuation of buildings, which have traditionally been valued on long-term leases. This isn't anything new. Operational models have been around for decades in the hotel and healthcare industries, and institutional investors have those types of operational assets in their portfolios. But they still have to consider how the flexible space will be valued and review their assets."
There are also headwinds to consider. Kotak does not believe that the high growth figures being projected are accurate. He thinks growth of 10% by 2030 is more realistic , although that still means the sector will more than double in size. He is concerned about a potential future downturn and its impact, however. "These operators are taking long leases and taking up space and volume, and they have a duration mismatch," he says.
Duration mismatch of long-term leases and short-term licences provides a material risk if the economic environment changes. Green Street's research also shows that occupancy levels for UK centres that opened a year ago are weak, and that flexible-space providers are pursuing aggressive growth strategies even amid concern of weakening fundamentals. If there was a recession, Green Street says, then market dislocation could be severe.
But other industry participants say it goes both ways. "In a downturn, the attractiveness of having a two-to-three-year commitment, as opposed to a 20-year lease, will be appealing," says Duckworth. "You have to look at the robustness of the organisations that populate the industry, and decide whether they have the infrastructure or debt and ability to ride out a downturn."
Bayley says an argument could be made for both the positive and negative impacts of a downturn. "If there's another financial crash, then most of these centres will be hit in a similar fashion, and a company could get into trouble," he says. "But the reverse argument is that, if we are in an economy that is going to be in trouble, that is going to be a default risk for all landlords, and operators would argue, why should we be worse than anyone else?"
Rogier Quirijns, portfolio manager at Cohen & Steers, says: "There is the often-discussed duration mismatch between the long-term commitments to landlords and the short-term letting of tenants. This will become apparent in the next downturn. In fact, given the rapid growth in demand for flexible and co-working office spaces, it is increasingly difficult to estimate the real underlying vacancy rate in city office markets, as data on occupancy across these platforms is not always publicly available.
"We believe it is fair to say the next cyclical downturn will be more dramatic, given the duration mismatch and the hidden vacancy levels. Pain in any downturn is most likely to be felt first in flexible offices, given corporate users are likely to shed the flexible leases first."
Quirijns adds: "WeWork has been a disruptor and innovator with an undeniable 'cool factor', but ultimately its business is not so different from IWG or other landlords specialising in flexible offices. IWG nearly went bankrupt after the TMT bubble in 2004, and has suffered weakening fundamentals over recent years due to increased competition. Perhaps most importantly, a strong balance sheet will be a differentiating factor in this sector, as companies in a good financial position will ultimately be the ones able to take advantage of dislocation in a weak market when it comes."
A downturn is not the only thing that could shape the future of the market. Four-fifths of the flexible-space market is currently run by smaller entities that either focus on one market or provide niche offerings, like women-only centres, or technical hubs. Not all of them can survive in the long term. Colpaert says: "Consolidation is inevitable, but the well-capitalised and experienced flexspaces are more likely to succeed, although innovative and niche operators providing a next-generation or differentiated offer will also flourish."
Investors will need to make sure they can compete, and that demand for flexible space is factored into their portfolios, Colpaert says. He believes some investors will establish their own flexible spaces, while others will collaborate with existing entities. Even others will look at mergers and acquisitions to access the sector, he suggests.
"Most investors buy into the trend for more flexspace, and acknowledge that it's here to stay. The big question is how big the impact will be," says Colpaert.
Bayley believes this is only the beginning. "I think this is a sea change," he says. "Once an occupier has seen that you can get quite a lot of space quite flexibly, and with an environment where the only certainty is uncertainty, then an occupier will get used to shorter lease commitments and more flexibility."
WeWork: "Well placed to deal with a recession"
WeWork, the company that provides shared workspaces worldwide has been a key player in the rise of flexible working. But it was only founded eight years ago. The self-styled 'platform for creators', which is currently valued at $20bn, was the fastest growing start-up in New York after its launch, and now operates in 287 locations in 77 cities. It has 268,000 members and 6,000 employees, and has also branched out into different types of services, from its WeLive residential offering, WeRise gym service, and even its WeGrow school.
But it does not like to be branded as a co-working service. "That's how a lot of people see us, but that's not actually what we do," says Mary Finnigan, director of transactions. "We are a community, and we provide both the space, and the global platform, for our members to join our community."
When they join, members have access to an internal social network, events and other services like yoga classes and juice bars, as well as the firm's annual Summer Camp extravaganza. WeWork becomes a working lifestyle choice, not just a decision on where to set up shop each day. Ultimately, the company offers flexible office space to anyone who needs it.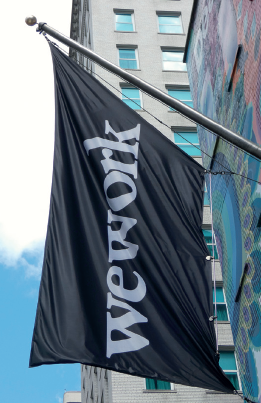 Its demographic is varied. "When I first started three years ago, the vast majority of our members in London were individuals, entrepreneurs, and SMEs," says Finnigan. "But in the last 18 months we've seen a huge demand for our enterprise membership, that's for a thousand or more employees."
Larger companies are using the service for different reasons, whether it is to have access to global spaces, to foster a culture of innovation, to attract and retain key talent, or because of the flexibility WeWork provides. "The way we work is less binary now," Finnigan says. "That's why all the extra things we provide to members are so important."
The company is also at the forefront of big data, and uses anonymous data to build a better experience for its members. "A lot of thought and attention is placed on design, on where we would place an armchair to encourage members to speak to one another, or the fact that we would use round rugs, because research has shown that people are more likely to walk around a rug and meet and have a conversation."
But with its high valuation, and the fact that it owns very few of its assets, WeWork is not without its sceptics. There are concerns that the company's business model will not be sustainable in a market downturn, and that the extra services the company offers does not negate the fact that it should be judged the same way as other flexible-space operators.
Finnigan dismisses the concern. "In a downturn, flexibility becomes so much more important than it is in the boom time," she says. "Businesses are able to scale up and down much more easily. There is normally a surge in entrepreneurial activity in a recession, and people crave community more. I think, given that we are in a position where we have entrepreneurs as well as larger corporates in our space, we are well placed to deal with a recession. And we do underwrite our deals very conservatively," she argues.
Urban Transit: The future of A to B
1

2

3

4

5

Currently reading

Offices: Crash test for new model

6

7