Micro housing is spreading across Asia-Pacific. Florence Chong looks at why small is becoming big
Home for a small but growing number of people in Asia-Pacific has shrunk to the size of the proverbial shoebox. As urbanisation pulls more people into big cities, there is more pressure on housing stock. And land constraints – which translate into higher land prices – have become a compounding issue in crowded cities. Architects and planners believe tiny but well built and well-designed micro apartments are the way of the future.
But they face a pushback by some regulatory authorities. Some governments, confronting the political challenges of housing affordability, remain ambivalent when it comes to intensifying building density. Australia's New South Wales state government, for example, has set a minimum size to curb a potential proliferation of micro apartments.
Setting a minimum size is, however, a luxury some countries can ill afford – Hong Kong being an example. Hong Kong faces pressing housing demand from both local and cross-border investors. Seeking solutions, Hong Kong architect James Law's firm, Cybertecture, has stirred a lot of interest there with its tube or pipe OPod homes (see OPods: more than a pipe dream).
"The trend to micro and nano homes is a by-product of the economic and social conditions of the day," says Law. A combination of dense population and land scarcity in Hong Kong have resulted in "extreme increases in the cost of living" spilling over to apartment prices.
To make housing affordable, he says, there has to be a trade-off between ample space and affordability (and even availability). Hong Kong is the world's most expensive property market, according to some surveys.
David Ji, head of research and consultancy for Greater China at Knight Frank, says Monaco is perhaps the only other place where land is as scarce as it is in Hong Kong. Hong Kong prices have risen by around 10% in the past three years, he says, and he hopes there might now be a pause because of fears of rising interest rates.
Cathie Chung, head of research at JLL in Hong Kong, says its inhabitants spend between 50% and 60% of their incomes on mortgage repayments. And this, she says, is not an historic high – only because of the low interest rates.
She believes pressure will increase on householders when interest rates start to rise. Because of the peg to the US dollar, Hong Kong's interest rate also tends to follow the direction of US rates.
"The price of mass-market flats does not come below HKD10,000 (€1,106) a sqft, even outside core areas. And that is just the starting point," says Ji. The price goes to more than HKD20,000 per sqft for apartments in sought-after locations. The entry price into the market for an apartment with less than 200sqft is at least HKD2m.
A micro flat in sought-after locations can fetch as much as HKD5bn. To put that in perspective, says Ji, a standard car space measures 135sqft. Home ownership in Hong Kong is a necessity ingrained into the Chinese culture. And for a first-time buyer, the nano apartment provides a first step up the property ladder.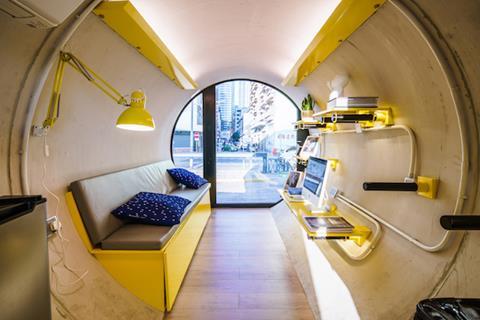 According to JLL Hong Kong, on average at least 1,200 nano homes will be built in Hong Kong every year until 2020, tripling the 1,170 micro apartments built between 2015 and 2017.
Hong Kong, a city of more than 7.4m people, produces about 20,000 new apartments a year – but is clearly trailing demand from the domestic buyers and cross-border investors, mainly from Mainland China. "There would be no demand for small flats if people could afford bigger ones," says Ji.
In Hong Kong's New Territories, where land is more available, nano flats have not been built. The bulk of Hong Kong nano flats are found in 'pencil' buildings wedged between other skyscrapers in prime locations near the business and financial districts.
Chung says micro apartments are not a Hong Kong phenomenon. Other densely populated cities, such as Beijing, New York and Tokyo, have also built micro housing. "There is a general trend for Hong Kong people to accept what they can afford. Even if a flat is small, as long as it is well-designed, of good quality and the physical environment is pleasant, it is acceptable," says Chung.
She points to the quick take-up of flats when a project known as Cetus Square Mile in the Kowloon suburb of Tai Kok Tsui came to market recently. Of 504 apartments on sale, 138 have a liveable area of 200sqft. She says 75% of the complex was sold in a month.
Nevertheless, Ji does not believe nano housing will become part of the mainstream of Hong Kong's housing supply.
Across the border in Shenzhen, developer China Vanke has been at the forefront in promoting micro flats. The head of research for JLL North China, Mi Yang, says: "Vanke has been looking at micro apartments since 2013. Generally, however, other big developers have not adopted them. And we are not seeing evidence of demand for or development of micro apartments in Beijing."
Mi says small apartments only work for rental housing. Even then, Chinese apartments of 200sqft or less are seen as simply too small, even for rental. "The average apartment size in Beijing is now 250-500sqft," he says.
Mi says he does not see a trend to micro apartments taking hold in China. When asked about demand from young migrants outside the major cities seeking affordable accommodation, he says: "For Beijing, there is a high restriction on non-Beijing people without Beijing Hukou [household registration granted by local authorities] buying a house. This applies to most migrants. They are not permitted to buy a house in Beijing."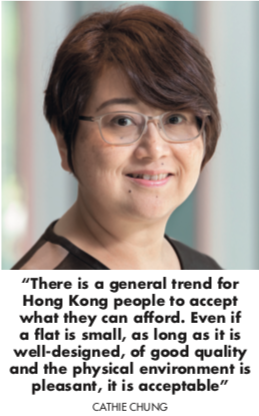 As in Beijing, micro apartments in Japanese cities are mostly rental properties. Tiny apartments have been around in Japan for three decades.
Hideaki Suzuki, Japan head of research at Cushman & Wakefield, says micro apartments – those measuring between 20sqm and 30sqm – do form part of Japan's rental pool. "These studios provide affordable housing for young people before they are married," he says. But after marriage, young Japanese buy bigger apartments or houses over 50sqm.
He adds that micro apartments are owned largely by professional multifamily investors like Japanese real estate investment trust (J-REITs) as part of their rental portfolios.
They also appeal to private investors, he says, who buy them to enjoy negative gearing and favourable tax accounting rules that treat invested real estate as a depreciable asset that reduces taxable income.
Gross rental yield from these small apartments, Suzuki says, offers at least 4% and above.
As in Hong Kong, the supply of micro apartments in Japan comes mainly from small developers, which, depending on location, price them at upwards of US$220,000 (€192,803) each.
In Australia, city planners argue that authorities should relax planning rules to allow development of micro apartments, providing more efficient use of land in urban areas.
But State governments – which are in charge of their own planning laws – are yet to be convinced. Neither, for that matter, is the Australian public.
The NSW government has regulated that one-bedroom units can be no smaller than 50sqm and student apartments no smaller than 35sqm.
Even if micro apartments were available, Australian banks would shy away from financing them, as they are regarded by the banks as having no resale value, and therefore are not considered sound investments.
In Singapore, where more than 80% of people live in high-rise estates, micro apartments have yet to surface. The smallest in the market have 50sqm of living area – and these are disparagingly referred to by locals as 'shoebox' apartments.
Tweaking plot ratios might be a solution, but where land prices have reached a certain level, other answers for affordable housing still need to be found. Hong Kong believes it might have found an answer by fashioning homes from big concrete pipes and shipping containers. But this may address only part of the issue – and create others surrounding regulation.
Chung sees such unusual homes as part of the transition to government housing. But first, she says, regulatory issues need to be addressed. Ji says: "If people are prepared to consider living in a container home, they have already broken out of the bricks-and-mortar mentality."
But this is not the way to go, she believes. "The way forward is for the Hong Kong government to provide more land for housing."
OPods: more than a pipe dream
Temporary housing for low-income workers
A cluster of OPod Tube House are to be built in Kowloon's To Kwa Wan district in Hong Kong to provide housing for people on lower incomes. The micro homes will be created from huge concrete water pipes and are being built with the support of the government.
The brainchild of Hong Kong architect, James Law, the OPod homes are stackable, and could slot into gaps between city buildings. Law has transformed water pipes 2.5m wide into 9.29sqm OPod homes, which have doors that can be unlocked with a smartphone.
"Our prototype OPod homes have been on public view for one year," he says. "We now have community and government support to build real OPod housing for lower income people. The Hong Kong government has given us land for 20 OPod units. One of these will be used as a communal kitchen and dining area."
Preliminary response from people in need of housing, says Law, has been "extremely enthusiastic".
He expects the To Kwa Wan project to be the first of many built in Hong Kong. "We already have plans to build hundreds, if not thousands."
The homes are not designed for sale. Instead, they will provide temporary housing for lower income groups.
Law, through his company, Cybertecture, hopes to export his OPod concept to other countries grappling with housing crises.
With the support of partners and governments, Law says his unusual micro homes could help relieve urgent housing crises. "This form of micro housing can provide a solution when large numbers of temporary low-quality homes need to be replaced," he says.
"Perhaps even in locations which need reconstruction after disasters. My ambition is that this design will allow societies to move quickly to alleviate the problem of homelessness."
Urban Transit: The future of A to B
1

2

3

Currently reading

Housing: Shrinking markets

4

5

6

7