Investors are under-valuing residential REITs at a time when urbanisation and pressures on affordability are supporting a positive outlook. Chris O'Dea reports
Green Street Advisors "rarely makes sector overweight or underweight recommendations", according to an October report by John Pawlowski, Galen Faurot-Pigeon and Alan Peterson. In fact, the report goes on to say, Green Street has made only three such recommendations in the past four years.
Green Street recommended investors to overweight residential real estate investment trusts (REITs) versus their commercial counterparts (at the prices at the time of the recommendation) – and overweight all three residential sectors: apartments, manufactured housing, and single-family rental.
The report says: "intra-sector relative valuation calls have proven to be the most consistent recipe for alpha creation in the REIT world over time… cross-sector pricing disparities present opportunities to make tactical sector recommendations when we believe investors are mispricing a property type and/or are over or underappreciating a sector's near-term prospects."
The positive outlook for residential REITs, relative to non-residential listed property, comes at a time when the affordability of both rental and for-sale housing in the US remains a major issue.
In the apartment rental sector, in fact, a recent survey from Apartment Guide found that affordability is one of the top priorities on renter's shopping lists – well ahead of other major considerations such as location and building amenities. The survey showed that 44% of apartment-hunting renters ranked finding an apartment that fit their budget as the top priority, with nearly 40% preferring to have the cost of utilities included in the rent.
Location was the second requirement for apartment-hunting renters, with 29% of respondents saying that it was the top priority in their housing search. The lower ranking reflects how renters trade off various combinations of access to work, public transit and amenities like retail and schools, when decide where to pitch their tents. Security is a top concern, with renters saying 35% of the time that they were most interested in apartments that offered gated access when asked to choose among a variety of rental properties. Beyond price and security, renters also recently cite a desire for health and wellness amenities.
But there is no doubt the cost of shelter is rising in the US – a whopping 74% of renters in the survey said they notice price while searching for a unit. American renters are increasingly willing to "make budget" by squeezing into less space — square footage ranked just above location as a priority, with 33% of renters putting apartment size on their top priority list. Confirming that new-found flexibility, renters said size/square footage was the feature they were most willing to comprise on when considering an apartment. The budget-conscious trend is unlikely to change soon — nearly 40% of renters said they were moving in order to save money.
In short, renting has displaced home ownership as main goal of many in the US. The Pew Research Center reports that the number of US households renting their home increased significantly between 2006 and 2016, as did the share of renters in American households, which rose from 31.2% of households in 2006 to 36.6% in 2016. The current share of renters in the population of US households exceeds the recent high of 36.2% set in 1986 and 1988 and is approaching the rate of 37.0% in 1965, the era when liberal Democrat Lyndon Johnson rolled out his Great Society programs to alleviate problems in housing affordability and other national economic strains, according to Pew. Between 2006 and 2016, the total number of households in the US grew by 7.6m, but the number of households headed by owners remained relatively flat, Pew reports, "in part because of the lingering effects of the housing crisis."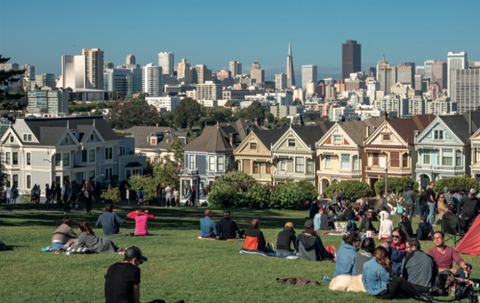 The affordability crunch is particularly acute at the entry level. Starter homes are now more costly to purchase than at any time since the last housing boom ground to a halt in 2008. In the second quarter of 2018, first-time buyers needed almost 23% of their income to afford a typical entry-level home, up from 21% a year earlier, according to an analysis by the National Association of Realtors. The most expensive US markets include San Francisco and New York, where the median household needed about 65% of its income to buy a home in the second quarter, according to an analysis from Trulia, while the share of income needed to break into home ownership was 59% in Los Angeles and 55% in Miami.
One alternative that had been available to apartment renters – living in older property – is also disappearing, bringing the affordability crisis to a segment of the market where people had been able to find more reasonably-priced homes. Units at properties built in 1959 or earlier had steeper median rent increases from 2000 to 2016 than those half their age, according to a study by Apartment List. The older buildings are still cheaper, however, with a median rent 23% lower than the median for properties built in the 1990s.
Older buildings are being taken off the market to undergo extensive renovations to units, common areas and amenity spaces, changes that result in higher rents when the units return to the market, the study found. Units built in the 1970s and 1980s – which marked the biggest surge in multifamily construction in the US – are now prime targets for redevelopment. Market dynamics are at work. As renters seek out older units that aren't yet updated – for their relative affordability – the demand has started to push those prices higher. "If this happens to the largest cohort of apartments," says Apartment List chief economist Igor Popov, "then the affordability problem is going to get worse".
Despite those headwinds, there are positive trends in the US housing market that show up – on a relative basis – in all three segments of the residential REIT market.
An often-overlooked sector is manufactured housing. Green Street has believed for 25 years that the segment is "systematically undervalued in both the private and public market". While there is not a near-term driver for the overweight recommendation, "valuation remains compelling". Persistent barriers to supply mean that new supply will be negligible in coming years, while there is "no observable weakness" in rental growth today.
While single-family rental REITs have underperformed during 2018, Green Street believes the market "overreacted" to recent operating results updates from single-family rental REITs, and that sentiment on management teams is "too bearish". Demand for single-family rentals improved in step with the softening of the for-sale market; home ownership is one of the larger medium to long-term threats to the single-family rental story, as Green Street believes the majority of tenants are renters by need and not by choice, so the recent rise in mortgage interest rates "pushes the path to ownership further out for the [single-family rental] tenant base".
Some of the same trends that make housing less affordable overall can have a beneficial effect on apartment REITs that operate with scale advantages in construction, management, and financing of multifamily residential property. Apartment REITs "have been priced attractively for some time, based on long-term IRR expectations and versus the private-market value of properties given large NAV discounts have persisted," Green Street says.
The rationale for Green Street's formal overweight of apartment REITs is based on two recent changes in the environment for multifamily property, "accelerating rent growth and a rising mortgage rate that could temper the transition to homeownership," the report says. Green Street believes apartment REITs "remain attractive" on a long-term valuation basis. In addition, "rent growth in most markets, including previously lagging metros, is rapidly gaining momentum", the report says, a change which "seems underappreciated".
The positive relative outlook for apartment REITs accounts for rising supply. Green Street has an "above-consensus view of supply growth" in 2019 and 2020, but the firm notes that "demand trends continue to exceed our expectations, even in the most heavily supplied markets where the pace of rent growth deceleration is reasonable." With mortgage rates rising rapidly, the report says, "the growth in the homeownership rate we have expected should be tempered in the near term, which could further bolster demand for apartments, particularly in non-coastal markets".
Urban Transit: The future of A to B
1

2

Currently reading

Housing: Missed opportunity

3

4

5

6

7