---
An unprecedented amount of people are travelling the world, with shopping high on the agenda for many. Mark Faithfull reports on the retail race to capture their wallets
The Chinese are the world's highest spending tourists. With an expenditure of $261bn (€221bn) worldwide in 2016, tax-refund specialist Global Blue's figures show that Chinese shoppers have been a global powerhouse, growing from 21% of tax-free shopping spend in 2010 to 43% in 2017.
"China is the world's largest source of outbound tourists, in terms of both quantity of trips abroad and expenditure," says John Sharp-Paul, head of portfolio management, Asia at TH Real Estate . "It became the world's top spender in international tourism in 2012 and has since led global outbound travel following 10 years of double-digit growth.
"China already accounts for over 20% of money spent by outbound tourists, twice as much as the next biggest, the US. Germany, the UK and France are Europe's top source markets, capturing 6.5%, 5.2% and 3.3% of market share, respectively."
Little wonder then that Madrid-based EuroFund is looking to the southern Spanish holiday resort of Malaga for its next major project, a 'retail resort' targeting the millions of northern Europeans who flock to the sunshine every year.
Intu Costa del Sol, being developed with the UK's Intu, will combine a major shopping centre with outdoor entertainment, leisure and food and beverage. "The appeal for retailers is that for tourist spend, the normal rules don't apply," says EuroFund CEO Ian Sandford. "When people are on holiday, to some extent the brakes are off, they want to enjoy themselves and they have plenty of time. There is also a great opportunity to showcase brands to shoppers. So, for example, a brand like Tesla can introduce itself to consumers when they have time to browse and look. The power is in the sales potential back home."
And he stresses that creating all-encompassing destinations allows the location to be a draw in its own right, competing not only with regional rivals but also with international ones. "Take the example of an affluent couple from, say, Newcastle who might decide to go to London for the weekend for some Christmas shopping," he says. "Our job is to market a cost-effective alternative, where they can fly to Malaga, stay in our hotel and spend time and shop in a nice, family-friendly environment."
It is a theme taken up by Didier Souillat, CEO of Time Out Markets, the publishing specialist's food hall division, which has a pipeline of developments earmarked worldwide after the runaway success of its debut Lisbon venue, a massive draw in the Portuguese capital. Plans for Miami, New York, Boston, Chicago and Porto continue and Souillat says curation is key to capture the necessary level of spend.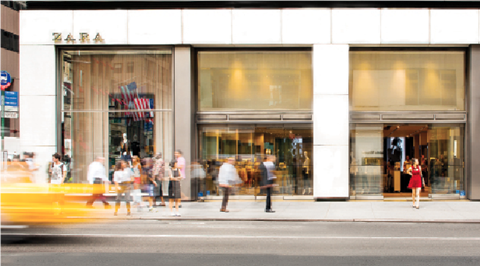 "A market needs to be where people live, work and tourists go," he says. "The magazine is a huge marketing machine. Finding sites is very difficult. We need to find up-and-coming locations, which we can afford now but that in two or three years from now we won't be able to afford.
"For us we need foodie cities and ideally cities where the publication is strong too. So in New York and Chicago the magazine is very strong and in Miami and Boston – which have close ties with New York anyway – we will be launching the magazine to support the marketing. So it has to be in the DNA of the city, which means we will not be opening everywhere."
Neither has he given up on London, despite planning-permission knock-backs over the proposed Spitalfields site. He says the company "still believes in the location" and hopes a second appeal will reap dividends. If so, it will not be far from the first London location for Italian gourmet giant Eataly, which has agreed to take a huge, double-storey building within British Land's Bishopsgate development.
Opening in 2020, the 42,000sqft outlet will include a selection of the best Italian products, restaurants, bars, quick service, on-site production and a cooking school. Luca Baffigo, CEO of Eataly, recalls visiting London's Borough Market before opening the first Eataly in Italy. It was, he says, "a source of great inspiration for our concept". He says: "This is why opening a place in London is a very important and exciting milestone for us."
These food emporiums, riding on a wave of increased interest from consumers, are supplemented by a huge influx of tourists to London. Last year's visitor visa figures from UK China Visitor Alliance (UKCVA) show that the number of Chinese visitors to the UK have soared by over 150% in the five years since 2012, from 210,958 to 531,967.
In addition, figures from Global Blue show that spending on shopping by Chinese visitors in the UK grew by 32% in 2017, building on a 26% rise in 2016. This compares with just 5% growth in the euro-zone in 2017 and a 21% fall in 2016, when for the first time the UK outperformed the Schengen Area in terms of the annual increase in visas issued in China (20% for the UK, minus 12% for Schengen), while overtaking Germany and Italy and drawing close to France in the number of visitor visas issued.
Designer outlets have really recognised and exploited the opportunities from growing cross-border tourism. Value Retail's Bicester Village remains the benchmark, while the biggest player, McArthurGlen, has 24 centres located just outside major cities and within tourism regions. In some centres, a combination of long-haul, European and domestic tourism drives over 35% of revenue.
In 2017, McArthurGlen's international tourism revenues (tax-free sales) increased by 14%, led by visitors from China, Russia, South Korea and Japan. Its analysis shows that European tourists spend up to three times more than domestic shoppers, South East Asian tourists up to six times, Russian tourists up to seven times and Chinese tourists up to 10 times.
While many retail destinations are focused on Chinese tourists, other influential nationalities are also emerging. McArthurGlen notes the rise of a more middle-class demographic in Latin America and the Caribbean and Asia-Pacific, giving rise to increased tourism in Europe. It has also seen a re-emergence of Russians tourists in the past year, and demand from parts of South-East Asia is anticipated to grow, with Indonesia emerging in particular. India is also a growing market with global tourism spend set to expand rapidly.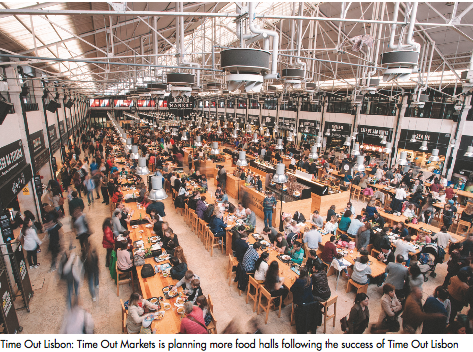 Sharp-Paul concurs: "India has become ever-more visible. During 2017, Indian global shopper spend increased by 23%, and 15% of transactions were over €5,000, versus 5% of Chinese. We see India to be a significant global player going forward, aided by its vast population, expanding economy and rising middle classes."
Similarly, Haoran Wu, research analyst at TH Real Estate, points out that while tour groups have dominated China's travel industry for decades, in recent years there has been a rise in independent travellers. "Many of them have been to the global gateway cities before and are willing to explore new destinations," he says. "There are some dark-horse destinations gaining great attention, with Morocco, Turkey and Tunisia the top three fastest growth markets in tourist numbers in 2017. We believe destinations that work hard to market experiences will benefit from this emerging trend."
Yet the traditional destinations remain dominant. Paris, London and Milan remain the top three shopping cities in Europe, capturing over half of the tax-free sales on the continent.
"While the retail sales attributed to local residents have been growing at low single-digit rates over the last decade, the growth from non-EU tourists has been markedly higher," says Wu.
"Tourist spending thus serves as a cushion against market turmoil. This was the case in London where tax-free total sales increased by 35% on Bond Street after the Brexit vote last year, boosted by the fall in sterling and international retail tourists looking for a bargain. Shoppers in a holiday mood are more likely to spend on discretionary items when domestic consumer confidence is hard hit by uncertainties."
Noisy neighbours: Hong Kong and Seoul
"In Hong Kong, tourists represent about one-third of the total retail market spend. The mainland Chinese consumer represents about 80% of this and has a huge impact on how some of the major retail malls position and market themselves," says James Assersohn, director of Asia-Pacific retail at JLL.
But Assersohn also warns that it is not just about accepting Union Pay and having Chinese speaking shopping assistants. "Brands are now heavily marketing themselves to individuals through WeChat," he says. "Independent travel is becoming the norm for most Chinese visitors. The consumer is demanding an experience outside of a tour bus shuttling from a mall to a sightseeing attraction. Independent Chinese tourists are now generally spending longer in single destinations and visiting more local attractions and shopping for local brands at all ends of the price spectrum."
Hong Kong had experienced a large drop in its retail market after mainland tourism decreased after a crackdown on corruption in China and the consequent fall off in 'grace and favour' gifts. But since the second half of 2017 Chinese tourists have started to return and the market is now experiencing double-digit growth in retail sales.
"Hong Kong will continue to be a popular destination. Japan, particularly Tokyo, remains a major destination," says Assersohn. "Australia and New Zealand are quickly becoming must-see destinations as the perceived healthy lifestyle and beautiful surroundings offer a major attraction to those living in heavily urbanised cities in China."
However, the sheer size and spending power of Chinese tourism can also be quickly turned off. For example, with Seoul's deployment of the THAAD anti-missile system in 2017, the Chinese brought travel restrictions to many visitors.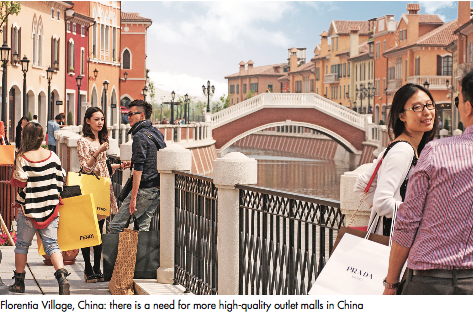 "The Chinese government banned group tours as economic retaliation. As a result, Chinese arrivals in South Korea were down by almost half in 2017, driving down total tourist arrivals in South Korea by 23%," says Sharp-Paul. "As Chinese tourists accounted for about half of the revenue of hotel chains, cosmetic companies and duty-free shops before the ban, the country's travel retail has been hard hit, with tax-free sales down 32% after the month of the sanction, and Bank of Korea forecast the ban would result in about US$4.5bn in lost revenue for the tourism industry for 2017."
As for designer outlets, Haoran Wu says: "In China, many retail centres have been constructed under the name of 'outlet', but many locally designed schemes do not meet the requirements of international luxury retailers, with developers failing to make ongoing efforts to manage their assets. Others were developed for mass-market retailers, having little synergy with luxury, so have encountered difficulties attracting the top brands. High-quality outlet malls, which meet mainstream US and European standards, are still remarkably undersupplied in China."
Holding onto the American dream
Non-domestic tourists are one of the most important influences for many retailers thinking of coming to the US, especially the top six gateway markets of Miami, Los Angeles, San Francisco, New York, Las Vegas, and Chicago, says Michael Hirschfeld, vice-chairman, national retail tenant services at JLL in the US.
"The most influential tourists entering the US tend to ebb and flow depending on which global economies are booming," he says. "For the past few years, pan-Asian and China tourists to the US have had a big impact – the emergence of a Chinese middle class has driven this. However, Europe will always be a factor, but this ebbs and flows more often on the value of the dollar."
Hirschfeld says Miami is still popular with retailers and for those coming from South America. San Francisco, while it is often a destination of choice for Asia-Pacific retailers, does have the overhang of formula retail laws [which limit the opening of chain stores] to deal with. New York, Las Vegas and Los Angeles are the locales many fashion brands target early on. Chicago is often the last to be targeted."
Hirschfeld says there could be "some fallout" from the US travel ban, "but it has not yet manifested itself more because the group affected… doesn't contribute enough to overall retail sales in the US.
However, the tenor and tone being set by the current administration will start to have more of an impact, especially as trade agreements play out. Retailers could see the cost of goods rise due to tariffs, which could lead to shoppers pulling back on expenditure. Secondary gateways such as Boston, Seattle, and Washington DC will see a lift, as will markets with an emphasis on tech.
All to play for: beyond the games
With the World Cup taking place across Russia this summer, major sporting events continue to have a significant impact on the economies of host cities. Yet not every location has capitalised.
Indeed, the Olympic Games have a somewhat chequered economic history. The 1972 Munich Olympics lost £178m (€202m), the 1976 Montreal Olympics lost £692m and the 1992 Barcelona Olympics scraped a profit of just £2m.
However, the wider economic impact of the Olympics has been proven, with Sydney in 2000 generating an economic benefit of £3bn, of which roughly a quarter was attributed to the retail sector throughout Australia during the games.
Following the games, the New South Wales government found that the games generated up to £2.4bn worth of international publicity and attracted an additional 1.6m visitors to Australia the following year, spending over £2bn.
Without the London Olympics of 2012, Westfield could well not have built Westfield Stratford City, and the east of London has benefited from significant regeneration, which continues as part of the Olympic legacy. Visa estimated the boost from the games at £750m, with £700m from overseas. However, as much as 72% of retail spend was confined to London.
Global travel: Markets that move
1

2

3

4

5

6

Currently reading

Retail: Shopping all over the world