The hotel industry is being transformed, and that can only be good news for institutional investors, writes Maha Khan Phillips
In January, Cycas Hospitality, which is one of the largest extended-stay hotel operators in the UK, expanded into Europe. It developed a dual-branded property in Amsterdam, managing the Marriott's economy brand, Moxy, and its extended-stay product, Residence Inn. Four months later, it did the same with Hyatt in Paris, which launched its Hyatt Place and Hyatt House brands on the same site.
Cycas Hospitality had been operating extended-stay hotels in the UK for a decade, beginning with the development of the UK's first extended-stay hotel under Inter-Continental Hotels Group's Staybridge Suites brand in Liverpool. Eduard Elias, co-founder, says both the extended-stay and the dual-branded hotel sectors offer investment opportunities for institutional investors in real estate.
"Extended-stay hotels were until recently seen as a speciality, and the hotel sector in general was considered to be high risk compared to offices and residential," he says. But the overall sector has matured, and, in many cases, is seen as less risky. Something similar is happening to extended stay hotels. The sector is maturing in the US and Europe."
Elias believes that in future investors will pay a premium for an extended-stay hotel, compared with a regular hotel, because they offer less risk and less volatility. And, he says, he expects to see "tremendous" growth in the market over the next two years.
This growth in dual-branded hotels and extended-stay offerings is indicative of a wider trend. The hotel industry is booming in Europe, but its product set is changing.
"The line between hotels, serviced apartments, regular apartments, and anything with a bed in it is blurring," says Marc Socker, managing director at Invesco Real Estate. "And large brands and hotel companies are getting involved in it all."
Overall, the hotel industry is faring well. Europe grew by over 10% in 2017, according to the HVS Hotel Valuation index. In addition, the supply pipeline in Europe remained at only 6%, while it was at double figures on every other continent, suggesting that supply is not keeping up with demand. Meanwhile, international tourism reached 671m travellers last year, up 8% from the previous year. Hotel transactions were close to their record levels of 2015, at €21.7bn, compared with €23.7bn in 2015.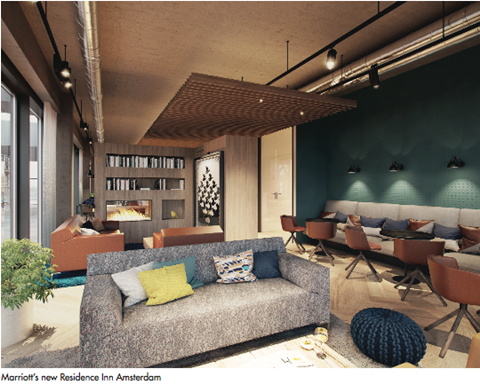 "From a macroeconomic point of view, the hospitality sector across Europe is absolutely booming, and it's a no-brainer," says Bianca Tristao, investment analyst at Avignon Capital. "We've seen GDP growth in most markets, consumer spending is going up, tourism is increasing, and the hospitality sector is largely benefiting from that."
But the industry has had to evolve, and is still evolving. Under the looming threat of disrupters such as Airbnb and online travel agencies (OTAs), hotels have changed their business models. High-profile consolidation has been part of the approach, notably with the $13.6bn (€11.5bn) Marriott acquisition of Starwood and the $2.7bn AccorHotels merger with Fairmont Raffles Hotels. But large brands are also fighting disruptors by playing them at their own game, offering everything from boutique hotels, serviced apartments, and hostels.
Marriott, for example, has its Moxy and Residence Inn brands, but it has also taken an equity investment in Placepass, a meta-search provider for travel and leisure activities, so that guests can sign up for tours and experiences. Hyatt moved into the home-sharing sector with its minority stake in Oasis Collections, as well as launching a new category of 'wellness' brands in its portfolio. AccorHotels, meanwhile, acquired three home-sharing platforms last year, and merged them under its One Fine Stay brand. It has even invested in Potel & Chabot, a catering business. Hilton launched its low-cost hotel chain Tru, while Best Western offered up its Vib and Glo boutique products.
"There are definitely a lot of new business models that we're tracking, and new brand concepts that are being introduced in the hotel world," says Lauro Ferroni, global head of research for JLL's Hotels and Hospitality Group. "Some of them are being driven by smaller independent companies, but it is the large, publicly-listed global brand hotel companies that are at the forefront of some of these new drivers. These companies are under pressure to grow, to have a large pipeline, and to gain more distribution and brand penetration."
Ferroni believes part of the reason for the launch of the new brands, which tend to be smaller and more focused, is because they are easier to execute. "They have lower costs," he says. "We are seeing fewer full-service luxury hotels and resorts being developed."
Some of the brands are so well designed they are outperforming expectations, according to Ferroni. "They feature what [travellers] are looking for, which means they are performing very well," he says.
What does all this blurring of lines mean for institutional investors? For now, says Ferroni, it means making investments of scale will take time. It also means investors will have different risk approaches to consider, and new opportunities to embrace a much more diverse spectrum of investments.
"A huge benefit of a booming economy is that more hotels, hotel products, and niche players get a chance to try things out," says Andreas Ewald, managing partner at EVHC. "In a slowing economy, people concentrate on what has been working for the last 10 and 20 years, and there's no funding for new types of products, or differentiated products coming to market."
Investors may have to rethink where the asset class sits in their portfolio. "If you take a hotel with a lease contract, and you have a yield of maybe 4%, depending on location. If you take that same hotel and turn it into extended-stay and serviced apartments, the guarantee and contract may be less favourable. But for the institutional investor it's attractive because of its proximity to a residential service," Ewald says.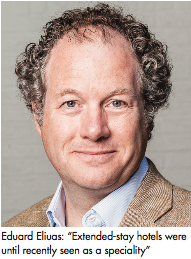 The same could be true for the office sector. RDI REIT is a diversified income-focused FTSE 250 REIT with a majority stake in the Redefine BDL Hotel Group, and International Hotel Properties. In London, it manages The Cabins, luxury serviced bedrooms available for the exclusive use of its Office Space in Town brand. "We are getting to grips with cross-selling. In our Monument office, you can have a one-stop shop," says Mike Watters, chief executive. "People can arrive, book a hotel room shower, change, and go straight to a meeting room. We see similarities between trying to manage a hotel, or office or hostel, and this mixed-use model is something we will try to grow."
He says investors will have to change their thinking. "In the past, institutional investors were looking for security of income, things like long-let office buildings and shopping centres. Those days are gone. Companies rarely know if they are expanding or shrinking, or shrinking in the future, and the whole emphasis is now on property as a service, not as a product."
Investors have doubled their allocations to hotel real estate since 2014, according to JLL's Hotel Investment Outlook 2018 report. The firm expects investors to continue growing as a key buyer group because of their need for diversified income, and as they become more comfortable with the hotel industry.
More than a third (34%) of investors believe the hotel and hospitality industry will present some of the best real estate opportunities this year, according to a study by BrickVest, the real estate investment platform.
"Many clients, even conservative pension funds, are looking into transaction hotels and getting them into their portfolio," says Ewald. "People are looking at the asset class and finding it attractive, which is driving yields. But there's very little product out there."
But as products continue to diversify, Ewald acknowledges that specialist knowledge will be key. "I would say that the increased granularity of brands creates complexity. We are going to see experts in every different segment who are targeting small groups, but in an efficient and expert manner."
But the sector is continuing to mature. "In Europe, there is still a lot of brand consolidation to happen," says Socker. "The market is dominated by mom-and-pop operations and bed-and-breakfasts, and these are not institutionally acceptable. As that changes, and it becomes more professional, there will be more opportunities for institutional investors to enter the sector."
And the new, mixed-use hotels of the future will be nothing like the hotels of the past. Socker says: "Hotels have traditionally been slow to adapt, but that is changing, largely because of the disrupters we are seeing. Hotels are waking up to this now, and there's a lot more focus on brands, technology, and on distribution."
Global travel: Markets that move
1

2

3

4

Currently reading

Hotels Europe: Ring the changes

5

6