Hotels in 'drive-to' domestic markets have fared better than city destinations that are reliant on international visitors. Vanessa Drucker reports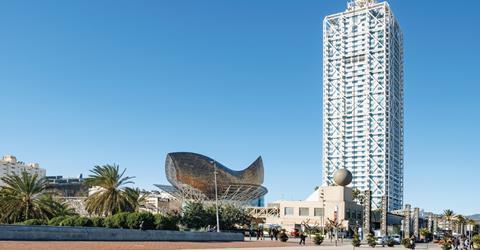 Tourism and business travel came to a crashing halt in March and April as the shock of the COVID-19 pandemic ricocheted around the world. Airlines and hotels were exceptionally hard hit.
Few airplanes were flying, and international conferences were hastily cancelled. "It was hard to plan anything, between international quarantine rules and confusion over a return to office work," says Keith Breslauer, founder of Patron Capital Advisers.
Data from STR, the leading global hotel index, reported unprecedented declines as the virus struck. Occupancy cratered across Europe, crashing by 61.6% to 26.3%, with absolute occupancy levels reaching the lowest of any year on record. Average daily rates sank by 8.1%, and revenue per available room by 64.7%.
Yet the real picture is bifurcated. While urban hotels struggled, especially those with international business, 'staycation' hotels benefitted from domestic travel, and were thriving, especially in the 'drive-to' markets – locations within driving distances of cities. Leisure hotels particularly flourished on weekends, even without the usual weddings and other lucrative events. When Breslauer tried to book a holiday in Cornwall or the Lake District this summer, he could hardly find a room. "Each country experienced its own twists and turns," he says.
Regional variances highlight the divide between winners and losers. Gateway cities such as London and Paris, that typically rely on tourism from Asia and the US, floundered. Other regional destinations such as Munich, Zurich or Milan have held up better. Matthew Pohlman, a real estate partner at law firm Goodwin, says: "In the period through August, hotels were beginning to rebound, coming off a low base, and continued with steady momentum."
In the UK, outside London, provincial regions actually thrived. That same theme played out across the continent, in France, Italy and Germany. Pohlman notes how the guest mix shifted. Nice and St Tropez swarmed – but thanks to different holiday crowds. Few Americans arrived, although Parisians came in greater numbers than prior years. "Some of that momentum trailed off in September, because people went back to work," Pohlman adds.
With limited visibility, hoteliers and managements hesitate to make definitive forecasts. Should operators sacrifice average daily rates to enter a competitive war? Another thorny issue is how to approach a market with differing brands and price points. For example, should big chains, like Marriott or InterContinental Hotels Group, be considering dropping prices for their four stars?
Facing so many unknowns, the industry has demonstrated some resilience. Governments can be lobbied for relief with furlough programmes or tax abatement, such as exemptions from VAT or property taxes.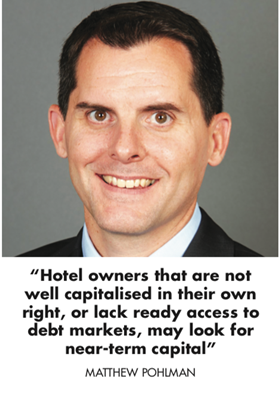 Many countries in Europe have implemented tourism taxes in recent years, designed to provide a cash windfall. Examples include Paris and Lyon in France, and Germany's 'bed tax' in Berlin and Hamburg, which represents 5% of a guest's hotel bill. Destinations with tourist taxes include Italy, Spain, Switzerland, Greece and Portugal.
Hotels have been taking operational measures to create a safer environment for customers, and messaging around those initiatives in an effort to instil trust. Customers are reassured to notice ongoing cleaning through the day. "Managements are rethinking how guests can engage with hotels from a physical and staffing standpoint," Pohlman says.
For instance, hotels have turned to technology to encourage social distancing, and less human contact between staff and guests. They are exploiting robust apps and robotics, and instituting remote entry into rooms – although these functions come with prices attached.
"The luxury hotels have been taking their time," says Russell Kett, chairman of the London office of HVS, a global specialist hotel consultancy. Yet there is an economic benefit arising from costly precautions. One might assume that such personal protection equipment and increased housekeeping represent a considerable expense to hotel owners. On the other hand, having fewer staff helps control operating costs. "They may save between 30% and 40% of staff costs by not bringing back the full complement of staff from furloughs," Kett explains.
If you are staying two or three nights, would you prefer your room to be serviced less often? During COVID-19, many guests prefer to cut down contact. Hotel restaurants are serving more limited menus. Eliminating the groaning buffet tables dispels the need for a vast range of choices, or even for a range of restaurants. The various cost savings add up, contributing to the bottom line. "Breakeven now may be lower than it would have been previously," Kett calculates.
Robert-Jan Foortse, head of European property investments at APG Asset Management, says: "Creative and flexible programmes are being tried, to help hotel owners earn more income from their existing properties." He cites a recently launched subscription service for hotel rooms: "You pay a certain amount per month, and can stay four or five nights in any city around the world, or use it as a residential place. Or a corporate subscription lets you use common areas as your office."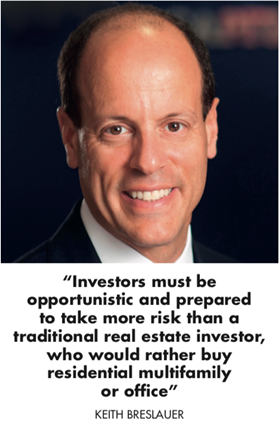 A burning question is how long will it be before investors and hoteliers can anticipate a return to the normality of 2019? The spectrum of industry predictions is wide. Although most are preparing for a long recovery, optimists believe that vaccines may help speed up a recovery. "Looking at all the research and analysts, the logical consensus for reaching 2019 levels again seems to be about 2024-25,"
Foortse cautions that, "since this crisis was much worse than any of the previous ones we've seen, we should expect a recovery to take longer. Still, there is pent up demand, for those willing to accept a glass half full."
Benjamin Habbel, managing partner at Limestone Capital, looks to a real recovery by 2024. His firm, a joint platform between several family offices, is focusing on European hotel investments. "Conferences and business travel will lag, while that sector is already becoming more comfortable with digital meet-ups," he predicts. Habbel is already seeing growing demand from younger segments for leisure boutique destinations. But he expects that the interest in "big trips like South Africa" will take longer to revive.
Existing exposure and new opportunities
The pandemic exposed deep financial strains, because hotels are operationally intensive and require revenue in the door. The industry is not structured for long periods of suppressed demand. As occupancy levels drop and topline revenues remain pressured, most hotel businesses are running off reserves or other access to capital, whether through lending relationships or shareholders.
"Hotel owners that are not well capitalised in their own right, or lack ready access to debt markets, may look for near-term capital, which may decrease their control and ownership stakes," Pohlman says.
He does still see deal activity in Spain and Italy, and signs of life in France, with new capital from each of those countries. Developers are still building hotels where funding is in place. Kett says: "But if there is no funding yet, people will delay or abandon projects."
Much depends on the location of each asset and its target guests. In central London, Pohlman has held discussions with hotel owners seeking fresh capital solutions. Other owners of leisure hotels in drive-to destinations in the UK, Italy, France and Spain tell him "business has been very robust over the summer months and, in some cases, stronger than 2019".
Opportunities beckon for groups poised to take advantage of attractive entry prices and distressed asset sales. Unlike in 2008, leverage is contained and interest rates are low. EBITDAC, a new metric, adds COVID-19 costs back into to the standard accounting concept. "There's less risk of blowing up a loan if you put in some cash," says Breslauer. "Investors must be opportunistic and prepared to take more risk than a traditional real estate investor, who would rather buy residential multifamily or office."
Limestone Capital targets markets where it foresees recovery. Its thesis concentrates on millennial travellers who care about environmental values and well-being. The firm has invested in Portugal, Umbria and Corsica, and might invest more in Italy and Mallorca.
"An undifferentiated brand that just offers a bed in a room will struggle," Habbel says. His boutique hotels emphasise healthy food, comfortable public work spaces, and extensive spa activities such as yoga, pilates and meditation.
Singapore sovereign wealth fund GIC and Dutch pension fund investor APG joined forces through Archer Hotel Capital to own 11 business hotels in European gateway cities with a gross asset value of about €2bn. APG is also a major shareholder in Citizen M hotels and the Student Hotel, which offers accommodation in 14 European cities. It recently backed the Madrid-based fund Azora European Hotel & Lodging, which initially raised over €680m in July from global investors.
Azora will invest in Mediterranean resort hotels in Italy, Spain, Greece and the Spanish Islands. "Discussions were already taking place late last year, pre-COVID-19," says Foortse. "Not all our money has been invested at today's prices, but we expect to be investing over the next two to three years. We felt comfortable committing, because we genuinely believe we can weather this storm and people will travel again."
Travel & Tourism: End of an era
1

2

3

4

5

6

Currently reading

Hotels Europe: Closer to home

7