Hotels in Asia-Pacific have recovered quicker than their European and American counterparts. Florence Chong reports
Occupancies in hotels across Asia-Pacific, led by those in China, and, to a lesser extent, Japan, are recovering after hitting rock bottom in the first half of this year. Not surprisingly, given the state of the market, hotel valuations have slumped by up to 15%. In some resort destinations, falls have been as severe as 30%. In some markets, bankruptcies will be unavoidable.
The saving grace for Asia-Pacific lies in its hotel ownership structure. Many hotel groups are privately owned by deep-pocketed families or Asian corporations. Industry experts believe these owners will try to hold on to their assets, hoping for a recovery in the next year or two. But the industry does seem likely to emerge from the crisis with some structural change, with some owners switching to an asset-light strategy.
For the past month, Asia-Pacific hotels have been embracing inward-looking strategies, offering 'staycations' or 'workcations' at attractive prices to enable the properties to stay afloat. The success of such strategies hinges on the size of the domestic market.
In Asia's most affluent city, Singapore, the staycation market has traditionally accounted for around 5% of hotel stays. Hotel revenues at Chinese and Japanese hotels have stabilised, if not improved, thanks to domestic guests. For countries like Thailand and the Maldives, which are totally reliant on international visitors to fill hotels, the going is tough.
Mike Batchelor, CEO Asia-Pacific of JLL Hotels and Hospitality, says that the average occupancy for his properties for the first nine months of 2020 was hovering above 40%, versus approximately 70% for the same period of 2019. "The hotel industry's celebrated 'globality' has proven to be its greatest vulnerability in the face of an indiscriminate force," he says. "Markets with sizeable domestic tourism bases have shown signs of a more meaningful and sustained recovery."
During China's Golden Week holiday at the beginning of October, several Ascott hotels in cities such as Beijing, Shanghai, Hangzhou, Suzhou, Chongqing, Xi'an and Wuxi, achieved 100% occupancy, according to Ascott CEO Kevin Goh (see China finds the golden ticket). The cities are popular destinations among domestic travellers.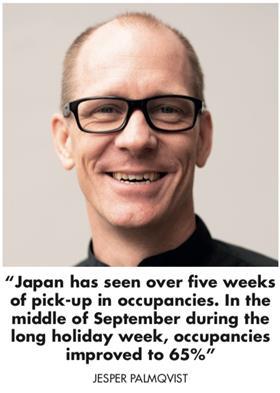 Goh, who is also CEO of CapitaLand's lodging business, says the apartment revenue for the group in China was higher during the Golden Week holiday this year than in 2019. Even before Golden Week in October, Ascott properties in China had been enjoying high occupancy, he says, pointing to September, when Ascott's apartment revenue was close to 95% of receipts in September 2019 .
In tier-one Chinese cities, such as Beijing, Guangzhou, Shanghai and Shenzhen, September occupancy was above 86%. Close to 75% of guests were domestic Chinese travellers.
In Australia, another market with a respectable domestic market, popular regional cities were booked out. They saw an influx of city dwellers looking for respite from border lockdowns.
In Taiwan, South Korea and Japan, where COVID-19 is seen to be under control, hotel occupancies have risen from a low in the second quarter of the year, says Jesper Palmqvist, area director Asia-Pacific for STR, which provides data benchmarking, analytics and marketplace insights for the global hospitality sector.
"Japan has seen over five weeks of pick-up in occupancies," he says. "In the middle of September during the long holiday week, occupancies improved to 65%, with some reaching 70%."
The recovery so far is most evident in regional markets in Japan. The industry is hoping that this will spread to weekday stays in megacities like Tokyo and Osaka, where there seem to be signs of a similar trend, Palmqvist says.
In recent months, Japanese hotel guests have shifted from international to local, says Yukihito Ito, chief executive of Asterisk. Ito says Japanese hotels are recovering from occupancy declines of 50% to 80% in the second quarter of this year.
The pandemic has hit Japan especially hard. This was to be the year when the country hosted the 2020 summer Olympics, and hoteliers across the country had been primed for a bonanza of international travellers. Instead, Japan is staring at bankruptcy of hotel groups.
An early casualty was WBF Group, which operated 27 hotels. Weighed down by more than ¥16trn (€128bn) in debt, WBF in May became the first hotel chain to fall victim to the coronavirus-induced crisis.
Ito says Hoshino Resorts took over a significant portion of the WBF portfolio, while Singapore's Ascendas Hospitality Trust acquired three WBF hotels in Osaka for ¥10.3bn . Hoshino group, which runs 61 hotels with 7,537 rooms under three brands, alongside a few other urban tourism hotels, had been a strategic partner of Asterisk since 2016.
In the few months since Hoshino acquired the WBF hotel portfolio, it has released a number of new programmes, including "microtourism" and "workcation" stays. Ito says these have helped to lift Hoshino hotel occupancies.
In its latest investor update, Hoshino says some of its properties achieved "very good" performance results, with occupancy "over 90%" in August and September. Ito credits government initiatives, most notably the 'Go to Travel' scheme, for the pick-up in hotel stays. Industry players see the return of business travel, meetings, conventions and event markets as the key to recovery of hotel markets in Asia-Pacific.
City hotel markets, such as those in Singapore and Hong Kong, sell the bulk of their rooms to visitors on business, or attending conventions or trade exhibitions.
Batchelor, who describes city hotel markets as a mixed bag, says a variety of drivers influence occupancy rates. "Despite its high dependence on international arrivals, Singapore has weathered the storm better than others, mainly due to government quarantine business propping up occupancy rates," he says. "Hong Kong is a different story, with a distinct lack of international arrivals – and pre-existing social issues – impacting occupancy rates across the board."
The Asia-Pacific hotel sector is also being propped up by economy-wide government fiscal support, such as employee salary subsidies. However, support is not universal. Much depends on the country and its government. Richer countries like Singapore are able to provide life support for the hotel industry.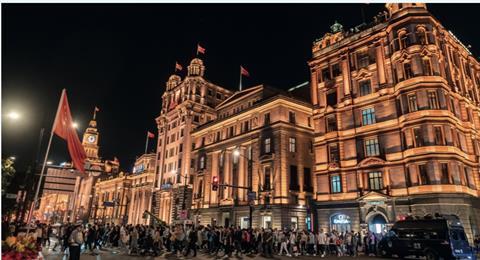 This year China's Golden Week was a boon for the economy. Florence Chong reports
China's annual Golden Week in October is eagerly awaited by tourism operators the world over. This year, with borders closed, the Chinese opted for domestic travel. According to the government, 637m people travelled within China during Golden Week 2020, generating RMB466bn (€59.8bn) in revenue.
This bonanza for China's airlines, tourism and hospitality sectors also flowed through all segments of the Chinese economy. Chinese airlines are starting to break even and hotels report up to 70% occupancy during the week, according to industry sources.
Singapore-based Ascott, part of CapitaLand and one of the largest operators of short-term accommodation in China, is expanding its presence on the strength of China's post-COVID-19 recovery. The group has secured more than 2,100 new units across 12 properties in the past three months.
Kevin Goh, Ascott's CEO, says the group has signed more than 9,300 apartments in 48 properties worldwide this year. In China, it has been expanding the number of apartments under management at an annual rate of 60%.
Ascott is working with Ctrip, China's one-stop travel shop, to bring in more domestic guests, and is deploying digital technologies, robots and automation to enhance its health-and-safety measures. "We are leveraging digital technologies to minimise physical contact and keep our guests safe," Goh says.
A mobile app offers guests contactless services such as self check-in and check-out, and it will be enhanced with digital keys to access apartments. Guests will also be able to make digital payments or redeem loyalty points.
Then there are service robots. Guests staying at Ascott properties in China will invariably encounter Xiao Ya. "The robot can perform a suite of tasks, such as concierge services, leading guests to rooms or facilities, delivering clean laundry and packages, and refilling room supplies." Goh says.
"The robot is also able to interface independently with the property's vending machine to bring guests their ordered items via a mobile app. When the robot arrives at the apartment, it will phone the guests to announce its arrival."
The robot's intelligent sensors enable it to move around unmanned. It can navigate the property's lifts, move from unit to unit, and operate the in-room telephone system without human intervention.
Outside China, he says, recovery across markets will depend on respective governments' measures based on their local pandemic situations.
Ascott operates brands including Citadines and Somerset, and a new co-living brand, Ify, spanning more than 190 cities in 30 countries in Asia-Pacific, Central Asia, Europe, the Middle East, Africa and the US. It has more than 69,000 operating apartments, with another 50,000-plus under development.
Goh says the group is also exploring the option of providing a service to multinational corporations, entrepreneurs and small-medium enterprises to optimise the use of space in its properties.
These are, says Goh, among what he describes as "future-ready" initiatives. "Some countries are in talks or have implemented travel bubbles to facilitate essential business travel and trade," Goh says, adding that gradual opening of borders to international travel will augment domestic demand at Ascott properties.
While the group continues to increase its presence in many countries, signing up 10 new properties in Indonesia, and entering the Austrian market for the first time this year. The group has delayed its expansion into India, but expects to open two properties there next year, with two more scheduled for 2022 and 2023.
Palmqvist says: "The Singapore government's 30-day quarantine contracts are helping hold up hotel occupancies, even though the contracted rate is very low. The average daily rate has been hovering around S$100 (€64) a day for a long time."
He expects fewer hotel assets to change ownership initially in Asia-Pacific than in other regions, such as Europe. "Historically investors in Europe and the US often take the route of 'deed in lieu' if they are under pressure," he says. "Asia has a higher incidence of personal or corporate guarantees, while other regions have slightly different and perhaps currently limited options."
However, Palmqvist believes Asia's hotel industry structure could undergo change, as some groups have already switched to an asset-light strategy. To survive coming months, many will look to refinance or restructure their businesses.
"In terms of distressed assets, we are seeing delayed pressure as family-owned portfolios continue to hold out and refinance loans," he says. "So it is not entirely as dark as we thought it would be earlier in the year."
Batchelor agrees that both financing and structured deals are ticking up. Despite bankruptcies in Japan, widespread distress has, so far, been conspicuously absent. He says a contagion of distressed assets to the extent some are predicting is unlikely, given that many existing owners are well-capitalised and have pro-actively taken steps to shore up their financing and balance sheets, and to reduce overheads where required.
"We expect this activity to evolve as hotel owners show both resiliency and optimism by looking to satisfy funding requirements and shore up their balance sheets to ride out near-term disruption," he says.
He believes that a clearer picture will emerge from the second quarter of next year when current bank debt repayment moratoriums come to an end, or investors with maturing debt struggle to refinance from both a trading and a debt-servicing perspective.
"In particular," Batchelor says, "resort market destinations are likely to experience more significant distress due to their higher reliance on international arrivals, which will take longer to recover, and because many of these markets were facing trading pressure before COVID-19 because of a supply-and-demand imbalance."
He believes the level of disruption has so far not been widespread, partly because many owners and operators entered this crisis from a position of strength, with strong balance sheet management and reserves due to years of considerable occupancy growth.
"Taking into account the fluid nature of the COVID-19 situation, its impact on the foundational aspects of the hotel industry, and analysis of the current sales pace, we expect investment in the sector in 2020 to total between US$5bn and US$6bn," Batchelor says.
This amount would still be higher than the US$3.6bn and US$3.9bn in sales recorded in 2009 and 2010 respectively. "Broadly, we can say that city hotel values are likely to decline by around 8% to 15%, whereas resort destinations could see values fall by 15% to 30%. On the flip side, expect an emergence of more priced-to-market opportunities.
"This will potentially be driven by non-core or non-strategic owners exiting out of investments, or owners trading out of positions as they reconsolidate their commercial portfolios. While some of these types of assets will start trading in the fourth quarter, more realistically this market will gain higher traction in 2021 as more deals come to market."
Travel & Tourism: End of an era
1

2

3

4

5

Currently reading

Hotels Asia-Pacific: Open for bookings

6

7