Airlines have been hit even harder than airports, and have needed propping up. But, asks Florence Chong, for how long?
So far this year, up to 40 of the world's airlines have failed, gone into administration or now face restructuring. These numbers might continue to rise as new waves of COVID-19 infection emerge.
One of the latest victims of the airline crisis is Cathay Dragon, the popular regional subsidiary of Cathay Pacific. The Hong Kong-based low-cost carrier, which offered 14m seats across 51 routes in 2019, ceased to exist on October 21.
Cathay Pacific, which itself has already shed a quarter of its workforce, says the closure of Cathay Dragon was needed to reduce unsustainable cash burn by HK$500m (€54m) a month.
In his latest industry update, Alexandre de Juniac, director general and chief executive of the Geneva-based International Air Transport Association (IATA), says: "We can't cut costs fast enough to catch up with shrunken revenues."
IATA's chief economist, Brian Pearce, adds: "We estimate that airlines will burn through US$50bn in the second quarter as they continue to meet unavoidable costs."
In June, IATA estimated that airlines were facing combined losses of US$84bn in 2020. That figure was based on expectations that aviation would turn the corner in the northern summer, with passengers starting to return.
"We looked at the balance sheet of a sample of 40 airlines in June to see how much cash and 'near cash' [highly liquid assets] they had and, at the current rate of cash burn, how long that would last," Pearce says. "A relatively small number of airlines have substantial cash war chests, and can probably access the capital market if they need to. But the median group has enough cash for eight or nine months; they will likely run out of cash by the first quarter of next year."
IATA and other industry bodies are continuing to lobby governments to increase life support for troubled airlines. "By mid-September, airlines had received US$162bn (€236m) in government support, and there was another US$20bn from suppliers, such as aircraft leasing companies," says Pearce. Historically, few airlines have performed well, he says, pointing out a long list of airlines that have managed to break even, but carry a lot of debt on their balance sheets. "Our worry, because revenue recovery is expected to take so long, is that unless governments step in with more aid, we will see more airline failures," says Pearce.
Those failures are more likely to occur in Latin America, where governments offer little support. European governments see airlines as an essential service, and Pearce believes they are more willing to give financial support. Asian governments are also proactive with assistance, especially because many airlines there are quasi-government owned.
Backed by government-linked investors, Singapore Airlines was able to raise a staggering S$15bn in equity and bond issuance in March, when the potential full impact of the pandemic began unfolding. Building war chests will help insulate airlines from immediate losses as they wait for a recovery.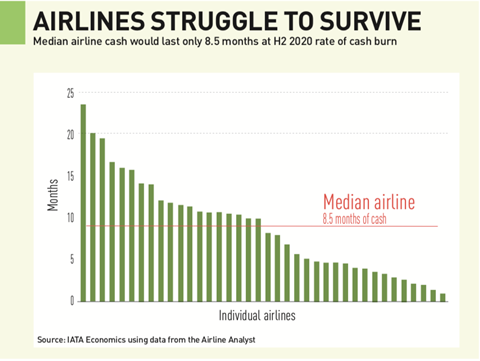 According to the International Civil Aviation Organisation (ICAO), European and Asian airlines have been hardest hit by the pandemic because almost 80% of airline seats offered in 2019 were for intra-regional traffic.
Passenger numbers in Europe fell by up to 648m, its airlines chalking up revenue losses of up to US$91bn. Asia-Pacific was not far behind, with losses estimated at US$87-89bn and some 420-429m fewer passengers. Capacity there has been cut by up to 74%.
"This year, we expect global airline passenger totals to decline by some 2.8bn," Fang Liu, secretary general of UN agency ICAO, told a virtual tourism crisis committee meeting in October. At this level, ICAO estimates the global potential loss of gross passenger operating revenue at up to US$400bn in 2020. ICAO foresees a further reduction of 504-681m passengers in the first quarter of 2021, translating to potential revenue losses of US$72-US$96bn. In October, IATA revised upwards the decline of total revenue in 2021 from its earlier estimate of -29% to -46%, compared with 2019.
Recovery has been delayed due to new COVID-19 outbreaks and government-mandated travel restrictions, including border closings and quarantine measures. Australia, largely isolated from the world, provides a glimpse of the pain being endured.
"We are down to 10,000 departing Australian international passengers a month," says Barry Abrams, executive director of the Board of Airline Representatives of Australia (BARA). "These are Australians who have been granted exemption to go overseas. We used to have 44m outbound and inbound passengers each year."
Abrams says each flight into Sydney Airport carries about 35 passengers. "We are working with the government to increase the passenger cap. If we can carry even six or seven additional passengers per flight, that would be a milestone achievement."
Australia banned all inbound foreign travellers except for special exemptions, and then capped the number of returning Australians to 4,000 a week. This number has recently been lifted to about 6,000, with an estimated 100,000 Australians still overseas and seeking to return.
Abrams says: "At the moment, passenger volume is down to 3% of the 2019 volume. The number of arrivals and the level of connectivity relative to the rest of the world has simply been inadequate."
Many international airlines have suspended operations in Australia since April. Others have waited to see how things pan out over the next six months. "You can undertake a whole series of cost reductions and do everything you can to become more efficient, but because volumes are so low, airlines can't pull costs back as fast as they need to," Abrams says. "That makes it very difficult."
Australia's national carrier, Qantas, and its subsidiary, Jetstar International, suspended all international flights from the end of March 2020 until possibly July 2021. Qantas Group's chief executive, Alan Joyce, says the second half of fiscal 2020 was the "toughest set of conditions the national carrier had faced in its 100 years". Virgin Airlines, a competitor to Qantas, nearly went to the wall, and has been rescued by the US-based private equity firm, Bain Capital.
With domestic borders starting to come down in Australia, there could be a pick-up in domestic flights. Elsewhere, markets with large domestic populations, like China, the US and Russia, are doing relatively better than those totally dependent on international travel.
According to IATA, domestic traffic makes up 70% of air travel in the United States. There, US Bureau of Transportation preliminary air-traffic data shows that airline passenger numbers dropped by 50% in March, the first month of the pandemic.
ICAO statistics point to airline losses in North America so far amounting to US$71bn. In comparison, domestic passenger traffic in China bottomed out mid-February, and the domestic capacity offered in China for the first week of October exceeded the 2019 level, according to ICAO.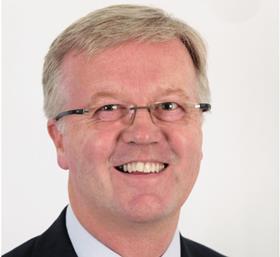 IATA says that, with the revival in domestic travel, Chinese airlines have started to break even. Unlike Chinese or US airlines, the larger European flag carriers rely on long-haul markets for their revenue. ICAO statistics show that 65-66% of airline seats on international routes will be lost this year, resulting in a potential loss of up to US$264bn in gross operating revenue. Domestic services are tipped to incur losses of up to US$136bn.
Pearce says: "The industry's particular problem is the international market. International flights are down 90% on last year. In August, international passenger kilometres flown were just 18% of the 8.5trn kilometres of the previous year."
This explains why the crisis has hit Europe so hard – the reliance on long-haul travel because Europe does not have a domestic market as such. When it comes to aviation, the EU is not a single market. Despite its Schengen visa system permitting ease of travel within Europe, national barriers went up in Europe as soon as the pandemic hit.
Health authorities in each European country are driving their own policies and there is a lack of consistency, says Pearce. "We had the European air bubble [but] it is going in reverse as countries experience spikes in infections."
For airlines to return to profitability, they need to see a return of business travel. Business travellers are higher yielding, contributing much more to the bottom line than tourists. And business travel is a big category of travel, particularly within Europe, the US and Australia.
"The return of business travel will be driven by lawyers," says an industry source. "Companies will have to consider carefully their legal obligations." He explains that employers need to consider potential situations where an employee could infect other employees in their workplace, or the family. What would happen if an elderly parent died as a result of an infection that came from the infected employee?
Most fundamental of all is a need to restore passenger confidence in health and safety. ICAO's Aviation Recovery Taskforce is finalising the second phase of its 'Take-Off' guidelines, which may include a risk-management framework for evaluation of COVID-19 testing solutions.
"This holds the potential to alleviate the need for quarantine for international air travellers and tourists, or shorter quarantine periods," ICAO's secretary-general, Fang Liu, told the October UNWTO meeting. "Latest ICAO projections point to 2022 as the earliest we will begin to see any significant trends toward sectoral recovery in domestic travel, with international travel even slower to rebound."
Recent ICAO analysis, Liu says, showed a slight upturn in traffic and passenger volumes, but the outbreak of a second wave had resulted in "a troubling dip" in the recovery of some regions. Unfortunately, such dips will occur until there is a convincing medical solution for COVID-19. For the airline industry, a return to profitability could be a long journey.
Travel & Tourism: End of an era
1

2

3

Currently reading

Airlines: Surviving the long haul

4

5

6

7