Infrastructure investors seem in a rush to acquire transport companies. Christopher Walker reports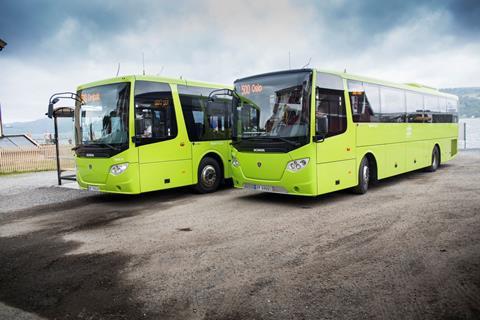 CBRE Investment Management has invested in number of bus operators this year, including Norway's Torghatten Land
CBRE Investment Management has been busy in the transport sector. It has acquired three different Nordic bus operators this year alone, including Norway's Torghatten Land, Karlssonbuss, the Swedish regional and school bus operator, and, most recently, Connect Bus, which has more than 900 vehicles, 30 depots and 1,130 employees across Sweden.
Andreas Köttering, head of private infrastructure Europe at CBRE Investment Management, says this "continued investment into sustainable transport is… of significant importance to us as a business".
Since when did transport companies become so central to infrastructure investment? Until recently, the acquisition of bus companies had tended to involve other operators.
The recent investments by CBRE IM form part of the company's focus on what it terms "infrastructure 2.0" – smart, upgraded infrastructure that will help support more digitally-connected societies.
Köttering says: "While valuations from many infrastructure businesses are high as a result of low interest rates, investors will inevitably search for opportunities which are more reasonably valued and where there may be possibilities for value enhancement through improved efficiencies. Rail and buses fall into this category."
The assets also tend to offer "long-term, contracted income", he says, so that, even if demand for their services should fall, they "can still receive 'availability' payments from governments for the continued provision of essential services and utilities".
Third, this area of the market is typically capital intensive and has high barriers to entry. "Alongside very long operational lives, these features give them the characteristics of natural monopolies," Köttering says. In addition, the income from infrastructure assets often has inflation protection built in. Payments are frequently linked to CPI via contracted increases during the term of the lease. This provides a higher degree of income visibility and stability compared with other asset classes.
CBRE IM is not alone in seeing in identifying the opportunity. Bernd Schumacher, head of infrastructure investment research at Golding Capital Partners, says he is attracted by the "stable cash flows to investors", since "visibility and stability of cash flows are key criteria for investors into infrastructure". He also likes what he calls the "necessity" of the assets, "and that you have hard assets behind the investments, [like] rail engines or wagons". Golding invests in buses in Scandinavia, and rail across Europe.
Gianluca Minella, head of infrastructure research at DWS, likes the fact that "rolling stock provides an essential service with high barriers to entry". He says: "Long-term leasing contracts with creditworthy counterparts, or a diversified and sticky customer base in case of shorter contracts, can underpin yield, while the gradual market expansion also offers a platform for value creation."
Köttering sees the infrastructure 2.0 investment case as having three prongs. "Firstly, the opportunities that come from responding to the growing demand for decarbonisation of the economy," he says. "Secondly, the increase in efficiency which comes from the growth of digital technology as data driven solutions lead to efficiency gains. Thirdly, the increasing demand for growing public transport, supported by governments."
But what about the impact of COVID-19 on these transport companies? "Governments are [certainly] very keen to get individuals out of their private cars and on to public transport – both buses and rail," says Schumacher. But he admits that "short-term passenger volumes have, of course, been affected by COVID and passenger concerns".
A review of academic papers by K2 Centrum, Sweden's national research centre for public transport, warns that: "Not only travel behaviours have changed, but also attitudes towards public transport appear to have worsened". Several papers point to the health risks of public transport and the persistence of COVID-19 has big implications for the economics of the sector. Transport expert Christian Wolmar predicts that, over the next two decades, it will become clear that 2019 was the peak for public-transport use.
"It is difficult to predict how long this will persist for and whether in the long term we need to revise down our passenger growth forecasts," Schumacher admits. Golding "will consider this in our long-term downside scenarios", he adds.
Minella expects a "full recovery" for rail infrastructure in the medium term, which is more about freight than passenger traffic. He expects rail's share of European freight to rise to "30% by 2030, from 18% in 2020".
"Freight was a sector that generally benefited from COVID," says Schumacher. "Governments and regulators are pushing to move more freight from the roads to the railways, both because of congestion issues on the roads and for environmental reasons."
In many European countries there have been initiatives such as paying charging for freight on highways, the banning of freight on Sundays, or making trucks stay out of particular areas in cities. "For infrastructure investors who are always running valuation models for 20 or 30 years, the existence of such an underlying long-term trend supporting growth is attractive," says Schumacher.
The economic case for rail freight is strong in developing markets as well. Utilico Emerging Markets Trust, managed by ICM Investment Management, invests in the Brazilian rail operator Rumo. Jacqueline Broers, senior analyst at ICM, points out that one freight train can carry the equivalent of 172 trucks. "Currently in Brazil, 65% of volumes goes by truck and there is considerable potential for this to switch to rail given the very strong efficiency case," she says.
This should all be seen as part of a global shift back from roads to rail. Broers says the Indian freight corridor being built between Mumbai and Delhi will introduce a major, more efficient flow of goods. "Even with diesel trains, the increased load means less fuel is burnt to transport goods reducing carbon emissions," she adds.
Köttering sees "a clear opportunity for private investment to make up shortfalls in public funding and enable the shift to a more sustainable future [since] "transport operators are increasingly looking to reduce the carbon footprint of their operations".
Contracting and licensing the provision of more sustainable transport will allow operators to benefit from these new technologies and decarbonise public networks more quickly, without the upfront cost of buying new fleets outright.
Private investment is certainly flocking to these possibilities. KKR recently bought New Zealand's Ritchies Transport, operating a fleet of more than 1,600 vehicles including school bus services speaking of "greener public transport solutions".
Greener school buses seem to be a recurring theme of late. EQT recently bought First Transit and First Student for $4.6bn (€3.9bn). First Student is the largest student transportation service provider in North America, providing over 900m student journeys a year to approximately 1,000 school districts. EQT Infrastructure said it intends to help "future-proof the company by investing in the electrification of its fleet and accelerating its transition to renewable fuel sources".
Mirova and 3i recently invested $100m in NEoT Green Mobility (NGM), which leases out zero-emission transportation assets to public authorities and transport operators in France and the UK.
"Rail freight is estimated to produce five times less GHG emissions than road freight," Minella says. "The European Green Deal calls for a substantial part of the 75% of inland freight carried today by road to shift to rail."
Schumacher says: "New engines being ordered tend to be electric or at least hybrid. Further out there is potential for hydrogen/FCEV batteries as the source of green energy for rail." Several companies are running hydrogen pilot projects, he adds.
"It is important not to underestimate the benefits that can come from increased digitalisation," says Köttering. Digital technology improvements mean that real-time data can now be fed to public transport authorities, enabling them to improve the operational efficiencies of buses – greater frequency, routes that are not necessarily fixed but where smaller vehicles operate as ride shares, for instance. "Existing owners are often small family businesses who simply don't have enough capital to achieve this," Köttering says.
Digitalisation and green objectives increasingly go hand in hand. In October, Zūm, the US leader in modern student transportation, announced $130m in funding led by Softbank. Zum's founder and CEO Ritu Narayan said it would "be used to expand Zum's fleet by adding 10,000 EVs in the next four years". She also said Zum's "cloud-based platform provides a service for school districts in the US to use one seamless, real-time interface". Zum's multi-sized vehicle approach includes an electric vehicle-first commitment, and reduces student commute times by up to 20%.
Transport: Roads to recovery
1

2

3

4

5

6

7

8

Currently reading

Transport companies: All aboard infrastructure 2.0

9

10