The project has involved the excavation of 135,000 cubic metres of rock and the laying of 67km of track, building network stations and rail elevations. The Reseau Express Metropolitain (REM), the new automated light rail network being built for the city of Montreal in Quebec, is being overseen from start to finish by CDPQ Infra, the specialist subsidiary of the C$930bn (€654bn) Caisse de Dépôt et Placement du Québec.
The C$6.9bn project, due to start operating in 2022, is the first network to connect Montreal metropolis to its airport by rail, doubling the size of the current Montreal metro system. The project represents a new strategy for CDPQ, whose involvement would normally cease once it had contributed the necessary equity required.
Diversifying into project design, construction, operations and management has meant acquiring a wide range of new skills, says Harout Chitilian, CDPQ Infra vice-president of corporate affairs, development and strategy. "We now have a team of varied experts ranging from civil engineers, public affairs specialists and environmental experts to architecture and design specialists, for example. Developing that expertise was quite challenging." Alongside the design and operational team, a group of managers with the usual financial expertise of institutional investors deals with investment aspects of the project.
CDPQ Infra, established in 2015 to evaluate the new public transit system, works as a separate entity from the asset management team at CDPQ, which makes more conventional infrastructure investments – it has provided capital for a variety of installations and infrastructure facilities including Eurostar, Heathrow and Budapest airports.
The model developed by CDPQ is uncommon. Few funds outside Canada are recorded to be so intimately involved with the assets they own or share that they build them from scratch. Of those Canadian funds that are engaged in design and development, few have built transport networks, and most are constructing commercial buildings.
Sebastien Betermier, associate professor of finance at McGill University in Montreal, says: "The scale of CDPQ's active investment in the REM transport system is unique. Other pension funds are involved in infrastructure projects but not to the extent of CDPQ. This being said, Canadian pension funds are highly active in large greenfield projects especially in the real estate sector – they build office buildings from the ground up."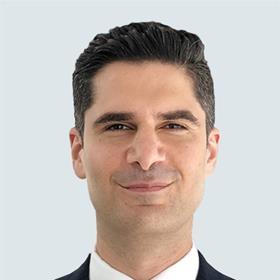 Chitilian says: "We see the infrastructure investment ecosystem as extremely competitive; it is harder and harder to find investments at a reasonable price that generate stable returns over a long period of time. CDPQ Infra has provided the investment opportunity to CDPQ, which is able to place C$3.3bn in the opportunity without going through a competitive bid." Over the long term, CDPQ expects returns of 8% to 9% from the investment.
Among the other partners are the Quebec government, which is investing C$1.28bn into the project, for which CDPQ Infra has committed to providing, if possible, a return of 3.7% to 4%. CDPQ Infra's involvement in the development means the intricacies of the project might be better managed than via other models, says Chitilian. "Our investment is a powerful driver of efficiency. We pay attention to timelines and costs."
Rather than subsidising the project, the provincial government becomes an investor while obtaining a complete service of planning and design, construction and implementation, and operations. It thus avoids project and development risks, and makes financial gains. "The cost to the Quebec government is an important factor because it entails many risks that CDPQ Infra is now mitigating for them," says Chitilian. "They are now completely immune to development and project risks, and that has a value to them."
In addition to the provincial government's capital, the Canada Infrastructure Bank, a federal entity, is providing a low interest loan amounting to C$1.28bn. Utility company Hydro Quebec, the REM power supplier, is also providing C$295m for the project. A cash injection from the regional transport authority, ARTM, completes the funding through a land value capture mechanism. Growth in land value as a result of the project is estimated at C$512m at inception and has been paid to project promoters CDPQ Infra upfront.
The investors should also benefit from secondary land value capture over a 50-year period. The developers are expected to collect excise fees amounting in total to C$600m, targeting new real estate within a 1km radius of suburban stations and 500 metres in downtown Montreal.
To cover operating costs, network maintenance and renovation over the project's lifetime, the transport authority will charge C$0.72 per passenger km. The project is expected to remove 600m km of vehicle transport from the roads by the time it reaches maturity. Meanwhile, the new electric network is due to save the city more than 35,000 tonnes of greenhouse-gas emissions each year, helping investors and government meet climate-change targets.
However, the risks inherent in transport planning have already made an impact on the budget, with C$350m added as of June 2021, most of which is attributed to COVID-19 and allocated to mitigate adverse impacts on procurement and skilled labour. "Risks include the possibility of cost overruns, under-usage of the asset due to external factors, and important liquidity risks – since these projects take a long time to build and cannot be sold in a day", says Betermier.
All these risks are accounted for in the returns planned for the project, according to CDPQ Infra. Notwithstanding the complexity and the uncertainties of such projects, the developer intends to take another step on the same pathway probably within the next five years.
"We think the skillsets and financial capabilities will be of interest in years to come, but until then we have projects here," says Chitilian. "We will make our move on the global scene and when we do we will bring very interesting competences to the table."
Nevertheless, the CDPQ model is likely be best matched to projects in Quebec, with whose economy it is intertwined. The fund not only has local expertise but also a requirement consider its depositors as stakeholders in projects with social and environmental impacts.
CDPQ Infra executives envisage a greater need for this type of model further afield as infrastructure investment conditions shift. "There is a huge deficit in infrastructure across the globe and a shortage of entities capable of delivering end-to-end turnkey solutions," says Chitilian. "Therefore, we want to become an alternative player outside Quebec one day. By being that alternative in developing those projects, we also present an investment opportunity to our investment arm but also to other investors."
Transport: Roads to recovery
1

2

3

4

5

6

7

8

9

10

Currently reading

Case study: Montreal's Reseau Express Metropolitan