The IPE Real Assets top 100 ranking of some of the world's largest real estate investors, has captured more than $1.44trn (€1.3trn) in infrastructure assets held by pension funds, sovereign wealth funds, insurers and other institutional capital owners. To be included, investors need to be owners, not third-party managers of assets. It was based on IPE Research survey data, Rainmaker information and publicly available information, predominantly in the form of annual reports. Where accurate numbers were not available, esti- mates have been made. Some investors have not been included due to a lack of information.
As the institutional real estate community scrambles to understand the full implications of the COVID-19 pandemic, IPE Real Assets' latest annual survey confirms that a third of investors are putting new investments on hold. Furthermore, more than half of investors expect the unfolding crisis to affect their real estate strategies and/or allocations (figure 1).
"Until we understand impact on revenues, valuations and liquidity we are likely to be on pause," says one respondent. "Our strategy for 2020 includes new direct investments that could be postponed," says another respondent.
Investors were surveyed between 2 March and 8 April 2020, and specifically about the coronavirus crisis from 17 March.
The study shows that majority of real estate allocations had been rising (51%) or remaining stable (44%) over the past 18 months (figure 2). And a majority of investors had planned to increase the level of investment (42%) over the next 12 months compared to previous 12, or to maintain the same level (47%) (figure 3). More than two thirds (64.4%) planned to be net buyers of real estate, while 26.7% planned to be neither net buyers or net sellers (figure 4).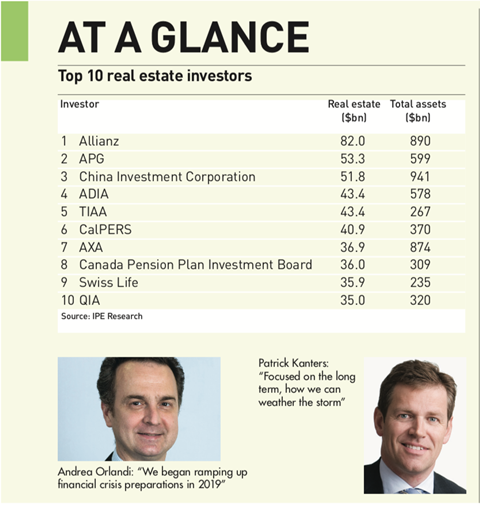 However, changing outlooks for different real estate markets and sectors, and the denominator effect where falling stock market push up portfolio weightings to unlisted assets, could well change investors' plans.
"We have to assess the overall AUM of our fund and determine where our real estate NAV sits as a percentage of the overall fund," says one investor. "The denominator effect will likely have us reassess how much we allocate to real estate in 2020 and 2021."
There is no doubt that real estate investment performance will be affected. Total return expectations for the asset class for 2020 averaged 5.8%, down on the average actual return of 10.4% generated in 2019.
One investor says: "We will likely reduce allocation for real estate and invest more in infrastructure."
Conversations with investors reveal that the primary focus is on assessing existing portfolios. "Our immediate response has been that we [focus] on the existing holdings, partnerships and platforms that we have established," says Patrick Kanters, managing director of global real estate and infrastructure at Dutch pension fund investor APG (ranked 2nd). "So, first focusing very much on where there might be liquidity issues and where we might have to reserve capital for recapitalising platforms… very much focused on the long term, how we can weather the storm, because in the future we definitely continue to support these platforms."
Michael Bujatti, investment manager at Austria's APK Pensionskasse, says: "The current crisis has led to a higher real estate exposure but we are still on track to expand our real estate strategy. We are in direct contact with our managers and are trying to understand risks that could evolve. Nevertheless, we are holding on to invest in new funds and [will] not change the strategy or allocation."
Mikko Antila, head of international real estate at Finnish pension insurance company Ilmarinen, says the focus is on "identifying and managing risks" within the existing portfolio. "We are being extremely selective, if not fully halting on new investments until there is improved visibility on the situation at hand." Asked whether the real estate strategy would change, Antila says: "Most likely not in any significant way, but this will be assessed in more detail after the situation clears up."
But, as well as assessing and bolstering existing portfolios, many investors are keeping one eye on potential opportunities. "On one hand, [there are] all the defensive measures," says Kanters. "And at the same time starting to look into what we call more offensive measures… where we can actually try to capitalise on what's happening, where there might be opportunities. We are not in a hurry there, because there is still very limited visibility."
One area of opportunity could come from the recently corrected public markets, as APG invests in both public and private real estate. "The listed real estate market generally looks cheaper than private real estate," says Kanters. "We run an integrated strategy, so generally speaking more likely we would invest on the listed side… there are opportunities for us to further rebalance the portfolio and further align it with our long-term views."
There could also be opportunities in logistics, mid-range private-rented housing and data centres. All of these sectors have "more visibility" and have been less affected than others, especially retail and hospitality. "We can continue to be active – we are not taking a pause – but we are extremely disciplined and there is no real need to be in a hurry."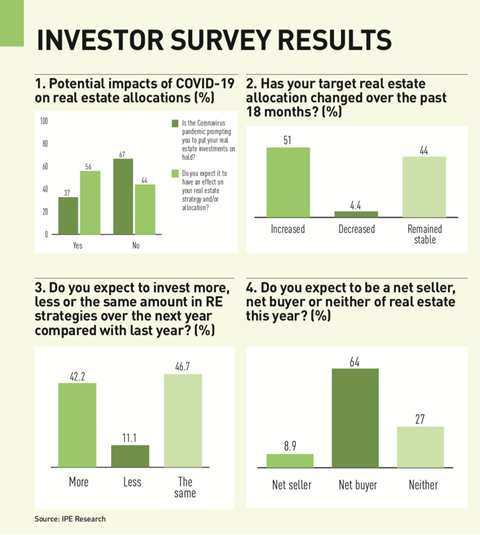 CPP Investments, which invests on behalf of Canada Pension Plan Investment Board, is also not withdrawing completely from the market. Managing director and head of real estate for Europe Andrea Orlandi says: "When it comes to deploying capital in the coming months, our priorities are maintaining conservative levels of liquidity, meeting all of our existing long-term commitments, and supporting the companies and assets in our portfolio. We are carefully monitoring the markets for investment opportunities, which we anticipate will increase when we see less volatility in financial markets and practical barriers – such as the ability to due diligence in person – are removed."
He adds: "As the bull run in markets stretched beyond a decade, we began ramping up financial crisis preparations in 2019. These quickly kicked into gear at the outset of COVID-19. The CPP fund is sound, our investment portfolio is robust and well-positioned to weather severe market events. We remain fully committed to our investment strategy, including our long-term risk targets.
"We fully expect to be on the front line once again as the market recovers. Our investment committee looks across an investible universe on a global basis, looking at the risk-reward dynamic in each of our markets and across sectors. We look to triangulate on what's the appropriate return for the risk that we see. We seized upon opportunities exiting the [2008 financial crisis] and would expect to do so again."
Karin Groß, head of real estate portfolio management at Ärtzeversorgung Westfalen-Lippe (ÄVWL), says the German pension fund has been carrying out "risk-management prognoses", stress tests and "more intense information transfer with all asset managers". Asked whether ÄVWL is pausing new investments, Groß says: "Yes, due to the COVID-19 impact the market is limited, but being a long-term investor we are still open to review opportunities to invest even now."
But it is not just the immediate ramifications of the COVID-19 crisis and the effects that global restrictions on movement and economic activity is having on real estate investments. There are also the longer-term implications. ÄVWL has been "analysing publications about the topic… from market and various investment leaders, as well as on our own evaluation," says Groß.
One example is the widespread move to remote working. When restrictions are lifted, what will employers learn from the imposed experiment? Will they conclude that they don't need so much office space? "All of a sudden we all know how to work from home, so we are gaining experience as we speak," quips Kanters. "On the top of minds is will these changes taking place result in more structural changes/"
APG is reassessing megatrends that have underpinned investment decisions recently. "Will there be any structural changes there? That is keeping the team very busy, discussing that and seeing what the outcomes of that might be," Kanters says.
There is no doubt that the closing of shops and malls is only exacerbating the decline of bricks-and-mortar retail. But will it lead to "step change in the future growth of e-commerce?" Kanters asks. "It already had a strong tailwind and it remains to be seen whether it fall back to normal or will it indeed be a step change and will the market trends that were already out there only further intensify?"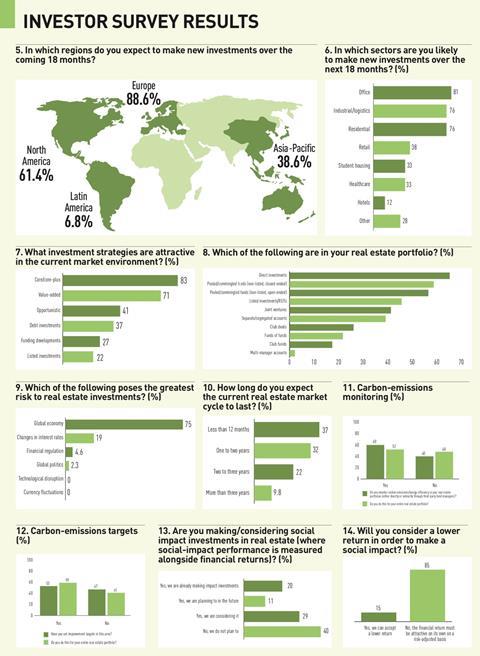 The survey shows offices are favoured by more investors (81%) than other property types (figure 6), although the sector has always been the primary building block of portfolios. Perhaps more reflective of the prevailing investment trends is the fact that industrial/logistics and residential sectors come in joint second (76.2%). Retail comes in joint fifth with student housing at 33.3%, behind another more emerging asset class, healthcare (38.1%).
It will be interesting to see what effect the fallout from crisis has on the ESG agenda. Anecdotal evidence suggests sustainability is now embedded in investment philosophy, so that even COVID-19 is unlikely to knock investors off their ESG tracks.
"We continue to work on further sustainability initiatives, so it's not that we are just focusing on how to go about this crisis," says Kanters. "We are not going to delay that."
According to the survey, 60% of investors are monitoring carbon emissions from the real estate assets (figure 11). Of those, 51.9% are doing this for the entirety of their portfolios. More than half (53.3%) have set improvement targets (figure 12).
One fifth are making social-impact investments, a further 11.1% plan to do so in the future and 28.9% are considering it (figure 13). Of these, 14.8% are prepared to accept lower returns in exchange for social impact, but the majority require investments to be attractive from a purely risk-return perspective (figure 14).
Top 100 real estate investors rankings
| | Investor | Country | Real Estate AUM ($'000s) | Total Assets ($'000s) |
| --- | --- | --- | --- | --- |
| 1 | Allianz | Germany | 82,043,000 | 890,289,000 |
| 2 | APG | Netherlands | 53,359,000 | 599,486,000 |
| 3 | China Investment Corporation | China | 51,850,000 | 940,600,000 |
| 4 | ADIA | UAE | 43,471,584 | 579,621,120 |
| 5 | TIAA | US | 43,429,000 | 266,840,000 |
| 6 | CalPERS | US | 40,900,000 | 370,000,000 |
| 7 | AXA | France | 36,974,400 | 874,475,000 |
| 8 | Canada Pension Plan Investment Board | Canada | 36,008,000 | 309,126,000 |
| 9 | Swiss Life | Switzerland | 35,903,500 | 234,881,000 |
| 10 | QIA | Qatar | 35,000,000 | 320,000,000 |
| 11 | CalSTRS | US | 35,000,000 | 243,200,000 |
| 12 | PGGM | Netherlands | 34,324,000 | 287,000,000 |
| 13 | Generali | Italy | 33,170,000 | 720,589,000 |
| 14 | Government Pension Fund Global | Norway | 30,998,700 | 1,145,470,000 |
| 15 | GIC | Singapore | 30,800,000 | 440,000,000 |
| 16 | CDPQ | Canada | 30,380,000 | 260,258,000 |
| 17 | NYSTRS | US | 24,600,000 | 126,600,000 |
| 18 | Temasek | Singapore | 23,564,300 | 230,834,000 |
| 19 | Bayerische Versorgungskammer | Germany | 22,300,000 | 97,000,000 |
| 20 | Teacher Retirement System of Texas | US | 21,500,000 | 157,400,000 |
| 21 | Washington State Investment Board | US | 20,950,000 | 147,400,000 |
| 22 | Ontario Teachers' Pension Plan | Canada | 20,790,300 | 151,542,000 |
| 23 | National Pension Service | South Korea | 20,467,100 | 636,167,000 |
| 24 | NYSCRF | US | 19,500,000 | 225,900,000 |
| 25 | PSP Investments | Canada | 18,723,600 | 134,810,000 |
| 26 | BCI/Quadreal | Canada | 18,196,700 | 114,871,000 |
| 27 | M&G | UK | 17,050,900 | 259,698,000 |
| 28 | Cathay Life | Taiwan | 16,241,400 | 193,540,000 |
| 29 | MEAG Munich ERGO | Germany | 16,014,000 | 290,156,000 |
| 30 | Florida State Board of Administration | US | 15,660,000 | 169,700,000 |
| 31 | Zurich Insurance Group | Switzerland | 14,800,000 | 205,000,000 |
| 32 | Aviva | UK | 14,693,900 | 603,394,000 |
| 33 | The Crown Estate | UK | 14,045,700 | 18,919,500 |
| 34 | OMERS | Canada | 13,386,300 | 84,794,700 |
| 35 | Hong Kong Monetary Authority | Hong Kong | 13,059,100 | 540,173,000 |
| 36 | AIMCo | Canada | 12,193,300 | 90,458,900 |
| 37 | AMF | Sweden | 11,947,100 | 55,944,500 |
| 38 | MN | Netherlands | 11,833,000 | 174,547,000 |
| 39 | BpfBouw | Netherlands | 11,552,300 | 64,738,600 |
| 40 | MetLife | US | 10,741,000 | 740,463,000 |
| 41 | HOOPP | Canada | 10,408,000 | 71,616,500 |
| 42 | Legal & General | UK | 10,092,800 | 735,295,000 |
| 43 | Ohio STRS | US | 9,700,000 | 80,890,000 |
| 44 | New Jersey Division of Investment | US | 9,675,000 | 45,400,000 |
| 45 | Alecta | Sweden | 9,300,000 | 93,000,000 |
| 46 | North Carolina Retirement System | US | 9,150,000 | 105,600,000 |
| 47 | PFA | Denmark | 9,000,000 | 84,000,000 |
| 48 | Ohio PERS | US | 8,900,000 | 91,400,000 |
| 49 | Oregon PERF | US | 8,750,000 | 78,460,000 |
| 50 | Migros | Switzerland | 8,589,190 | 26,771,600 |
| 51 | AustralianSuper | Australia | 8,534,000 | 129,806,000 |
| 52 | Manulife | Canada | 8,419,170 | 295,762,000 |
| 53 | Ilmarinen | Finland | 8,391,000 | 56,736,000 |
| 54 | Investment Management Corporation of Ontario | Canada | 8,355,890 | 46,397,200 |
| 55 | Fubon Life | Taiwan | 8,082,790 | 127,767,000 |
| 56 | Virginia Retirement System | US | 7,800,000 | 85,400,000 |
| 57 | State of Wisconsin Investment Board | US | 7,580,000 | 108,000,000 |
| 58 | Mass PRIM | US | 7,500,000 | 78,870,000 |
| 59 | Illinois Teachers Retirement System | US | 7,480,000 | 54,240,000 |
| 60 | ATP | Denmark | 7,435,410 | 53,202,200 |
| 61 | Future Fund | Australia | 7,375,030 | 117,535,000 |
| 62 | Enpam | Italy | 6,905,430 | 24,014,200 |
| 63 | UniSuper | Australia | 6,714,000 | 60,357,000 |
| 64 | Kanton Zürich | Switzerland | 6,617,210 | 36,762,300 |
| 65 | State of Michigan Retirement System | US | 6,250,000 | 77,690,000 |
| 66 | Ping An | China | 6,196,410 | 1,038,500,000 |
| 67 | Arizona State Retirement System | US | 6,100,000 | 41,250,000 |
| 68 | AP2 | Sweden | 6,001,470 | 40,863,600 |
| 69 | BT Pension Scheme | UK | 5,954,050 | 69,481,700 |
| 70 | LACERA | US | 5,900,000 | 60,700,000 |
| 71 | First State Super | Australia | 5,875,000 | 72,107,000 |
| 72 | AP3 | Sweden | 5,864,720 | 42,192,500 |
| 73 | Alaska Permanent Fund Corporation | US | 5,750,000 | 68,390,000 |
| 74 | Pennsylvania PSERS | US | 5,700,000 | 59,270,000 |
| 75 | Samsung Life | South Korea | 5,569,060 | 190,984,000 |
| 76 | AP4 | Sweden | 5,358,460 | 44,796,700 |
| 77 | AP1 | Sweden | 5,352,000 | 38,777,000 |
| 78 | AMP Super | Australia | 5,315,000 | 38,816,000 |
| 79 | Sunsuper | Australia | 5,245,000 | 51,265,000 |
| 80 | CBUS | Australia | 4,966,000 | 39,376,000 |
| 81 | Varma | Finland | 4,927,390 | 54,537,200 |
| 82 | Talanx | Germany | 4,885,950 | 137,338,000 |
| 83 | Danica Pension | Denmark | 4,812,720 | 66,637,600 |
| 84 | Employees Provident Fund | Malaysia | 4,800,850 | 200,640,000 |
| 85 | QSuper | Australia | 4,756,000 | 80,639,000 |
| 86 | Swiss RE | Switzerland | 4,706,000 | 103,746,000 |
| 87 | Maryland SRPS | US | 4,691,000 | 56,122,000 |
| 88 | Colorado PERA | US | 4,570,000 | 49,500,000 |
| 89 | PKA | Denmark | 4,470,000 | 45,000,000 |
| 90 | Shinkong | Taiwan | 4,415,880 | 85,569,100 |
| 91= | KIC | South Korea | 4,400,000 | 131,600,000 |
| 91= | Tennessee CRS | US | 4,400,000 | 48,100,000 |
| 93 | PUBLICA | Switzerland | 4,323,040 | 42,234,300 |
| 94 | ASGA Pensionkasse | Switzerland | 4,257,860 | 20,569,400 |
| 95 | Velliv | Denmark | 4,203,860 | 38,216,500 |
| 96 | REST | Australia | 4,196,000 | 41,614,000 |
| 97 | Missouri PSRS/PEERS | US | 4,000,000 | 46,900,000 |
| 98 | Keva | Finland | 3,992,300 | 62,898,100 |
| 99 | MLC Super Fund | Australia | 3,847,000 | 57,350,000 |
| 100 | Ärzteversorgung Westfalen-Lippe | Germany | 3,695,540 | 16,685,900 |
Top 5 by region and country