---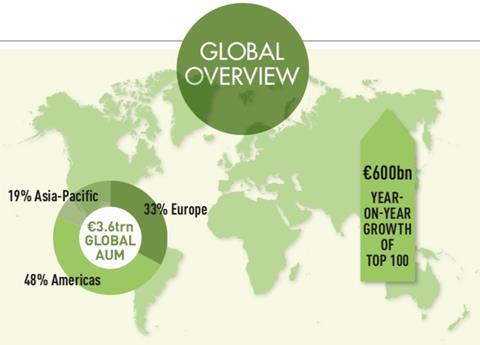 The global real estate investment management industry has more than doubled in size over the past five years, from €1.62trn in 2014 to €3.6trn today. The sector continues to be swelled by growing allocations from institutional investors and rising asset prices.
The Top 10 continues to shuffle, although the €177bn Brookfield Asset Management has retained the top spot throughout, almost doubling the €92.1bn in real estate assets it managed in 2014. During that period, Blackstone has also retained third place, but PGIM has replaced CBRE Global Investors as the second-largest real estate investment manager.
CapitaLand is the first company with headquarters in Asia-Pacific to make it onto the top 10. The Singapore-based company has jumped up the ranking after acquiring Ascendas-Singbridge.
The top 10 companies continue to represent close to one-third of the total AUM of the Top 100 combined, showing how dominant a small number of the largest firms are.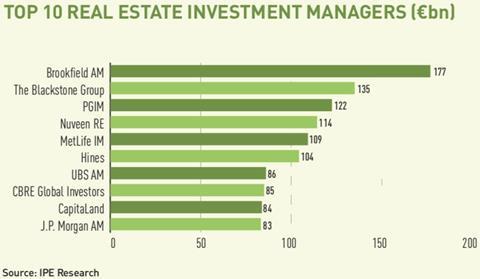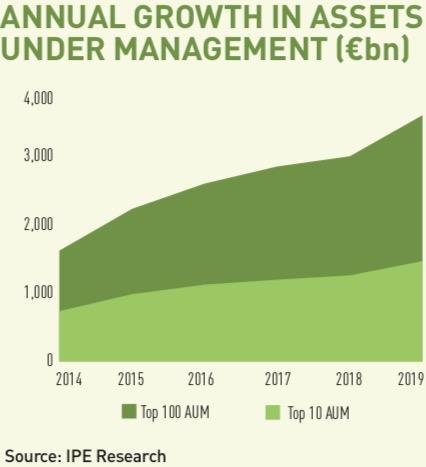 Brookfield Asset Management has retained the top position for the seventh year in a row. The Toronto-based investment manager leads a mini-league of companies with over €100bn in assets under management.
Last year, Bentall Kennedy and GreenOak were ranked 39th and 83rd, respectively. Following their merger at the end of 2018, the new entity BentallGreenOak is the 29th largest real estate investment management company, according to the survey.
The global logistics specialist Prologis jumped up from 30 in 2018 to 23 in this year's ranking. The latest numbers do not include its recent acquisition of Liberty Property Trust for $12.6bn (€11.3bn). Had this been completed before the end of June, Prologis would have come in at 19th, above Credit Suisse Asset Management.
Full Top 100 ranking
Top 100 Real Estate Investment Managers 2019

| | | Company | Total Real Estate AUM 30/06/19 (€m) |
| --- | --- | --- | --- |
| ► | 1 | Brookfield Asset Management | 176,918 |
| ▲ | 2 | The Blackstone Group | 135,017 |
| ▼ | 3 | PGIM | 122,459 |
| ▲ | 4 | Nuveen Real Estate | 114,244 |
| ► | 5 | MetLife Investment Management | 109,188 |
| ▼ | 6 | Hines | 104,263 (1) |
| ▲ | 7 | UBS Asset Management | 86,029 |
| ▼ | 8 | CBRE Global Investors | 85,000 |
| ▲ | 9 | CapitaLand | 83,778 |
| ▲ | 10 | J.P. Morgan Asset Management | 83,163 |
| ▼ | 11 | AXA IM - Real Assets | 81,257 |
| ▼ | 12 | Principal Real Estate Investors | 72,798 |
| ▲ | 13 | Invesco Real Estate | 70,507 |
| ▼ | 14 | AEW | 68,226 |
| ▼ | 15 | Allianz Real Estate | 67,120 |
| ▲ | 16 | LaSalle Investment Management | 60,980 (2) |
| ▲ | 17 | Swiss Life Asset Managers | 60,500 |
| ▼ | 18 | DWS | 60,327 |
| ▼ | 19 | Credit Suisse Asset Management | 53,274 |
| ▲ | 20 | Starwood Capital Group | 51,633 (2) |
| - | 21 | New York Life Real Estate Investors | 50,756 |
| ▼ | 22 | Morgan Stanley Investment Management | 49,549 |
| ▲ | 23 | Prologis | 47,598 |
| ▼ | 24 | Aberdeen Standard Investments | 47,510 |
| ▼ | 25 | DekaBank Deutsche Girozentrale/Deka Immobilien | 45,935 (1) |
| ▲ | 26 | Clarion Partners | 45,454 |
| ▼ | 27 | APG Asset Management | 45,295 |
| ▼ | 28 | Tishman Speyer | 44,054 (1) |
| - | 29 | BentallGreenOak | 42,127 |
| ▼ | 30 | Patrizia | 41,835 |
| ▼ | 31 | Ivanhoé Cambridge | 41,620 (1) |
| ▼ | 32 | Barings | 41,232 |
| ▲ | 33 | Oxford Properties Group | 40,760 (3) |
| ▼ | 34 | Union Investment Real Estate | 39,147 |
| ► | 35 | Heitman | 38,669 |
| ▲ | 36 | GLP | 38,428 |
| ▼ | 37 | Colony Capital | 37,797 |
| ▼ | 38 | M&G Investments | 36,500 |
| ▲ | 39 | Mapletree Investments | 35,629 |
| ▼ | 40 | Aviva Investors | 34,986 |
| ▼ | 41 | Cohen & Steers Capital Management | 34,920 |
| ▼ | 42 | Amundi Asset Management | 33,250 |
| ▲ | 43 | Greystar Real Estate Partners | 31,492 |
| ▼ | 44 | Generali Real Estate | 30,700 |
| ▼ | 45 | BNP Paribas Real Estate | 30,185 (1) |
| ▲ | 46 | ARA Asset Management | 29,088 |
| ▼ | 47 | Goodman | 28,509 |
| ▲ | 48 | BlackRock | 27,053 |
| ▼ | 49 | Legal & General IM Real Assets | 26,703 |
| ▲ | 50 | Ares Management | 26,491 |
| ▼ | 51 | Syntrus Achmea Real Estate & Finance | 23,300 |
| ▲ | 52 | Corestate Capital Group | 21,600 |
| ▼ | 53 | Lendlease | 21,472 |
| ▲ | 54 | Charter Hall | 21,459 (3) |
| ▲ | 55 | Apollo Global Management | 21,096 |
| ▼ | 56 | La Française | 20,665 |
| ▲ | 57 | Gaw Capital Partners | 20,310 |
| ▼ | 58 | IGIS Asset Management | 20,086 |
| ▼ | 59 | Dexus | 19,624 |
| ▼ | 60 | Savills Investment Management | 18,900 |
| - | 61 | Harrison Street Real Estate Capital | 18,868 |
| ▼ | 62 | Commerz Real | 18,544 |
| - | 63 | Great-West LifeCo | 18,507 |
| ▼ | 64 | Schroder Real Estate Investment Management | 18,097 |
| ▼ | 65 | AMP Capital | 18,081 |
| - | 66 | ESR | 17,983 (4) |
| | 67 | USAA Real Estate | 17,843 |
| - | 68 | Primonial REIM | 17,200 (5) |
| - | 69 | Macquarie Infrastructure & Real Assets (MIRA) | 16,936 (2) |
| - | 70 | Keppel Capital Holdings | 15,908 (1) |
| ▼ | 71 | Rockpoint Group | 15,552 |
| ▼ | 72 | The GPT Group | 15,308 |
| ▼ | 73 | Columbia Threadneedle Investments | 15,196 |
| ▼ | 74 | Manulife Asset Management | 14,972 |
| - | 75 | Bridge Investment Group | 14,325 |
| ▼ | 76 | QIC | 13,493 |
| ▼ | 77 | MEAG | 13,430 |
| - | 78 | Samsung SRA Asset Management | 13,123 |
| ▼ | 79 | Partners Group | 12,772 |
| ▼ | 80 | Bouwinvest Real Estate Investors | 12,111 |
| ▼ | 81 | ISPT | 10,913 |
| ▼ | 82 | Tristan Capital Partners | 10,700 |
| ▼ | 83 | KBS | 10,213 |
| ▼ | 84 | DTZ Investors | 9,935 |
| ▼ | 85 | DRA Advisors | 9,799 |
| ▼ | 86 | MN | 9,704 |
| ▲ | 87 | Warburg-HIH Invest Real Estate | 9,664 (6) |
| ▼ | 88 | Quadrant Real Estate Advisors | 9,650 |
| ▼ | 89 | TA Realty | 9,511 |
| - | 90 | Catella | 9,000 |
| ▼ | 91 | Jamestown | 8,948 |
| - | 92 | Crow Holdings Capital | 8,878 |
| ▼ | 93 | CenterSquare Investment Management | 8,867 |
| ▲ | 94 | Beacon Capital Partners | 8,813 |
| ▼ | 95 | American Realty Advisors | 8,674 |
| ▼ | 96 | M7 Real Estate | 8,466 |
| ▼ | 97 | Northern Trust Asset Management | 8,263 |
| ▼ | 98 | Oaktree Capital Management | 8,191 |
| ▲ | 99 | Investa Property Group | 8,022 |
| ▼ | 100 | Vesteda | 7,898 |
| | | | |
| | | Footnotes: | |
| | | | |
| | | (1) As at 31/12/18 | |
| | | (2) As at 31/03/19 | |
| | | (3) As at 31/07/19 | |
| | | (4) As at 31/10/19 | |
| | | (5) As at 01/01/19 | |
| | | (6) As at 31/08/19 | |
Top 100: One-stop shop
1

2

Currently reading

Top 100 Real Estate Investment Managers 2019