The IPE Real Assets top 100 ranking of some of the world's largest infrastructure investors has captured more than $415bn (€376bn) in infrastructure assets held by pension funds, sovereign wealth funds, insurers and other institutional capital owners. It was based on IPE Research survey data, Rainmaker information and publicly available information, predominantly in the form of annual reports. Where accurate numbers were not available, estimates have been made. Some investors have not been included due to a lack of information.
We also surveyed investors about their allocations, investment intentions and views on the market. One of the key findings is that most investors do not believe the infrastructure asset class is too expensive – the proportion of respondents with this perception has risen from 52% in 2018 to 72% in 2019 (figure 7).
The finding suggests investors have not been put off by the growing competition and will continue to direct capital towards the sector. Nearly all investors surveyed expect to increase (51%) or maintain (46%) their allocations to infrastructure over the next 18 months (figure 3). And of those that do not currently invest in infrastructure, 23% have definite plans to enter the asset class and 41% say they might invest in the future (figure 4).
For example, Holger Kerzel, who is responsible for illiquid assets of Munich Re and ERGO, says that although infrastructure is looking pricey historically, no asset class is cheap anymore. "Infrastructure, in comparison, is attractive," he says. Some argue that infrastructure had been too cheap, echoing research by EDHECinfra that suggests the asset class has reached fair value after a period of "price discovery".
"We've been involved in the asset class for a long time, so we've been benefitting from that compression of returns," says Guillaume Morency, infrastructure portfolio manager at Canadian institution Desjardins. "It depends on sector and geography, but in general we still see a good opportunity with pricing that makes sense to us as a core investor." He adds that the "current prices are supported by the wall of capital" targeting the asset class.
APG is included among those investors expecting to increase their weighting to infrastructure. The Dutch pension fund investor is in the midst of increasing its allocation from 3% to 4% and so it has plenty of 'dry powder', although Ron Boots, head of infrastructure Europe at APG, stresses that it is not under pressure to deploy capital.
"When we started infrastructure 15 years ago, clearly expected returns were much higher than currently. But if you do your homework well and you [are] selective on deals you want to pursue then I think there is still money to be made," he says. "I think we can still make a decent return from infrastructure."
Swedish pension fund manager Alecta is part of the 23% of investors that have definite plans to enter the asset class. "We have decided that we want to invest in the asset class," Frans Heijbel, head of international real assets at Alecta. "We think it's attractive, given where interest rates are and are likely to be and also given the perceived stability and predictability in terms of returns."
He admits that the "pricing is challenging", and that Alecta is looking for core infrastructure exposure, not higher-return, "value-add or private equity-type infra".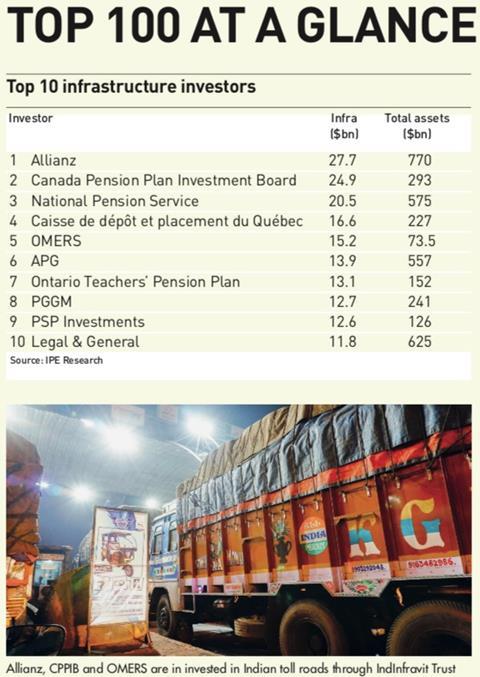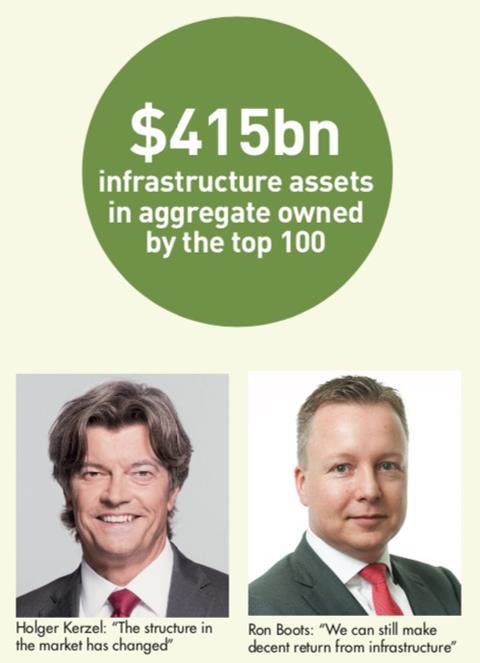 Close to two thirds of investors are seeking returns of between 5% and 10%, and most of the rest are seeking 10-15% returns (figure 12). Some investors are concerned about other investors stretching for higher returns by taking on more risk.
Adapting to market dynamics
"The structure in the market has changed," says Kerzel. "The low-risk part of the market, where you have availability-based, government-backed, very, very stable assets, are more much expensive than they have been before, and there is continuing demand for those assets. So a lot of investors have shifted to the more risky side and take some market exposure." He says fund managers are "less reluctant to be in more riskier assets", because "they want to earn their carry and they can only deliver the returns to their LPs only if they take more risk."
Morency says: "There are a lot of value-add managers. We don't like the fact that many of them are stretching the risk profile of the asset they are acquiring just to meet their absolute-return target…. that is not why we invest in infrastructure."
He says this is why Desjardins is increasingly investing more directly, which can include co-investment. "We invest in some more value-add GPs that can unlock value in a 10-year frame, but our preference would be to align with partners of 15 or 25-year-term holding period," he says.
APG's infrastructure programme has evolved over 15 years. "It has clearly transitioned, as planned, as we started from funds with co-investments and are more into direct type of deals," says Boots. "We want to work with partners in a consortium. In some cases we try to lead the consortium. We like to steer where our money goes, we want to be in control."
But this has required an increase in internal staff. Boots was the first in the infrastructure team in 2005; now APG has 35 people looking at the asset class spread between its offices in Amsterdam, Hong Kong and New York. "You need the skills, the experience, the team, the capacity," Boots says.
When those investors without an exposure to infrastructure were asked to describe the biggest impediments to invest in the asset class, many mentioned a lack of resources, competition and pricing, complexity and transparency. Figure 11 shows that 41% are not persuaded by the risk-return or diversification properties (up from 10% last year).
The illiquidity of the asset class was selected by 27% of investors (down from 38% last year). Figure 10 shows how liquidity is very important to only 14% of investors, somewhat important to 24%, and not important to more than half. Figure 14 also shows that the majority are looking to hold assets for the long term, with 81% seeking to hold for more than 10 years.
Other investors, while similarly looking to hold for the long term, will consider taking profits if a buyer's price is right. "We are generally at buy-and-hold," says Ulrik Weuder, head of global direct investments at Danish pension fund ATP. "That said, every asset is for sale every day."
Boots says APG is a long-term investor and takes on projects "for at least 15 years or longer". He adds: "So we are not in the need of selling assets, given that we are into a building phase and growing our exposure. But it is fair to say that if we identify a project that either is not performing as expected or maybe someone is reaching out and says you have this in your portfolio and I am very desperate to buy it…. we clearly will consider taking some money off the table where appropriate."
While most investors agree that infrastructure is not too expensive across the board, there are pockets where greater concentration of capital has led to pricing that is deterring some of them.
One of the most sought-after and keenly priced areas of the market is renewable energy. This was the most favoured sector among investors (72%), followed by telecoms (61%) and water (47%) – note that percentages do not add up to 100 as survey respondents were able to select more than one answer. "Generally, the renewables market is quite expensive," says Boots. "If you look at some of the offshore wind projects – especially if you look at Germany – the returns you can make there are quite tight. It might be for a good reason, but a lot of money has flown into some market segments."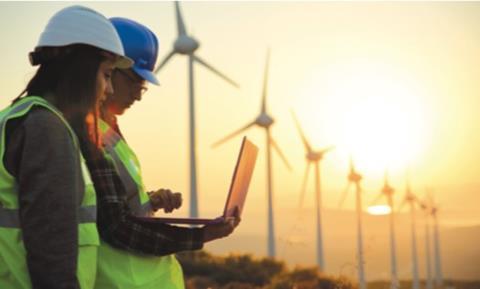 Morency says Desjardins has invested in renewables a lot in the past, because the long-term contracts are a good match for the group's pension and insurance liabilities. "But going forward it's getting more and more difficult to acquire assets with long-term contracts," he says.
Desjardins is also "cautious" on regulated assets, because of the political risk involved, and is targeting an exposure to 20%. "We have exposure to the water sector in the UK, so we follow that carefully," he says, referring to the potential for a future Labour government to nationalise British utilities.
Kerzel points to the UK under a Labour government led by Jeremy Corbyn as "probably more of a threat" than Brexit, because the ramifications for infrastructure investors could be "more long lasting". In line with the two previous years, the proportion of investors that say Brexit has had no effect on their infrastructure strategies has remained at 70% or above (figure 19). This year, the next biggest group (22%) said they would decrease their investment in the UK, also consistent with the findings in 2018 and 2017.
Kerzel says Brexit "has an impact on the market" but does not affect "our investment activity directly". He explains: "Indirectly because there is less activity currently in the UK market. Obviously, that is related to the Brexit uncertainty…. If there is an opportunity within the UK, of course we would in our due diligence process have a look at the Brexit consequences for this investment, but it doesn't hinder us to do something."
Boots says Brexit has led to "remaining uncertainty" and APG has exposure to the market. But, he says, it could lead to opportunities if other investors avoid parts of the market.
Top 100 investor survey results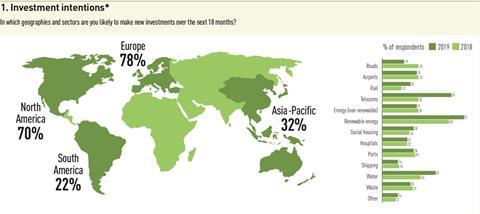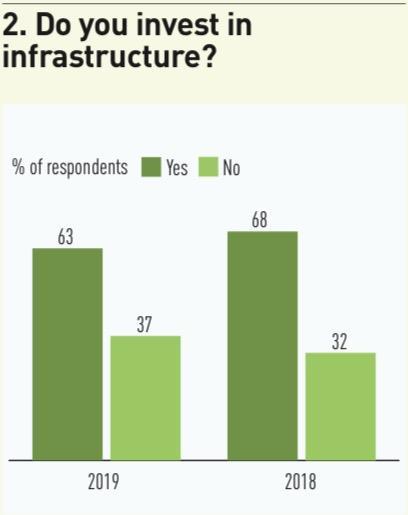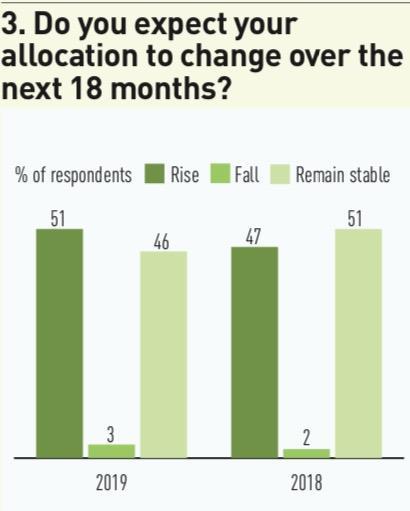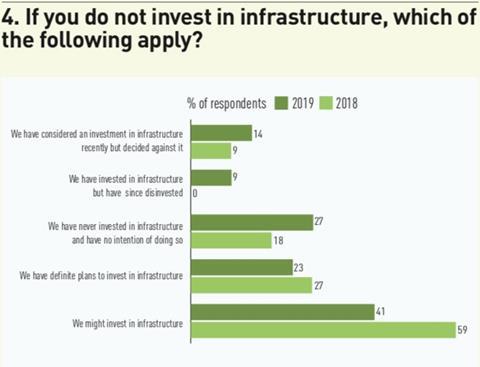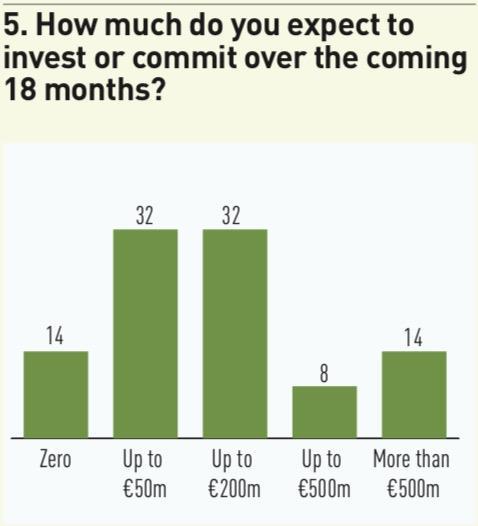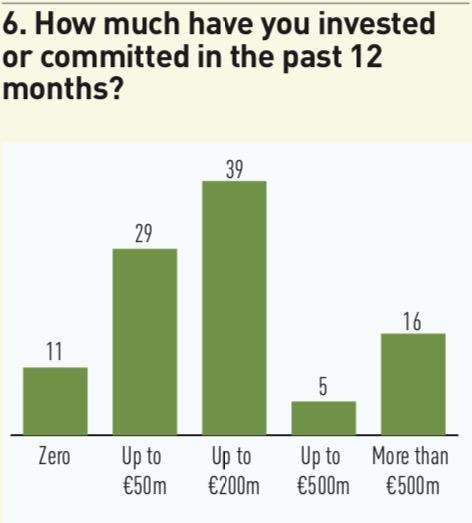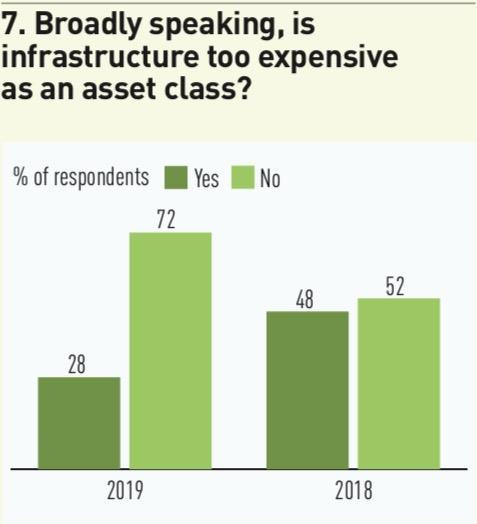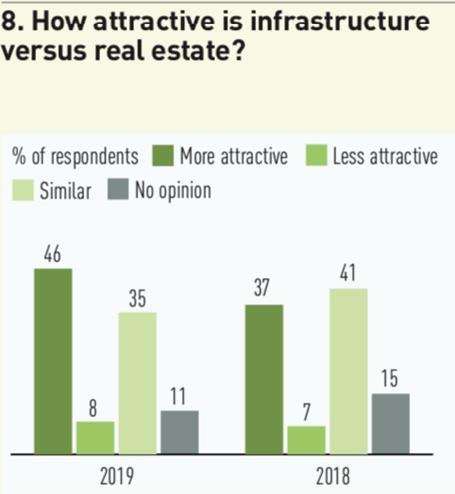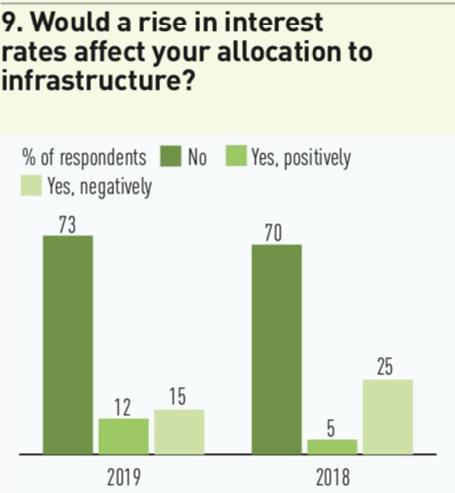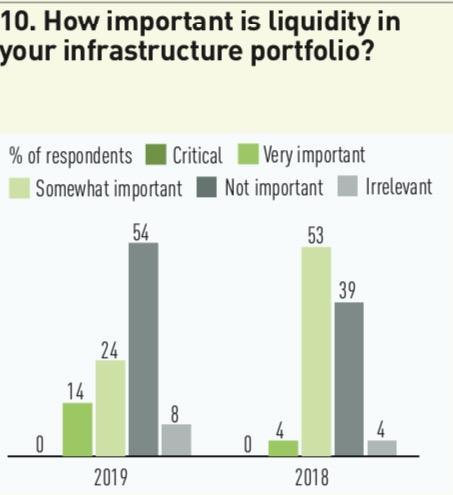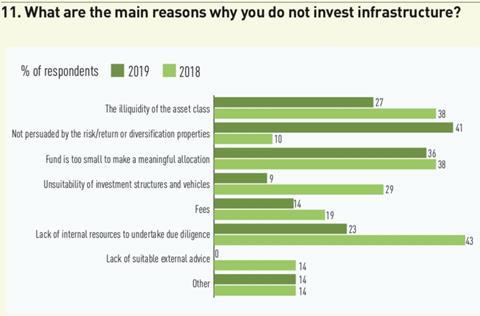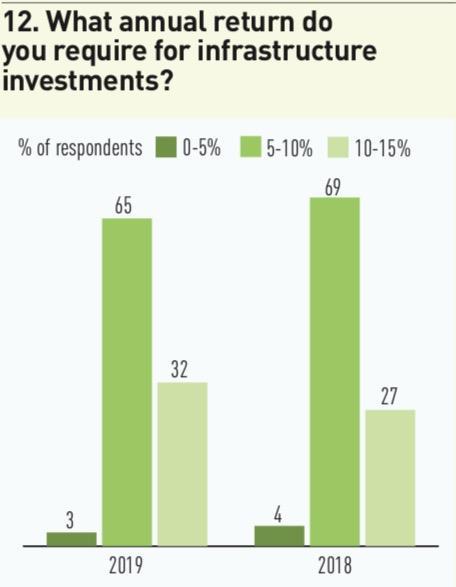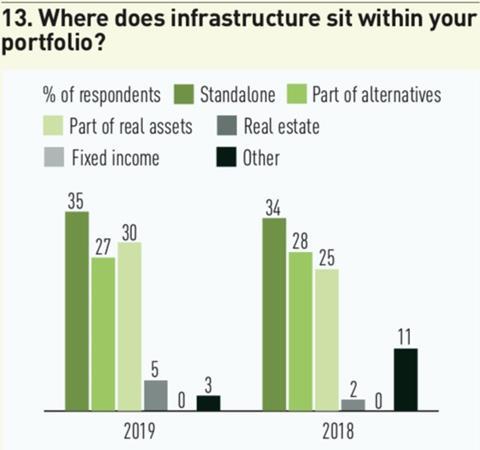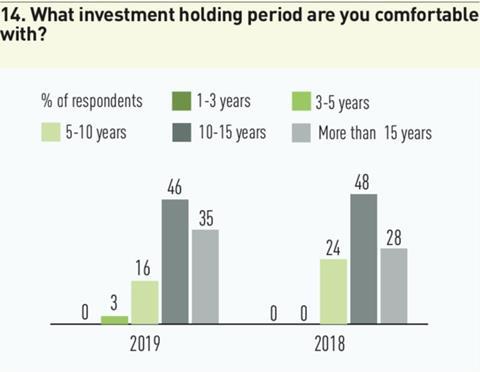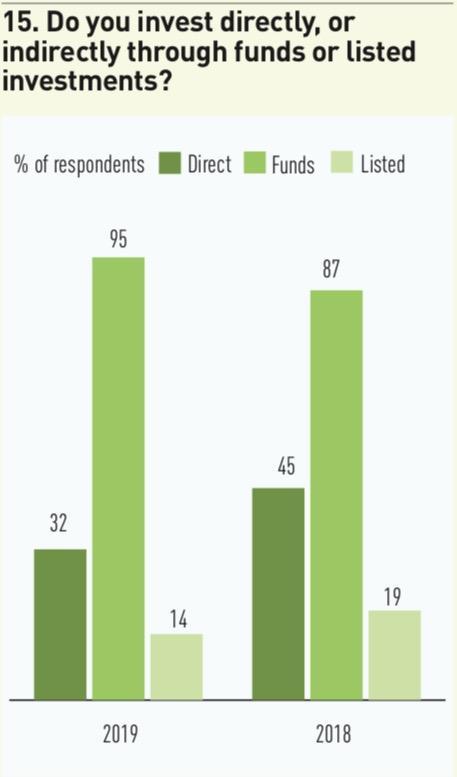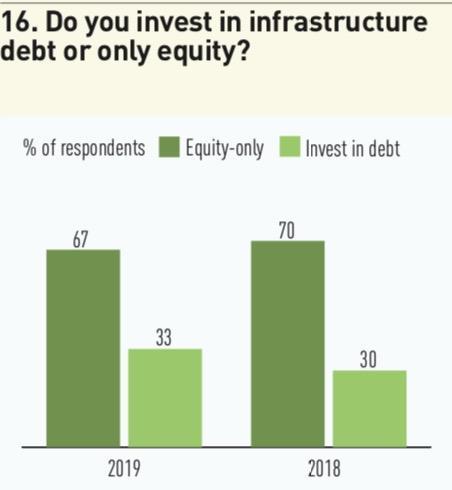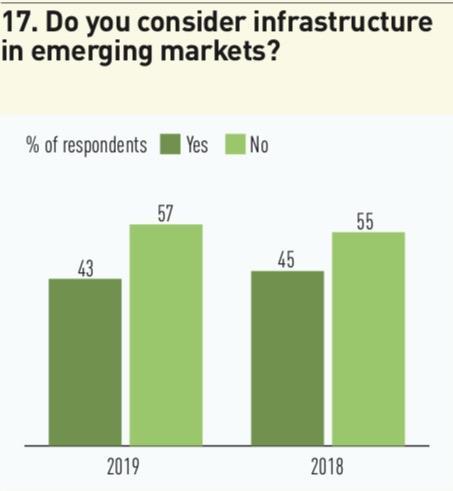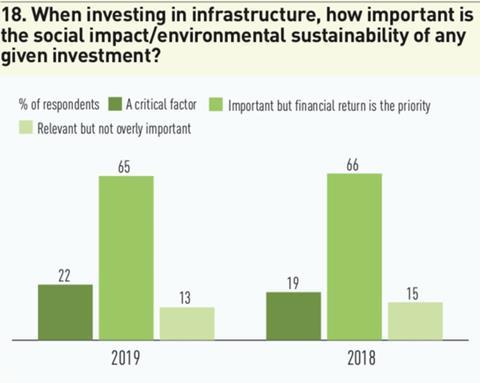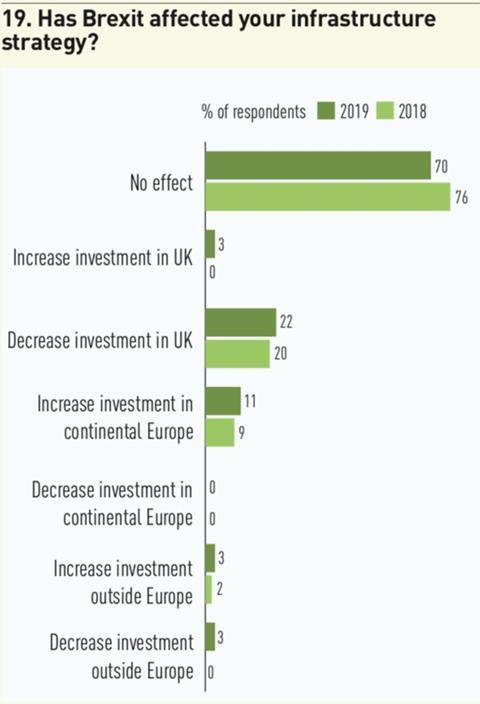 Top 100 Infrastructure Investors
Top 100 Infrastructure Investors 2019

| | Investor | Country | Infrastructure assets ($'000) | Total assets ($'000) | As at |
| --- | --- | --- | --- | --- | --- |
| 1 | Allianz | Germany | 27,679,800 | 769,543,000 | 31/12/18 |
| 2 | Canada Pension Plan Investment Board | Canada | 24,936,200 | 293,453,000 | 31/03/19 |
| 3 | National Pension Service | South Korea | 20,507,900 | 575,260,000 | 31/05/19 |
| 4 | Caisse de dépôt et placement du Québec | Canada | 16,638,500 | 226,855,000 | 31/12/18 |
| 5 | OMERS | Canada | 15,245,800 | 73,503,200 | 31/12/18 |
| 6 | APG | Netherlands | 13,917,600 | 556,702,000 | 31/05/19 |
| 7 | Ontario Teachers' Pension Plan | Canada | 13,088,200 | 151,542,000 | 30/06/19 |
| 8 | PGGM | Netherlands | 12,696,100 | 241,226,000 | 31/12/18 |
| 9 | PSP Investments | Canada | 12,580,400 | 125,804,000 | 31/03/19 |
| 10 | Legal & General | UK | 11,805,700 | 625,016,000 | 31/12/18 |
| 11 | AustralianSuper | Australia | 9,407,650 | 102,012,000 | 31/12/18 |
| 12 | AXA | France | 9,361,940 | 908,205,000 | 31/12/18 |
| 13 | State Super | Australia | 9,282,480 | 30,238,400 | 31/12/18 |
| 14 | Future Fund | Australia | 9,012,120 | 109,540,000 | 31/03/19 |
| 15 | British Columbia Investment Corp | Canada | 8,955,920 | 112,946,000 | 31/03/18 |
| 16 | AIMCo | Canada | 7,772,400 | 86,289,300 | 31/03/19 |
| 17 | Teacher Retirement System of Texas | US | 7,695,967 | 154,699,525 | 31/12/18 |
| 18 | Qsuper | Australia | 7,594,750 | 72,994,000 | 31/12/18 |
| 19 | UniSuper | Australia | 7,524,430 | 56,468,400 | 31/12/18 |
| 20 | USS | UK | 6,999,630 | 89,213,400 | 26/06/19 |
| 21 | Aviva | UK | 6,799,430 | 546,287,000 | 31/12/18 |
| 22 | MEAG Munich ERGO | Germany | 6,393,180 | 269,186,000 | 31/03/19 |
| 23 | ATP | Denmark | 6,018,880 | 120,224,000 | 31/12/18 |
| 24 | Manulife | Canada | 5,937,080 | 259,252,000 | 31/12/18 |
| 25 | Employees Provident Fund | Malaysia | 4,800,850 | 200,640,000 | 31/12/18 |
| 26 | Korea Investment Corporation | South Korea | 4,400,000 | 131,600,000 | 31/12/18 |
| 27 | CalPERS | US | 4,370,000 | 355,820,000 | 31/08/19 |
| 28 | IMCO | Canada | 4,104,650 | 46,397,200 | 31/12/18 |
| 29 | Hesta | Australia | 4,008,340 | 35,582,800 | 31/12/18 |
| 30 | CalSTRS | US | 3,757,000 | 236,938,000 | 30/06/19 |
| 31 | CBUS | Australia | 3,727,050 | 32,840,300 | 31/12/18 |
| 32 | PensionDanmark | Denmark | 3,577,960 | 37,302,200 | 30/06/19 |
| 33 | PKA | Denmark | 3,577,580 | 41,865,300 | 27/06/19 |
| 34 | Alaska Permanent Fund | US | 3,460,300 | 61,844,700 | 31/12/18 |
| 35 | First State Super | Australia | 3,023,840 | 52,882,000 | 31/12/18 |
| 36 | Washington State Investment Board | US | 2,980,853 | 134,700,000 | 31/03/19 |
| 37 | Bayerische Versorgungskammer | Germany | 2,961,790 | 97,107,900 | 31/12/18 |
| 38 | Industriens Pension | Denmark | 2,909,890 | 263,441,000 | 31/12/18 |
| 39 | Sunsuper | Australia | 2,883,190 | 45,990,400 | 31/12/18 |
| 40 | PFA | Denmark | 2,877,600 | 80,390,000 | 30/06/19 |
| 41 | TIAA | US | 2,825,000 | 307,700,000 | 31/03/19 |
| 42 | Ärzteversorgung Westfalen Lippe | Germany | 2,816,910 | 15,984,000 | 31/05/19 |
| 43 | Government Pension Investment Fund | Japan | 2,647,140 | 1,433,880,000 | 31/03/19 |
| 44 | Hostplus | Australia | 2,629,360 | 30,445,200 | 31/05/19 |
| 45 | Talanx | Germany | 2,401,690 | 140,458,000 | 31/12/18 |
| 46 | New Jersey Division of Investment | US | 2,400,000 | 78,186,000 | 30/06/18 |
| 47 | Lloyds Banking Group | UK | 2,308,610 | 60,566,200 | 31/12/17 |
| 48 | New York City Retirement Systems | US | 2,155,000 | 198,986,000 | 31/05/19 |
| 49 | Swiss Life | Switzerland | 2,119,590 | 216,308,000 | 31/12/18 |
| 50 | Rest Super | Australia | 2,109,650 | 41,771,100 | 31/12/18 |
| 51 | Desjardins Group | Canada | 2,083,260 | 10,482,900 | 31/03/19 |
| 52 | The Crown Estate | UK | 2,065,870 | 17,628,300 | 31/03/19 |
| 53 | Oregon PERF | US | 2,000,000 | 75,000,000 | 31/12/18 |
| 54 | CFS FirstChoice | Australia | 1,898,690 | 54,288,400 | 31/12/18 |
| 55 | OPTrust | Canada | 1,814,840 | 14,595,700 | 31/12/18 |
| 56 | AP3 | Sweden | 1,798,170 | 39,959,400 | 31/12/18 |
| 57 | Gothaer | Germany | 1,733,420 | 37,964,800 | 30/06/19 |
| 58 | Ilmarinen | Finland | 1,570,250 | 52,715,700 | 31/03/19 |
| 59 | Maine PERS | US | 1,564,947 | 15,160,477 | 30/06/18 |
| 60 | BBC Pension Scheme | UK | 1,509,770 | 23,243,400 | 31/03/18 |
| 61 | Alberta Heritage Savings Trust Fund | Canada | 1,444,500 | 13,663,200 | 31/03/19 |
| 62 | Barclays Bank | UK | 1,422,580 | 37,718,000 | 31/12/18 |
| 63 | Sampension | Denmark | 1,364,000 | 45,466,800 | 30/06/19 |
| 64 | New York State Common Retirement Fund | US | 1,349,605 | 218,548,322 | 31/12/18 |
| 65 | Danica Pension | Denmark | 1,278,930 | 68,666,500 | 30/06/19 |
| 66 | ESSSuper | Australia | 1,265,790 | 21,096,500 | 31/12/18 |
| 67 | AMF | Sweden | 1,230,720 | 51,996,300 | 31/12/18 |
| 68 | Pennsylvania PSERS | US | 1,201,000 | 53,329,000 | 31/12/18 |
| 69 | MTAA Super | Australia | 1,195,470 | 8,649,580 | 31/12/18 |
| 70 | Lothian Pension Fund | UK | 1,172,090 | 10,418,600 | 31/03/19 |
| 71 | Virginia Retirement System | US | 1,169,840 | 76,669,018 | 30/06/18 |
| 72 | MN | Netherlands | 1,143,790 | 148,693,000 | 31/12/18 |
| 73 | Commonwealth Super | Australia | 1,125,150 | 31,363,500 | 31/12/18 |
| 74 | WorkSafeBC | Canada | 1,063,800 | 12,934,900 | 31/12/18 |
| 75 | VicSuper | Australia | 1,054,830 | 16,666,300 | 31/12/18 |
| 76 | CareSuper | Australia | 1,046,940 | 11,167,400 | 25/07/19 |
| 77 | Maryland SRPS | US | 1,000,000 | 54,200,000 | 30/06/19 |
| 78 | Pension Protection Fund | UK | 982,210 | 52,078,500 | 31/03/19 |
| 79 | Swiss Re | Switzerland | 920,000 | 207,570,000 | 31/12/18 |
| 80 | Nordrheinischen Ärzteversorgung | Germany | 915,033 | 16,013,100 | 31/12/18 |
| 81 | Sacramento CERS | US | 892,500 | 9,500,000 | 31/03/19 |
| 82 | Texas ERS | US | 861,000 | 28,700,000 | 30/06/19 |
| 83 | Mercer Super Trust | Australia | 843,861 | 17,158,500 | 31/12/18 |
| 84 | Alberta Teachers' Retirement Fund | Canada | 830,528 | 12,816,200 | 31/08/18 |
| 85 | Alaska Retirement Management Board | US | 782,313 | 24,874,760 | 31/12/18 |
| 86 | Pension Fund Association | Japan | 775,560 | 103,708,000 | 31/03/19 |
| 87 | Australian Catholic Super | Australia | 773,540 | 6,188,320 | 31/12/18 |
| 88 | TelstraSuper | Australia | 773,540 | 14,978,500 | 31/12/18 |
| 89 | Keva | Finland | 758,727 | 60,811,800 | 30/06/19 |
| 90 | ASGA Pensionkasse | Switzerland | 750,540 | 17,233,000 | 31/12/18 |
| 91 | Varma Mutual Pension Insurance Co. | Finland | 708,032 | 52,855,200 | 30/06/19 |
| 92 | MLC Super | Australia | 703,220 | 57,171,600 | 31/12/18 |
| 93 | BT Pension Scheme | UK | 684,004 | 65,363,700 | 31/12/18 |
| 94 | Florida State Board of Administration | US | 682,300 | 160,438,425 | 30/06/18 |
| 95 | PGB | Netherlands | 672,966 | 33,536,100 | 31/03/19 |
| 96 | MP Pension | Denmark | 624,131 | 18,439,600 | 19/08/19 |
| 97 | Publica | Switzerland | 609,370 | 39,006,900 | 18/03/19 |
| 98 | UTIMCO | US | 554,500 | 32,295,800 | 31/08/18 |
| 99 | Railways Pension Scheme | UK | 534,259 | 33,827,100 | 31/12/18 |
| 100 | Pensam | Denmark | 525,362 | 22,365,400 | 09/08/19 |
| 101 | Migros | Switzerland | 520,706 | 23,696,000 | 31/12/18 |
| 102 | Elo | Finland | 511,502 | 27,052,700 | 30/06/19 |
| 103 | Enpam | Italy | 480,284 | 24,014,200 | 31/12/18 |
| 104 | South Yorkshire Pensions Authority | UK | 428,915 | 11,032,500 | 30/06/19 |
| 105 | DIP/JØP | Denmark | 419,029 | 19,246,200 | 30/06/19 |
| 106 | AP1 | Sweden | 411,710 | 36,019,100 | 31/12/18 |
| 107 | Arizona State Retirement System | US | 373,428 | 39,968,355 | 31/12/18 |
| 108 | State Pension Fund (Valtion Elakerahasto – VER) | Finland | 371,814 | 21,871,400 | 31/03/19 |
| 109 | SERS of Ohio | US | 370,000 | 14,300,000 | 31/03/19 |
| 110 | Fonds de Reserve pour les Retraites | France | 329,616 | 37,187,500 | 28/06/19 |
| 111 | WPV | Germany | 267,853 | 4,751,280 | 30/06/19 |
| 112 | Tyne and Wear Pension Fund | UK | 266,901 | 11,426,300 | 31/03/19 |
| 113 | Fondaco | Italy | 227,334 | 1,250,340 | 30/06/19 |
| 114 | Velliv | Denmark | 208,713 | 28,325,400 | 31/05/19 |
| 115 | Worcestershire Pension Fund | UK | 205,575 | 3,498,580 | 30/06/19 |
| 116 | KWAP | Malaysia | 173,480 | 34,666,400 | 31/12/17 |
| 117 | Chikyoren | Japan | 167,737 | 208,318,000 | 31/03/19 |
| 118 | Orano | France | 167,112 | 7,241,520 | 26/07/19 |
| 119 | Basellandschaftliche Pensionskasse | Switzerland | 150,912 | 2,012,160 | 10/07/19 |
| 120 | Profond Vorsorgeeinrichtung | Switzerland | 148,787 | 8,332,060 | 31/05/19 |
| 121 | SEB Pension och Försäkring AB | Sweden | 115,485 | 2,624,660 | 20/06/19 |
| 122 | VBV Pensionskasse AG | Austria | 98,000 | 7,622,000 | 28/02/19 |
| 123 | ABB Koncernens Pensionsstiftelse | Sweden | 91,162 | 652,805 | 31/05/19 |
| 124 | Vinci Pension Scheme | UK | 89,173 | 331,215 | 25/06/19 |
| 125 | New England Teamsters Pension Fund | US | 88,000 | 2,500,000 | 28/02/19 |
| 126 | Pensions Caixa 30 | Spain | 73,884 | 4,941,100 | 30/06/19 |
| 127 | Norsk Hydros Pensjonskasse | Norway | 70,475 | 2,349,170 | 27/06/19 |
| 128 | An Post Superannuation Fund | Ireland | 56,644 | 3,625,180 | 08/07/19 |
| 129 | Versorgungswerk der Architektenkammer Sachsen | Germany | 48,487 | 678,589 | 09/07/19 |
| 130 | Pensioenfonds KBC | Belgium | 44,536 | 2,560,830 | 31/05/19 |
| 131 | La Caisse Marocaine des Retraites | Morocco | 31,086 | 9,325,760 | 21/06/19 |
| 132 | Pensioenfonds voor de Houtverwerkende Industrie en Jachtbouw | Netherlands | 22,876 | 686,275 | 31/12/18 |
| 133 | Pensions Caixa 2 | Spain | 2,227 | 226,021 | 31/05/19 |