The IPE Real Assets top 100 ranking of some of the world's largest infrastructure investors has captured more than $467bn (€388bn) in infrastructure assets held by pension funds, sovereign-wealth funds, insurers and other institutional capital owners.
It was based on IPE Research survey data, Rainmaker information and publicly available information, predominantly in the form of annual reports. Where accurate numbers were not available, estimates have been made. Some investors have not been included due to a lack of information.
We also asked investors about their allocations, investment intentions and views on the market. This survey was conducted between late June and early August, amid a very different scenario to previous years. The COVID-19 pandemic is the biggest test for the asset class following substantial growth in the decade that followed the global financial crisis.
Although transport infrastructure assets – toll roads and airports – have been adversely affected, the asset class, as a whole, seems to be passing the test and living up to its reputation as a stabilising ingredient in multi-asset portfolios. More than two thirds of investors say COVID-19 has had no effect on their infrastructure investments (figure 20).
Only 11% have placed a moratorium on new investments, while the same amount are looking to increase their exposure as a result of the pandemic. None of the investors surveyed are looking to decrease their exposure in response, while 3% say the situation has prompted a change in strategy.
Furthermore, 57% of infrastructure investors expect to invest or commit a greater volume of capital over the coming 12 months, and 27% intend to maintain the same level of investment (figure 5). As for allocations, 62% expect theirs to rise and 35% plan to maintain current levels.
The findings are consistent with anecdotal evidence. "Overall, the infrastructure portfolio has performed well through the pandemic, with positive returns year-to-date, which reflect a well diversified portfolio," says Tim Formuziewich, managing director of Infrastructure at Investment Management Corporation of Ontario (IMCO), which manages investments for the Ontario Pension Board and the Workplace Safety and Insurance Board.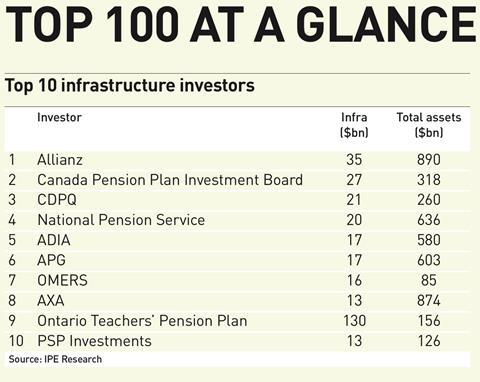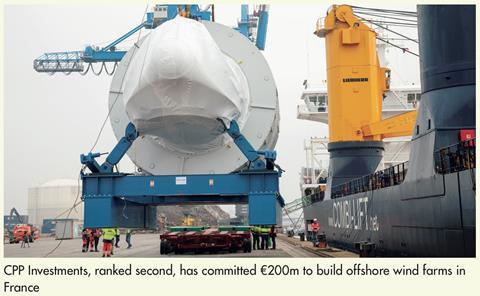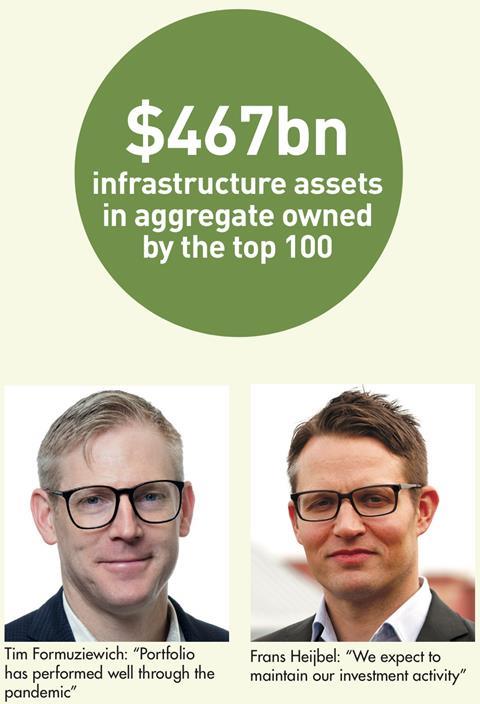 Over the summer, IMCO invested in fibre network company euNetworks alongside Stonepeak Infrastructure Partners. "We actually anticipate a significant increase in investment activity throughout the rest of 2020 and continuing into 2021, relative to the first half of the year," says Formuziewich.
Neil King, managing director and head of infrastructure for Europe at Canada Pension Plan Investment Board (CPP Investments), says: "As with all investors, we have seen some impacts across the portfolio, particularly on the toll roads. The advantage we have is we invest in infrastructure for the very long term, which allows us to deploy our capital to best effect and to be patient across economic cycles.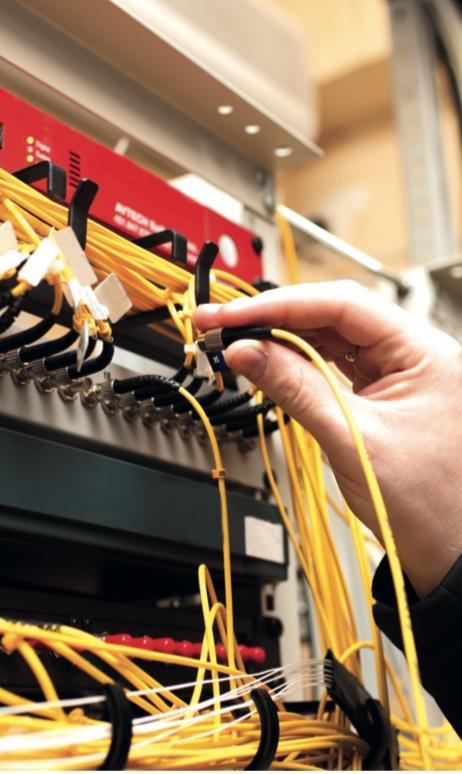 "Our view of the crisis and the consequent economic weakness we will see across the world can be taken in that light, and so as long as life returns to normal over a sensible timeframe, then over the long term the value impacts will be low."
While limitations on travel and in-person meeting are "slowing things down in the short term", King says "we are carefully monitoring the markets for investment opportunities". He adds: "We have seen increased market activity levels in recent weeks and we anticipate those will continue to increase as the practical barriers are reduced."
And echoing the findings, neither IMCO nor CPP Investments is planning to change their strategies as a result of the pandemic. "No, we remain committed to our strategy of building a diversified portfolio with absolute-return targets," Formuziewich says.
King says: "We aren't planning any major changes to our investment strategy."
The same applies to Swedish pension fund Alecta, which recently began investing in the asset class, last year committing €600m to three infrastructure funds. "We expect to maintain our investment activity at the current high level in the coming years," says Frans Heijbel, head of international real assets.
Asked whether Alecta has been tempted to change its strategy at such an early stage, he says: "Not really, as our strategy was always meant to create a portfolio with relatively stable and predictable returns uncorrelated to the economic cycle."
The entrance of Alecta, which is one of the largest institutions in Sweden, shows the ongoing appeal of the asset class to major investors that have yet to gain exposure. Of the 30% of survey respondents that do not invest in infrastructure, half say they might invest in the future and 13% have definite plans to do so.
The main impediment to investing in infrastructure seems to be the size of investors, making it difficult to make a meaningful allocation to the asset class (figure 3). Of those investors that do not invest in infrastructure, only 19% were not persuaded by the risk-return profile or diversification benefits. This proportion was down significantly on last year's 41%.
Illiquidity, unsuitability of available products and a lack of suitable external advice were all joint-second as reasons for not allocating to infrastructure. Asked to describe the main impediments, investors cited a wider range of factors:
● Availability of high-qualified assets;
● Internal capabilities;
● Transparency in the non-listed market;
● Choosing a benchmark;
● Deciding what asset class to put infrastructure funds into;
● Lack of in-house expertise;
● Valuation, political risk, liquidity;
● Fee structures;
● Getting capital called and invested in a timely manner.
A common topic about infrastructure is whether the asset class is too expensive. This year's survey shows that nearly three quarters of investors believe it is not, similar to last year's 72%, and significantly higher than the 54% recorded in 2018.
"It is expensive compared to historical multiples," says Heijbel. "But not necessarily relative the current interest-rate environment."
Formuziewich says: "Certainly, the alpha available in infrastructure has come down in core North American and European infrastructure over the last 10 years. Nonetheless, there are still opportunities to acquire risk on an attractive basis although less systemically than in the past. One way of doing so, that we are focused on, is through greenfield investment. Greenfield moves the needle more for us than some of our peers."
In terms of investment intentions, infrastructure investors are favouring Europe (figure 1), although this might reflect a slightly heavy European weighting in terms of investor domicile.
Only 31% of investors have exposure to infrastructure in emerging markets, and 8% are considering moving in this direction (figure 15).
While most, unsurprisingly, expected transport assets to be most affected by COVID-19 (figure 22), there is a clear investor preference for renewable energy, and telecommunications and digital infrastructure (figure 21).
"Our current core infrastructure portfolio is focused on toll roads and regulated utilities, as well as a growing portfolio of renewable energy across wind, solar and hydro," says King. "In line with the overall goals of CPP Investments, we are looking to increase exposure in our core emerging markets in Latin America, India and Asia. But we do not have a rigidly defined portfolio construction approach to new investments; instead our key objective is to maximise long-term risk-adjusted returns by backing great infrastructure businesses."
Formuziewich adds: "We are looking to build a diversified portfolio with investments that behave differently to each other. We seek to make each investment on a basis that delivers strong risk-adjusted returns with asymmetric returns to the upside. If we can do that consistently, we believe that our portfolio will outperform."
Social infrastructure came second after renewables and digital, and there is an emerging question about whether institutional investors will move further into this part of the market in a post-COVID-19 world.
Fibre-optic cables, telecoms and renewable energy were named joint top-favourite sectors for investment
"Prior to the pandemic, we felt that institutional investment in infrastructure would increase generally and that social infrastructure would be a beneficiary of growth in infrastructure capital," says Formuziewich. "From a policy perspective, we believe it is possible that some governments around the world will re-prioritise certain aspects of social infrastructure that will generally create some investment opportunities for private investors."
Heijbel says: "COVID-19 will most likely change certain behaviours and create future new opportunities for investing in the built environment."
More than two-thirds of investors have an environment, social and governance (ESG) policy and/or strategy that covers infrastructure (figure 16), and for the vast majority this goes beyond investing in renewable energy (figure 17).
Less than a quarter are seeking to make a social impact through their infrastructure investments, although 35% are considering or planning to do so (figure 18). Only 8% would accept a lower return in exchange for making social impact (figure 19).
"We constantly seek the best investment opportunities that can also lead to a positive impact on society and the environment," says Formuziewich. "However, our fiduciary duty comes first, and we won't sacrifice returns themselves."
Heijbel adds: "We are certainly interested in making a social impact through infrastructure investments. Infrastructure investing is not only about maximising returns, but rather the risk-adjusted return in our view."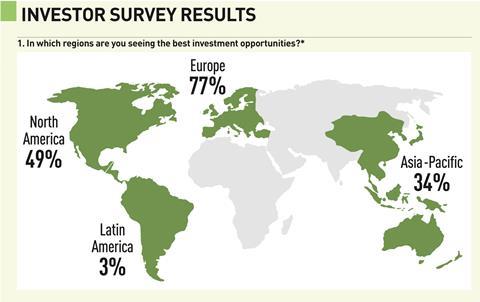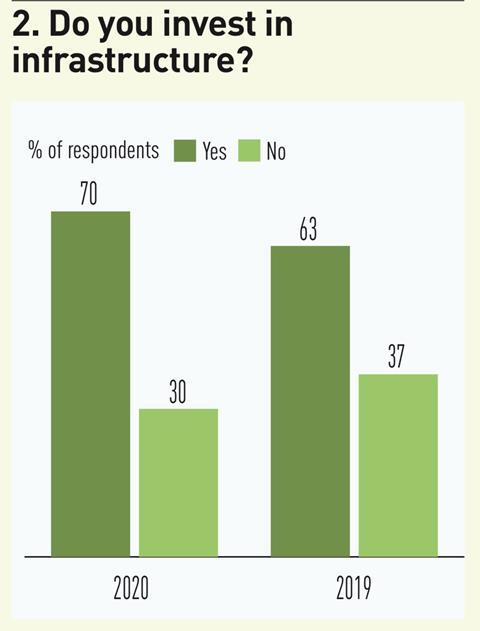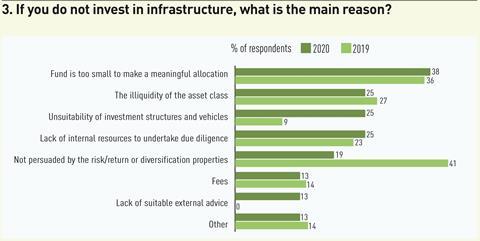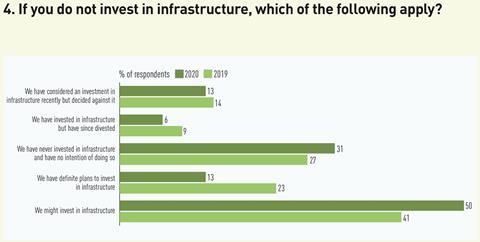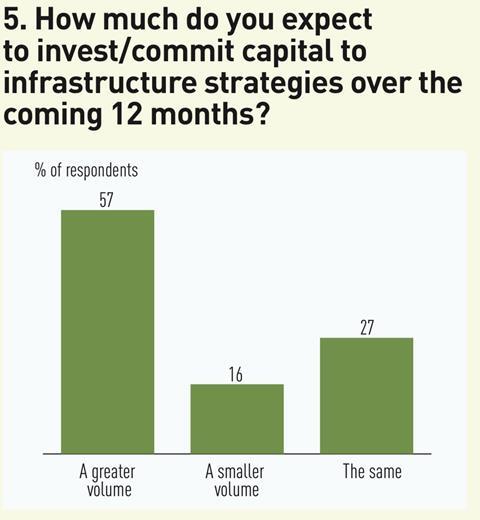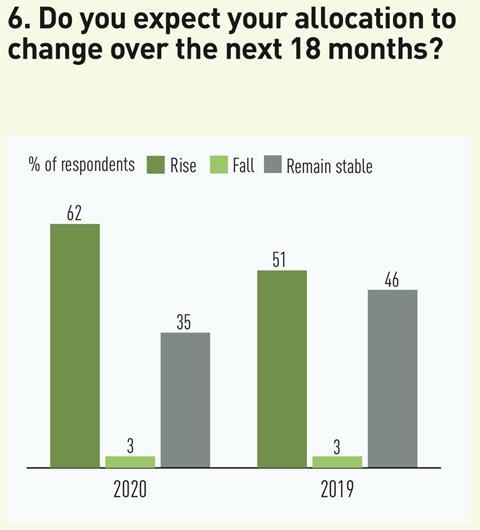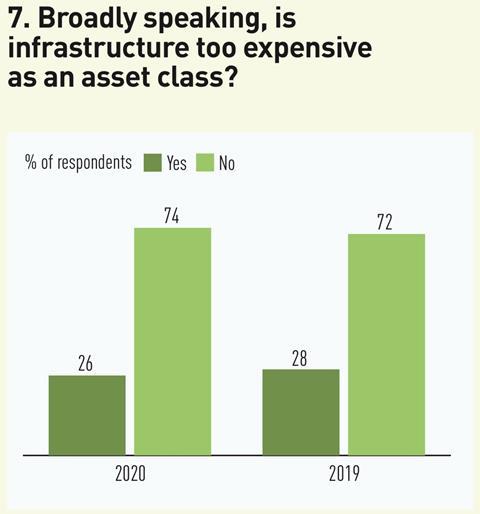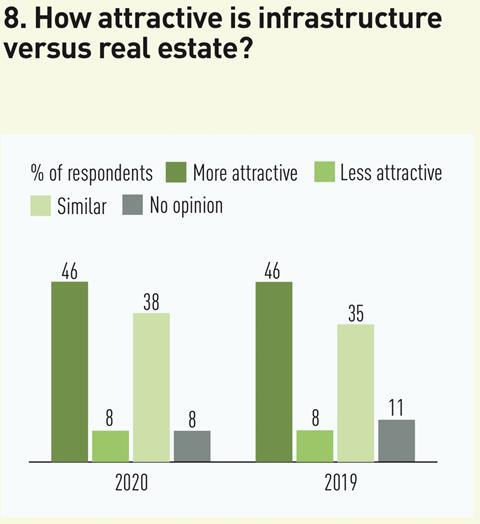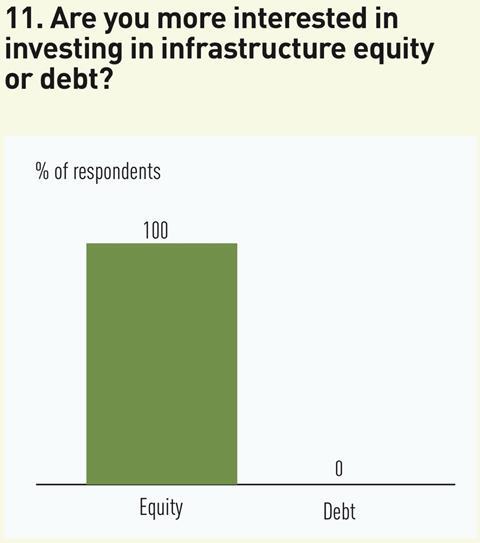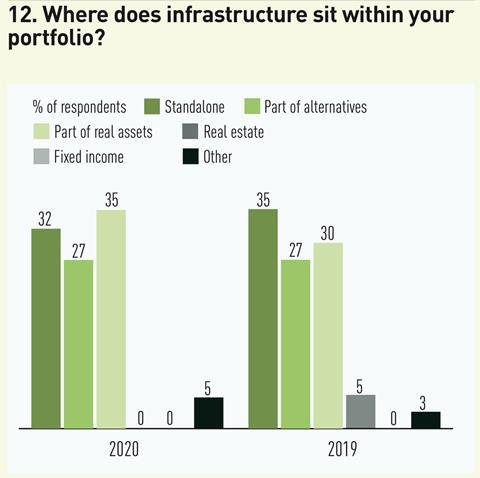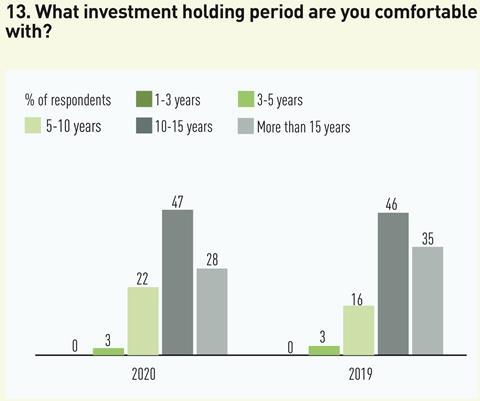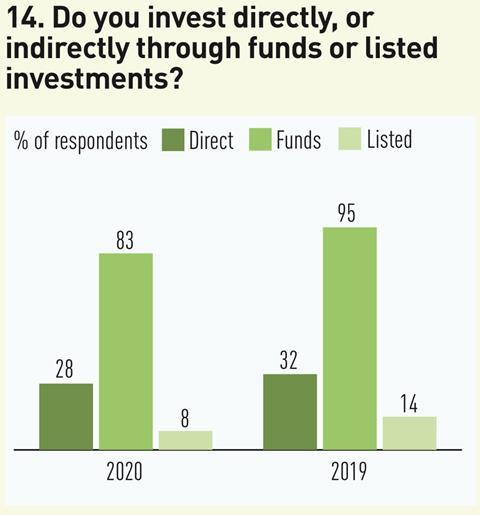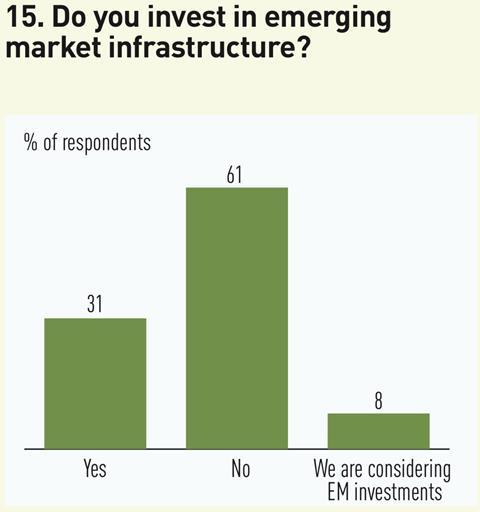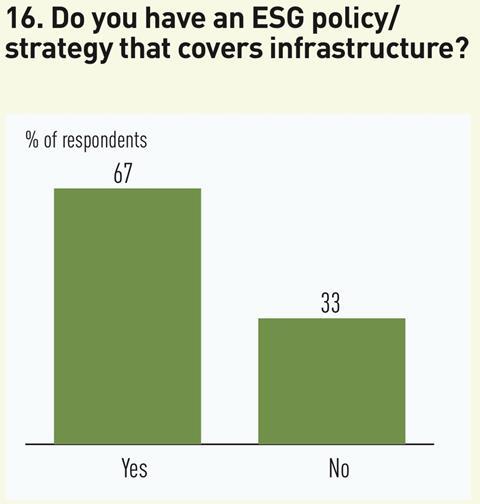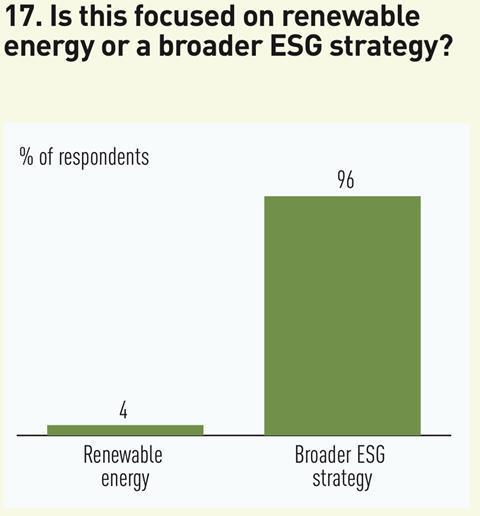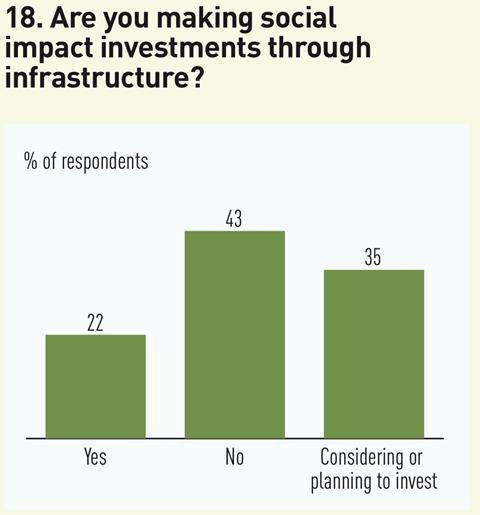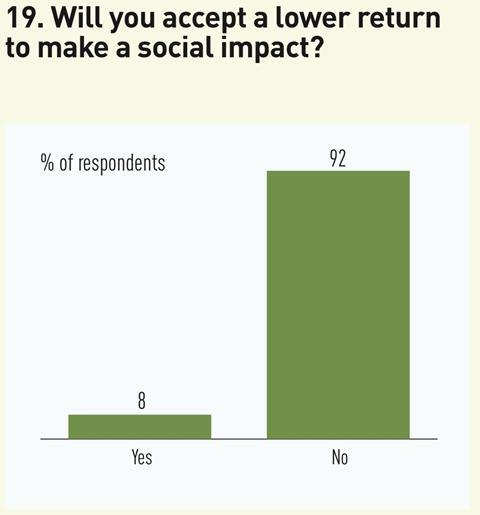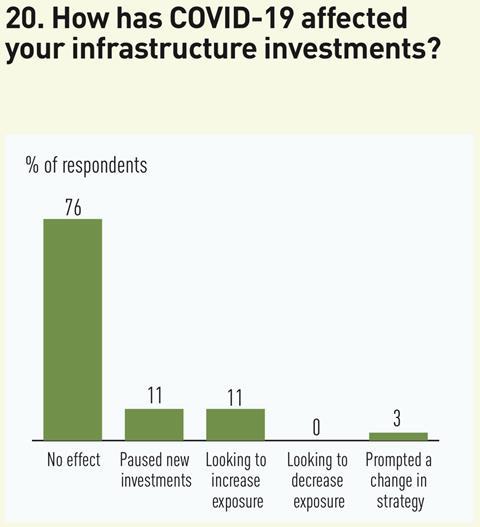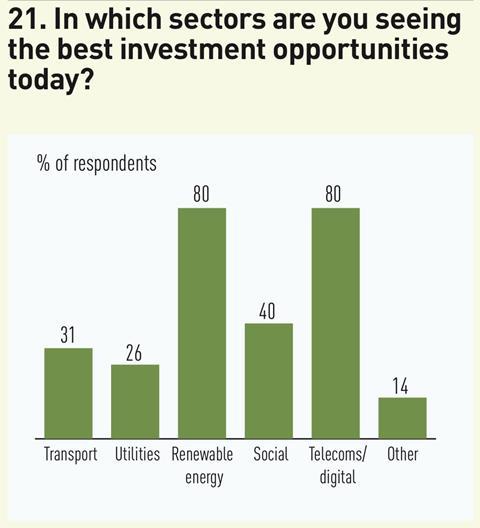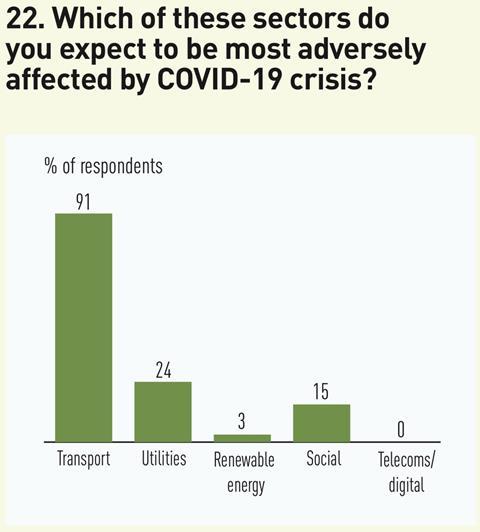 | | Investor | Country | Infrastructure assets ($'000) | Total assets ($'000) |
| --- | --- | --- | --- | --- |
| 1 | Allianz | Germany | 34,939,700 | 890,289,000 |
| 2 | Canada Pension Plan Investment Board | Canada | 26,848,300 | 317,790,000 |
| 3 | CDPQ | Canada | 21,273,700 | 260,258,000 |
| 4 | National Pension Service | South Korea | 20,467,100 | 636,167,000 |
| 5 | ADIA | UAE | 17,388,634 | 579,621,120 |
| 6 | APG | Netherlands | 17,070,000 | 602,592,000 |
| 7 | OMERS | Canada | 16,336,300 | 84,794,700 |
| 8 | AXA | France | 13,139,500 | 874,475,000 |
| 9 | Ontario Teachers' Pension Plan | Canada | 12,997,600 | 156,144,000 |
| 10 | PSP Investments | Canada | 12,580,400 | 125,804,000 |
| 11 | AustralianSuper | Australia | 12,500,500 | 120,581,000 |
| 12 | PGGM | Netherlands | 11,534,600 | 252,300,000 |
| 13 | UniSuper | Australia | 8,913,240 | 58,218,900 |
| 14 | Teacher Retirement System of Texas | US | 8,800,000 | 148,100,000 |
| 15 | MEAG Munich ERGO | Germany | 8,419,110 | 369,374,000 |
| 16 | AIMCo | Canada | 8,329,400 | 77,901,900 |
| 17 | Future Fund | Australia | 8,283,540 | 117,535,000 |
| 18 | Legal & General | UK | 7,604,680 | 735,295,000 |
| 19 | QSuper | Australia | 7,124,710 | 80,645,200 |
| 20 | USS | UK | 6,999,630 | 89,213,400 |
| 21 | Manulife | Canada | 6,775,430 | 295,762,000 |
| 22 | ATP | Denmark | 6,760,830 | 53,202,200 |
| 23 | Washington State Investment Board | US | 6,100,000 | 137,700,000 |
| 24 | Aware Super | Australia | 5,844,690 | 82,513,300 |
| 25 | Aviva | UK | 5,246,420 | 603,394,000 |
| 26 | Samsung Life | South Korea | 5,156,570 | 190,984,000 |
| 27 | Employees Provident Fund | Malaysia | 5,097,320 | 210,550,000 |
| 28 | Government Pension Investment Fund | Japan | 5,055,010 | 1,396,600,000 |
| 29 | KIC | South Korea | 4,850,000 | 157,300,000 |
| 30 | CalPERS | US | 4,700,000 | 380,000,000 |
| 31 | CBUS | Australia | 4,432,090 | 41,443,000 |
| 32 | IMCO | Canada | 4,361,870 | 53,796,400 |
| 33 | HESTA | Australia | 4,172,930 | 37,640,100 |
| 34 | CalSTRS | US | 4,100,000 | 236,900,000 |
| 35 | NSW Treasury Corporation | Australia | 3,916,570 | 52,119,500 |
| 36 | PKA | Denmark | 3,747,690 | 49,469,500 |
| 37 | Bayerische Versorgungskammer | Germany | 3,645,150 | 104,147,000 |
| 38 | PensionDanmark | Denmark | 3,387,910 | 40,639,900 |
| 39 | State Super (NSW) | Australia | 3,386,780 | 28,720,000 |
| 40 | Industriens Pension | Denmark | 3,118,380 | 27,376,000 |
| 41 | New York Common Retirement Fund | US | 3,100,000 | 218,000,000 |
| 42 | Generali | Italy | 3,056,550 | 720,589,000 |
| 43 | Sunsuper | Australia | 2,957,920 | 50,764,700 |
| 44 | Hostplus | Australia | 2,874,010 | 30,699,600 |
| 45 | TIAA | US | 2,825,000 | 307,700,000 |
| 46 | Talanx | Germany | 2,799,650 | 137,338,000 |
| 47 | Ärzteversorgung Westfalen-Lippe | Germany | 2,782,850 | 16,095,400 |
| 48 | REST | Australia | 2,778,100 | 40,673,600 |
| 49 | Oregon PERF | US | 2,700,000 | 72,700,000 |
| 50 | Swiss Life | Switzerland | 2,697,960 | 234,881,000 |
| 51 | Pennsylvania PSERS | US | 2,300,000 | 55,800,000 |
| 52 | New York City Retirement Systems | US | 2,155,000 | 198,986,000 |
| 53 | CFS FirstChoice | Australia | 2,116,970 | 56,151,000 |
| 54 | AMF | Sweden | 2,073,290 | 55,944,500 |
| 55 | The Crown Estate | UK | 2,065,870 | 18,919,500 |
| 56 | Desjardins Group | Canada | 1,895,580 | 11,572,700 |
| 57 | BT Pension Scheme | UK | 1,846,370 | 69,481,700 |
| 58 | OPTRUST | Canada | 1,840,400 | 16,575,900 |
| 59 | Virginia Retirement System | US | 1,800,000 | 81,600,000 |
| 60 | AP3 | Sweden | 1,772,040 | 42,192,500 |
| 61 | Gothaer | Germany | 1,733,420 | 37,964,800 |
| 62 | Ilmarinen | Finland | 1,724,590 | 56,584,100 |
| 63 | IST Investmentstiftung | Switzerland | 1,638,740 | 10,924,900 |
| 64 | LACERA | US | 1,590,000 | 54,500,000 |
| 65 | Maine PERS | US | 1,530,000 | 14,700,000 |
| 66 | PFA Penson | Denmark | 1,409,230 | 85,063,400 |
| 67 | AMP Super | Australia | 1,405,650 | 70,582,600 |
| 68 | Danica Pension | Denmark | 1,332,750 | 66,637,600 |
| 69 | Alberta Heritage Savings Trust Fund | Canada | 1,331,150 | 11,832,300 |
| 70 | British Columbia Investment Corp | Canada | 1,296,430 | 121,355,000 |
| 71 | ESSSuper | Australia | 1,275,660 | 20,995,400 |
| 72 | WorkSafeBC | Canada | 1,256,950 | 14,959,800 |
| 73 | Zurich Investment Foundation | Switzerland | 1,200,000 | 38,000,000 |
| 74 | Lothian Pension Fund | UK | 1,172,090 | 10,418,600 |
| 75 | AP1 | Sweden | 1,168,140 | 39,202,500 |
| 76 | Commonwealth Super | Australia | 1,156,930 | 35,013,500 |
| 77 | Swiss RE | Switzerland | 1,147,000 | 103,746,000 |
| 78 | MN | Netherlands | 1,112,020 | 171,339,000 |
| 79 | Sampension | Denmark | 1,011,280 | 46,936,900 |
| 80 | Texas ERS | US | 1,000,000 | 27,100,000 |
| 81 | PUBLICA | Switzerland | 990,100 | 42,234,300 |
| 82 | Mercer Super Trust | Australia | 963,465 | 17,770,800 |
| 83 | Alberta Teachers' Retirement Fund | Canada | 946,920 | 13,641,400 |
| 84 | NAEV | Germany | 935,458 | 15,335,400 |
| 85 | MTAA Super | Australia | 890,564 | 8,968,270 |
| 86 | NGS Super | Australia | 847,615 | 8,151,460 |
| 87 | Florida State Board of Administration | US | 820,000 | 148,000,000 |
| 88 | Telstra Super | Australia | 806,722 | 15,706,900 |
| 89 | MLC Super Fund | Australia | 801,681 | 57,359,800 |
| 90 | UTIMCO | US | 799,800 | 35,471,700 |
| 91 | Lægernes Pension | Denmark | 794,819 | 14,306,700 |
| 92 | New Mexico State Inv. Council | US | 766,000 | 25,230,000 |
| 93 | Keva | Finland | 758,482 | 62,898,100 |
| 94 | Care Super | Australia | 751,588 | 13,928,700 |
| 95 | ASGA Pensionkasse | Switzerland | 750,783 | 20,569,400 |
| 96 | Zurich Insurance Group | Switzerland | 747,000 | 205,000,000 |
| 97 | Migros | Switzerland | 722,992 | 26,771,600 |
| 98 | Varma Mutual Pension Insurance Co. | Finland | 708,032 | 52,855,200 |
| 99 | Pension Fund Association | Japan | 690,879 | 98,299,500 |
| 100 | PGB | Netherlands | 672,966 | 33,536,100 |