Top 100 RE investment managers: Lower returns on the horizon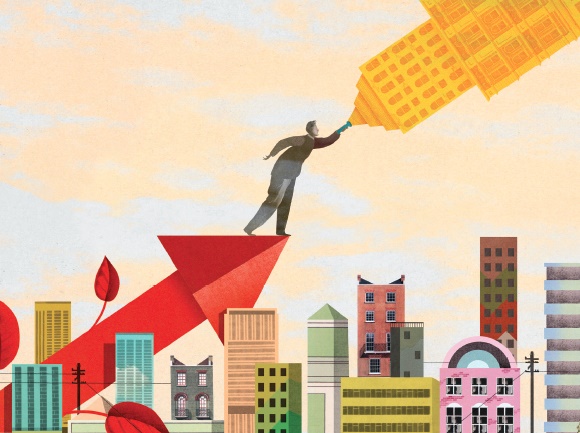 The real estate investment management industry has ballooned as capital has flooded the asset class. But with returns now expected to be much lower, what will happen next? Christopher O'Dea reports 
A period of lower returns is clearly on the horizon. The decline in cap rates on property assets, most apparent in high-quality, core markets that have attracted strong capital inflows for nearly a decade, has slowed. This has put the brakes on increases in prices and capital returns.
But it has not deterred investors from investing in real estate. They are no longer reaping the rewards of yield compression, but they remain loyal fans of the asset class' ability to generate income at a time of stubbornly low bond yields.
The most notable slowdown in pricing momentum has occurred in the US. Just 10% of major US office markets recorded yield compression over the past year, according to PGIM research, as investors displayed greater caution towards markets where key transactions have been taking place at historically low yields. 
Other gateway markets such as Brexit-affected London and Asian office hubs – most notably Hong Kong, Singapore and Tokyo – have similarly reported that transactions prices are levelling off, also at historically low yield levels.
With price appreciation slowing, property income potential has become more important, placing a high priority on asset-level business plans, and the ability to identify niches and sub-markets that offer attractive yield potential. This has managers looking globally and investing locally, sometimes in conjunction with specialist joint-venture partners.
Another manifestation is the popularity of debt strategies, from senior mortgages and syndicated whole loans to mezzanine lending. Facing higher capital requirements and increased regulation, commercial banks have reduced lending to the property sector, opening the door for a variety of alternative lenders to marshal institutional capital into new funds and separate accounts.
"Since we've been in this lower interest-rate environment… the fixed-income story is always a relative value story," says David Durning, chief executive of PGIM Real Estate Finance. The spreads are higher than available for corporate bonds, he says – "with similar risk, even after adjusting for the lower liquidity of mortgages". Durning adds: "The ability to find yield in property and sprinkle it in with other fixed-income assets is what's been driving growth in the sector overall." 
As a result, today's property investors are primarily focused on debt yield, rather than the cap-rate compression that has dominated headlines for several years, says Durning. That shift reflects a new equilibrium between capital market conditions and loan demand, and the demand for income from institutional investors. Borrowers are interested in loan terms that require only interest payments for as long a period as possible, Durning adds. In general, they are willing to put more equity into a given transaction; that keeps loan-to-value ratios modest, thereby providing an extra cushion against adversity – a cushion that is encouraging institutional investors to direct capital to debt strategies instead of equity strategies.
The result is a new property market dynamic, in which local market knowledge is at a premium as investors screen opportunities before investing. The pace of equity investing is slowing, as reflected by a 12% decline in 2016 in overall global investment in income-producing properties – aside from apartments in the US and China. That decline continued this year. Investment managers report they are being more selective, ensuring that properties have asset-level business plans that offer a combination of higher yield and income growth potential to protect against rising interest rates. 
And now that returns are no longer dominated across regions by liquidity-driven cap-rate compression, there is again a greater variety of performance across markets. As correlations across markets have edged down, the potential benefits of diversification have increased.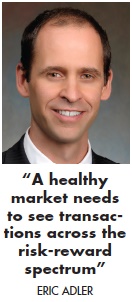 The European Cities Fund managed by TH Real Estate, for example, has deployed $1bn (€863m) this year in markets as varied as Berlin, Madrid, Helsinki and Edinburgh. "But it's not a time to buy the market, it's time to be incredibly selective about the assets and the cities in which we invest," says Mike Sales, head of TH Real Estate. 
"We believe most of the cities we're going to be investing in are going to be accretive from a growth perspective, and we believe they'll preserve value as well," Sales says. "We expect to invest more from the equity side, but it's going to be very focused on what we call winning cities, not just in Europe, but in the US and globally. We're approaching things in a slightly different manner, buying sub-markets within cities."
TH Real Estate has also been expanding its real estate debt investment business, as investors – including its parent TIAA – steer more of their real estate allocations towards lending strategies. "Income is king at the moment," says Sales. "If you can get that income from a 60-70% loan-to-value investment that delivers 4.5-5% yield, and your collateral is high-grade property, that's an attractive proposition with limited downside risk to capital."
TH Real Estate recently expanded its debt proposition to Australia, hiring CBRE's Martin Priestley to run the business there. "We think there's a great opportunity to be an alternative lending source in Australia," says Sales. "You've seen a proliferation of alternative players such as debt funds in the UK, where the banks have far more regulated costs of capital, and we think that's going to happen in Australia as well." TH Real Estate expects to close its first Australian debt transactions by early 2018.
In an environment of slowing price appreciation, value has become the watchword globally. "Investors are asking us to be very selective," says Eric Adler, CEO of PGIM Real Estate. "The major change we've seen in the past six to 12 months is a 'barbelling' of investment strategies."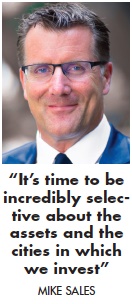 Investors looking for core exposure and returns are tending towards prime gateway assets, while those seeking absolute returns in the double digits are interested in acquiring assets at very low prices. The common denominator: investors no longer expect cap rates to continue declining. Investors want lower prices that would allow purchases at acceptable going-in yields, but sellers are not willing to part with properties at lower prices.
Those preferences explain the drop in transactions this year, Adler says. It has led to PGIM becoming a slight net-seller of US real estate, while remaining a net-buyer globally.
The slower transaction activity could be a cause for concern. "A healthy market needs to see transactions across the risk-reward spectrum," Adler says. The difference in activity in markets around the world illustrates another major change. "There is less correlation between markets for the first time since the financial crisis," Alder says.
Core diversification
More investors are looking internationally for core exposure, and by taking a global focus institutions are diversifying their risk budgets, says Anton Pil, managing partner of JP Morgan Global Alternatives. "The exposure of many investors to their own domestic markets may be disproportionate relative to global risks and the timing of the property cycle in markets around the world," says Pil. "So when they look internationally and say 'I want to invest there', it's actually a way to achieve some core diversification."
The motivation for allocating globally has changed recently. "The impetus is quite different from a decade ago, when institutions looked to overseas allocations to generate outperformance based on price," Pil explains. "Today it's for income."
Incorporating the prospect of differential market performance will become an important part of asset allocation and portfolio construction. "The thought process is that if I have sufficient exposure in my domestic European market, I want to own something in Japan where the cycle is going to be slightly off," Pil explains. "So the day my cycle actually declines, theirs is still producing." A global outlook helps avoid the risk of domestic concentration in a portfolio, Pil says. "It's going to drive investors to deploy capital towards markets outside of their own."
Pil expects that structural changes in the pensions industry will drive continued global diversification, with a tilt towards income-producing assets. "The more mature a pension plan becomes, the more stability of income becomes an important objective," he says. This could stimulate "a fairly wholesale shift towards real assets that offer stable income, be that real estate or infrastructure," he adds. That demand will "continue to grow for structural reasons as these large pools of capital mature over time".
The first challenge in that evolution will be to navigate the cross currents arising after nearly a decade of positive returns in the property sector. "Whichever way you look at it, there's no doubt we are late in the cycle," says Sales. Having said that, he adds, "real estate from an income perspective and yield perspective still looks attractive."
Pages in: Top 100 RE investment managers: Lower returns on the horizon