Top 100 Infrastructure Investors 2018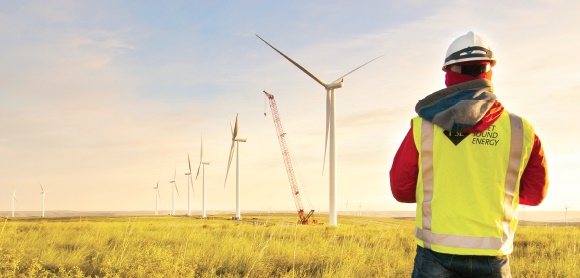 The assets of the 100 largest institutional infrastructure investors have increased by more than 20% over the past year. We speak to five of the biggest 
The IPE Real Assets top 100 infrastructure investors survey has captured more than $439bn in infrastructure assets held by pension funds, sovereign wealth funds, insurers and other institutions. It was based on IPE Research survey data, Rainmaker information and public information, predominantly annual reports. Where accurate numbers were not available, estimates have been made. Some investors have not been included due to a lack of information.
OMERS
• Canadian pension fund
• Ranked 8th
• Infrastructure assets: $13.6bn
One of the oldest infrastructure investment operations, and one of the largest in absolute size, OMERS Infrastructure Management, the infrastructure operations of the Ontario Municipal Employees Retirement System (OMERS) is well diversified by sector and geography – and the constantly growing portfolio is still seeking new opportunities in new regions.
With C$98.9bn (€64.5bn) in net assets, OMERS was running a pool of infrastructure investment valued at C$17bn as of 2017, representing 17% of total assets. The infrastructure investment advisory and management arm of OMERS was known as Borealis Infrastructure until 2017, when the group decided to make clearer its association with the pension plan.  
"Our mission at OMERS Infrastructure is to invest to deliver a return to the OMERS pension plan that is stable and predictable through cycles," says Ralph Berg, executive vice-president and global head of infrastructure at OMERS. "Sustainability is a core principle."
These principles are translated into action through detailed analysis of any investment opportunity. Focus is put on an analysis of the country an asset is located in, as OMERS invests only in strong, investment-grade jurisdictions, and extends to analysis on the asset level, to ensure that any prospect is backed either by a licence or by government concession or long-term contracts with highly rated counterparties. 
OMERS's infrastructure operations began in 1997. In the early days, Berg explains, the focus was on social infrastructure in Ontario, and investments were premised on natural, symbiotic relationships with the pension plan itself. Initial investments included hospitals, long-term care facilities, and school districts within the province. 
"The first big inflection point" in the composition of the infrastructure portfolio came in 2001 with the decision to acquire Bruce Power, says Berg. Canada's only private-sector nuclear generator, Bruce Power generates around a third of Ontario's electricity. 
It had been owned by British Energy, which was forced to sell its stake when the UK government needed to step in with a financial rescue package – EU approval was contingent on rescue funds remaining in the UK. The Bruce Power acquisition was an indication that the investment strategy had shifted to large-scale infrastructure.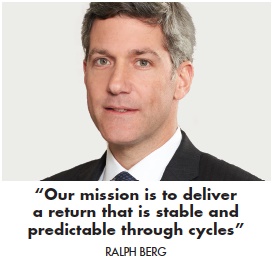 A second inflection point was in 2004 when OMERS acquired its first international investment – Scotia Gas Networks, the UK's second-largest gas distribution network. This acquisition was followed by others in the UK and US.
International expansion has continued steadily since then. In 2014, OMERS opened an office in Sydney, Australia, to spearhead investment there. Other offices were then opened in Toronto, New York, and London. The first investment in Australia took place in 2016, with acquisition of the Port of Melbourne, the country's largest container and multi-cargo port. In 2017, OMERS made its first South American acquisition in Chile, with GNL Quintero, a major LNG regasification terminal.
OMERS is now targeting Asia, and plans to open an office in Singapore in January. "Asia is a new region for us," says Berg, noting substantial economic growth and the rise of a middle class as indications that infrastructure needs will be growing. There, the Canadian pension fund will be targeting renewable energy and transportation. 
Both these sectors are global themes. In renewables, OMERS Infrastructure is looking in the US, Europe, Australia, Taiwan, and India. "We have historically preferred tried-and-tested technologies, particularly solar photovoltaic and onshore and offshore wind," Berg says, noting that OMERS is feeling more comfortable these days with larger offshore wind installations. "OMERS Infrastructure is an infrastructure-focused investor. Our risk tolerance is not the same as a venture capital's." 
And transportation is already a core part of the portfolio, which includes toll roads and bridges throughout North America, including the Chicago Skyway, as well as London City Airport and Associated British Ports.
Another inflection point came in 2012, with the formation of the Global Strategic Investment Alliance (GSIA), a co-investment programme. 
Through this closed-ended vehicle, OMERS manages investments for other similar institutions, including North American and Japanese pension plans. So far, GSIA has made eight investments, totalling US$7bn. OMERS is now setting up the second phase of the programme.
OMERS Infrastructure always invests directly and is always the largest investor and asset manager in co-investment opportunities through GSIA, Berg stresses. "We like to partner with like-minded investors and operators, but we always manage our own money. With its long-term investment approach, OMERS "will be very active as a shareholder on the board, but we will not second our people", Berg says.
Berg says there are some concerns on the horizon – and not only rising interest rates. "Political risk is on the rise," he says, such as Brexit and troubles in the EU. 
"This is why we pay so much attention to jurisdiction and regulatory framework," he says. "Through the prism of the financial community, for us, these are investments. But consumers see them as essential public services, which we fully acknowledge. There are inevitably cycles with more political and regulatory attention."
Stephanie Schwartz-Driver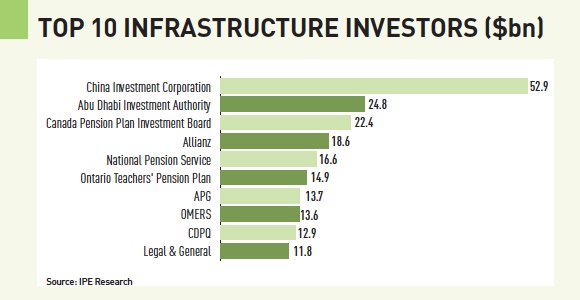 APG
• Dutch pension asset manager
• Ranked 7th
• Infrastructure assets: $13.7bn 
Pensions manager APG in the Netherlands began investing in infrastructure in 2004, adding a new asset class to those it manages in-house. Initially, the team started building exposure to infrastructure by investing in funds, soon followed by co-investments. 
"Today we invest via club deals, joint ventures, mandates and in funds, but to a very limited extent," says Patrick Kanters, APG's global head of real assets.
Since establishing infrastructure teams in Hong Kong in 2006 and New York in 2012, APG has boosted its investment teams to allow it to broaden its capacity for direct investments. Infrastructure assets make up 3% of the total assets of APG's largest client – €414bn civil service pension scheme ABP – amounting to €11bn in equity.
Kanters gives three main reasons why APG includes infrastructure in its portfolio. "It is a higher-returning asset class, with attractive risk-adjusted returns," he says. "It has the benefit of diversification vis-à-vis our other asset classes, and it also has a limited ability to hedge inflation – but we shouldn't put too much emphasis on that, because there are different contracts involved."
In setting a strategy for infrastructure, APG has focused on creating a distinct asset class, which can function as a true diversifier within the overall portfolio, with a different risk-return profile from that of private equity or real estate.
"We look for different revenue styles, although the majority of our infrastructure investments are targeted to generate revenue that has limited exposure to economic risk and merchant risk, volume and pricing," Kanters says.
This does not mean that APG avoids investments in, for example, airports and roads, which have revenues more heavily exposed to economic cycles. Illustrating how infrastructure can be a distinct asset class, he says many investments have no terminal value risk due to their concession nature, which differs from investments in real estate or private equity. 
Making the transition from fund to direct investor allowed APG to select investments that were a better fit for its strategy. "We have been able to drive down the investment costs related to infrastructure and have control over the strategic matters related to these investments.
Having control has been particularly important because it allows APG to embed sustainability into the asset class, which has become a key consideration for its clients.
In December 2017, APG – alongside AXA – bought part of an infrastructure portfolio worth over €1bn, made up of the Italian gas distribution company 2i Rete Gas, French firms LGV Lisea and Synerail, and a Spanish toll road.
This investment was beneficial because it involved a mix of regulated and contracted revenues, and an important exposure to sustainable development investments.
APG's focus on sustainability comes from its belief that properly embedding sustainability in investments will drive future returns and mitigate future risk.
For more than a year now, APG has been working closely with GRESB's new environmental, social, and governance infrastructure assessment system. "We have been working to get better insight into the sustainability performance of our various infrastructure holdings so that we can engage more effectively and then further improve the investments," he says.
Rachel Fixsen
PSP
• Canadian pension asset manager
• Ranked 11th
• Infrastructure assets: $11.6bn
Canada's Public Sector Pension Investment Board (PSP) invests for the pension plans of the Public Service, the Canadian Armed Forces, the Royal Canadian Mounted Police, and the Reserve Force. It has been an infrastructure investor for the last 12 years, focusing on direct investment, with strong exposure to renewals, airports, and toll roads.
Today, a team in Montreal and London oversees C$15bn (€9.88bn) in net assets, generating over C$2bn in income and a five-year annualised return of 13.8% – and a one-year rate of return in excess of 19%. The portfolio holdings range around the globe, with concentrations in Europe (37%), the US (23%) and emerging markets (29%). 
More than 80% of the portfolio is direct investment; the rest is in funds or limited partnerships. "We want to keep hearing of as many opportunities as possible, and we gain a lot from the knowledge of the general partners we work with," says Patrick Samson, managing director and head of infrastructure investments. "This complements our programme and our knowledge."
In direct allocation, the portfolio is founded on stable, long-term investments in core platforms. "The platforms are a means to take advantage of long-term investment horizons," Samson says. Five platforms comprise half the total infrastructure portfolio – the rest is more diversified, with additional direct holdings in some 20 companies diversified in terms of geography and sector, as well as funds and partnerships.
For these platforms, the strategy is to acquire existing assets, which are then co-controlled by PSP. In all cases, PSP owns between 50% and 100% of the platform asset. "Our management team's role is to maximise value and deploy more assets when appropriate – our teams can 'spot the edge', where you can improve operations, moving beyond financial engineering," Samson says.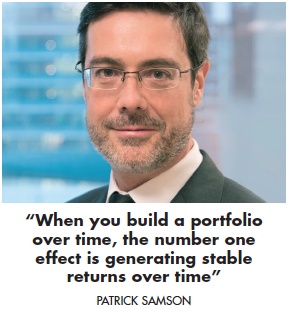 PSP identifies these platform investments strategically. "We identify an asset, often in a construction company, in which a lot of capital is locked, and which is not part of the core business. Then we negotiate an acquisition to carve it out, so it is independent and owned by us," Samson says. The acquisition includes the existing team, and then PSP, as core investor, centralises management in one place.
The five platforms are:
• AviAlliance, acquired by PSP in 2013. The airport management group, headquartered in Dusseldorf, owns and operates five airports globally.
• Roadis, a Spain-based toll road portfolio carved out of a Spanish construction company in 2016 after an initial investment dating from 2012.
• H20 Power and FirstLight, a Canadian company, headquartered in Oshawa and Boston and specialised in hydroelectricity, which was carved out of a paper and pulp company.
• Cubico, a renewable-energy infrastructure company, formerly owned by Banco Santander, which owns 50 wind and solar assets in Europe and Latin America.
• Pattern, a listed renewable energy company, which was attractive because PSP identified that it had one of the best management teams in the renewables sector.
While these companies were all acquired through bilateral deals, this is not always the case. "We would love to say that we avoid auctions and only do negotiated deals. But with 'crown jewel' assets, it is very rare that the seller will not run a wide auction." 
Pricing trends are competitive. "It is fair to say that prices have gone up and discount rates have gone down. It is a function of liquidity, the attractiveness of the asset class, and growing understanding of the asset class," says Samson.
"We do see attractive opportunities, but we have to be more careful. Sellers are shortening the sales process," Samson says. He has observed that some buyers are taking a more aggressive approach to due diligence to meet demanding seller expectations. 
PSP is looking into opportunities in other sectors. One interest is water and wastewater management, a sector that is very fragmented in the US and represents consolidation possibilities. Other attractive possibilities include offshore wind and distributed generation. 
Samson said that PSP also sees opportunities in GDP-linked sectors, such as transportation. "A good economy means higher revenues, which can compensate for the higher cost of debt," he notes. 
Diversification is very important to composition of the PSP portfolio, not just in terms of geography and industry but also in terms of time. "We have been investing regularly over time, and as a result we are not too much at the mercy of cycles," says Samson. "When you build a portfolio over time, keeping some dry powder, the number one effect is generating stable returns over time."
Stephanie Schwartz-Driver
Texas TRS
• US public pension fund
• Ranked 23rd
• Infrastructure assets: $5.8bn
The largest public retirement system in Texas in terms of both members and assets, the Teacher Retirement System (TRS) of Texas serves the state's public education employees. The fund provides retirement and health benefits to 1.5m people – one out of every 20 state residents. 
At TRS, infrastructure is part of the energy, natural resources, and infrastructure (ENRI) group (part of the private-markets operation), alongside real assets and private equity. The fund, which has $151bn (€129bn) in assets, targets a 5% allocation to ENRI – but was only invested up to 3.9% as of August 2017. The strategic goal is to provide diversification and enhance risk-adjusted returns. 
TRS started investing in infrastructure 10 years ago, says Carolyn Hansard, director, ENRI. Having joined the group in 2012, Hansard has been leading it since 2016. There is a specialisation (natural, for a Texan fund) in oil and natural gas investments. 
Of the 5% ENRI allocation, 45% is targets infrastructure and 45% energy – the remaining 10% is for agricultural assets. Hansard says that agricultural investments have some infrastructural components as well, such as storage facilities or transportation-related assets. "Sometimes it is a challenge to judge which bucket an attractive asset fits in," she says. "Often the distinction is whether returns are more contractual or more commodity-like."
ENRI does not invest directly, always working through a general partner (GP), either in funds or co-investments – although TRS has been known to take observer seats on boards. "We do not invest directly. We are a very lean organisation, so we rely on GPs," Hansard says. But she stresses that she has been building up the team, and that many members come either from GPs or from industry, so they bring skills that allow them to quickly and accurately assess investment opportunities.
Hansard's focus in constructing the infrastructure portfolio "is to really get to know our managers. We generally invest with diversified managers, so we can look across the value differentiation they can provide." Fund investment is a way to get to know a manager, sometimes as a preliminary step before co-investment. ENRI is targeting a 50/50 split between fund investment and co-investments.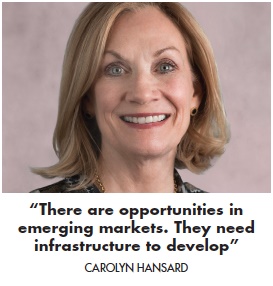 The asset class is starting to come into its own, which brings complexity and opportunity. "The way we live is changing, so the nature of infrastructure is also changing. We are trying to invest in a global framework that is developing. When we started investing in infrastructure 10 years ago, the process was much more straightforward – you looked for contracted cash flows, a governmental or quasi-governmental sponsor, and a long-term horizon. Today you have to be innovative."
As the nature of the core investment changes, there is more competition. "I do think there has been a lot of money raised, but there are not a lot of assets in the market, so there is a lot of competition. There is a worry that people will overpay." 
And Hansard explains that the definition of infrastructure has expanded, as investors, TRS included, are willing to look a little further along the risk spectrum. She gave as an example midstream assets in the US, which can be more of a commodity-like play. "Sometimes you can mitigate the risk, sometimes this is more difficult to do on a long-term basis," she says.
The portfolio is very North American-focused and in the energy sector, and the group is actively trying to diversify. "There are some opportunities in emerging markets. They need infrastructure to develop, but the question is what the government's role in that will be and what the risks are." The group is being very selective in those markets.
TRS opened an office in London in 2015 to spearhead global expansion, building deal flow and allowing it to act more quickly when opportunities arise. Hansard notes that infrastructure investment is very competitive, and Brexit has created a lot of political uncertainty, especially in infrastructure.
ENRI is also assessing opportunities in Asia, "but we have not found a lot of managers that are experienced in the sector", Hansard says. (There has been talk that TRS is opening an office in Singapore). Another focus is identifying investments whose returns are not correlated with energy – for example, data centres.
Stephanie Schwartz-Driver
ATP
• Danish pension fund
• Ranked 24th
• Infrastructure assets: $5.5bn
Infrastructure plays an important role for Denmark's ATP, the DKK768bn (€102.9bn) statutory pension fund, but its exposure to the asset class is driven by available opportunities rather than by a target allocation.
Infrastructure assets form part of the investment mix in ATP's leveraged investment portfolio, which consists of the fund's bonus potential, rather than the DKK652bn (€87.4bn) hedging portfolio, which is made up of bond-like instruments and is designed to back the fund's pension promises.
In the competitive world of infrastructure investment, the main advantage ATP has over rival bidders is its size – it is the fourth-biggest pension fund in Europe.
This allows it to take on deals that are too large for the bulk of institutional investors; its investment in Copenhagen Airports last year is a prime example. In September 2017, ATP put DKK9.76bn into the company in its largest single investment, in effect taking over a stake of about 27% in the infrastructure asset from Macquarie Infrastructure and Real Assets. 
Under the terms of the deal, ATP went into a partnership with Canada's Ontario Teachers' Pension Plan, through which the two pension funds would have joint control of the airport.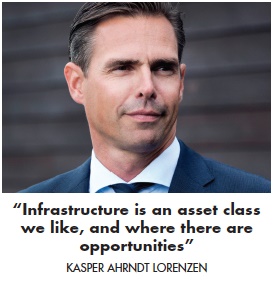 Ulrik Dan Weuder, senior vice-president and head of global direct investments at ATP, said at the time that the pension fund was very interested in getting exposure to the asset since it was core infrastructure, and also fitted well with ATP's risk model. Also, as a Danish asset, the income from it would match the pension fund's liability stream. ATP understands airports well as infrastructure assets, he said, having held exposure to three European airports in their listed form – Zurich, Vienna and Copenhagen – between 2008 and 2012.
The fund now has exposure to two smaller airports, one of which is Belfast's George Best Airport. It has been an infrastructure investor for more than a decade, and has DKK30bn of exposure to the sector. 
However, in risk terms – ATP's primary asset allocation measure – between 12% and 15% of the fund's total portfolio risk is related to infrastructure investments. "It is an asset class we like, and where there are opportunities – even though all returns are compressed right now," says Kasper Ahrndt Lorenzen, ATP's CIO.
One reason for including infrastructure in the fund's portfolio is the stable, long-term cash flow it generates. While the asset class has many benefits for ATP, Lorenzen lists some drawbacks. "Of course they are illiquid investments as part of the private market, and there is some complexity involved; it takes time to put these deals together," he says.
"We have an in-house team and, for us, the asset class ticks a number of boxes, particularly if big transactions come up and the assets involved are the right kind for us, it fits in well with our portfolio."
When ATP began investing in infrastructure, it was via fund investments that it chose to gain exposure, and it still does have some infrastructure funds in its portfolio. However, once the pension fund gained experience and skill in the area, it teamed up with partners in direct investment deals, and began to make bigger, direct investments.
"Given that we've been involved for a little while now, it seems there's a good selection of opportunities coming by – through our network and through our name, and we like to think we have good deal-sourcing abilities," he says.
To be a successful infrastructure investor, he says it is important to have a broad-based set of skills. "It's an interesting asset class, and every investment is a different starting point. Cash flow is important, but on top of that the process required is negotiation. And in order to get that right you've got to have a certain amount of technical skills, knowing in some depth about the particular type of business you're targeting."
How a forest operator and a bridge operator works, he says, are two very different things. Where regulated assets are involved, knowledge of the political sphere is also relevant.
ATP's infrastructure investments are in Denmark and many other parts of the world, including Australia, Spain the US and the UK, focusing mainly on core OECD countries.
While its investment is opportunistic rather than target-led, Europe and the US are easier regions to buy infrastructure assets in than, say, Africa – primarily because the Danish institution is more familiar with the territory and conditions.
The pension fund is looking for promising infrastructure assets in Denmark and other European countries, including Germany, Belgium, Netherlands. "In terms of sector, this very much depends on the risk profile," Lorenzen says.
Sectors that ATP has previously invested in include energy transmission, highways, roads, bridges, and forestry. Although the latter may not be considered classic infrastructure, says Lorenzen, he notes that the investment process is similar.
Rachel Fixsen 
|   | Investor | Country | Infrastructure assets ($'000) | Total assets ($'000) |
| --- | --- | --- | --- | --- |
| 1 | China Investment Corporation | China | 52,853,843 | 941,417,000 |
| 2 | Abu Dhabi Investment Authority | UAE | 24,840,000 | 828,000,000 |
| 3 | Canada Pension Plan Investment Board | Canada | 22,437,500 | 283,641,000 |
| 4 | Allianz | Germany | 18,566,900 | 796,100,000 |
| 5 | National Pension Service | South Korea | 16,597,000 | 515,576,000 |
| 6 | Ontario Teachers' Pension Plan | Canada | 14,896,300 | 147,688,000 |
| 7 | APG | Netherlands | 13,744,400 | 557,929,000 |
| 8 | OMERS | Canada | 13,577,100 | 78,810,900 |
| 9 | CDPQ | Canada | 12,904,800 | 237,783,000 |
| 10 | Legal & General | UK | 11,821,000 | 682,491,000 |
| 11 | PSP Investments | Canada | 11,614,200 | 118,753,000 |
| 12 | AustralianSuper | Australia | 10,014,300 | 103,046,000 |
| 13 | PGGM | Netherlands | 9,318,240 | 250,428,000 |
| 14 | bcIMC | Canada | 8,998,420 | 112,946,000 |
| 15 | Future Fund | Australia | 8,386,770 | 108,370,000 |
| 16 | China Life | China | 7,703,250 | 352,445,000 |
| 17 | UniSuper | Australia | 7,632,020 | 53,449,500 |
| 18 | Qsuper | Australia | 7,096,320 | 61,876,300 |
| 19 | USS | UK | 6,575,730 | 90,270,700 |
| 20 | AIMCo | Canada | 6,284,630 | 83,091,600 |
| 21 | Employees Provident Fund (EPF) | Malaysia | 6,008,200 | 200,273,000 |
| 22 | Texas Permanent School Fund | US | 5,837,000 | 41,438,672 |
| 23 | Teacher Retirement System of Texas | US | 5,770,000 | 150,000,000 |
| 24 | ATP | Denmark | 5,470,240 | 139,944,000 |
| 25 | Manulife | Canada | 5,312,170 | 265,608,000 |
| 26 | Korea Investment Corporation (KIC) | South Korea | 5,229,900 | 134,100,000 |
| 27 | Aviva | UK | 4,806,930 | 597,237,000 |
| 28 | Hesta | Australia | 4,217,980 | 36,532,300 |
| 29 | CalSTRS | US | 4,100,000 | 228,000,000 |
| 30 | CalPERS | US | 4,041,000 | 335,000,000 |
| 31 | AXA | France | 3,920,300 | 777,141,000 |
| 32 | MEAG Munich ERGO | Germany | 3,893,060 | 302,461,000 |
| 33 | Cbus | Australia | 3,397,130 | 35,578,500 |
| 34 | PensionDanmark | Denmark | 3,360,290 | 37,463,300 |
| 35 | PKA | Denmark | 3,278,320 | 39,088,800 |
| 36 | Pennsylvania SERS | US | 2,943,000 | 55,257,000 |
| 37 | Alaska Permanent Fund Corporation | US | 2,750,400 | 64,481,000 |
| 38 | Ping An | China | 2,734,100 | 283,742,000 |
| 39 | Industriens | Denmark | 2,719,490 | 25,710,100 |
| 40 | Talanx | Germany | 2,678,990 | 150,490,000 |
| 41 | Sunsuper | Australia | 2,669,290 | 43,300,400 |
| 42 | Ärzteversorgung Westfalen Lippe | Germany | 2,635,300 | 15,692,000 |
| 43 | Hostplus | Australia | 2,347,970 | 24,260,500 |
| 44 | Lloyds Banking Group | UK | 2,308,610 | 60,566,200 |
| 45 | BT Pension Scheme | UK | 2,217,330 | 64,894,500 |
| 46 | REST Industry Super | Australia | 2,095,500 | 36,763,100 |
| 47 | PFA | Denmark | 2,058,300 | 98,931,000 |
| 48 | Government Pension Investment Fund | Japan | 1,842,150 | 1,454,760,000 |
| 49 | Colonial First State | Australia | 1,839,990 | 55,296,400 |
| 50 | Swiss Life | Switzerland | 1,764,760 | 217,957,000 |
| 51 | MN | Netherlands | 1,747,170 | 151,421,000 |
| 52 | OPTRUST | Canada | 1,701,520 | 16,155,700 |
| 53 | First State Super | Australia | 1,645,540 | 52,531,800 |
| 54 | Washington State Investment Board | US | 1,600,000 | 128,800,000 |
| 55 | British Broadcasting Corporation | UK | 1,509,770 | 23,243,400 |
| 56 | Oregon PERF | US | 1,500,000 | 76,600,000 |
| 57 | Strathclyde Pension Fund | UK | 1,434,080 | 24,484,000 |
| 58 | Barclays Bank | UK | 1,349,120 | 41,717,600 |
| 59 | AP1 | Sweden | 1,348,560 | 37,570,300 |
| 60 | Alberta Heritage Savings Trust Fund | Canada | 1,293,130 | 13,678,400 |
| 61 | AP3 | Sweden | 1,277,660 | 42,010,200 |
| 62 | Danica Pension | Denmark | 1,219,080 | 87,680,100 |
| 63 | ESSSuper | Australia | 1,215,130 | 20,970,000 |
| 64 | Greater Manchester Pension Fund | UK | 1,164,600 | 31,506,600 |
| 65 | MTAA Super | Australia | 1,155,180 | 9,030,840 |
| 66 | Ontario Pension Board | Canada | 1,142,880 | 21,068,900 |
| 67 | WorkSafeBC | Canada | 1,100,420 | 14,050,300 |
| 68 | Pennsylvania PSERS | US | 1,100,000 | 55,900,000 |
| 69 | New York State Common Retirement Fund | US | 1,090,000 | 213,400,000 |
| 70 | Lothian Pension Fund | UK | 1,052,120 | 9,336,060 |
| 71 | VicSuper | Australia | 1,041,430 | 16,305,500 |
| 72 | Maine PERS | US | 1,000,000 | 13,385,000 |
| 73 | AMF | Sweden | 997,792 | 72,522,500 |
| 74 | The Pension Protection Fund | UK | 984,195 | 41,889,600 |
| 75 | Gothaer | Germany | 933,211 | 34,765,100 |
| 76 | BVV | Germany | 933,136 | 37,385,300 |
| 77 | Zurich Insurance Group | Switzerland | 880,000 | 207,261,000 |
| 78 | Ilmarinen | Finland | 846,890 | 54,892,100 |
| 79 | TFL Pension Fund | UK | 823,986 | 14,455,900 |
| 80 | MLC | Australia | 789,334 | 59,296,100 |
| 81 | Swiss RE | Switzerland | 778,000 | 222,526,000 |
| 82 | State of Michigan Retirement System | US | 768,978 | 72,984,864 |
| 83 | Alberta Teachers' Retirement Fund Board | Canada | 758,310 | 12,012,200 |
| 84 | Alaska Retirement Management Board | US | 743,540 | 25,639,321 |
| 85 | Railways Pension Scheme | UK | 738,802 | 36,960,600 |
| 86 | Catholic Super | Australia | 712,476 | 7,030,220 |
| 87 | Care Super | Australia | 708,633 | 11,530,300 |
| 88 | Florida State Board of Administration | US | 682,300 | 160,400,000 |
| 89 | NAEV | Germany | 647,445 | 16,421,500 |
| 90 | Pension Fund Association | Japan | 638,114 | 111,623,000 |
| 91 | LGIAsuper | Australia | 629,469 | 8,303,000 |
| 92 | Ohio Police and Fire Pension Fund | US | 616,400 | 15,910,000 |
| 93 | Telstra | Australia | 606,188 | 16,165,000 |
| 94 | City of New York TRS | US | 603,000 | 71,670,000 |
| 95 | Sampension | Denmark | 597,037 | 35,544,000 |
| 96 | NGS Super | Australia | 596,420 | 6,878,810 |
| 97 | EnBW Energie Baden-Württemberg | Germany | 584,406 | 1,468,580 |
| 98 | PGB | Netherlands | 582,390 | 29,818,400 |
| 99 | DIP/JØP | Denmark | 579,062 | 19,302,100 |
| 100 | Texas ERS | US | 570,000 | 28,500,000 |
Source: IPE Research