The rollout of 5G networks could usher in new opportunities for infrastructure investors. But there are challenges to overcome, writes Christopher O'Dea
The emergence of 5G was supposed to be a heady rush into a new world of digital convenience. Everything from home appliances and autonomous vehicles to factory machinery and electric grids would be connected to everything else in a smart web of virtually instantaneous communication of consumers' needs, electricity demand, manufacturing output, and more.
The appeal of 5G is speed. According to a 2019 5G infrastructure report by Cohen & Steers, 5G technology works in tandem with existing 4G networks to deliver speeds similar to wired fibre connections, while essentially eliminating the lag time between sending and receiving signals, and drastically reducing power consumption. Like an athlete or racing car, 5G networks will need a lot of fuel to achieve that level of performance with data. Cohen & Steers says initial 5G smartphones are expected to consume 270 times the data of 2G-era phones, and roughly three times the data of current phones.
But instead of five bars of strong connection, there is static on the line. The rollout of 5G networks, still in early stage, is encountering headwinds that threaten to delay the arrival of lightning-fast internet service. Technical hurdles, resistance to the installation of the innumerable pieces of equipment that will be required for 5G to work, and emerging concerns about potential health risks of dense radio waves are slowing the pace of 5G adoption in many markets. The one obstacle that might substantially reconfigure 5G networks is perhaps the ultimate macro risk factor – geopolitical competition between the US and China.
Those issues are clouding the outlook for institutional investors evaluating how to include the 5G opportunity in their portfolios. Delivering dramatically higher digital network speed requires an infrastructure build-out – now just beginning – that will dwarf the waves of construction that created the electricity, water and transportation systems now taken for granted in the developed world. 5G requires thousands of cell towers and tens of thousands of devices – small cells and distributed antenna systems – to relay the 5G wireless signal, which will be attached to existing infrastructure.
Construction is about to ramp up. According to McKinsey, when network upgrades are no longer sufficient to support the increased traffic, "operators will need to build new macro sites or small cells". The day of reckoning will vary by location, McKinsey says, "but simulations show that most operators will need to embark on significant new build-out between 2020 and 2025".
In short, the infrastructure for delivering 5G is not in place – and that is an opportunity for investors. Cohen & Steers senior investment analyst Humberto Medina and investment analyst Ji Zhang say: "In our view, rapid growth in data usage in the late-4G environment and the urgent demands of the approaching 5G era are likely to require massive investments to expand communications-infrastructure capacity over the next decade."
"The urgent demands of the approaching 5G era are likely to require massive investments" - HUMBERTO MEDINA, JI ZHANG
Investment will initially be required to build a new data-telecommunication network. "We believe this stands to directly benefit the cell-tower industry, where public US companies hold dominant market positions," Medina and Zhang say. Tower companies, which lease the space on tower structures to tenants, including wireless carriers, government agencies and broadband data providers, "might benefit from higher tenancy, higher rents from amendments to existing leases needed to place new equipment and new opportunities to build both towers and small cell sites".
In addition, the analysts say they "expect the spike in both wireless and wired data traffic to drive sustained demand for data centres".
The cost for all that will be enormous. Consulting firm Accenture estimates that US wireless companies will invest $275bn (€254bn) in building 5G networks, which is expected to create 3m jobs and add $500bn to US economic output.
One yardstick for the cost of 5G is China. Between 2015 and 2018, according to Cohen & Steers, China outspent the US by $24bn on 5G-ready infrastructure and built 350,000 individual tower sites – more than 10 times the number built in the US during that period. In all, Cohen & Steers reports, China has earmarked $400bn for 5G investment under its current five-year plan, not only for domestic infrastructure needs, but also to develop patents that might consolidate market leadership as 5G expands worldwide.
Despite the positive economic gains expected from 5G technology, the rollout is occurring in fits and starts. In the US, Verizon Sprint and AT&T have begun offering limited 5G services in some cities. Verizon has established 5G networks in Chicago and Minneapolis, Spring has pilot programmes in nine US cities, and AT&T is offering 5GE – the E is for evolution, an intermediate-stage service running on existing infrastructure – and 5G for mobile hotspots. One development that could speed the transition came in February when the US Federal Communications Commission announced plans to auction off a key band of the largely unused 2.5GHz spectrum for 5G providers.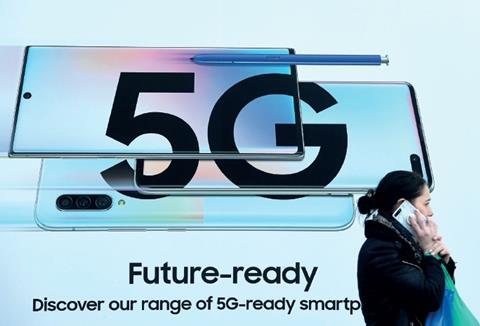 But challenges remain. The biggest obstacle to 5G rollout could be the US, which is putting pressure on countries to not use Huawei – the Chinese company is the world's largest manufacturer of communication networking gear – in their telecommunications networks. The US has been giving in-depth briefings to government leaders, led by US deputy national security adviser Matt Pottinger, as well as high-profile speeches and media interviews by secretary of state Mike Pompeo and attorney general William Barr.
The US suffered a setback when the UK decided to allow Huawei equipment to be used in parts of the country's telecoms network. However, the UK has placed restrictions on Huawei. The company will not be allowed to build parts of the central 5G networks that carry data, and will be limited to base stations and antennas that support the consumer-oriented portions, while being kept away from sensitive sites such as military bases. The UK has also limited Huawei to no more than 35% of the market, allowing western companies such as Nokia and Ericsson to contribute to the network.
Sceptics of Huawei's intentions have been quick to weigh in. US senator Tom Cotton tweeted that "allowing Huawei to build the 5G networks in the UK today is like allowing the KGB to build its telephone network during the Cold War". Cotton, a China hawk, added that "the CCP [Chinese Communist Party] will now have a foothold to carry out widespread espionage in British society and has increased economic and political influence over the UK".
While the UK government is working to deflect such blunt criticism, British policy analysts are raising similar concerns. According to Charles Parton, a former British diplomat who spent most his 30-year career working on China matters, whatever Huawei says about its ownership is entirely irrelevant. A 2019 report by Parton for London think tank the Royal United Services Institute, warned that Huawei could install a hidden backdoor into Britain's 5G network allowing the Chinese government to access the system.
Although Huawei has stated that it is not an agent of the Chinese government and would not honour a Chinese government request to access sensitive data, in Parton's view no Chinese company would refuse to cooperate with Beijing and relations with China should be based on clear boundaries. The vulnerability will be long-lasting, he warns, because telecom networks will undergo many upgrades in the years ahead.
Speculation also emerged that the US was considering a radical option – buying a competitor to the Chinese supplier, such as Ericsson or Nokia, to create a western-aligned alternative. That theory stemmed from a speech Barr made at the Washington-based Center for Strategic and International Studies, in which he discussed steps the US is considering taking to counter Huawei's prominence. Barr outlined two potential courses of action that the US could take to reduce Huawei's dominance over the global networking equipment market. First, he asked: "Who is the 5G equipment supplier or suppliers that we will rely on to compete against Huawei around the globe, to win contracts from operators and blunt Huawei's drive to domination?
"These concerns could be met by the United States aligning itself with Nokia and/or Ericsson through American ownership of a controlling stake, either directly or through a consortium of private American and allied companies," Barr said. "Putting our large market and financial muscle behind one or both of these firms would make it a far more formidable competitor and eliminate concerns over its staying power or their staying power."
The bottom line, Barr added, is that "we have to make a decision on the horse we're going to ride in this race".
The stakes are high. In a December 2019 report on competition in the 5G sector, commissioned by Huawei, UK-based analysis and forecasting firm Oxford Economics predicted that the UK economy could suffer a permanent loss of up to $11.8bn in GDP by 2035 due to delaying the 5G rollout by restricting a major supplier from competing in the UK market.
The economic loss of restricting Huawei from competing in the 5G markets could be as high as $15.6bn in France, and $63bn in the US. Oxford asserts that "it is broadly agreed that restricting such a significant player from bidding for contracts will lead to higher prices, rollout delays and hence a slower diffusion of associated technological innovation".
Time will tell if US officials are able to persuade other countries that those are costs worth bearing.
Proptech: Future funders
1

2

Currently reading

5G: Static on the line

3

4