Water is becoming more scarce. It is a problem for the world, but could be a challenge and opportunity for investors. Christopher O'Dea reports
With oil prices settling into a trading range of about half what a barrel of crude fetched five years ago, and renewable energy evolving from a subsidised to a sustainable source of power, it would seem that the days of essential natural resource scarcity have become a thing of the past. But one natural resource – the most essential of all – is growing scarcer.
With parts of South Africa facing the prospect of running out of water, and many US states and municipalities struggling to cover enormous costs of replacing worn-out water systems, it might not be long before developed nations face water shortages that were once found only in the world's least-developed countries. Even the US great lakes – the world's largest fresh water system – are under strain as shoreline states grant companies generous water access, sometimes accompanied by relaxed environmental standards to attract industry and jobs.
In short, water is the new 'black gold'. And building the supply, treatment, storage and reuse systems to ensure a sustainable flow of safe water has become a significant opportunity for investors – albeit it one that will require a thematic approach grounded in science. Traditional closed-ended funds deploying capital over a seven-to-10-year horizon are not well suited to this most important of liquid opportunities.
An increasing share of investment opportunities in the water sector is in systems to capture water, related technologies and systems to process wastewater to varying levels of purity, and the infrastructure to deliver water to industrial, agricultural and residential customers. The focus on efficient use is a global trend, involving utilities, infrastructure investors, and scientific researchers that are developing new treatment technology.
Institutional private capital is helping turn water into wine in Australia, where agricultural customers operating on the world's driest continent are taking the lead in market-based water-reuse innovation. "The issue with water the world over is economic pricing," says Danny Latham, partner, infrastructure at First State Investments. "Australia's started to move towards the economic pricing of water, where you can have tradable water rights for uses like agriculture."
A project First State financed for Water Utilities Australia (WUA) illustrates how improved water utilisation infrastructure is being applied in the agricultural and residential sectors. In December 2016, First State acquired WUA, a licensed water retailer in the Adelaide area with two portfolio assets – Willunga Basin Water Company and Lightsview reWater.
Willunga Basin, an unregulated rural water utility, provides recycled water for irrigation to the McLaren Vale wine region south of Adelaide. Treated water from a waster-water plant operated by the government-owned South Australia Water is supplied to 200 customers under 20-year contracts; the water is about one-third the cost of potable (drinkable) water, according to First State. From the investment perspective, Willunga Basin has a 20-year contract for treated water supply from SA Water, and a floor on revenue: customers pay for a minimum 66.6% of their contracted allocations regardless of the volume used, and the company can pass on increases in the cost of supplies, such as electricity, that exceed increases in the Australian consumer price index.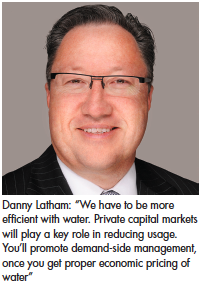 Climate change has prompted Australian grape growers to bring irrigation forward to maintain soil moisture, driving an overall increase in water usage, while the wine industry is experiencing rising exports, particularly from Asia. The majority of the 23 megalitres of treated wastewater produced daily is used for agricultural irrigation, according to SA Water. "The growers get security of water supply, so they are not reliant upon rain or groundwater that is becoming more saline," says Latham. "Grapes don't like salty water. It's a win-win."
Additional planning and construction is required to use recycled water in the residential sector. Lightsview is a regulated water utility that provides recycled water to the Lightsview housing development 8km north of Adelaide, where all new houses are required to be connected to a separate recycled water system, known for its purple pipes. WUA owns all of the infrastructure that is built at each stage of housing construction, while the capex is funded by developer. Developers are required to build the infrastructure necessary to support non-potable recycled water to each house – as well as all council parks and reserves within the development – and all houses in the development are legally obliged to use the purple-piped rewater system.
With the need to reuse wastewater increasing, scientists are working on new technologies that could create investment opportunities and enable advanced wastewater treatment techniques to be used by smaller and mid-sized treatment plants that lack the technical expertise, monitoring equipment and other infrastructure.
Utilities such as SA Water already generate the electricity that powers wastewater treatment plants by capturing methane gas released through codigestion, the process of breaking down the FOG – fats, oils and grease found in wastewater. Nitrogen gas, which can deplete oxygen in bodies of waters by sparking excessive plant growth, is also removed. The latest chemical methods can reduce the electricity required to remove such gasses by 60-100%, according to scientists at Oregon State University, but the capital costs are high.
An Oregon State University team is pioneering a new approach to processing wastewater. Instead of traditional plants, they construct wetlands where FOG waste is added to anaerobic microbes to increase production of methane for electricity generation. "We are trying to revolutionise this technology by putting it into low-impact constructed wetlands more suitable for treatment plants that aren't huge," says Tyler Radniecki, an OSU assistant professor of environmental engineering specialising in the chemical and biological processes that allow for decontamination of wastewater and stormwater runoff.
Radniecki's team constructed a wetland for a treatment plant in Oregon that has proved the concept, generating enough gasses to become net energy positive. "It's energy independent and actually sells electricity back to the grid," says Radniecki. The next step in making this approach more widely available, he says, is to improve the reliability of the gas-gobbling microbes under heavy waste loads and other operational parameters of water treatment.
Scientific efforts to develop a new treatment technology underscore the fundamental theme driving water infrastructure investment. "We have to be more efficient with water," says Latham. Private capital markets will play a key role in reducing usage. "You'll promote demand-side management, once you get proper economic pricing of water."