Green can often be used as synonym for sustainability. Christopher O'Dea asks, do institutions need to start thinking about 'blue' investing?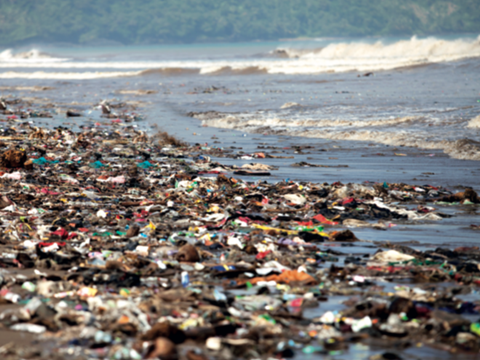 It is the newest frontier of ESG and sustainable investing. The relatively rapid rise of blue exposure as a factor in asset allocation has been fuelled by recent headlines about a plastic blob floating around the Pacific Ocean, the passing of a new water infrastructure bill in the US, and a rising tide of campaigner interest in the issues surrounding sustainable water supply.
Institutional investors can now allocate capital to innovative strategies with objectives ranging from stopping the flow of plastic into the world's oceans and rivers to creating sustainable fishing practices or ensuring sanitary water supplies for millions living in emerging markets.
The incoming tide is moving fast. Investment managers launched several new funds, and some threw their support behind leading ocean-cleanup charities. Perhaps most likely to spur institutional allocations, one of the leading consultancies on ESG and sustainability matters published a major report focused on the immense pollution problem posed by plastic waste, and the significant investment opportunity presented by the need to clean it up – and create goods and services from sustainable materials to replace the countless plastic products in use today.
In a report published in the science journal Nature last year, a team of researchers said the Great Pacific Garbage Patch (GPGP), first observed in 1990, had become so large that the 129,000 tonnes of debris covered an area of 1.6m sqm – four to 16 times larger than previous estimates – with at least 46% of the trash comprised of fishing nets. More plastic was produced in the past decade than ever before, the report said, and only a small portion of the 320m tonnes produced annually, mostly for "ephemeral purpose", is recycled. In short, the problem is getting worse. "Our results suggest that ocean plastic pollution within the GPGP is increasing exponentially and at a faster rate than in surrounding waters," the report said.
There is no solution yet for how to clean up the GPGP and the plastic debris that contaminates shorelines worldwide. Meanwhile, some scientists suggest the better way forward is to devote relatively more effort to stopping the flow of plastic into the ocean than to cleanup. "The problem needs to be tackled right from the design stage so that we manufacture products with proper consideration of the environmental impact during production, use and disposal," says Richard Thompson, head of the International Marine Litter Research Unit at the University of Plymouth in the UK. "We need to extend producer awareness and responsibility."
Last year, Ecosphere Capital announced that its new Athelia Sustainable Ocean Fund plans to deploy at least $100m (€88m) in a portfolio of investments in sustainable marine activities and coastal projects, and had attracted initial commitments of $38m from institutional investors including the European Investment Bank, AXA Investment Managers and FMO Investment Management, in addition to a US-based foundation, The Caprock Group, and a multilateral lender, the Inter-American Development Bank.
Ecosphere, a green asset management firm, is majority owned by investment manager Mirova, an affiliate of Natixis Investment Managers. Athelia plans to generate returns from loan interest, profit shares or the sale of equity in projects in which it invests, which will include real assets and management improvements in coastal fisheries, sustainable aquaculture projects, the seafood supply chain and other coastal projects. The fund will rely on technical and scientific advice from the Environmental Defense Fund, such as a recent analysis led by EDF demonstrating that profits in the global fishing sector could be grown by 115% a year compared with today, if fisheries were managed sustainably.
Also last year, Fidelity International launched a fund to invest globally in companies involved in water and waste businesses, with an emphasis on sustainability, including firms working on new technologies. Over 70% of the world's population are expected to live in cities by 2050, according to Fidelity. This will drive demand for new or improved utility infrastructure to provide clean water and waste management services due to rapid urbanisation in developing markets, while cities in developed markets will need to replace ageing infrastructure.
In the US, a federal water infrastructure bill passed with rare bipartisan support late in the year authorises as much as $8.1bn of federal money for local drinking water projects and new projects by the US Army Corps of Engineers such as water storage in the West, new dams and levees, new irrigation systems for agriculture, and shoreline and harbour repairs.
But that is just a drop in the ocean of US water needs, and the US Chamber of Commerce contends that the shortfall in water infrastructure investment in the US can only be made up by attracting private capital. The American Society of Civil Engineers estimates that the US needs $82bn every year over the next 10 years to just meet the demand from economic growth. PricewaterhouseCoopers found that changes to federal laws affecting infrastructure finance could lead to an additional $58bn to $68bn in incremental private water and wastewater infrastructure investment.
The biggest shift in private capital allocation to water infrastructure is likely to reflect a sea change in investor sentiment. Just as UN climate accords made carbon emissions an explicit metric for the sustainability of traditional and real assets strategies, its Sustainable Development Goal 6 sets a goal of clean water and sanitation for all people – an objective that will require nearly $90bn to meet, according to NGO Water.org.
Oceanic plastic waste is likely to provide the impetus for investors to think about how their capital allocation decisions will impact the sustainability of the world's water supply. A recent report from ESG and corporate governance consultancy Sustainalytics established a framework that institutional investors can use to assess a company's exposure to plastic waste-management risk, and to adopt a blue-investing approach of gaining portfolio exposure to firms committed to marine ecosystem conservation.
"Firms contributing to the problem of plastic pollution are facing the risks of extended producer responsibility and reputational blowback," according to Doug Morrow and Martin Vezér, in the thematic research team at Sustainalytics. "Those developing solutions may mitigate these risks and reap the benefits of improved resource efficiency, positive brand association, additional revenues from alternatives to conventional plastics and emerging investor interest," they wrote.
Ocean plastics are on the radar of dozens of influential asset managers, Morrow and Vezér found. A coalition of 25 major institutional investors with combined assets of $1trn have joined the Plastic Solutions Investor Alliance, declaring plastic pollution a corporate brand risk and pledging to engage with companies on the issue. But they warn that corporate disclosure is lacking: The Plastic Disclosure Project's analysis of 100 large publicly traded consumer goods companies found that less than half of the sample reported any quantitative data points about plastics.
It is no wonder – plastic can take more than 400 years to break down, and small plastic particles found in coral, plankton, turtles and whales have been associated with a range of negative effects. While ocean plastic does not yet command the same level of attention in investment deliberations that carbon emissions do, the new Sustainalytics framework suggests "the beginnings of what a blue investing thesis may look like."
ESG data: Check your meter readings
1

2

3

4

5

6

7

Currently reading

Water: Investors get the blues