Progress has been made in bringing sustainability into institutional real estate investment activities. But more needs to be done, writes Don Jordison
Climate change is firmly back on the agenda. In December, United Nations delegates will meet at the 2015 Climate Change Conference in Paris to negotiate a global agreement on climate change. This comes after nearly 30 years of struggling to strike an effective deal and follows a meeting of the G7 leaders in June when they committed to cutting global greenhouse gas emissions by 40 to 70% by 2050.
Institutional investors have an important role to play in helping in achieving this target. Private and public pension funds, insurance companies and public treasuries have a real opportunity to help mitigate the risk of climate change by facilitating flows into areas with tangible environmental outcomes while, at the same time, making a return on their investment. The emphasis is on active investment solutions – not divestment.
UK commercial real estate is a bad environmental offender, contributing to around a fifth of total carbon emissions in the UK. New build, carbon-compliant real estate only accounts for 1-2% of total supply. To meet the government's 2050 carbon reduction targets, emissions from existing buildings will need to be reduced by 80%. Realistically, this can only be achieved via refurbishment. In fact, currently in the property industry, there is no environmental issue of more economic value than carbon reduction.
We know that as a large investment manager we have the ability – and the responsibility – to help drive positive outcomes for society. In 2010 we took a pioneering step towards CO2 reduction by teaming up with Stanhope, one of the leading commercial developers and the Carbon Trust, a world-leading adviser to businesses, governments and the public sector on carbon reduction.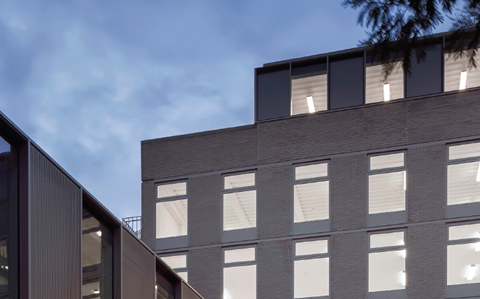 Together we launched the Low Carbon Workplace (LCW) Trust, a partnership between industry leaders in property investment management, design, carbon engineering/refurbishment and carbon compliance. We identify suitable office buildings and turn them into modern, energy-efficient workplaces while, at the same time, generating returns for investors. We then let and manage the buildings to ensure ongoing management and reduction of energy wastage.
Importantly, LCW caters for institutional investors' needs. Our investors include local authority pension funds and multinational occupational pension schemes. LCW offers them the responsible, tangible aspect that they – as large asset owners with stewardship responsibilities – are looking for in their investments.
To the contrary of the common misconception that responsible investments do not generate returns, LCW offers a compelling investment case. Last year, it returned 11.7% net of fees. Lower energy costs mean properties are resistant to functional and environmental obsolescence. Due to the imbalance between supply and demand, low-carbon properties also benefit from better security and quality of income, greater potential for capital gains, shorter void periods and access to pre-let developments.
In the past couple of years alone, we have made significant progress in acquiring, refurbishing and letting our properties. We bought four assets in London that are currently being developed, and moved another four fully refurbished properties into LCW's investment portfolio. These four investment assets are valued at around £106m (€146m), with an annual income of £5.1m and their average weighted return on equity is 47%. Tenants include housing associations, retailers, financial services and media companies. Such is the demand, that the majority of the offices have been let before completion.
A good example of a refurbishment project undertaken by LCW is the six-storey Mansel Court in Wimbledon. Built in the 1960s, it had been losing a lot of heat through its single-glazed windows with metal frames and poor seals. We transformed Mansel Court into a state-of-the-art eco-building that is now over 50% more energy efficient than it was before the refurbishment. Air-tightness exceeds building regulations, while tenants can still make use of the windows. It was also the first commercial building to have capillary matting embedded in its floors and ceilings. This low-energy system enables cold water to circulate through small plastic tubes to cool the building efficiently. Smart meters and occupancy sensors compare energy consumption to occupancy levels, helping the Carbon Trust to monitor and improve the energy performance of the building.
In fact, perhaps the most innovative approach of this development is combining energy-efficient technologies with a programme of engaging those using the office space. LCW has exclusive use of the Low Carbon Workplace Charter, which occupiers sign and thereby signal a commitment to minimise energy consumption and carbon emissions.
The first tenants moved into Mansel Court in March 2014 and support began immediately. The Carbon Trust advised them on how to make optimal use of the workspace, which was essential in ensuring that the occupiers' fit-outs complemented the natural ventilation and cooling systems. When the tenants can demonstrate they have met specific criteria, they will be awarded with the Carbon Trust's 'low carbon workplace standard'.
The LCW concept is economically viable, socially responsible, repeatable, scalable and profitable. It is a great example of the private sector taking the initiative and developing new commercial models that unlock the value in low-carbon refurbishment.
But more needs to be done. The challenge now is to build on the good work to date to the point when energy efficiency refurbishments are the norm, not the exception. This will take the UK further towards meeting carbon reduction targets than almost any other measure. Ultimately, it is our society that benefits.
Don Jordison is managing director, property at Columbia Threadneedle Investments
Sustainability: The rise of the Green Stars
1

2

3

Currently reading

Sustainability: Work in progress