Millions of pounds of social benefit are needlessly being lost. Debbie Hobbs explains why social value should be measured in real estate investments
It is 2016 and economic return is increasingly not enough for investors. We are at the point where most demand that the sustainability credentials of underlying assets match their sustainable investment policies. And now, forward-thinking investors want to know about the social impact as well. The bonus is that it is not just about doing good; such an approach is shown to create financial benefits, with recent research showing investors could capture £15bn to £20bn (€17.5bn to €23bn) per year of lost social benefit.
This is no fly-by-night concept. The UN has sustainable development goals, so all governments will have to be aligned and investors are starting to act. For example, one institutional investor is creating a group of funds called 'investing in solutions' to meet this demand.
As well as looking at the environment, investors want to include other social cost-benefits arising from investments. They ask: how does it impact society? How does my investment impact on housing, health and job creation? Some investors refer to this as 'impact investing', and mandates have started to be won and lost as these considerations are taken into account.
The annual multi-billion pound social benefit loss was uncovered by a recent study by the British Council for Offices (BCO) in partnership with Legal & General Investment Management Real Assets, and The Social Value Portal. The figure presently being lost annually on office developments is due to a lack of understanding about how such value is measured and generated. This means billions of pounds are being lost when they could have a positive impact on society.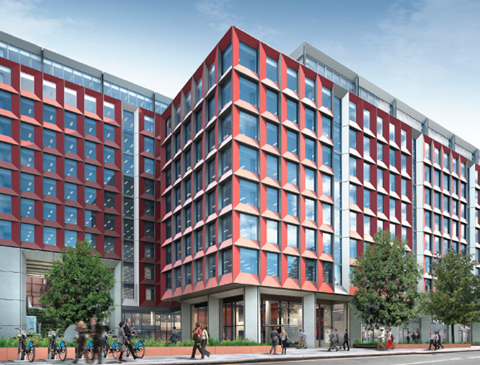 The study highlighted that buildings are undervalued from a societal perspective, meaning that developments could be having more impact. The findings showed that within planning laws there is too much emphasis on cash contributions rather than meeting what the community actually needs. These findings tell us that as developers and landlords we could be doing more with our developments and that everyone in the process need to begin by focusing on the community, rather than just cash and the building itself.
To see how this could work in practice, we have started measuring the social value or, to be more accurate, the social return on investment (SROI) for a new office building at 245 Hammersmith Road in London. The main reason for measuring the social value of a new development is that when you are constructing, is when you can have the biggest impact on the whole lifecycle of the asset. You also have a development team and designers, all focusing on this new asset and what it will be like in the future, so at this point you can set the plan in motion. Although the focus to begin with is on new construction, we are then looking through the contractual chain, and then the operational chain of the asset.
Another aspect is that with new construction you are engaging with the local authority and there are Section 106 agreements in the planning process which look to counteract the community aspects of the development. The main idea of looking at social value in this context is to identify how you can maximise the added social value on top of standard Section 106 agreements and who is best placed to leverage the money. Often local authorities find it hard to follow through with the projects linked to the Section 106. If developers already have relationships with local authorities and work in partnership, then this is a natural place to begin.
There is a social argument for doing this, but we also need to satisfy investors' economic returns. The core argument is simple: if an area has more locally sourced products it thrives more locally and the assets within this area are maintained and increase in value. Also, with less 'social costs' in society, council tax and business rates can be spent on improving the area rather than, for example, maintaining law and order.
So why isn't social impact being looked at more? Why are billions of pounds that could help society being wasted? Various philosophers will argue that you cannot measure social value as they say that value is a subjective concept. However, our study with the BCO and the Social Value Portal looked at 'what could you do above the normal within the construction process to benefit society?' The UK Government has a database of such costs to society and applies these in the procurement process. Hence by putting a cost on these benefits, the study provided a way that such benefits can be measured. With the usual sustainability adage 'you can't manage what you can't measure', this enables us to measure and improve the social benefit provided by our business activities.
These benefits vary for each area. It could be about how many disabled people you employ, how much communal space you add, or how many school visits you make. However, if we have a starting point we can begin to establish one methodology that can be adopted by developers, landlords, designers, managing agents, occupiers and planners on all developments.
This has the possibility to create a more transparent industry, making everyone more aware of the social impact of investment. There is demand from investors for this, so our goal is that the industry would be able to measure social value across a whole fund and publish that data alongside its economic return. The findings in Hammersmith will, hopefully, be a starting point to creating one methodology that we can implement throughout the industry, not just on new construction but also existing developments.
This is, of course, a complex process but the study is a starting point, as it has highlighted the need to act. It then leads on to wider investment questions, as to whether we can assess social value across all our investment products. But, clearly, as holders of long-term pension money, it is important that we consider social, economic and the environmental aspects of everything we do, to provide a society that people want to retire into. It is accepted that this is part of our judicial duty. Up to £20bn-worth of social value is significant and cannot be ignored by the UK. Unlock this and it is win-win for all.
Debbie Hobbs is head of sustainability at LGIM Real Assets
Investment Management: Growing through change
1

2

3

4

5

Currently reading

Sustainability: Maximum impact

6