Asian office markets have made significant improvements to their sustainability. But there is room for progress, writes Tim Shen
There is no doubt that green buildings are increasing in Asia. Most countries have at least one domestic green building rating scheme and some, like Japan, have two. Year-on-year numbers of registrations and certifications continue to grow. In addition to these, the US Green Building Council's Leadership in Energy Environmental Design (LEED) rating system has been adopted across the region, with nearly 6,000 projects registered and more than 2,000 certified across 18 countries.
In addition, the International Finance Corporation released its Excellence in Design For Greater Efficiencies (EDGE) tool, to provide a streamlined approach to encapsulating green building fundamentals for developers new to the concepts in developing countries.
However, if we step back from the reports that are produced each year, and look at the graphs showing healthy growth trends in project numbers, most industry stakeholders would acknowledge that we still have a way to go.
According to the Dodge Data & Analytics' report, World Green Building Trends 2016, green projects in Asia accounted for less than 40% of all construction, and that figure was less than 30% in countries like China, where 2bn sqm of gross floor area is constructed annually. That implies a staggering 1.44bn sqm of non-green space is constructed yearly in China alone. As of March 2016, there were 4,195 China Green Building Evaluation Label certified buildings. So, while the level of green building across the region is good, it's far from business as usual – or where it needs to be considering the impacts on sustainability that real estate has.

Two obvious issues stem from this conclusion. Firstly, market forces alone are insufficient to create transformation of real estate to green, and secondly, despite the story of real estate across Asia being one of boom, each year we have a growing number of existing buildings for which sustainability has yet to be considered.
In addition, the majority of certified green buildings in Asia have been benchmarked with systems that assess design and construction standards but do not verify actual performance. For example, official data for China shows that green buildings assessing only design accounted for 93.7% of green buildings in 2014.
There are several reasons to be positive about the future of green building. An increasing number of national, provincial and municipal governments are setting green building policies which include targets, in many cases backed up by incentives and/or legislation. Singapore has set itself the goal to get 80% of its building stock (excluding logistics and industrial facilities) certified with its Green Mark tool by 2030. This is backed up by a framework of legislation that requires newly developed properties to be certified, and re-certified after three years with the existing buildings version of Green Mark. In addition, any existing property that now undergoes a heating, ventilation and air conditioning upgrade must get Green Mark certified.
China launched its Green Building Action Plan in 2013, requiring all public buildings, public residential buildings and commercial buildings with a gross floor area (GFA) greater than 20,000sqm to achieve at least one star in the China Green Building Evaluation Standard. The goal is to have at least 1bn sqm of certified new construction by 2020. In addition, more than 450m sqm of existing residential and 120m sqm of existing commercial property will need to complete energy efficiency retrofits.
In India, where the national green building footprint exceeds 356m sqm, there are more than 850 buildings certified with the national IGBC rating tool. The government is leading by example by getting their own buildings certified. Delhi Metro stations are certified with IGBC Metro to Platinum level. Policy focus is around decarbonizing the economy, with a push to renewables.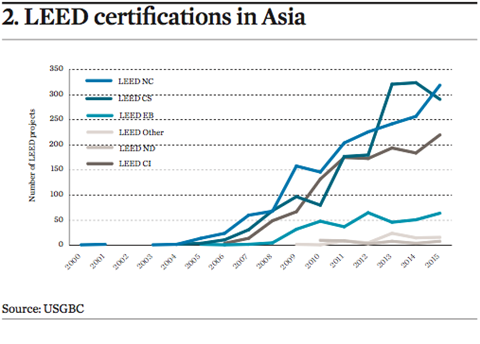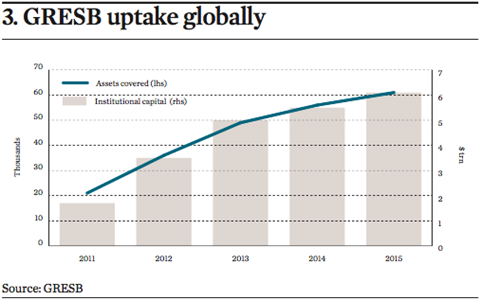 The Singapore government is also exercising its power as a client. Official functions can now only be held in Green Mark certified hotels or convention centres, creating demand for existing hospitality buildings to get certified.
South Korea also has its own green building certification system, the Green Standard for Energy and Environmental Design (G-SEED). These regulations require that all large buildings obtain a G-SEED certification and, over the years, certified buildings have been increasing to a rate of over 2,000 buildings annually. The total number of buildings certified with G-SEED is expected to exceed 11,000 by the end of 2016. A positive trend is that in terms of total GFA, more than 50% of new construction in 2015 was G-SEED certified.
Both China and India are starting to look at sustainability in the urban context, with smart city programmes a new focus.
China has been developing a smart city programme with 103 municipalities selected as pilots – a figure which itself points to the scale of the issues Asia faces. The concept is to build a digital platform that covers utilities infrastructure, transportation networks, buildings, and other aspects that support urban operations. The integration of these systems and greater visibility of data will allow for optimised control and resource allocation to facilitate a higher degree of efficiency in the operations of those cities.
India is taking a different approach, focused more on using city data to understand energy demand and how it can be rationalised to couple with the effective promotion of renewable energy supply in its Solar City programme.
Korea is also making progress in the area of ensuring performance – for example, by pushing ahead with building regulations that require all new construction to consume less than 280 kWh per sqm pa. There is increasing agreement from industry experts in the region that more transparency around building performance is key to improvement.
"The UK law that requires all existing buildings to get an energy performance certificate (EPC) that rates building performance from A through G is the best example I've heard of," says Chungha Cha, co-founder and chair of the Korean Green Building Council's Re-Imagining Cities Foundation. "If your building gets an F or G rating, you will not be able to let your building and will lose rental income. WSP Parsons estimates that almost 25-35% of UK buildings fall in this bracket. These regulations will become more common, placing significant financial risks on real estate investors and owners.
"Many other countries are taking strong initiatives toward new construction. However, if we are to make any significant progress toward COP21 objectives, Korea as well as the world, will need to significantly reduce GHG emissions from existing stock if we are to make a meaningful impact on reducing global GHG emissions."
A recent development has come from the market, rather than government. Largely driven by the rapid uptake of GRESB globally, we are seeing funds and investors taking a look at the sustainability performance of portfolios, and in many cases, green building certification of existing assets in Asia.
"Investors increasingly require disclosure on environmental, social and governance (ESG) efforts and achievements," says Ruben Langbroek, head of GRESB for Asia-Pacific. "Asian examples of investors that increasingly adhere to responsible investing are Temasek, GPIF and NPS. In addition, the Hong Kong and Singapore stock exchanges will introduce mandatory ESG reporting requirements for listed companies. As a result, providing insight into ESG issues at the fund and portfolio level is becoming a pre-requisite in Asia."
Cha says: "GRESB is already becoming the industry global standard for sustainability reporting. What is wonderful is that GRESB is helping to show that a higher GRESB ranking correlates with higher financial performance. Sustainability is not just a cost burden; done properly, it can become a driver for increased profitability."
"Two obvious issues stem from this conclusion. Firstly, market forces alone are insufficient to create transformation of real estate to green, and secondly, despite the story of real estate across Asia being one of boom, each year we have a growing number of existing buildings for which sustainability has yet to be considered"
One of the great strengths of GRESB is its holistic approach to benchmarking ESG issues. Not only does it facilitate transparency on asset performance that has been unprecedented, it helps to demonstrate how different aspects of ESG are interlinked such that by taking a strategic approach to getting assets certified as green buildings, other aspects of the assessment score will also be positively influenced. As a result, we are already seeing buildings getting green certifications as a direct result of them being submitted to GRESB. This is the most common issue that institutional investors ask their Asia fund managers about.
This approach also introduces fund managers to new concepts that facilitate green building performance, best practice property management, and green leases. The latter are becoming more common in Asia, both from owners and tenants. The recently released guidance on green leases for commercial office and retail sectors from the Singapore Building and Construction Authority provides an indication that green lease clauses are set to become mainstream in the future.
There is no doubt we still face significant challenges, as Langbroek explains, "There is still limited awareness, knowledge and experience regarding the positive financial and non-financial impacts of ESG across the Asia real estate industry. In some cases, there is reluctance by stakeholders to share best practices, case studies, performance data and return on investment information that could prove invaluable to making the business case for widespread adoption. There's also a general lack of urgency in to step away from the 'business as usual' approach. Climate change is happening, and action is needed now, but this is still not so much the perception of many developing real estate markets in Asia."
However, once we get to that general level of acceptance regarding the need to change and the many benefits to be gained in doing so, there is reason to be positive about the future of green building in Asia. The region's ability to rise to a challenge, willingness to embrace new concepts, and its appetite to demonstrate leadership would suggest we can transform at pace, scale, and significantly raise the bar on standards. Although, LEED is a system that was developed in the US, an increasing number of landmark projects are found in Asia – China is the second largest market for LEED outside the US. The first LEED v4 certified project in the world was Haworth's interiors project in Beijing, and this June, TAIPEI 101 became the first project in the world to achieve 90pts with LEED v4 when it recertified its LEED for Existing Buildings Platinum credential.
Tim Shen is head of sustainability for Asia at CBRE
Sustainability: A moving target
1

2

Currently reading

Sustainability: Green building in Asia