Commitments set in Paris to cut carbon emissions have big implications for real estate. Eric Usher explains what the 2°C upper limit means for investors
On 12 December 2015 history was made in Paris when 195 countries agreed to work together to substantially curb global warming by limiting it to a maximum of to 2°C – possibly 1.5°C – and phase out fossil fuels by the end of this century.
More than ever before, governments all over the world are now constrained to find cost-effective ways to curb pollution, with every sector and every economic actor coming under close scrutiny. The buildings sector has one of the highest carbon footprints – it currently contributes to 30% of global annual greenhouse gas (GHG) emissions and consumes around 40% of the world's energy.
Following through on the commitments made in Paris means avoiding 77% in total CO2 emissions in the buildings sector by 2050 compared with today's levels1. At the same time, the sector's mitigation potential is huge. Achieving this potential will be critical, but it requires massive investments. For example, aligning the existing building stock's carbon footprint with the 2°C target requires energy-efficient buildings retrofits of about $300bn annually by 20202. Given the size of the investment needed to finance a low-carbon economy, public-private collaboration is essential. The United Nations Environment Programme Finance Initiative (UNEP FI) therefore believes that real estate investors will have an important role to play in making this transition happen.
The call for action is impossible to ignore. This was explicitly recognised in Paris with the final agreement encouraging non-state actors to scale up their efforts and support actions to reduce emissions and build resilience. It also called for them to enhance the voluntary initiatives of the Lima-Paris Action Agenda. The newly created Global Alliance on Buildings and Construction (Global ABC), of which UNEP FI is part, is one of those initiatives and underlines the growing importance governments are attributing to buildings.
Following Paris, the investment community will increasingly be affected through more regulation as countries implement their nationally determined contributions (NDCs) and place a stronger focus on the carbon footprints of investments and their exposure to new laws. In fact, regulatory pressure is growing in many countries already, in terms of disclosure – as exemplified by the European non-financial reporting directive or the French law on energy transition for green growth – and mitigation through ever more stringent building codes, among others.
The real estate sector is also highly exposed to physical risks which are already being felt, with direct losses from flooding resulting in an average of $150bn annually between 2002 and 20123. In addition, estimates show that by 2070, 150m people in the world's large port cities will be at risk from coastal flooding, along with $35trn worth of property – an amount equal to 9% of global GDP4.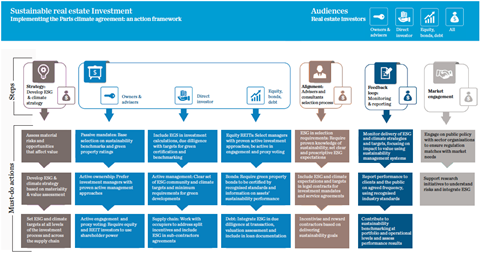 Those losses and assets at risk clearly represent material issues for investors and have implications for their fiduciary duty. Following up on the conclusions of the Fiduciary Duty in the 21st century report published by UNEP FI, et al, every real estate asset owner, investor and stakeholder must now recognise they have a clear fiduciary duty to understand and actively manage environment social governance (ESG) and climate risks as a key routine component of their business thinking and management process. Failure to actively address those will not only hinder global efforts to address the climate challenge but will also hurt financial long-term returns, undermine economic sustainability and reduce the calibre of the infrastructure passed to future generations.
Early movers, on the other hand, can protect asset value and seize investment opportunities. For example, there is ever more evidence that positively connects sustainable real estate with investment fundamentals, including increased client demand, lower vacancy rates, lower obsolesence, reduced operational costs, among others. Green and energy-certified office and residential buildings also have a lower risk of mortage default compared with non-certified properties.
"There is ever more evidence that positively connects sustainable real estate with investment fundamentals, including increased client demand, lower vacancy rates, lower obsolesence, reduced operational costs, among others"
While ever more real estate investors are actively addressing ESG and climate risks and seizing investment opportunities, significant up-scaling is required to achieve the transition to a low-carbon economy in line with governments' commitments. As a matter of fact, many real estate investors have yet to fully integrate climate and ESG risks into their investment process.
It is encouraging to see that 90% of Principles for Responsible Investments (PRI) signatories that are reporting on their ESG real estate investments declare that they consider ESG issues in property monitoring and management. However, less than half measure changes in ESG perfomance and only 34% measure how ESG issues affect financial performance.
To support real estate investors with this work and increasingly move from disclosure to impact, UNEP FI and its global partners (IGCC, IIGCC, Ceres INCR, PRI and RICS) have come together to create clear signposts for action for real estate stakeholders, regardless of size or existing level of sophistication of ESG and climate issues. These easy to understand and apply signposts and accompanying framework distil all available material published over the past five years, reviewing and filtering those most relevant for each of the real estate stakeholders and the different steps in the investment process.
In addition, they provide investors and their advisers/consultants with guidance on how to move from enquiry and disclosure, to prescriptive requests that focus on results and give managers more direct guidance. The result is an easily accessible framework that leaves no excuse for real estate stakeholders to start taking action.
Footnotes:
1 International Energy Agency (2013). Transition to Sustainable Buildings. Strategies and Opportunities to 2015. https://www.iea.org/media/training/presentations/etw2014/publications/Sustainable_Buildings_2013.pdf
2 McKinsey & Company (2009). Pathways to a low-carbon economy. http://mckinsey.com/globalGHGcostcurve
3 Münchener Rückversicherungs Gesellschaft (2013). Topics Geo: Natural catastrophes 2012 – Analyses, assessments, positions. München, p.52
4 Nicholls, R. J. et al. (2008). Ranking Port Cities with High Exposure and Vulnerability to Climate Extremes: Exposure Estimates. OECD Environment Working Papers, No. 1, OECD Publishing
Eric Usher is acting head of UNEP FI