The latest data from GRESB are in, benchmarking the sustainable performance of real estate investors and companies. Christopher Pyke looks at the results
With the pace of global events and daily hustle of business, it's useful to take a moment and recognise that we live in exceptional times. The release of the 2016 GRESB data provided just such a moment to reflect on the environmental, social, and governance (ESG) milestones reached over the last 12 months.
Globally, we have more people, generating more economic activity, and more pollution than at any other point in civilisation. The combination of people, economic activity, and resource consumption is having an impact reflected in the highest atmospheric concentration of carbon dioxide for more than 500,000 years as global temperatures have risen by an average of 0.81°C.
These facts are relevant to the real estate industry because buildings are a big contributor. The new GRESB data, covering approximately one-third of all investor-owned commercial real estate, indicates that participating companies and funds consumed 99 terrawatt hours of electricity, emitted (directly and indirectly) 27.9m metric tonnes of CO2 equivalent, used 0.47 cubic kilometres of drinking water, and generated 15.5m tonnes of solid waste. This kind of impact means that the property sector must be a participant in any global effort to avoid climate change and address resource challenges.
Milestones during 2016 were not just social or environmental. Critically, we have seen changes in policy and regulation. The past year saw the world's first legally binding framework to limit anthropogenic warming to 2°C by reducing greenhouse gas emissions. A group of over 130 institutional investors representing $13trn (€11.6trn) in assets under management urged the G20 heads of state to ratify the COP21 climate agreement, double investment in clean energy, and intensify transparency regarding carbon emissions. At almost the same time, we saw listed real estate companies moved out of the 'financial services' category by index providers and receive greater visibility with their own Global Industry Classification Standard code. These three milestones have important implications:
The world is beginning to move toward collective action to address climate change.
Institutional investors are working to accelerate this through advocacy and engagement with their investments.
Real estate is gaining visibility as an asset class, and the sector will be asked to keep up with expectations among policymakers and investors.
For property companies and funds, these factors combine to create a new urgency to understand ESG performance and to clearly communicate strengths and weaknesses to all stakeholders.
These milestones set the context for participation in the 2016 GRESB Real Estate Assessment. This year was a high watermark with 759 participating companies and funds with 66,000 assets in 63 countries. Europe continued to have the largest number of participants with a net increase of 12 to 390. North America added 23 companies and funds for a total of 178. The smaller, but high performing, Australia/New Zealand region added five participants for a total of 52 companies and funds. Participation in Asia also increased by 10 to 114.
This tells only part of the story. While lagging behind Europe in the number of participants, North American companies and funds now dominate the GRESB data by asset value with an aggregate value of US$1.3trn in property. Beyond the top line numbers and value of participants, 2016 also saw an acceleration of the trend toward vertical integration of data systems with information from 20,000 individual assets streaming into the GRESB platform via automated channels – an increase from 9,000 in 2015. This trend represents a change in participation pattern, and will streamline the assessment process and improve data quality.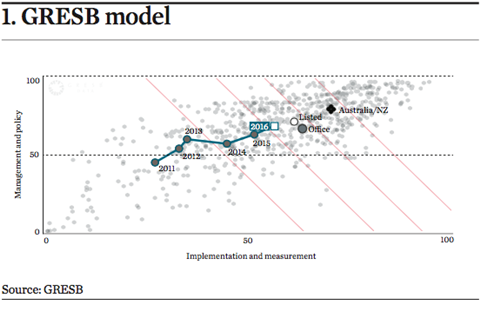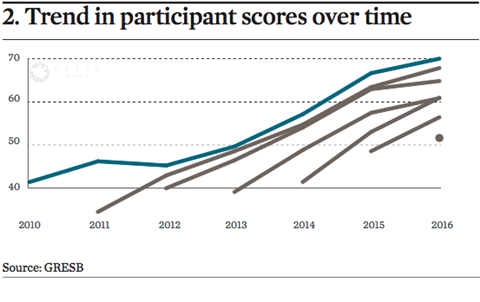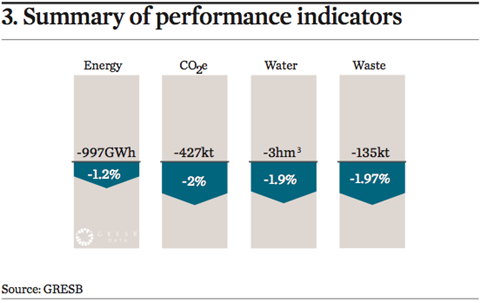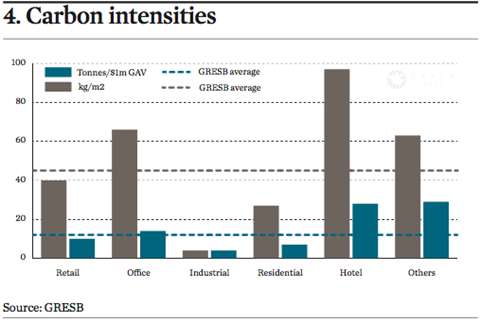 The results
Globally, the average score for all GRESB participants increased to 60 points, up six points. This marks the fourth consecutive improvement. Listed property companies modestly outperformed private firms. As a property type, companies and funds focused on offices outperformed other types. Firms based in Australia/New Zealand continued to dominate their peers with the highest average overall GRESB score.
This year, for the first time GRESB analysed the long-term performance of participants. The data show that, on average, companies and funds improve with participation. Companies and funds participating for seven consecutive years had the highest average overall score, approximately 72 points.
Perhaps importantly, the GRESB data show improvements in operational environmental performance. Considering like-for-like change in properties managed for 24 or more consecutive months, the data show:
-1.2% decrease in total electricity consumption – equivalent to 73,988 US homes
-2.0% decrease in total carbon emissions – equivalent to 90,197 passenger cars
-1.9% decrease in drinking water consumption – equivalent to 1,200 Olympic swimming pools
-1.97% decrease in solid waste delivered to landfills – equivalent to 14,963 truck loads.
Property companies and funds continued to expand their use of renewable energy. The new data indicate that an additional 154 GWh was generated in 2016 for a total of 592 GWh. However, this represents only 0.6% of total electricity consumption.
The data shows that overall performance is underpinned by increasing engagement from senior leaders, more formal policy commitments, new environmental management systems and information systems. This supports greater analysis of how firms manage specific ESG issues, such as carbon emissions. The 2016 data allows analysts to consider not just the use of individual practices, such as carbon emissions policies, but a suite of strategies. For example, the 2016 assessment included nine discrete strategies related to carbon management. Some of them are frequently used, such as establishing climate policies or reporting carbon emissions data. However, only a small fraction of companies use more than 75% of these together. This is critical, since effective emissions reduction requires co-ordinated management action across multiple domains. Individual actions – no matter how well intended or executed – are unlikely to result in sustained reductions.
The data also provides new measures of the intensity of environmental impacts. These are presented as emissions, energy use, water consumption, or waste generation per unit floor area or per unit of gross asset value (GAV). These are imperfect measures; however, they do provide insights. For example, operating a unit of hotel property (measured by floor area or value) requires greater levels of resources than other property, such as industrial or office. This is not necessarily diagnostic in isolation, but it does point to greater structure in the nature of emissions and environmental impact across the industry. Moving forward, GRESB may focus on variation in intensities within property types. This information may help investors identify efficient firms – those with favourable ratios of economic output to environmental impact.
Implications
The bottom line conclusion from the GRESB data is simple: property companies and funds continue to improve their ESG performance. However, the context for this improvement has changed significantly over the past year. New international agreements, investor pressure, and a new visibility as an asset class are raising expectations for effective action. The result raises the far-reaching question: Is steady improvement enough?
The observed rates of improvement of 1% to 3% per year are at least double the average annual economy-wide improvement in efficiency. However, they fall well short of most national emissions reduction targets and
sectoral plans, such as new building codes requiring zero net energy buildings between 2020 and 2030 (depending on the jurisdiction). It is an open question whether the global property industry can accelerate its improvements in ESG performance to meet society's demands.
These factors suggest that the next year will see:
More pressure to enact and apply aggressive policies, such as energy performance disclosure and minimum energy efficiency standards.
More questions from investors about ESG performance.
More opportunities to reduce risk and create value through efforts to cut carbon emissions, save energy, conserve water, and provide healthier indoor environments.
Ultimately, these trends matter because they show that property companies and funds aim for higher ESG performance – entire portfolios are striving to reduce greenhouse gas emissions, save energy, conserve water, and provide healthier indoor environments. The leaders in the competitive landscape that defines the real estate market are being rewarded with more efficient, more desirable properties. Their investors benefit from higher returns and lower risk.
Christopher Pyke is chief operating office at GRESB
Sustainability: A moving target
1

Currently reading

Sustainability: A moving target

2