Does Brexit represent a red light for the greening of the UK's real estate market? Hopefully not, writes Franz Fuerst, Hassan Adan, Dimitra Kavarnou and Ramandeep Singh

The imminent departure of the UK from the EU has injected a high dose of uncertainty into nearly every sector of the economy. The property market seems particularly exposed from an economic and regulatory point of view, and there is a distinct threat of costly U-turns in UK energy-efficiency policies as key amendments to the repeal bill still require careful consideration.
The worst-case scenario under a 'hard' Brexit, although unlikely, is a total withdrawal in which EU environmental legislation ceases to apply and no attempt is made to replace or replicate existing policies. This would constitute a tangible threat to the green refurbishment of existing stock, especially considering the uncertainty surrounding EU energy-efficiency regulations in the UK.
The are two main dangers. On the one hand, there is the risk of undermining the EU-wide energy consumption reduction target of 20% (compared with prior projections) by 2020. On the other, there is the future uncertainty over specific regulations that cover measures such as the energy-efficient retrofit of public buildings, improving access to consumption data for customers, and removing non-regulatory barriers to energy-efficiency investments.
Over the past few decades, European Commission directives and regulations have been the source of the most stringent and progressive environmental protection policies in the UK. In the pursuit of a circular economy, EU member states have made concessions and agreements on fundamental principles shaping the way we produce, consume and live. The considerable body of resulting EU law has widely been acknowledged to make, more than in any other area, an overwhelmingly positive impact on the environment.
More specifically, directives and regulations have played an important role in legislating on a range of environmental issues that have helped tackle water and air pollution, enforced stringent safeguards on the use of dangerous chemicals, and protected endangered species. With the UK departure from the EU an imminent reality, there is a risk of a regulatory vacuum that needs to be carefully managed. To help allay fears, the UK government has outlined an ambitious vision of a 'green Brexit', most notably in Secretary of State for the Environment Michael Gove's speech to the World Wildlife Fund (WWF) in July 2017, in which he referred explicitly to the leading role of buildings in achieving sustainability.
Looking ahead, the loss of EU enforcement and accountability could lead to a wider erosion of environmental targets and to weaker climate-change mitigation. In the built environment, abolishing EU legislation without replacement policies could create unprecedented uncertainties and risks. The aim of EU environmental policy has been to promote energy and economic efficiency through measures such as eco-labelling; these have been important in aiding decision-making and correcting existing market imperfections.
Information asymmetry in the real estate market has meant that property buyers and renters are usually not in a position to pre-judge the energy efficiency attributes (and benefits) of a property. To fix this, the EU Energy Performance of Buildings Directive, enshrined into national legislation through the Energy Act 2011, obliges property owners to present an Energy Performance Certificate (EPC) of the property to prospective buyers and renters. Abolishing the EPC regime would also foil the enactment of planned policy measures such as the requirement of Minimum Energy Efficiency Standards (MEES) in UK homes. Even where Brexit does not undermine EU legal requirements enshrined in national law, under-resourced local authorities will find it difficult to monitor the private sector's compliance to MEES.
The Commission has published a list of policies to improve energy efficiency. This includes: member states making energy-efficient renovations to at least 3% of buildings owned and occupied by government per year; mandatory energy-efficiency certificates accompanying the sale and rental of buildings; minimum energy-efficiency standards and labelling for products such as boilers, household appliances, lighting and televisions; the preparation of National Energy Efficiency Action Plans every three years; the rollout of 200m smart meters for electricity and 45m for gas by 2020. For some of these policies, there is no further action taken by the UK.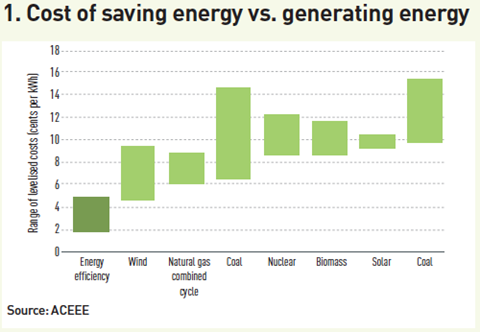 Several studies have been conducted to estimate the energy consumption of each member state and develop plans to improve energy efficiency. In the buildings sector, buildings account for 40% of Europe's energy consumption and about 75% of this stock is energy inefficient. As mentioned by the Commission, energy efficiency in buildings across all member states suffer from underinvestment. Although buildings are regularly maintained or renovated, energy-efficiency retrofits are usually disregarded because energy-saving investments compete for scarce capital; there is a lack of information about the real benefits of upgrades, and there is limited qualified workforce in the sector.
However, to reach the EU's climate goals, member states need to continue focusing on renovating buildings. This significantly benefits households as it allows them to achieve higher levels of comfort for lower long-term costs. In fact, clean-energy buildings provide complementary advantages in the form of improvements to users' quality of life.
In the aftermath of Brexit, should the UK decide to set standards on energy efficiency that loosen EU regulations, households would face higher costs, and targets for cutting carbon emissions would be undermined. Estimates from the Energy and Climate Intelligence Unit show that loosening regulations on just eight products could increase the average annual household electricity bill by about £90, as less energy-efficient appliances replace more efficient current ones.
"Several studies have concluded that a more efficient use of energy in the UK alone would save as much power as could be generated by six new nuclear reactors, and save £7.5bn from energy costs"
Another source of uncertainty about the future of energy efficiency is the scrapping of the Zero Carbon Homes policy, which was announced in 2006 and was expected to come into force in 2016. The policy would have ensured that a new build from 2016 would generate its energy requirements on site through renewable resources – wind or solar power. In this way, buildings would be with zero-net energy consumption or else with zero-net carbon emissions.
However, the UK has reaffirmed its commitment to carbon reduction and energy efficiency via the Fifth Carbon Budget (2028-2032), which aims to limit annual emissions to 57% below 1990 levels by 2050. More specifically, a carbon budget has placed a restriction on the total amount of greenhouse gases the UK can emit over a five-year period. Under a system of carbon budgets, every tonne of greenhouse gases emitted between now and 2050 will be measured. Where emissions increase in one sector, the UK will have to achieve corresponding decreases in another. And the UK is the first country to have set legally-binding carbon budgets. In spite of the range of measures proposed in the Clean Growth Strategy, the UK is on course to fall short of its ambitions, with the country expected to miss targets for the fourth and fifth carbon budgets.
Several studies have concluded that a more efficient use of energy in the UK alone would save as much power as could be generated by six new nuclear reactors, and save £7.5bn from energy costs. About 25% of current energy use in heating and electricity could be cut in 'cost-effective' ways, lowering household bills, according to the UK Energy Research Centre. In fact, households would be able to save about £270 per year on bills, and more through better health resulting from warmer homes and improved air quality. However, achieving the above figures requires substantial amendments to policy because there are few incentives for people to carry out the necessary alterations to their homes, for example loft and wall insulation – investments that can take households up to 20 years to pay-off (figure 2).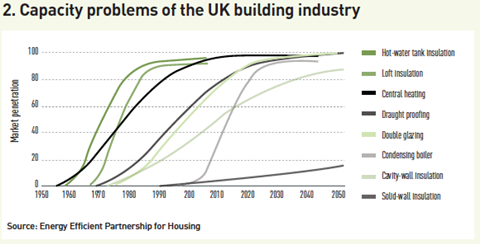 In line with the goal of scaling up energy efficiency retrofits, the government introduced in 2004 the Landlord's Energy Saving Allowance (LESA), which gave landlords incentives to improve the energy efficiency of let residential properties. The scrapping of LESA in 2015 (along with the Green Deal scheme) increased pressure on landlords to cover the cost of energy-efficiency improvements themselves.
More optimistically, the UK's departure from the EU offers new opportunities to unilaterally improve on EPCs and other policies to boost energy efficiency. In theory, the government could pursue improved and tailored environmental legislation without the agreement of 27 other national governments. For example, despite the strengths of the current EU-mandated EPC regime, there is uncertainty around the quality of inspections made to produce EPCs.
The practice in the UK is to produce EPCs based on the Standard Assessment Procedure (SAP), which relies on visible energy-efficiency features along with the physical characteristics of the building to determine the state or existence of any insulation. A major complication of this calculation is that the score is based on a standard set of usage patterns, operating parameters and climatic conditions. It is thus a relative energy-performance indicator across large numbers of buildings with similar characteristics in terms of design, installations and fabric. This is in contrast to the method used in other EU states, where the EPC is scored on energy consumption of individual dwellings. The 10-year validity period of EPCs is also an issue.
While retaining the current EPC regime, or a similar rating system, amendments could be made to improve the accuracy of ratings and to shorten the 10-year validity period – ratings would better reflect the state of the property and standard of energy efficiency. If the EPC regime is seen as a credible, effective tool, there is likely to be more demand for energy-efficiency retrofits.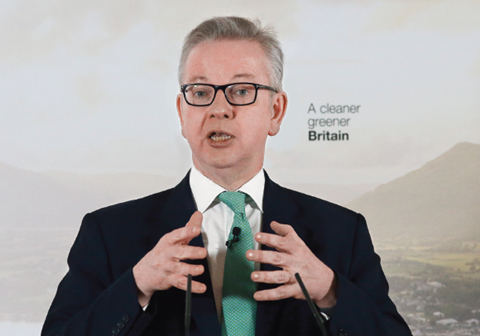 An important aspect of the EPC regulation hinges on the assumption that the real estate market efficiently capitalises energy performance into the rental and sale prices. Yet, a large part of UK building stock is leased to tenants, and buy-to-let investors hold properties for less time than is required to recoup any long-term investment in energy efficiency, thereby removing incentives to invest in reducing energy bills. This suggests that improved and more credible information on energy efficiency and performance is needed to facilitate cost-sharing between owner and occupant.
Importantly, the re-launch of the government's flagship home improvement loan scheme, the Green Deal, offers potential for a more market-based approach to improving energy-efficiency standards in the housing sector.
Moreover, additional regulations – in the form of MEES – are likely to prevent the UK from abolishing the EPC regime. The UK's Energy Efficiency (Private Rented Property) Regulations 2015 make it unlawful (from April) to let residential or commercial properties with an EPC 'F' or 'G' rating (the lowest grades of energy efficiency), effectively setting the minimum rating at level 'E'. This has implications for landlords and tenants, as this stock will not be rentable unless it is upgraded.
The commercial property sector is particularly at risk, given that about 20% of commercial properties fall within the F and G rating – that is, below the minimum rating required by 2018. MEES represent a significant tightening of current legislation – under which, although all commercial properties above 50sqm require an EPC to be sold or rented, there is no legal obligation for landlords to conduct efficiency upgrades. In addition, the scope of the regulations is to be expanded to all leases, including those already in place, by April 2023.
In the pursuit of a low-carbon, post-Brexit economy, the UK should commit to setting and preserving ambitious legally binding environmental and climate-mitigation targets. This would mean a robust continuity strategy in the spirit of the Climate Change Act, in which the UK committed itself to targets that are deeper and more ambitious than those even mandated by the EU.
Should the UK diverge from its good record of environmental stewardship under the EU, it risks damaging its reputation as a champion of sustainability, and falling behind global targets for environmental protection and energy conservation.
Franz Fuerst is reader in housing and real estate finance at the University of Cambridge and principal investigator of the H2020 RentalCal project. Hassan Adan and Dimitra Kavarnou are research associates, and Ramandeep Singh is a research assistant at the University of Cambridge