---
The concept of circular economy is gaining momentum, but what about within the built environment? Elena Johansson reports
Circular economy can encompass a variety of meanings, but essentially the concept seeks to decouple economic growth from the use of natural resources, through the endless reuse and recycling of resources and eliminating waste. It should help address resource scarcity and global warming, and is therefore relevant to the built environment.
For example, the engineering and construction sector consumes almost 50% of steel produced globally, produces up to 40% of solid waste and 25-40% of global carbon emissions, according to the World Economic Forum.
In EU regulation, circular economy has been a focus area for several years. In 2011, the European Commission made circular economy a top policy priority in a flagship initiative under the Europe 2020 Strategy called A resource-efficient Europe, and its roadmap to a resource-efficient Europe. It adopted a Circular Economy Package in 2015. In the Netherlands, a government-wide programme is aiming to develop a circular economy by 2050. The Finnish government seeks to become a forerunner in the bioeconomy and circular economy by 2025.
An uptake of partial and experimental examples of circular economy principles is taking place in the European built environment. Whether the true and full-scale application of circular thinking will arrive soon is still to be seen, but the concept is gaining ground in the EU. The International Journal of Management Cases observes in its first edition of 2018 that numerous major construction companies, such as Ferrovial, Vinci, and Skanska, have begun to commit to the concept.
Maurice van Sante, senior economist at ING's THINK Economic and Financial Analysis, has written that building circular starts with circular design, and that for high-grade circular construction to succeed the entire supply chain needs to embrace the principles.
This approach was applied at Park 20/20, a new business park near Schiphol airport in the Netherlands (see Park 20/20: Cradle-to-cradle in action ). It is said to be the first development area built on 'cradle to cradle' principles by Delta Development Group, VolkerWessels, The Reggeborgh Group, and William McDonough, an award-winning American architect, and author of the Cradle to Cradle book.
Coert Zachariasse, owner and CEO of Delta Development Group, says that planning Park 2020 required more than applying new ways of construction – it demanded a shift in thinking, in values and in behaviour. They did away with what he calls win-lose battles in business by establishing trust and collaboration with their business partners.
"If you want innovation, you need to create a safe place where you can actually innovate," he says. "It means that you also need to allow for things not to happen. Why would suppliers innovate and go for the product if I just squeeze them out? Why would they work with me? Why would they go the extra mile?"
Zachariasse explains that knowledge and holistic thinking have been lost over time because of an growing sector specialisation, which has led to a fragmented supply chain in the construction sector and to failure costs of 15-20%.
"To me," he says, "the integration and connectivity of know-how is the answer to quality and cost reduction, and not more pressure or more scale by mergers to get bigger so that you can squeeze out more [companies]."
Over a three-year period, Zachariasse created trust relationships with up to 80 suppliers. This then allowed them to co-design Park 2020 together with their partners from day one, and tap their know-how for innovation. They succeeded in planning collaboratively and in advance of construction – also by using building information modelling (BIM) as an integration platform.
As a result, Zachariasse says that they could replace the common 'low-price-and-low-quality' business paradigm with one of 'high-quality-for-long-term', eliminate failure costs, and achieve 40bps more yield, as well as 80% more rent than their competitors.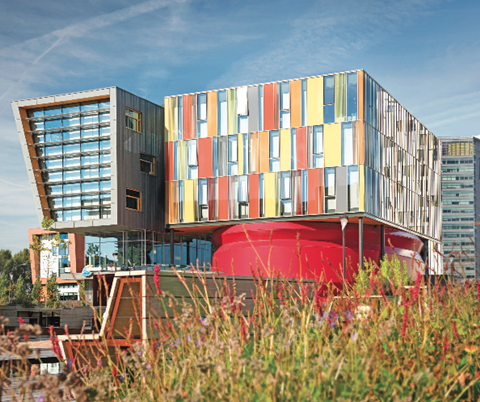 Costs can be reduced in the circular built environment by reusing building materials and designing for disassembly. A 2015 Ellen MacArthur case study for Denmark calculated the investment opportunity for the construction sector and found it could save 30% in material costs – amounting to €100-150m per year by 2035 – when designing buildings for disassembly and using innovative business models.
Petran van Heel, sector banker, construction and real estate at ABN Amro, explains that in a linear economy building materials tend to be associated with deconstruction and demolition costs, while in a circular economy they can have their own value though re-use.
ABN Amro has experience in investing in recycled and up-cycled buildings materials, which it shared in a report, A future-proof built environment. For its circular pavilion Circl in Amsterdam it up-cycled, among other things, 16,000 pairs of jeans from its employees, used as insulation.
The Dutch bank also participates in an Urban Mining Collective, which harvests products and material from end-of-use buildings.
Van Heel envisions how circularity will change the role of investors. "Imagine a circular world where there will be no more primary materials in construction processes," he says. "All raw material will be locked up in buildings, which then will resemble urban mines.
"If you want innovation, you need to create a safe place where you can actually innovate. It means that you also need to allow for things not to happen"

Coert Zachariasse
"There will be companies who seek concessions for building materials. So, when real estate investors, including pension funds and insurance companies, own a building at the end of its lifecycle, they might sell it to somebody like an urban mining collector who gathers building parts and reuses them."
By envisioning the future and how real estate could be embedded in tomorrow's circular world and decentralised electricity systems, investors can also identify opportunities.
Picturing a future where peaks in renewable energy systems will be balanced out by batteries, Peter van den Tol, fund manager of listed real estate EU at Dutch pension asset manager MN, says one important innovations needed is to improve the efficiency of batteries, to make them reusable and replace their metals through biodegradable materials.
In a linear economy, making circular construction happen demands engagement from investors from the start. Van den Tol says that putting in place reusable climate systems and dismountable facades is not part of a developer's day-to-day work, making it instead a job for investors. He emphasises the importance that investors actively contribute to both the concept and the design phase, especially for new constructions.
He also recommends incentives for developers, such as maintenance and operating obligations for a period of, for instance, 15-25 years to make buildings more energy-efficient, durable and reusable. Such obligations could also help to overcome the barrier of split incentives, says Van den Tol, which can hinder the construction industry from reuse and high-value recycling of components and materials.
For institutional investors and the entire real estate sector, circular economy means – even if gradual – a revolution in values, attitude, roles, as well as business and investment opportunities and risks.
Because of the built environment's impact on the natural environment, Zachariasse expects "massive external pressure on the real estate sector" from increasing transparency and regulation, forcing investors to react and manage risk.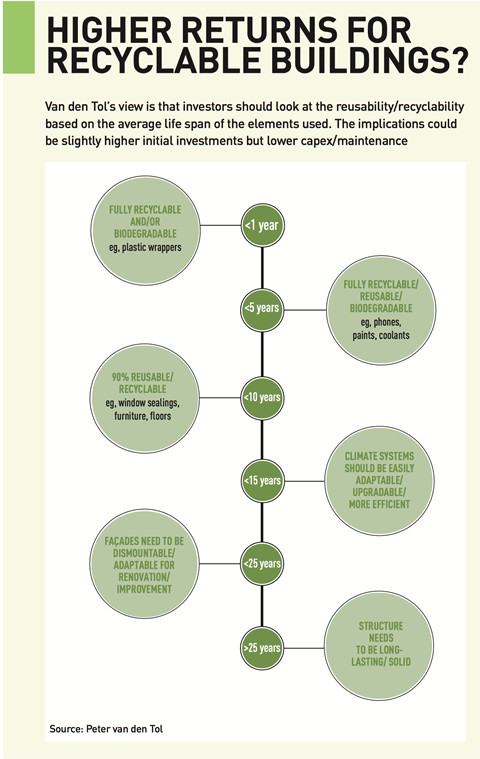 He says: "Therefore, the subject of sustainability is going to be top-of-mind in boardrooms, not because everybody is becoming greener all of a sudden, but because of risk management, an understanding that by only looking backwards in a fast-changing world, like a traditional analyst only looks at profit/loss accounts, you will miss the big picture."
While circular investing creates benefits for the environment and sustainable economic growth, defining the investment opportunity clearly in today's linear economy can be difficult.
One of many challenges is how to measure the value created from designing buildings for disassembly.
"A big part of our investment decisions for sustainability is that sometimes we create value, but that value doesn't end up with the person who did the investment or that value is less easy to quantify," Zachariasse says, adding that "it's harder to quantify what the value exactly is".
He points to integrated reporting as a solution for capturing the created social and environmental value of, for example, clean air or new business models based on leasing. "If it's hard to quantify residual value, maybe it's then interesting to do product-of-service strategies where you lease the product and the residual value gets discounted into the periodic lease payments for the product."
In Van den Tol's opinion, real estate investments should lead to a moderately higher returns for recyclable buildings. He estimates higher upfront costs that would be offset by lower maintenance costs and lower capex (see Higher returns for recyclable buidlings?).
A momentum for circularity in the built environment is gaining pace, but it will need a collaborative and creative approach based on trust to carve out its opportunities and make it truly happen.
Impact investing begins to hit home
1

2

3

4

Currently reading

Performance in the round