Impact investing has quickly become a hot topic in institutional real estate circles. Maha Khan Phillips looks at the latest initiatives and what is causing their appeal
At the beginning of 2019, CBRE Global Investors announced it had held a first close for its debut social and affordable housing fund in the UK. The CBRE UK Affordable Housing Fund raised about £250m (€220m) from 13 UK institutional investors, The Big Society Capital.
"We believe this is the first fund of its type in the market," says Hannah Marshall, head of UK funds at CBRE Global Investors. "It's going to be targeting institutional investors and is really focused on affordable and rented housing. That includes key worker housing, social housing, and hostels. We are seeking to work with existing government infrastructure, and we are not looking at working in competition, but as partners, sharing the risk."
Marshall says the fund represents an opportunity to help fill the funding gap that exists in the sector. "There is a structural mismatch between demand and supply in the UK, and we see that in this type of market as well," she says.
On the same day, the property arm of France's Caisse des Dépôts (CDC) said it had raised over €900m for its latest French housing fund. The social impact fund will seek to fund developments located in major French cities.
Both moves follow on from other recent initiatives. Late last year, the Co-op pension scheme in the UK awarded a £50m mandate to PGIM Real Estate to invest in social and affordable housing in the country.
PGIM Real Estate is also pursuing impact investments in the US, having hired Lisa Davis –who once led the Ford Foundation's affordable housing programme – in 2018 to lead its activities. In January this year, it made its first impact investment in the US, partnering with Hines, Urban Atlantic and Triden Development Group to develop The Parks, a 66-acre mixed-use, mixed-income neighbourhood in the District of Columbia.
At the time, Alfonso Monk, Americas CIO at PGIM Real Estate, said the investment would "bring new residents and vitality to a former military site that has been closed to the local community for decades". He described it as "an opportunity for our investors to seek competitive investment returns alongside positive social and environmental outcomes".
In December, Legal & General's subsidiary, Legal & General Affordable Homes, which launched in April 2018, was granted registered-provider status, helping push the group's affording housing initiatives.
Debbie Hobbs, head of sustainability at LGIM Real Assets, points out that the firm has a target of measuring social value across 20% of its real assets. LGIM also works with the Social Value Portal, a platform that allows organisations to measure and manage the social value that they generate.
"When you are adding social value, it is important to start with the survey of the needs of the local people," says Hobbs. "Often, we have occupiers in multi-let offices who have their own volunteer days and corporate objectives. If we can provide them with a list of things to get involved in, they are normally really keen to do that."
Other recent initiatives come from social impact investment company Resonance, which has joined hands with homelessness charity St Mungo's. In November, two London boroughs of Lambeth and Westminster invested £15m each into The Real Lettings Property Fund 2 (RLPF2). Launched in January last year, RLPF2 follows the original RLPF fund which enables local authorities to nominate individuals or households in Greater London, who will receive support from Real Lettings, the social lettings agency run by St Mungo's.
"There's a massive untapped need for residential property across the UK, to serve many beneficiary groups that social enterprises are working with, with homelessness being one of the most obvious areas," says Simon Chisholm, CIO at Resonance. He says investors are buying into the diversification benefits of impact real estate.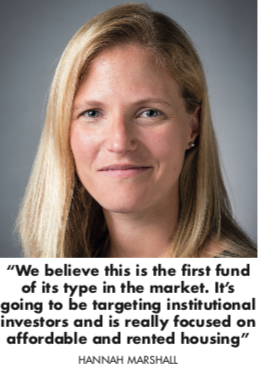 "It is quite clear that these funds have bought more diversification than traditional property funds," Chisholm says. "It's partly because you don't want to buy big blocks in case those effectively become de-facto hostels for people coming from a similar background, so it's much better to buy individual units across the city."
Meanwhile, in June last year, PfP Capital, the fund management business established by Places for People Group, launched a £150m fund in partnership with the Scottish government, to invest in mid-market rental properties, offering affordable housing to people on low and modest incomes.
"We are using the mid-market fund as a social value pilot," says managing director Chris Jones. "We are setting out a coherent approach to what social value is, and capturing the social value outcomes. By defining the outcomes and what they mean, and what they look like, we can work on developing reporting and supporting the wider institutional requirements on managers to make sure they can be transparent in the way they deploy their capital."
Why now?
Investors want to be a force for good. Globally, 21% of pension funds and insurance companies are actively developing impact-investing strategies, and a further 44% are considering it, according to the UK National Advisory Board on Impact Investing.
But current allocations only represent a fraction of the assets of global pension funds. The Annual Impact Investor Survey 2018, compiled by the Global Impact Investing Network (GIIN) revealed that $228bn (€220bn) of impact assets are being managed by 226 fund managers, foundations, family offices, pension funds, and insurance companies. It means that there is plenty of growth potential in the sector. Industry participants believe that key increases will be seen in real estate, not least because of the many social housing initiatives that have recently been launched by asset managers.
"Real estate really lends itself to impact investment," says Karen Shackleton, director of Pensions for Purpose, the initiative set up last year to promote impact investment among UK pension schemes. "You can disentangle the investment in the underlying asset and the impact you are having in quite a clean way, so that the investor receives close to or even market-rate, risk-adjusted return."
Shackleton believes there are several reasons why pension-fund allocations to impact investing have historically been low. A lack of data, product availability and education about the sector has played a part. "The truth is that, for pension funds, the appetite so far has been modest," she says. "I think that will grow, and that will be in part because of the rise of defined contribution [pension schemes], because the appetite from millennials for impact investing is growing."
Shackleton also argues that the sector is in a vicious cycle that needs to end. "There is a lack of knowledge, and a lack of consultants' recommendations for impact investing, which I think is a barrier. If you speak to consultants they say their clients aren't asking for these products, so I think this is a circular problem."
For their part, consultants point out that defining what 'impact' is and what it is not is part of the challenge. For the UK's Pensions and Lifetime Savings Association (PLSA), it comes down to intentions. "Investors use a variety of definitions when talking about impact, responsible or ESG investment," Caroline Escott, policy lead on investment and stewardship at the PLSA. "We think intentionality is key to differentiating impact investment – that is where an investment is made with a specific objective of creating a positive environmental or social impact, and where such impact can be measured."
But others adopt a more traditionally sustainable definition, focusing on risk mitigation and return as the main priority.
Paul Jayasingha, global head of real assets at Willis Towers Watson, says his clients are focused on adding value first, which means they do not define their allocations as impact investing, even though many initiatives would fall into that category. "If you define impact investing as considering investments for the social good, with return being secondary, then our clients wouldn't regard what they are doing as impact investment, because both are equal priorities," he says. "They are doing something impactful, but they are also getting a comparable return to the best opportunities in the market for their risk level."
But what Willis Towers Watson is offering under an ESG umbrella is, in fact, impact real estate. The firm is developing and investing in existing homeless accommodation, which is let on 20 to 25-year leases to registered housing providers, and is inflation-linked.
"So from a pension fund perspective, they are getting a perfect cash-flow match with their long-term liability," Jayasingha says. "Housing providers are pretty stable tenants, and are subsidised by the government. And on the social good side, there's a huge deficit of adequate homeless accommodation in the market."
Jeff Brenner president and chief executive of San Francisco-based Impact Community Capital, which was founded in 1998 by a group of institutional investors, believes investors should realise that impact investing does not have to mean making a choice between social good and return. "For our investors, there can't be a trade-off between return and impact," he says. "The dollars they are investing is the money you and I are
paying for car insurance or life insurance. It needs to be available to make claims, and investors have target returns across their portfolios. The investment thesis comes first, and our investors are investors first, but there are plenty of opportunities to do good."
Performance data would broadly support this view. According to a GIIN report, The Financial Performance of Real Assets Impact Investments, compiled by Cambridge Associates, the distribution of impact investing fund returns mirrors the distribution of conventional real asset fund returns – although real estate impact funds raised between 2004 and 2014 did not have as much downside as conventional funds over the same period, nor as much upside. And while they did underperform in the period up to June 2016, the IRR for the impact universe was pulled down by performance of a handful of larger funds. It means that getting access to the best opportunities is key.
21% of global pension funds and insurance companies are developing impact-investing strategies
"While individual fund returns vary a lot, just like they do in conventional real assets, on average, impact investing funds are able to generate competitive returns," says Abhilash Mudaliar, director, research, at GIIN. "The key to success is choosing the right managers."
Brenner points to the obvious diversification benefits that impact real estate adds as well, because of the countercyclical nature of the sector. "If we were in a peak real estate cycle, everything is expensive, which means affordable housing is really needed," he says. "If we are in a down cycle, affordable housing is still needed. It's not going to create high private-equity returns but it shouldn't, because it doesn't create the same level of risk."
Dearth of good quality data
Another challenge for institutional investors is the lack of high-quality performance data, and benchmarking on what social value they may be providing. Many institutions are working to address this. GIIN, for example, is working with Cambridge Associates to produce financial performance studies and is developing benchmarks.
In the UK, the National TOMS Real Estate Plug In 2019, developed in conjunction with the Social Value Portal, will look at value at every stage of a development, from design and planning, through to construction and how a building is managed and occupied.
Hobbs says it is about developing standardisation. "The issue we have at the moment is that people are measuring social value in different ways," she says. "The Social Value Portal has 30 local authorities who are all measuring in the same way, and we can differentiate ourselves after that."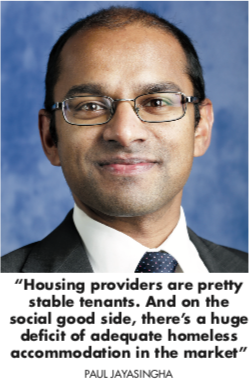 Occupiers, consultants, and property service providers are also looking at how to position themselves. JLL Upstream Sustainability Services, for example, says it is expanding its work in the area of socio-economic measurement and social value assessment for real estate. "We are seeking to bring industry rigour to this area to provide simple, effective tools for mainstream private and institutional real estate investors to use – for example, when investing in the build-to-rent sector," says Beth Ambrose, director of Upstream Sustainability Services at JLL.
Despite the challenges of standardising data and metrics, Anna Shiel, head of origination at Big Society Capital – the firm set up in 2012 to increase the flow of capital from impact-led investments to social organisations – believes the industry will mature as experienced fund managers enter it. "I think we need to build the relationship and way of working together between socially-led housing organisations and institutional investors," she says. "We need to see experienced fund managers who have credibility and trust with institutional investors enter the space. We know that it is difficult for first-time managers, no matter how good they are, to engage with pension funds."
Mainstream managers and banks are, in fact, entering the market, with the likes of Barclays, Bain Capital, TPG, Goldman Sachs, UBS, AXA, and BlackRock all making inroads, according to the UK National Advisory Board on Impact Investing.
Mudaliar is optimistic about growth, saying GIIN is "very bullish on the future" of impact investing. "We envision a future where the integration of impact considerations into all investments becomes the new normal," he says. "We see this happening for a couple of reasons. Changing social norms around the expectations of business and finance in society is one of them, but there is also a growing evidence base on the value of doing this for business performance and investment performance."
ESG data: Check your meter readings
1

2

3

4

5

Currently reading

Impact investing: Feeling the effects

6

7