Real estate investors are starting to take the concept of impact investing seriously, writes Richard Lowe
There is a difference between the current interest in impact investing and the more established forms of responsible or sustainable investing. The latter is fundamentally about mitigating risk and protecting value, while the former has a conscious objective to render a positive effect on society.
But impact investing is not all the same. In the first instance it can be differentiated between 'finance first' and 'impact first'. In simple terms, the former aims to have an impact while generating competitive financial returns for investors, while the latter assumes a below-market return in exchange for the impact.
The reality is not nearly so binary, and the grey area between finance-first and impact-first could be ripe for future opportunities for real estate and social infrastructure investors.
Elizabeth Corley, vice-chair of Allianz Global Investors, describes it as the area of "unchartered returns", where the risk-return profile is not fully known. Investors and fund managers that pioneer this grey area will eventually make it more visible and understandable for mainstream institutional investors.
Corley, who is chair of the UK government's taskforce on impact investing, told delegates at an Investment Property Forum (IPF) event in London this month that, "as you move across the spectrum" of impact investing, "the risk associated with the returns change".
She told real estate investors and fund managers: "You go from targeting competitive, risk-adjusted financial returns [to] impact-first, which is potentially below market returns." But in between is "uncharted territory" where the returns are less understood, but capital preservation is assumed.
The future of ESG and impact investing is therefore best understood as a spectrum of diverse approaches, where investors are able to choose how they balance environment and social objectives with financial returns.
"There is a progression from, if you like, minimalist ESG, which I think of as tick-box [exercises], exclusion-driven [with] no real interest in impact," Corley told the IPF audience. "The more sophisticated asset owners are starting to differentiate and segment ESG."
And the built environment – particularly housing and social infrastructure – is a natural target. Melville Rodrigues, partner at Charles Russell Speechlys, who chaired the IPF event, said one of the key questions related to "how we, within the property industry, can develop this agenda even more so and contribute to the progress".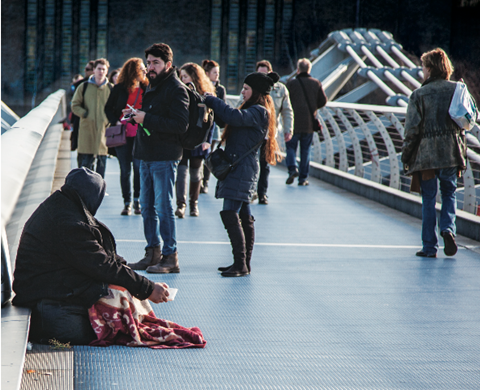 Resonance runs three different types of social-impact funds, focused on community assets, property and enterprise growth, respectively. CIO Simon Chisholm told the IPF event that all three had a real estate element to them and that the biggest had been the property funds.
The property funds, which seek to address homelessness in the UK, have collectively raised hundreds of millions, taking them to appropriate level of scale for institutional investors.
The property funds explicitly seek to "deliver a commercial, risk-adjusted return to investors", according to Resonance's website. Chisholm told delegates that the property funds "sit to the left-hand side in the sensible, risk-adjusted return territory".
John Levy, director of impact at Franklin Templeton Investments (which hosted the event at its office in London), said social impact was more challenging conceptually and in terms of performance measurement than environmental impact. But, he said, social infrastructure was the most obvious area to target.
"Environmental impact is often easier to understand and comprehend. It is quantifiable. It is tangible," he said. "Not necessarily easier to execute, but it is easier to comprehend. Social impact tends to be less quantifiable, yet we still think it is something we should attempt to measure."
And measurement is perhaps one of the biggest challenges for the development of impact investing. One of the five main areas of recommendation devised by Corley's taskforce – and outlined in the paper, Growing a culture of social impact investing in the UK, is on developing better reporting of non-financial outcomes.
But Corley readily admitted that there are risks of unintended consequences by pushing for greater reporting. It needs to be done carefully. "The act of measurement changes that which it measures," she said. "That is a profound danger as the mainstream comes into this space… that we actually distort the intentionality."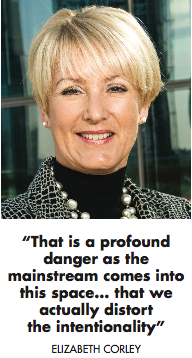 Investing in social infrastructure – for instance, providing more housing – can have visible benefits to local communities. But, Levy said, "it is not enough to just associate yourself with these assets".
To measure impact you need to set objectives and sometimes to set those objectives you need to speak to local communities and stakeholders to find out what is important and needed. "You have to have a theory of change… it's not about a metric," Levy said.
Franklin Templeton rates assets using its own internal system, factoring in things like accessibility. Its rating might not enable comparisons with assets owned by its peers but it does allow it to seek to improve an asset, putting in place a plan to take an asset from a 2 to a 4, for instance. "Our 2 is not necessarily easily compared to a competitor's measurement score," Levy said.
"Comparability is good but it's perhaps not the primary reason" for measuring impact, said Chisholm.
Resonance is looking to measure the impact of its property funds by examining whether they are having a positive impact on the individuals housed through its initiatives and whether they progress to finding accommodation in the private-rented sector, and get access to training and employment, for instance.
"We would argue the primary reason [of measurement] is to work out whether the impact is happening," said Chisholm. "The second reason would be to get hold of the information to make it better. And then the third reason might be to compare across investments."
Impact investing begins to hit home
1

Currently reading

Impact investing begins to hit home

2

3

4