A spate of natural disasters has highlighted the vulnerability of real assets. Chris Pyke and Heather Rosenberg explain how GRESB is responding
The end of 2017 opened the eyes of institutional investors and property companies worldwide. Within 90 days we saw billions of dollars worth of damage from a series of dramatic events: extreme rainfall in Texas; earthquakes in Mexico; wildfire in California. Three hurricanes swept across the Caribbean and Florida.
All of these events had a direct impact on property and infrastructure, disrupting business operations, damaging assets, and, most importantly, causing widespread loss of life and dislocation. The fourth quarter damage contributed to what has been reported as a record total of $353bn (€286bn) in losses, 93% more than the 2000-16 average (Aon Benfield 2017). The power and breadth of these events and cumulative size of the social and economic damage was as a tangible example of the shocks and stressors facing the property and infrastructure sectors.
Institutional investors have recognised these trends and begun to ask questions about the resilience of real asset companies and funds. There are new questions about the exposure of assets to chronic stresses and acute shocks and the capability of companies and funds to manage changing conditions. The focus of such questions varies, often starting with the narrow concept of climate resilience and expanding to a broad range of social and environmental issues.
More sophisticated market participants are increasingly taking a systems-based approach to manage multiple, interacting issues, such as climate change, urbanisation, population growth, and terrorism. Contrasting approaches are illustrated by the relatively narrow focus of recent recommendations from the Task Force on Climate-Related Financial Disclosure (TCFD) and the broad, integrative focus of the Resilient Cities Framework, sponsored by the Rockefeller Foundation. These efforts are amplified by investor advocates. For example, the Ceres Roadmap for Sustainability encourages companies to improve resilience in their operations and global supply chains.
Simultaneously, property and infrastructure companies have recognised these challenges and have begun to take action to assess risks and create more resilient assets and organisations. They are planning for the future, assessing risks, and adding new features to buildings and infrastructure. Recent examples of industry leadership include:
• Design and planning to anticipate sea level rise in the Pier 70 development in San Francisco (Forest City Enterprises);
• Development and application of new facility-level climate resilience scores for properties across Australia (Stockland);
• Development and implement of adaptation and community resilience features for large-scale urban regeneration projects, such as the Barangaroo in Sydney (Lendlease).
These efforts benefit from an emerging and maturing ecosystem of risk-assessment tools, scenario planning frameworks, management guidelines, and rating systems.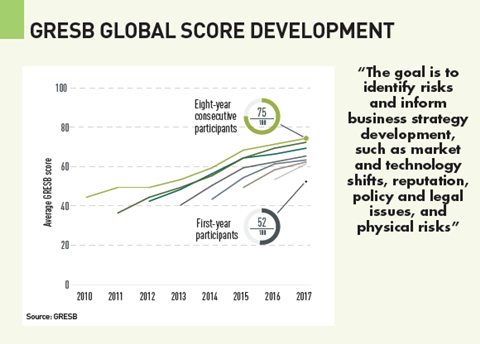 New information technologies are rapidly improving mapping of geotechnical hazards such as sea level, water stress, earthquakes, and other factors. Critically, most of these tools recognise that physical hazard is only one aspect of a risk assessment, and they increasingly integrate information on demographic, economic, and social factors. The ability to combine data about geophysical hazards with information about social and economic
factors is a significant step forward for risk assessment.
Geospatial hazard and risk-assessment tools complement new frameworks for scenario planning. These frameworks allow project teams to evaluate the consequences of future conditions and use these insights to inform business strategy. This type of scenario planning is an essential component of TCFD recommendations as a way to address irreducible social, environmental, and economic uncertainties.
TCFD recommends the use of scenarios that are plausible, distinctive – that is, representing different combinations of key factors – internally consistent, relevant to specific business issues or opportunities, and challenging with respect to conventional wisdom and business-as-usual assumptions (TCFD Technical Supplement).
The goal is to identify risks and inform business strategy development, such as market and technology shifts, reputation, policy and legal issues, and physical risks.
Tools for technical scenario analysis increasingly complement resources for larger-scale or systematic risk assessment. For example, the
Johns Hopkins University has developed the COPEWELL model to support the dynamic simulation of community functioning and resilience after disasters. This model supports the evaluation of multi-dimensional scenarios, including connections between internal (for example, social and economic coping capacity) and external factors (for example, provision of emergency governance resources).
Risk assessment and scenario planning tools are often critical inputs to a growing set of guidelines, benchmarks, and rating systems intended to support asset design and management. These resources provide definitions for 'leadership' or best practice for different types of property and infrastructure development. These tools typically address multiple domains of sustainability, including social and environmental resilience. Schemes vary with respect to the type of project and geographic area of use.
Collectively, these considerations and tools are driving discussion and building awareness about resilience among senior decision makers, both public and private. In turn, this feeds interest in greater transparency about resilience as an increasingly material dimension of environmental, social, and governance (ESG) reporting. This reporting rolls up or aggregates resilience-related actions across an organisation, including risk assessment, scenario planning, and the use of project-level guidelines and ratings.
Resilience module
GRESB has recognised and responded to this demand with the release of a new resilience module as a supplement for property and infrastructure companies and funds. It focuses on four critical aspects of risk assessment and management:
• Leadership and accountability;
• Situational awareness;
• Management goals and strategy;
• Implementation action and evaluation.
These new indicators will be scored and benchmarked for companies and funds around the world to provide investors and participating companies and funds with both absolute and relative information about risk assessment and management action. GRESB's experience shows that this kind of transparency builds awareness, supports investor engagement, and drives industry-wide improvements. GRESB anticipates that first-year results will be available in the fourth quarter of 2018.
All of these efforts point to a rapid change in expectations related to resilience. Sophisticated institutional investors expect more transparency in risk assessment and management. They want to know which hazards are material to a given portfolio and what, exactly, the management team is doing to protect business value, maintain continuity of operations, and safeguard human health and the environment.
Leading companies and funds are not waiting to be challenged on these issues. They are taking action on the ground to assess risk and design, build, and operate more resilient projects. The bottom line is that real asset investors can and should ask their investment managers how they will survive and thrive is the face of shocks and stressors.
Chris Pyke is the research officer for the US Green Building Council and Green Business Certification, and Heather Rosenberg is the founder of the Building Resilience Network
Denmark's early integrator
PensionDanmark continues to push ahead with its real estate sustainability goals on new and existing stock.
Rachel Fixsen
PensionDanmark's move to incorporate the principles of sustainability into its real estate investments was formalised in 2012, when it took the decision that all its new-build real estate would be sustainability certified.
In Denmark, buildings are graded according to the DGNB certification system – a modified version of the German DGNB run by the Green Building Council Denmark (DK-GBC). The €30bn pension fund says most of its properties are categorised as 'gold' in the system.
When it co-invests, PensionDanmark's projects use the US LEED system or the UK BREEAM system, which are similar to DGNB, with each addressing more than 300 points.
"They take a holistic approach now, and the issue is a dynamic one," says Torben Möger Pedersen (pictured), chief executive of the labour-market pension fund. "We are constantly trying to improve the quality of this. For example, it is now possible to get certifications for older buildings by retrofitting."
PensionDenmark owns 19 sustainability-certified properties, one of them – its headquarters – having been retrofitted to earn DGNB Gold certification for existing buildings. The retrofit two years ago included installing solar panels, which provide a substantial portion of the office energy consumption.
Last year, the fund went further by developing its own real estate sustainability programme setting out requirements regulating the financial, technical, environmental and social standards for the properties it builds. The aim of the programme is to reduce the environmental and climate impact of the properties, as well as improving the health and wellbeing of the people using them.
Companies working on the fund's construction projects have to demonstrate – before work starts – how they will fulfil the programme's requirements, including collective labour agreements.
The fund focuses on a building's financial costs throughout its lifetime, which includes keeping operational and maintenance costs low. The fund also goes to great lengths during the construction process to consult with neighbours and "heighten the social qualities" of the building.
As well as the resulting property, the building process must be sustainable. To this end, PensionDanmark addresses waste management and energy-consumption management at the construction site and requires documentation of used materials.
On the cost of incorporating sustainability into new builds, Möger Pedersen says the expense is worth it. "There is a very good business case for executing a sustainable approach. For us, doing things this way is attractive because we are also focusing on the financial sustainability of our real estate."
By concentrating on the efficient use of energy in office space, the investor ends up with a building that is not only of high quality for the tenants, but also has a high financial value for the owner. "There's no longer any contradiction between building for profit and building sustainably – we have developed models where you can do both at the same time," Möger Pedersen says. "Sustainable buildings have a higher value than non-sustainable ones, if you look at the lifecycle of the property."
Neither does a commitment to sustainability in construction limit the pool of potential partners an investor can choose from. "That was the case five years ago when we were the only large investor applying sustainability to our buildings. But now there are a lot of companies, such as engineering and construction companies, that are actually very eager to become partners with us precisely because of our approach. They see the need to develop their own capacities and skills in this area, and working with us may be an opportunity to do that," he says.
Social sustainability is part and parcel of the external certification schemes and PensionDanmark's new programme. Labour practices form an important element of this, with 10% of working hours on new building projects to be delivered by apprentices.
"We demand that all our contractors involved in the construction phase also have good labour relations – they have to adhere to Danish collective agreements," he says. "Sustainability is defined in a holistic way, encompassing not only energy efficiency but also the sourcing of the building material, quality of the product and the final property itself.
"You have to have high standards on all parameters in this business, not least because in the next few years you will see these standards becoming more defined. Potential tenants looking for new office space will look for facilities that have these features, so market power will be an important driver for this development on the demand side."
Climate Change: Weather report
1

2

3

Currently reading

GRESB: The need for a resilience benchmark

4

5

6

7

8

9

10