To put ESG theory into practice, real estate fund managers need good quality data. Some are taking it on themselves to get it, writes Christopher O'Dea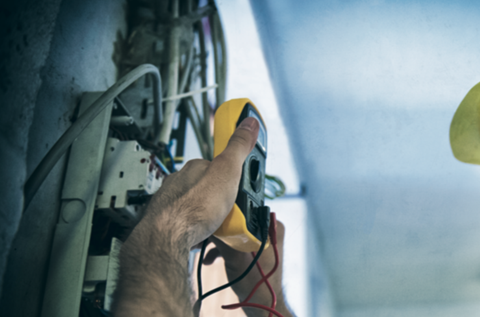 Real estate fund managers are feeling the heat when it comes to the energy efficiency of their real estate assets. They need to calculate carbon emissions and monitor their progress in cutting those emissions, but how do they obtain the necessary building-level energy consumption data? You might think it was easy as ringing up the local utility and asking for a copy of the energy bill. But it is not.
Progress is being made in the area of sustainability across global real estate markets – for example, in energy efficiency, renewable power sources and construction techniques – but the challenge of monitoring the progress accurately and consistently still looms large.
A big part of the challenge relates to certain human factors – in particular, the way energy consumption goals are described, and whether the need for accurate data collection is enshrined in lease agreements, and then whether property-level data is correctly reported and processed by third-party rating systems.
Some obstacles are legal or cultural. Tenants in some markets are less likely to release energy bills, or are not required to do so. Other challenges arise from routine operational aspects of commercial property management – in a given office building, for example, tenants might be responsible for paying the energy bill for a significant portion of rentable space, even if an institutional investor owns the asset and pays the lion's share of the energy costs. In such cases, it can be hard to pin down the full energy cost, as well as ensure that tenants are implementing the latest energy-saving and waste-reduction practices.
A major part of the problem is the array of ranking systems that have been developed to certify the efficient-energy credentials of commercial property assets. The ranking systems are inconsistent with each other, and some require more hard data that property investors need than others.
Pieter Roozenboom, global head of responsible investment management at CBRE Global Investors, likens the situation to driving a car. "You can have a very efficient car but if you drive it in the wrong manner, the car still consumes quite a lot of fuel, and it's the same with buildings," he says.
For that reason, certifications such as the Building Research Establishment Environmental Assessment Method (BREEAM) are just an indicator that a building has the capability to be energy efficient. "BREEAM is the label, but the real consumption data should come from elsewhere," he says. "It's already quite an effort to get reliable data about the space that we control, and even more difficult to get the right data about the space that is controlled by tenants."
Solutions are emerging, such as green leases that push tenants to collaborate on measuring energy usage and improving performance. There are efforts to persuade tenants that handle their own energy bills to share data with owners, and to improve the process of data collection from utility providers and building-level property managers, and in some cases designing proprietary technology to ensure complete and accurate collection of energy-consumption data.
"It's important for two reasons for us to get good insight into the real consumption data of buildings, for both leased square footage and common areas," says Roozenboom. "One is that pension fund clients are keenly interested in the energy consumption of their portfolios, not only to compare buildings but to translate consumption into carbon emissions to see if the data track with the goals they have set for the portfolio."
Occupiers have also added energy consumption to their due diligence checklists. "Tenants like to know how energy-efficient a building is, so they know what assumptions to make about the cost of occupying space and how that compares to other buildings when they are making a choice between locations."
To collect the data, "we are working on both levels", Roozenboom says. "We work with quite sophisticated technology to make sure that we get the data, as much as possible, directly from the utility providers, which can automatically populate a database that enables us to internally benchmark different assets against each other."
After a year of effort, about 60% of the CBRE Global Investors portfolio is covered by this approach, and "we are steadily increasing that", he adds. The results are tangible. "We are able to show which building is efficient, which building is not efficient, and where we have to take extra measures to increase efficiency."
Collecting consumption data from tenant-controlled space presents its own challenges.
"For that we need green clauses in our lease contracts," Roozenboom says. A green clause in the lease contract stipulates that the tenant will share its energy data with the owner and work together to improve the energy efficiency and ESG quality of the building.
Retail tenants, for example, often have their own meters and are billed directly by utility providers. "We'd like to see that consumption data and work together to decrease that, but you need the approval from the tenants to share that data," Roozenboom says.
Obtaining data by adding green clauses will take time. In the easiest cases, tenants will sign an addendum to existing leases. Others might prefer to wait for a lease renewal. There are cultural differences, too. In some countries, says Roozenboom, "everybody's willing to share that data because they all understand it needs to be done to make the proper analysis". But in other countries, and in sectors like logistics, where large tenants lease entire buildings, tenants are less willing to share data, often because they have direct contracts with utility providers.
Principal Global Investors is among real estate fund managers pushing for green leases. "We have looked at our lease language and adjusted our standard language," says Jennifer McConkey, senior director of operations and sustainability at Principal Global Investors. "As we do renewals, and we're doing new leases, we do require disclosure of tenant utility consumption for the purpose of whole-building benchmarking. That allows us to better identify and implement energy savings projects, and we're also are working on requiring some metering."
Is measurement fragmenting further?
Revising leases to compel tenants to report energy consumption data will help investors monitor carbon performance. But getting the wording right is not straightforward. "We see a direct link between the quality of energy consumption data and the language and reporting regimes that govern what data is collected and how it is reported," says Joseph Sumberg, co-head of private real estate at Goldman Sachs Asset Management.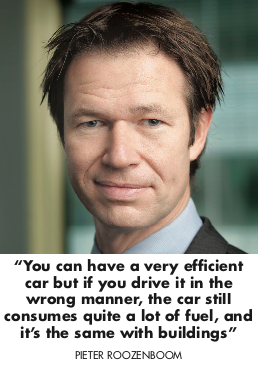 "It's encouraging to see asset owners empowering managers, but I believe one of the biggest issues with respect to ESG today in private direct real estate is that some institutional investors don't know the language to use to request delivery of their objectives."
The investment proposition for obtaining accurate energy data is straightforward. "The way we focus on ESG is simple," Sumberg says. "We believe it's profitable." The goal is to "grow margins and generate an ROI, and on the environmental side that means increasing rental rates, reducing utility expenses and reducing the frequency and cost of capital expenditures". The implementation strategy can similarly be stated in simple terms. "Integrate clean-tech building management optimisation through a variety of appropriate technology and processes," he explains.
But achieving those aims is complex. As investors and fund managers move beyond static energy-efficiency certificates to monitoring the energy efficiency of buildings in use, they are having to find their own solutions. "We're moving towards a more fragmented measuring system," Sumberg says. "The ability for investors to be able to understand the impact of the improvements that are being made, and the impact of those improvements on relative performance, has been made more difficult as the industry sort of migrated away from certifications as the primary way of being able to value whether or not to proceed with the endeavour."
A recent transaction illustrates the issue. Goldman Sachs acquired a value-add asset that required significant repositioning and recapitalised the building in concert with an operating partner. Although the property had a very high rating from Energy Star, "once we assumed ownership, we found a tremendous amount of opportunity for modernisation within the building systems such as HVAC and boiler upgrades, changing lighting to LED, and adding sensors," Sumberg says. Energy Star is a joint programme of the US Department of Energy and the US Environmental Protection Agency, covering 450,000 buildings. "The property was actually extremely inefficient, but because of the way information was being input into Energy Star, you'd never know," he says.
Inaccurate data inputs can skew the results of energy-use benchmarking tools, and such experiences prompted the team at Goldman Sachs to take matters into its own hands. "We're using Energy Star tools, and then layering on top of it a proprietary system for evaluating the efficiency and the absolute performance that we're achieving from the energy-related retrofits that we undertake with assets," says Sumberg.
The effort is a work in process. "It's very hard to do, we've migrated away from using third-party providers to measure energy consumption for our assets, and are moving toward doing it ourselves because we've been so displeased."
He adds: "We're engaging at every single one of our assets," says Sumberg. "We have a plan on the energy side, and a plan on the social side, which we believe are driving value."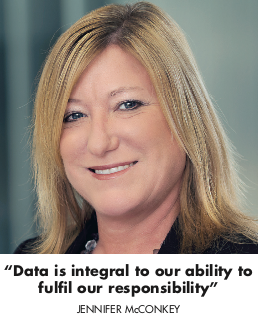 Other investors are also rolling up their sleeves to manually gather the energy consumptions data they need to validate their targets. Each month, external property managers manually enter data about energy, water, and waste consumption into Energy Star for about 35m sqft of space owned by Principal Global Real Estate vehicles. That covers approximately 85% of the total eligible office, retail and multifamily portfolio, excluding industrial assets and properties with unique operating models, those undergoing rehab or extensive construction, or which have just completed construction but are not yet stabilised.
"That data is integral to our ability to fulfil our responsibility," says McConkey. "We have established robust policies and procedures for our property management companies, and a responsible property investing handbook on our proprietary website for property managers discusses how we need to integrate ESG into the day-to-day management of our properties."
Principal is exploring how technology can help. "We are doing a data pilot to integrate software that can eliminate some manual keying," says McConkey. "Where local utilities make it available, property management teams are also encouraged to secure data on entire buildings, and use bill payment services and other third parties that engage with the utility data to do an automatic data exchange."
Despite data issues, improving energy consumption has become a reliable path to value creation. "We have a mandate from our investors to hit a certain return and create certain levels of IRR and cash flow, depending on the mandate," Sumberg says. "The myth in the industry is that you need to give up some performance in order to achieve a level of stewardship. We just think that's wrong, and we're doing this because we think it's profitable. A full building retrofit on the energy side is the same as renovating a lobby."
ESG data: Check your meter readings
1

Currently reading

ESG data: Check your meter readings

2

3

4

5

6

7