Investing in new sources of power and the technology assisting 'energy transition' is a natural avenue for ESG investors. Christopher O'Dea reports
The so-called energy transition – the shift in energy systems across the world, from fossil fuels to cleaner and more renewable sources – will be a long and complicated process. But it is already creating opportunities for institutional investors – especially those that are ESG-minded.
"It's a complex industry," says Mark Florian, head of the global energy and power infrastructure team at BlackRock Real Assets. Florian joined BlackRock when the firm expanded its platform with the 2017 acquisition of First Reserve Energy Infrastructure Funds, the equity infrastructure franchise of a leading global private equity firm exclusively focused on energy. "What investors don't immediately realise about energy is that it's a very capital-intensive industry," he says. "Significant capital will be needed to make this transition to cleaner energy happen."
An example is BlackRock's investment in a $1.5bn (€1.3bn) gas-fired power plant, the Lackawanna Energy Center in Pennsylvania. The 1,480 megawatt combined-cycle project will be one of the most efficient power plants in the US, employing three of General Electric's gas-powered, high-efficiency air-cooled turbines, three heat recovery steam generators, and a steam turbine to maximse usage of the heat from natural gas generation as fuel.
Capital is just one part of such transitional investments. "Once you put in all that capital up front, you have to operate a lot of heavy equipment for a long time, and do it well," says Florian. "The Lackawanna plant should last 40 years, so the best investors are focused on our operational capabilities."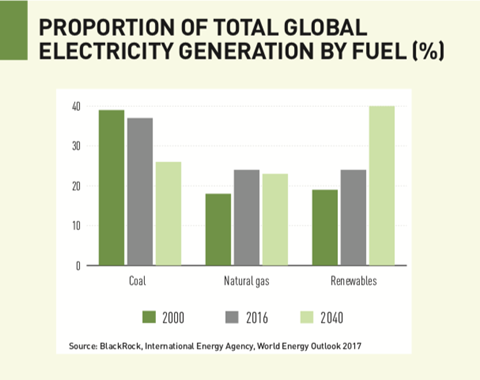 He adds: "A lot of work goes into the engineering and construction, and then ultimately the operation and maintenance of these facilities. We typically partner with leading energy companies, but to ensure integrity for our own funds, we also have operating engineers on our team. We have people who come into work in loafers, and we have people that come to work in steel-toed boots."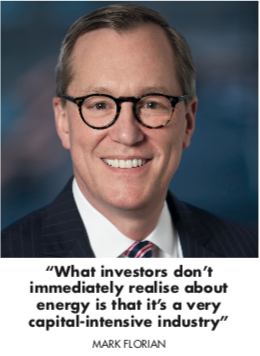 While gas-fired power plants present a significant opportunity to replace the coal-fired generation, investors are setting their sights on the next stage of the transition.
"Infrastructure investors have shifted towards renewables because of various governmental policies that have encouraged utilities and other power buyers to enter into long-term contracts around renewable assets," says Stephen Dowd, partner and head of infrastructure investments for CBRE Caledon Capital. "Infrastructure investors like [long-term contracted revenue] and those with lowest risk tolerance can now buy into operating wind farms and solar farms that have 15 to 20 years left on their contracts and secure a predictable return stream over a longer period of time."
While there are not many institutional infrastructure investors involved in the relatively higher-risk development stage of renewables assets, Dowd says, "those with a greater risk tolerance can perhaps buy into a portfolio that has some operating assets and some infrastructure development".
Energy storage technologies are likely to present new opportunities for investors. Dowd says: "I believe batteries have the potential to evolve similarly to gas-fired power and renewable power. There has been some movement on combined renewable-and-battery projects, and I think we'll see more of those over time. We have also seen a few battery-only storage projects, and that will be an interesting area to watch over the next few years."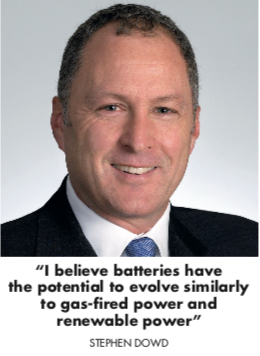 The energy transition could lead to other infrastructure opportunities related to new technologies such as smart meters and distributed generation. However, some of these emerging areas, even storage, are not currently investable for infrastructure debt investors due to a lack of certainty over long-term revenues, says Darryl Murphy, head of infrastructure debt at Aviva Investors. Revenue uncertainty "is leading to aggregation from equity investors, which in turn can provide opportunities to provide long-term leverage", he says.
The pace of the energy transition varies from region to region. Western Europe is furthest along, investment managers say. Efforts by major investors and government policies subsidising renewables jump-started technologies and encouraged adoption by energy suppliers and consumers alike, and energy-infrastructure transactions are now becoming larger and more complex.
Dutch pension provider APG, for example, recently increased its investment in Småkraft, a sustainable Norwegian hydropower company, by €48m to €300m. Formed through a 2017 merger with a competitor that created the largest operator of small hydropower plants in Europe, Småkraft operates more than 100 power plants across Norway, which derives nearly all its power from hydro sources. The company aims to double its renewable energy capacity to 2TWh (terawatt hours) in 2022, enough to supply 570,000 households with sustainable energy. Småkraft buys the right to operate power plants for 40 years, and can export and import power through grid connections.
The investment puts APG at the leading edge of the transition – the International Energy Agency (IEA) predicts that renewable energy sources will be the largest source of power for industrial production globally by 2030. The IEA also expects the cost of renewable energy to fall substantially by 2040, with the cost of solar energy declining 40-70%, and wind energy costs declining 10-20%.
The scale of renewables projects is increasing as costs fall. Ørsted Wind Power has published plans for Hornsea 1, which will be the world's largest offshore wind farm, generating 1,218MWh (megawatt hours). The capacity of Hornsea 1 will be almost double the current largest offshore wind farm, and generate enough electricity to supply a million UK homes. To finance the massive project, Ørsted sold 50% of Hornsea 1 to Global Infrastructure Partners, and arranged a £400m (€352m) package of fixed-rate and inflation-linked bonds from
Aviva Investors' infrastructure debt and structured finance teams. "This is a transformational deal for the European renewables market," says Murphy.
Fuelling the transition
Such transformation might still be some time off in other markets. For one thing, conventional sources still comprise about 95% of energy production over the past several years, despite the rapid development of renewable technology. "There is a lot of discussion of how wind and solar are changing markets, and we're very supportive of that and have invested in those assets," Florian says. "But, even with all the investment that's gone into wind and solar, together they're still only about 5% of the total global energy usage now. It's going to take a long time to fully transition."
Natural gas is playing a key role in the transition in North America, as well as parts of Latin America. "Natural gas is much cleaner than what we have today, so I believe it's part of the longer-term energy transition," Florian says.
The significant new supply of natural gas in the US is driving change on several fronts. "The average coal-fired plant in the US is about 35 years old, and some of them are 50 or even 60 years old," says Florian. "Those need to be replaced, and it's an appropriate move to replace them with natural gas, wind, solar, other renewable resources."
95% of energy production still comes from conventional sources, despite advances in renewables
Natural gas releases about 60% less carbon than coal, and the US power industry has cut reliance on coal from two-thirds of power plants to about 30% today, he notes. Natural gas can also be delivered directly; BlackRock owns a utility outside of the power generation market that delivers natural gas to customers in four states including Maine and North Carolina, where natural gas comprises less than 20% of the market's energy for use in buildings. The utility will run a gas pipeline into commercial, industrial and residential buildings, replacing fuel oil or propane with cheaper, cleaner gas.
In Mexico, BlackRock has invested in three wind farms, as well as a pipeline bringing natural gas to the industrial heartland of Mexico, which has helped the country dramatically reduce its reliance on costly, less environmentally-friendly fuel oil to produce electricity, Florian says.
One of the principal developments in the energy transition – and one creating significant new investment opportunities – stems from new technology. "We believe the mobility of natural gas is a big trend," says Florian. "With the ability to freeze natural gas into a liquid state, we can find natural gas in the US and send it anywhere in the world."
This has created the need for an entirely new global infrastructure system: pipelines to transport natural gas to export terminals; export terminals to transform the gas molecules to liquid; specialised ships to transport the energy to receiving terminals that turn the liquid back into a gas for distribution to end users, in many cases through new delivery systems. South Korea and Japan, for example, have become major customers of US natural gas. "You can imagine that whole value chain needs a massive amount of capital investment," Florian says.
The energy transition is creating investment opportunities across the infrastructure capital stack. "We've seen continued strong activity for debt capital in the energy sector," says Andrew Jones, who leads AMP Capital's infrastructure debt activities globally including AMP Capital's infrastructure debt funds. "About 25% of the investments that we secure for our funds have been in the renewable sector, so that's a key focus for us."
Businesses that liquify and transport gas have also provided opportunities to deploy debt, Jones says. "The large, very capital-intensive export facilities with long-term contracts to ship [liquefied natural gas] are classic infrastructure assets have been an attractive source of deals for us."
While the abundance of cheap natural gas is creating opportunities for investors to finance new types of energy infrastructure, the gas glut is slowing the transition to renewables in the US. "In the US there are still state-based incentive schemes to encourage renewables to play a role alongside of gas," Jones says.
But technological progress has been sufficient to enable renewables to be included as a standard element of the energy supply curve in other regions. "As the cost of technology continues to decrease, certain parts of the world have already reached the tipping point where it's more cost-effective to add renewable power," says Jones. In Western Europe, for example, "several countries have issued tenders asking providers to offer to supply wind-sourced power or solar power at a bid with no subsidy at all", he says. "They've reached a level where they compete head-to-head with other sources of power in those markets."
While the energy transition will continue to progress at varying rates around the world, there is no doubt that the journey towards a cleaner energy future is under way. Institutional capital will play an essential role in financing the transition, as will the considerable talent pool in the infrastructure sector, says Dowd.
Many institutional investment managers with experience in infrastructure, especially in North America, have prior experience structuring the long-term contracts for previous generations of energy assets, he says. As a result, "infrastructure investors are playing a very active role in this energy transition".
ESG data: Check your meter readings
1

2

3

4

Currently reading

Energy transition: Transition management

5

6

7