---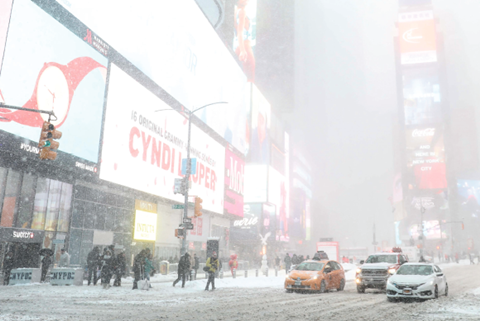 Climate change and the science addressing it are shaping the future of real assets investing. Christopher O'Dea speaks to the investors and managers at the forefront
Quinn. Riley. Skylar. Toby. It is not a list of this year's most popular baby names, but rather the names of the record-setting string of four winter storms that hit the Eastern Seaboard of North America this March.
At one point, three nor'easters – cyclonic storms that form off the East Coast of the US – buffeted New York City and the surrounding region within just 10 days. Strong winds and low pressure systems off the North Atlantic Ocean dumped as much as a foot of snow and freezing rain in some locations, downed utility lines, disrupted air and ground transportation in one of the heaviest-travelled corridors in the US, and breached seawalls, leading to flooding in numerous coastal towns and roads and widespread power outages. Government officials warned residents to forgo unnecessary travel and stock up on water, food and batteries.
The Big Apple received more snow on an April day – nearly six inches – than it had in almost 40 years, forcing the Yankees to cancel their home opener just a day after a 60-degree Easter Sunday.
Outbreaks of lighting indicated that some of the systems were thunderstorms that produced snow instead of rain – meteorological oddities. Thunderstorms occur when air rises, which rarely happens with sufficient force in winter systems. Large formations, the storms at times extended as far west as Lake Erie, as far north as the Canadian maritime provinces and as far south as the Carolina coast, where one Maersk line ship lost about 70 containers overboard as it battled heavy seas 17 miles offshore.
The month-long bout of storms highlighted the reality that no part of the real assets allocation spectrum is insulated from the risks posed by climate change. In-depth discussions with investment managers and capital owners reveal how many are seeking ways to reduce their carbon impact and enhance the 'green alpha' of their real assets allocations, often by adapting tools from climate and physical sciences.
Climate risks pose a unique challenge to property investment managers and their institutional clients. Pension funds that want to get their capital out of harm's way or reduce their carbon footprint cannot simply divest property assets in the way they can sell shares of coal miners or oil producers. In fact, by that logic, every company's shares could be subject to divestment because building emissions constitute one of the major contributors to global warming – and every company uses some form of built property to conduct its activities. Similarly, the unfavourable carbon profile of property itself could render the asset class uninvestible under a strict interpretation of emission-reduction mandates.
Neither outcome would be feasible for institutional investors. Clearly, another solution is required. Faced with climate-change risks, investment managers and capital owners alike are looking to scientific disciplines as they work to transition the built environment to a sustainable foundation. The best practice in setting emission reduction goals is now science-based targeting, and some managers are working to increase the level of engineering knowledge of the personnel who oversee capital and operate buildings.
Environmental factors have become the dominant element in the environmental, social, governance (ESG) triumvirate – they are more readily measurable by objective metrics, and can be directly linked to building operating costs. Real assets investment committees increasingly require sustainability reviews for new acquisitions, and those now typically encompass sophisticated assessments of the latest technologies for energy generation and storage, water capture and recycling and waste processing. Some investors have used digital mapping tools to project how their portfolios would fare under various climate scenarios, in some cases raising questions about assets in coastal markets. Scientists at one university have demonstrated how street patterns magnify 'heat island' effects that make cities a major contributor to global warming – and how statistical physics techniques devised to study atoms can help investors mitigate those impacts (see Heat islands and green roofs).
The single biggest catalyst for adoption of ambitious sustainability targets in the real assets sector has been the 2015 Paris climate accord, in which nearly 200 countries agreed to implement the United Nations Framework Convention on Climate Change (UNFCCC) in 2020. The UNFCCC calls for greenhouse gas emission policies limiting the increase in the global average temperature this century to "well below" 2°C above pre-industrial levels. The related goals are to increase the ability of their economies to adapt to the adverse impacts of climate change, foster climate resilience and encourage economic development at low levels of greenhouse gas emission in a manner that does not threaten food production, while encouraging financial investment in low-emission, climate-resilient development.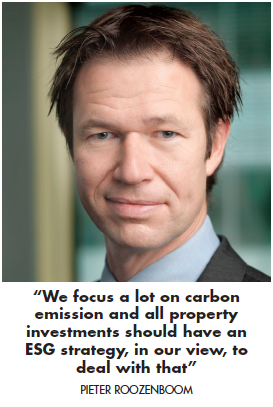 There is ample room for the real assets sector to contribute. Buildings use more energy than any other industry – accounting for 45% of total energy consumption in the US alone, according to CBRE research. And buildings generate about one-third of greenhouse gas emissions globally, according to a report on the performance of commercial buildings by the Carbon War Room, Richard Branson's climate-change initiative, which is now part of the Rocky Mountain Institute, a US energy think tank that has pressed for market-based solutions to reduce carbon emission since 1982.
Reducing environmental impact is the primary driver of the rapid growth of GRESB, which assesses the sustainability performance of property and infrastructure portfolios and assets worldwide through ESG data, scorecards, benchmark reports on investment managers, and portfolio analysis tools. Since 2009, GRESB has become the global standard for benchmarking ESG and sustainability performance for the real assets sector, serving more than 200 members – including over 70 institutional investors, with more than $17trn (€14trn) in capital. In 2017 GRESB assessed 850 property portfolios, representing more than $3.7trn in assets under management, and more than 200 infrastructure assets and funds.
"We see more and more evidence that there is a positive correlation between ESG performance on the one hand and risk-adjusted return on the other," says Sander Paul van Tongeren, co-founder and managing director at GRESB. Unique among real assets and property benchmarking services, GRESB covers both listed and unlisted vehicles, providing managers the ability to assess their ESG performance against peers that are investing in the same property types within the same regions.
"Most institutional investors or pension schemes look at a full set of ESG indicators, and that is reflected in our assessments," says Van Tongeren. Social indicators cover key stakeholders, including tenants – now referred to as customers in many markets – employees of the investment manager, the supply chain for the construction, operation and maintenance of a building, and the local community. Governance assessment focuses on sustainability efforts, covering joint ventures, unlisted funds, separate accounts or listed companies.
But the environment is the main event. "The real drivers are environmental indicators like energy, water usage, waste processing and greenhouse gas emissions," Van Tongeren says. "Those are quantitative indicators that are also used by building certification schemes," accounting for about 25% of the weight in an assessment. The advantage of quantitative data is that "it's measurable", he says. "You can set targets and monitor improvements of portfolios over time and, of course, it also clearly links with stricter and tougher environmental regulation globally." Assessments consider policies, but GRESB focuses heavily on implementation measures taken by managers. "In the end, policies alone will not improve underlying performance," Van Tongeren says.
Investors and managers leading the charge
Managers are dusting off their slide rules to develop science-based targets for carbon reduction. Several managers pointed to the efforts of the UK-listed property company, Landsec, as the leading model of science-based targeting. With the launch of a new sustainability strategy three years ago, the UK real estate investment trust (REIT) determined that carbon emissions and energy use were the "most significant and material sustainability issues by a considerable margin", says Caroline Hill, head of sustainability and public affairs at Landsec.
A 2018 target for energy reduction had already been met by 2016, and did not cover carbon impacts or the entire portfolio. "We needed a new target and we wanted to be far more ambitious in terms of the level of reduction in energy usage we wanted to see in the portfolio, and also to be a carbon target for the entire portfolio," Hill says.
The exercise was imbued with the spirit of the Paris climate accord. "I was lucky enough to go to Paris and hear businesses outside of our sector talk about their approaches," Hill says. "That was how I got interested in SBTI, the science-based target initiative."
A collaboration of NGOs and climate scientists, the initiative devised a methodology that allows businesses to determine what they need to do to help limit the global average temperature increase this century to just 2°C.
Hill's team retained the Carbon Trust, a consultancy, to help Landsec calculate the energy and other efficiencies it would have to achieve at the buildings it owned in order to do its part in reaching the Paris carbon reduction goal. The model, the sectoral decarbonisation approach, sets targets by combining a company's business mix and growth assumptions with an industry baseline. Because the portfolio changes over time, the target is an average of how much energy is consumed per square metre of space for the buildings in the portfolio each year compared with the baseline year of 2014.
Landsec's target is a 40% reduction by 2030. "It's not a matter to forget about and come back to near 2030," Hill says. "We're working with bespoke energy plans for every single asset to achieve 2-3% reductions in the portfolio annually to be able to hit that goal."
Science-based targeting "has transformed the way the business thinks about carbon", Hill says. Previously, energy management was the domain of engineering and operational colleagues who were tasked with fine-tuning existing systems to achieve modest reductions. "We've turned that on its head to ask what we must do to achieve a 40% reduction by 2030," she says. Investment decisions now zero in on the energy performance of potential acquisitions. "If we take on a building with poor energy performance, we want to know what investment we need to make to stay on track to reach our target."
Managing to science-based targets pays off in two ways. It has led to additional investment in energy technology such as onsite renewables – solar panels at a shopping centre in Leeds last summer produced 50% of the project's daytime energy requirement – and it gives Landsec employees a boost. "Our people feel quite proud to work for a company that has taken a leading position on climate change and reducing our carbon footprint," Hill says.
Setting carbon impact targets is not the only way science-based thinking is affecting real assets investment decisions. The need to manage portfolios through the lens of quantifiable environmental performance – and related social and governance factors – calls for training the whole property management supply chain in the theoretical and practical aspects of sustainability. All asset managers at LGIM Real Assets receive sustainability training, says Debbie Hobbs, head of sustainability at the £27bn real assets group. "The other thing we do which focuses minds is that a percentage of the asset managers' appraisals – and their bonuses – depends on them meeting their sustainability objectives for the year."
Objectives are based on an annual best-practice benchmark for environmental performance called the Real Estate Environmental Benchmark (REEB) developed by the UK Better Buildings Partnership with 27 large property investment managers and owners. For LGIM, the main target is for all buildings it owns to be in the upper quartile for energy and water consumption, augmented by a risk measurement. "Not all buildings are going to get there straight away," Hobbs says. "But it's an aspiration to get all of our buildings into this bracket."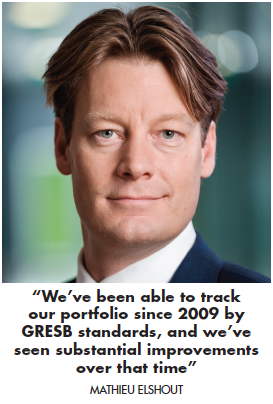 An engineer by training, Hobbs joined LGIM after a stint running a climate-change practice for an international environmental consultancy. In addition to quantifiable metrics, LGIM includes a component to encourage its managers to work with the managing agents who look after assets daily to creatively improve sustainability performance. "You can't really score that one too hard and fast," Hobbs says. "But we wanted to make sure it wasn't all just about numbers, and encourage something a bit outside the box."
Hobbs believes there is a need for more engineers within property investment to redress a lack of asset maintenance since the financial crisis, and to more effectively optimise buildings. "Minimising cost is fine for a couple of years, but if you don't maintain a building things wear out and your capital costs go up," she says. "We're in a phase in the industry where we're trying to get engineering skills back into our supply chain."
With a focus on quantifiable performance taking hold, the global priority on sustainability and environmental performance is entering a new chapter, Hobbs says. Following a presentation in the UK by Paul Bannister, the energy consultant who designed the National Australian Built Environment Rating System (NABERS), a group of property investors prompted further research about why buildings in the UK used twice as much energy as comparable buildings in Australia running the same HVAC systems, boilers and other equipment.
"If anything, Australian buildings should be more energy-intensive because they need more cooling," Hobbs says. "They're very good at using less energy and designing buildings to use less energy because there's an incentive – in Australia, if they don't achieve this performance in use, the landlord has to pay a penalty or rebate to the tenant." And with UK tenants paying operating costs through a service charge, sustainability initiatives have been pushing against decades of leasing practice that mitigate against the kind of investments needed to reduce emissions and water usage. A rating system like NABERS or the Energy Star system used in the US, Hobbs says, would help multi-asset fund managers in Europe better measure performance in use – and better implement more rigorous carbon-mitigation targets.
While climate change goals are geared to an average global temperature, real assets portfolio management must still reflect regional and local market factors, asset type and portfolio composition, and the type of investors in any given vehicle.
Given that building energy consumption causes about 40% of global carbon output, "we focus a lot on carbon emission and all property investments should have an ESG strategy, in our view, to deal with that", says Pieter Roozenboom, global head of responsible investment management at CBRE Global Investors. But one size will not fit all. "The ESG target depends on the portfolio, and could also depend on factors such as the type of investors," he says. "The choice we've made is that for every fund we manage, we should have an ESG strategy that fits with the portfolio of that fund."
Assigning measurable indicators to track progress towards each objective is critical, and CBRE Global Investors has spent the past year enhancing its green investing policies by identifying ESG targets and designing metrics for the portfolios it manages. "The major shift we've made in the last year is to set measurable targets for all the funds," Roozenboom says.
The drive for sustainable certification of buildings across portfolios earned Roozenboom a spot as a 2018 finalist for an individual leadership award from BREEAM, which certifies ESG performance of property. He estimates that 90% of the firm's commingled funds now incorporate ESG targets. The rest are funds coming to the end of their lives.
For commingled funds, CBRE Global Investments has the discretion to make the major decisions regarding the ESG strategy, while separate accounts involve engagement with the investor. "We apply the same approach that we do for funds, but we're also dependent on the interest and ambition level of the investor," Roozenboom says. "There's not a lot of difference between the ambition level of European investors and US investors, where our clients are mainly large pension funds; they are very focused on ESG as well."
In the case of separate accounts, Roozenboom likens the process of setting the ambition level to a "workshop session" with clients. "Some clients might want to be more ambitious, and would like to be ahead of the science-based targets of a 2% to 3% reduction in carbon emissions per year and aim to reduce carbon emissions by 4% per year instead," he says. But ambition comes at a cost. "Clients will ask: is that difficult? Early on it's not that complicated, but over the years it becomes more and more difficult, obviously, because you have picked the low-hanging fruit," he says.
Reaching the Paris accord goals by 2050 will require investment managers and owners to pick more than low-hanging fruit. "You don't achieve an 80% reduction [in carbon emissions] by just changing to LED lighting," says Roozenboom. "We need more innovation in building systems to be able to lower the carbon emissions from buildings, going forward, and on top of that we need green electricity to heat our buildings."
Investors force a sea change
Some pension funds are greening their portfolios even more rapidly – so rapidly that they are leaving sustainability stragglers behind. The message from PGGM is clear: as fiduciary for the €197bn fund for Dutch health-sector workers, it requires all property managers to be GRESB participants for the lifetime of any investment the fund makes with a manager. "Otherwise we can't do business," says Mathieu Elshout, senior director, private real estate at PGGM.
That's a sea change from a decade ago, when PGGM first adopted a responsible investing policy for property. "At the start of the journey we included an investment belief that sustainability pays off," says Elshout. "It was important to call it an investment belief, because at that time not all evidence was fully clear that sustainability would pay off."
It seemed that tracking the effects of sustainability efforts would be useful, so even as the financial crisis unfolded PGGM worked with APG, USS and the University of Maastricht to form GRESB to measure asset-level performance, as well as the sustainability status of property investment managers and property companies. "We've been able to track our portfolio since 2009 by GRESB standards, and we've seen substantial improvements over that time," Elshout says.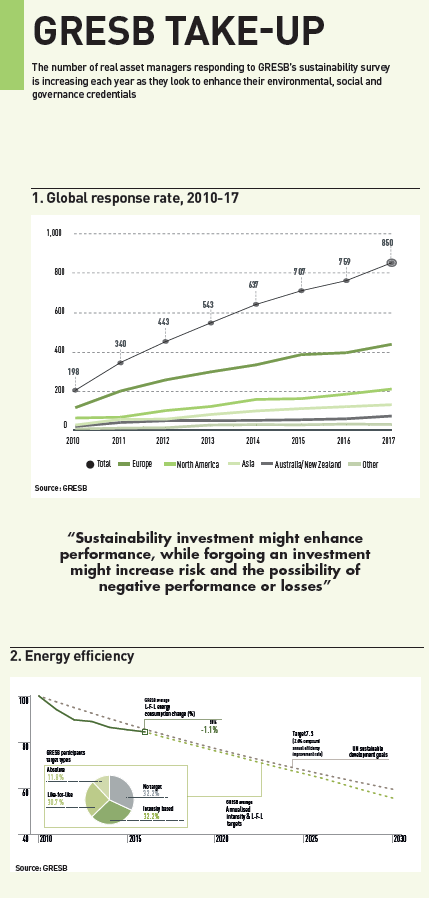 But the market has also evolved – raising the bar managers and pension funds must surpass to achieve superior performance on sustainability metrics. So far, Elshout says, the sustainability of PGGM's portfolio outpaced the improvement of the broader property market – 86% of the private property portfolio carries a GRESB green star and one-third of the portfolio ranks in the upper quintile of GRESB sustainability performance – but that does not limit the Dutch investor to acquiring assets that are already kitted out for emission reduction, efficient waste processing and positive community impact.
"It's not only about investing in the greenest companies or the greenest real estate," Elshout says. "Now we're fairly happy to invest also in assets that we feel are not there yet, but we feel we can de-risk these assets and add value by improving them in term of sustainability," he adds. "But we always need a manager and a platform operator to do it."
Rigorous sustainability reviews are going global. At TH Real Estate, the process used in Europe and Asia-Pacific is being rolled out across the US this year, says head of sustainability, Abigail Dean. The two-step process first assigns cities a composite sustainability score based on vulnerability to climate change, air quality, and the carbon intensity of grid electricity. Due diligence includes input from TH research, the investment team's assessment, and peer review from a manager not directly participating in the transaction.
"Then we do a sustainability paper," Dean says, which will assess factors such as the energy efficiency of the building, the vulnerability of the specific location to climate change, and information on the resilience of the individual building to potential risks. A bit of scientific analysis is in order as well – engineering due diligence might include evaluating how well a building could withstand heat stress, and how future-proof the energy system is. "The investment committee needs to sign off that they're comfortable with the property from a sustainability perspective," Dean says. "It brings another element of risk and opportunity to the decision-making process."
Now that sustainability has been established as an essential component of investment policy and portfolio construction in the real assets sector, consistently measuring is a top priority for investors. New INREV sustainability reporting guidelines from 2017 will help. "As an investor we want to know our carbon footprint, and more and more, we are also challenged on that by supervisory bodies that want to know how we are dealing with the energy transition," says Elshout. "We have to know the energy use of our portfolio in order to have a view on the climate risks attached to our portfolio."
To increase control over such factors as the portfolio expands – and to maintain a high rate of sustainability improvement – PGGM has launched a series of joint ventures around the world working with local operators to identify assets for which PGGM believes it could reduce energy use by at least 25%. Following an initial foray targeting London offices, in which gas usage at one building was cut by 77%, PGGM has launched partnerships in Paris, Seoul, Berlin, and Milan. "It has to be viable financially, otherwise we won't be doing it," Elshout says. With agreed-upon sustainability goals, "managers that have boots on the ground are more focused on realising these targets".
Annual sustainability reviews with managers are becoming best practice in the real assets sector, providing a mechanism for investors to keep up the pressure on managers to maintain the rate of improvement in sustainability scores, as well as to monitor both financial and regulatory risk.
As part of APG's responsible investment team of 15, Derk Welling, senior responsible investment and governance specialist, is involved with the investment process for property and infrastructure at the €475bn Dutch investor that oversees retirement assets of civil servants. This includes sign-offs on new investments. The sustainability review typically entails questions to the APG investment team, which interacts with a project sponsor or external manager to ensure risks are sufficiently mitigated. A GRESB assessment of each manager is required for both infrastructure and property allocations, and all new managers must participate in the annual GRESB survey for the duration of any APG investment.
Annual sustainability reviews are becoming more rigorous as GRESB evolves, Welling says. Initially, entities that received a score higher than 50 on both GRESB's management and policy, and implementation and measurement dimensions received a green star. But the ability to discern exceptional sustainability results declined as more managers achieved green stars – so GRESB added a relative score to better differentiate performance. Having harvested much of the low-hanging fruit, the effort and creativity needed to achieve annual improvements has increased. "A relative score means that we want to challenge the top performers," says Welling, "because when the top performers do not improve, the whole benchmark will not improve, so we also take the opportunity to engage with the GRESB five stars, and see how we can challenge them to improve their score."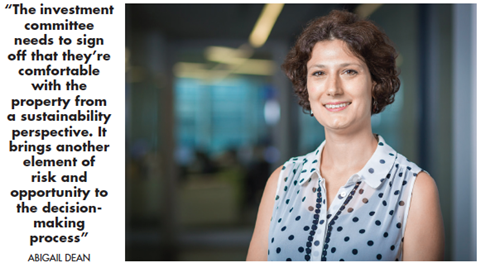 The upshot is that "we are entering a new era where we pay more attention to individual asset performance," says Welling. The need to gather relevant data will continue to expand. Managers often limit collection of energy data to those parts of a project where the landlord obtains energy, but tenants pay for energy in many assets fitted with newer technology, which can leave an incomplete picture of the energy consumption and carbon emission of an entire portfolio. That is why APG welcomes the new GRESB requirement to report tenants' energy use. The goal is to understand what percentage of investment value is allocated to excellent, outstanding or very good ratings, Welling says. "We consider that a proxy for the risk in a portfolio, especially for regulatory risk," he adds. "The direction the regulators are taking is very clear, that they will become much more stringent in this area."
Most importantly, several managers noted that the Financial Stability Board's Task Force on Climate-related Financial Disclosures (TFCD) has issued recommendations for disclosure of climate-related risks by all companies. The TFCD issued supplemental guidelines for property and other real assets sectors, which the group believes "more likely than others to be financially-impacted by climate change due to their exposure to certain transition and physical risks around greenhouse gas emissions, energy, or water dependencies". Although voluntary, the TCFD disclosure framework has garnered support from pension funds – a group of nine, including Norges Bank Investment Management, Aviva and Caisse de Dépôt et Placement du Québec, are working with UN Environment on a pilot implementation.
Broader disclosure of climate-related risks could help real assets managers solve a key problem – collecting comprehensive, accurate data needed to measure environmental impact. "We still lack granularity on intensity of use to be able to monitor targets for decreasing emissions and consumption," says Etienne Dupuy, managing director of asset management, Europe, at Invesco Real Estate. Monitoring progress is vital to tracking the effectiveness of sustainability expenditures on new or existing assets, he adds. "We identify assets which are good candidates for improvement initiatives, and then we work on them, with our tenants," he says. Invesco seeks to raise the certification status of its entire portfolio by bringing existing assets to higher certification standard, often by tapping specialised consultants to make specific upgrades.
This may be the right approach. Changing the sustainability status of a building during the holding period is the primary way green measures can improve investment performance, says Jacques Gordon, global head of research and strategy at LaSalle Investment Management. "Movement in the e-performance characteristics of a building can improve financial performance, but improvements need to be market sensitive and cost-conscious to be successful in terms of both financial and e-performance metrics," Gordon says. "You can over-improve a building in ways the market is not willing to compensate. That equation can get out of balance, so you need to have a payback commensurate with the investment in sustainability features."
Investors that buy assets with existing high sustainability ratings might be disappointed. While research by Dirk Brounen and Maarten van der Spek found that a 10-point higher GRESB total score corresponds with a 34bps higher annual fund return, academics have not been able to identify a universal 'green alpha'.
Research does confirm that green features such as rent and occupancy generate clear premiums, Gordon says, but those sustainability credentials are capitalised in the purchase price of a building, so an investor would have to pay more to acquire the higher rental income of a high-credentialled building. Gordon believes such assets may prove to carry lower risk over the next decade, largely because they will be less subject to obsolescence. "What we know for sure is that if we invest in the right green features for a building, financial performance will improve," Gordon adds. "It's a matter of going green or getting greener."
The need to identify appropriate sustainability expenditures can be a challenge, says Duncan Hale, senior investment consultant and portfolio manager at Willis Towers Watson. "Whilst managers are open to engaging, it is actually hard to determine the salient things that will affect long-run performance," he says. Sustainability investment might enhance performance, while forgoing an investment might increase risk and the possibility of negative performance or losses, he says. With rapid adoption in its short existence (see figures 1 and 2), Hale adds, GRESB has set a global standard, and some clients now ask Willis Towers Watson to consider only fund managers that have a GRESB score.
Ultimately, managers must deliver performance. "Many of our clients are truly fiduciaries, so the return of the portfolio is paramount," says Kevin Nagy, assistant vice-president in Callan's real assets consulting group. In fact, ESG factors provide "concrete levers to drive value" in the near and long term, says John Goldstein, managing director at Goldman Sachs Asset Management.
"We sit down with our property team and together with them have done some training for pension funds in terms of how they think about using environmental engagement to drive value in their property portfolio," he says. "Sometimes it's relatively straightforward, such as significant ROIs [return on investments] for energy and water savings in the near term," he adds. Sometimes a longer view is in order, "such as thinking about the structure of leases and how utility bills get passed through in areas with water stress, where water pricing may become an issue over time".
While the importance of sustainability varies among clients, based on manager research "the trend recently is that there is much higher tenant demand for green buildings," says Nagy. "Tenants want to see that the building they're going into is LEED-certified or has an Energy Star rating."
Increasing occupier demand for green premises would be a first step on a long journey. The World Building Council has concluded that to meet goals of the Paris climate agreement, all new buildings should be net-zero carbon by 2030, says Welling, and that all existing buildings should be net-zero carbon by 2050. But today only 0.01% of the total building stock can be considered net-zero carbon. While much progress has been made, "we should not underestimate the huge challenge that the real estate industry is facing", Welling says.
Investors turn forecasters
Climate-risk disclosures could soon be made mandatory, but Landsec and PGGM are already assessing how changes in the climate might affect their portfolios.
"The industry needs to acknowledge that climate change is happening, and start to actually assess the risk that it poses for us and our assets," says Caroline Hill, head of sustainability and public affairs at Landsec.
In conjunction with Willis Towers Watson, Landsec has undertaken an assessment of climate risk across its portfolios, modelling the impact of global-warming scenarios ranging from the more positive outlook that assumes global warming this century can be kept within a 2°C average temperature increase, to a middle ground assuming a 3°C rise and a far more negative scenario in which the average surges by 4°C.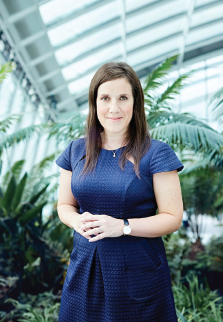 "We had [consultancy] Willis Towers Watson map out what these different scenarios would mean for where our assets are now in the UK," Hill says. The forecast encompassed flood risk, wind and weather patterns, and different heating and cooling requirements under each scenario. "We projected for the first time the impacts on a portfolio basis, with time scales up to 2030 and then beyond."
The bottom line: cooling costs will significantly increase with hotter weather in the UK, particularly in the south. Heating costs are going to decrease. Floods will become more frequent, both inland and along the coast. And the pattern of windstorms within the UK will change.
"We're now engaging actively with our portfolio colleagues to look at what this means for us as a business, and some really interesting questions are stirring up," Hill says. Landsec has not disclosed the full report. One example the team is pondering is: "In the long term, should we continue to manage coastal assets in the same way? That's a question mark coming out of this work," Hill says.
Dutch investor PGGM is working with property data platform GeoPhy to map its portfolio in terms of quality, climate change exposure and related risks, says Mathieu Elshout, senior director, private real estate at PGGM. The climate change models highlight regions facing increasing events such as storms or flooding. "We want to have a clear picture of not only our current position, but what we might expect to change over a 10 and 20-year horizon," he says.
"These are only models, but we will have a feel for how the risks in the portfolio are evolving, where we have to act, and where we might not want to invest further if we feel the risk is mounting."
Elshout says the analysis has made one thing clear: "There are still quite a few challenges out there".
Heat islands and green roofs
Urban populations are increasing, driving demand for residential, office and retail property.
Demographic and urbanisation trends promise to create mega-politan zones covering hundreds of kilometres. China's Greater Bay Plan aims to meld several large cities, including Hong Kong, Dongguan and Shenzen, into a coastal colossus rivalling London and
New York, while some investors predict the West African coast from Lagos, Nigeria to Abidjan, Côte d'Ivoire will become the largest contiguous urban area by the middle of the century.
The irony is that the tendency of cities to act as heat islands is a significant cause of the global warming that fuels climate disruption. The density that gives rise to the high 'walkability scores' also attracts and retains heat from the sun and human-generated sources on the ground.
The annual mean air temperature of a city with 1m people or more can be 1.8-5.4°F (1-3°C) warmer than its surroundings, according to the US Environmental Protection Agency, rising to a difference of as much as 22°F (12°C) in the evening. The added heat increases summer peak energy demand, air conditioning costs and greenhouse gas emissions, and can degrade water quality.
Emerging solutions rest on evolving scientific understanding of how the built environment interacts with the climate – and how to fine-tune that interaction to mitigate warming.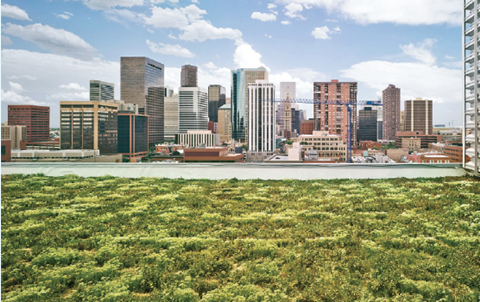 Green roofs have rapidly gained support from property investors seeking to reduce operating costs and to raise the green score of portfolios, and many cities have encouraged use of green-roof technology with incentives. This year, the US city of Denver adopted a mandate – the most stringent in the US – following passage of a grassroots ballot initiative requiring all new buildings over 25,000sqft to dedicate 20-60% of their roofs to solar power or rooftop gardens.
The effort was based on the campaign that resulted in Toronto adopting a mandatory green roof bylaw in 2009, which resulted in a 30% drop in green roof costs over the ensuing six years, according to Ginkgo Sustainability.
The Mile High City does not have to worry about coastal flooding. But in New York City, concerns about the impact of rising sea levels and almost year-round storm surges sparked one local firm, DFA, to design 19 flood-resistant residential high-rises for a conceptual project at Manhattan's Pier 40.
Using City of New York sustainability planning data, DFA assumed the sea level would rise by 11-30 inches by 2050. Built of laminated timber – an emerging technology in sustainable forest products – building lobbies would be usable until waters rose too high, then residents would enter the towers through terraces located above lobbies.
While not likely to be constructed any time soon, the flood-resistant towers illustrate the complexity and urgency of the challenges that global warming and climate change already pose to urban property. Scientists at Massachusetts Institute of Technology (MIT) adapted classical statistical physics techniques devised to understand how atoms interact with each other to describe how a city's design and building spacing would influence its heat-island effect.
They concluded that heat released by buildings at night is absorbed by nearby buildings, so cities with orderly street grids produce much greater heat islands than those laid out in disorderly fashion. These differences in patterns, which the MIT researchers call "texture", are the most important factor in a city's heat signature.
The upshot is that while it is simpler to follow a grid for building footprints, utilities and transportation, in the age of global warming it might be well worth the extra time and capital to opt for a less linear layout.
Using maths from physical sciences to optimise asset and project design might be the next phase of science-based targeting for the property sector, and managers might have to add or access new quant talent to remain competitive.