Australia's superannuation funds are leaders in ESG. As the country's Modern Slavery Act comes into force, they are reinforcing their position, writes Florence Chong
Environmental, social and governance (ESG) in Australia has progressed from climate-related topics to issues such as human rights and slavery. As fund executives tasked with implementing the principles of responsible investing see it, labour practices form the very core of social sustainability.
Australia's fast-growing superannuation fund industry has its roots in the trade union movement – born of a need to protect worker rights. So it would be a great irony if, as custodians of workers' savings – and with patient capital to invest for the long term – the industry did not seek an end to worker exploitation.
Australia's Modern Slavery Act took effect from January this year. The Australian Council of Superannuation Investors (ASCI) has been drawing up a strategy to protect workers' health and human rights. It is a strategy focused on equities, leaving the super funds themselves, with their large portfolios of real assets, to develop and implement strategies and guidelines.
Nicole Bradford, head of responsible investment with Cbus, says "modern slavery and more broadly human rights" will be an area of fund focus in 2019. "It is part of the mix of companies being aware of – and taking responsibility for – their operations and supply chains," she says. "But the legislation only addresses issues such as forced labour and child labour. Through our active ownership programme, we also look at companies we invest in through the lens of the sustainability of their labour practices, including occupational health and safety."
For First State Super, which manages A$92bn (€56.5bn), the onus of ensuring that the fund is compliant with the new modern slavery legislation will rest with asset managers investing on its behalf.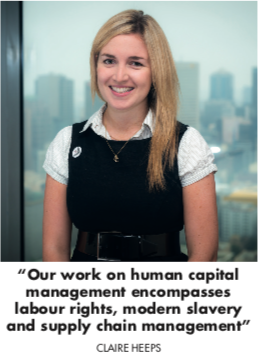 Liza McDonald, head of responsible investment with First State Super, says: "We have a series of measures (related to the new legislation) and questions that we ask our fund managers.
"When we invest with them, we are looking for alignment on ESG issues – such as their own practices or policies on diversity, and how they assess companies or investments that form part of their supply chain. Do they employ people using proper contracts, and are their employees paid appropriately?"
Aside from monitoring its external managers closely on ESG compliance, McDonald says First State Super expects them to provide examples of how they are integrating ESG into their strategies, including their voting and engagement activities.
Claire Heeps, senior ESG analyst with Australian-Super, the country's largest fund, says: "Our work on human capital management encompasses labour rights, modern slavery and supply chain management. Climate change and human capital management are priority areas within our ESG and Stewardship Programme, along with other important ESG issues such as governance."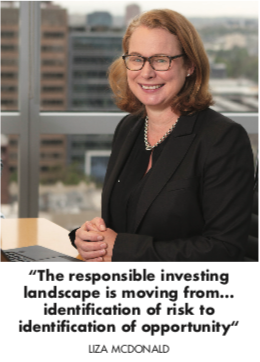 Ruben Langbroek, head of Asia-Pacific at Green Real Estate Sustainability Benchmark (GRESB), says modern slavery is part of social sustainability considerations. This is an area, he says, that is "more specific" to Australia, where the property industry has recognised it has a central role to play in sustainable development and delivery of social sustainability outcomes. "Equality, diversity and inclusion are topics much more at the forefront of the minds of asset managers in Australia than anywhere else," he says.
Langbroek says the new Australian Modern Slavery Act – modelled on the UK's – is an important reporting requirement for larger companies operating in Australia. "In many other countries, including the US, nation-wide legislation on supply chain transparency is currently lacking," he says.
He adds that super funds like Cbus, which represents the building and construction sector, have increasingly adopted a sustainable development framework, including policies on social inclusion. "Cbus and its property arm, Cbus Property, can directly impose their policies on their construction sites," he says (Green by design).
The Property Council of Australia (PCA) is working on a platform to help stamp out human-rights abuses from supply chains. The fact that Australia has embraced modern slavery as part of social sustainability comes as little surprise to people like Langbroek. Australian super funds, he says, already lead their global peers in embracing ESG. Some 15% or so of GRESB global investor members are Australian.
"Super funds want their real asset investments to generate (positive) environmental and social impact," Langbroek says. "Impact investing has shifted from a niche concept to a mainstream investment strategy that is rapidly becoming more interesting for investors as they come to understand that they have a unique power to drive positive outcomes in the property sector."
Matthew Clifford, head of energy and sustainability services, Asia-Pacific, at JLL, says Australia's property industry has been at the forefront on ESG for seven or eight years. "Despite its small size, Australia has punched above its weight in terms of sustainability," he says. "Super funds have been the main drivers. Certainly, a large number of them are saying we need to be cautious of long-term trends and long-term risks."
Debate in Australia over the impact of climate change is strident, both in political circles and publicly. But Clifford says investment executives are pretty savvy. "They tend to trust the intelligence that is out there," he says. "They are concerned that climate change might have a negative impact on their property investment. They want to know what to do to future-proof their assets."
Jorge Chapa, head of market transformation with the Green Building Council of Australia, says: "The fact is that the question [of the existence of climate change] is settled, whether you believe in the science or not. Public opinion moves slowly, but with force. Right now, a movement is happening in this space. You can expect it to grow. I will wager that ESG compliance is a continuing focus for super funds over the next three to five years."
Social awareness, peer pressure, domestic legislation and international initiatives such as the Task Force on Climate-related Financial Disclosures (TCFD) and the United Nations Principles of Responsible Investing (UNPRI) have pushed institutional investors to increase ESG compliance. Initiatives like TCFD, set up by the Financial Stability Board, boast backing from global investors overseeing assets valued at almost US$100trn (€88trn).
Chapa says these initiatives have given board directors food for thought, and have changed mindsets. "Previously they might have said, 'this is not within our remit', or they did not see [climate change] as a settled issue. But now, in the TCFD, there is a codified fiduciary duty to act."
Bradford says organisations like the UNPRI require Cbus to complete annual surveys. Cbus uses UNPRI to benchmark its performance as a responsible investor. "Cbus published its first comprehensive corporate responsibility report for the 2017-18 financial year. This incorporates reporting against TCFD for the first time," she says.
McDonald says: "What has changed in the responsible investing landscape is that it is moving the discussion from identification of risk to identification of opportunity. So, yes, while there are long-term environmental or social risks, it is about understanding the impact of our investment while also looking at the positive benefits from that."
Case Study: Green by design
Australian super fund Cbus leads its peers in targeting a carbon emissions-neutral property portfolio
Florence Chong
The A$48bn (€30.2bn) Cbus super fund has drawn up a climate-change roadmap with actions and timelines to see it through to 2020. Cbus released its plan in September aimed at reducing the carbon emissions of its entire property portfolio to zero by 2030.
Of all of Australia's super funds, Cbus is uniquely placed to aggressively push ahead with its emissions-neutral strategy, especially with regards to real estate. Its property arm, Cbus Property, is one of Australia's biggest developers. It was rated third globally for all GRESB categories in 2018.
Cbus head of responsible investment Nicole Bradford says the emissions target will be achieved through use of leading-edge materials and technology in new buildings. "We will update buildings in our portfolio as new technology becomes available, and create work spaces that enhance the wellness of the people who work there," she says. "Cbus already has a highly-sustainable property portfolio, particularly in the properties we own through Cbus Property."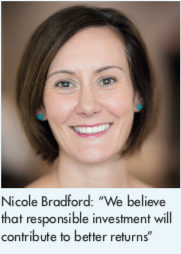 Cbus Property has a 'green by design' mandate that puts sustainability at the core of its design and development approach.
Asked if Cbus is prepared to compromise high sustainability standards for returns, Bradford says: "We don't believe that incorporating responsible investment involves such a trade-off. If anything, it should drive better, more sustainable, longer-term returns."
Bradford cites the performance of Cbus Property. It has created more than 90,000 jobs in Australia from its inception in 2006 and delivered strong returns for Cbus members, averaging 16.2% per year since 2006.
A net zero-carbon emissions programme has also been drawn up for the Cbus infrastructure portfolio. Cbus owns one of the largest portfolios of private and public infrastructure assets in Australia.
Bradford says the aim is to achieve the net zero-emissions target for its infrastructure portfolio by "a similar date to property" (by 2030). "But we acknowledge that infrastructure is a different asset class, and that there are different challenges within the portfolio to achieve this outcome."
More work will be done this year to strengthen the climate-change plan for the Cbus infrastructure portfolio, she says.
Cbus was an early adopter of ESG principles. "We believe that having responsible investment as a key pillar of our investment approach will contribute to better returns over the longer term," Bradford says.
Cbus formalised its position on ESG with the creation of a responsible investment team in 2009, although it began to consider ESG issues when making investments well before then.
The responsible investment team is expected to expand even further as issues such as human rights and modern slavery come onto its agenda.
Heeps says: "AustralianSuper manages the investment risks and opportunities that these factors create while leveraging our size to influence improved performance on these issues at the asset level. A specific example is AustralianSuper's support of the GRESB framework, which has a core focus on monitoring and improving sustainability in our property assets, including energy and water efficiency."
Where they do not have direct control over the assets, super funds work closely with managers to ensure that they have credible ESG policies – and adhere to them. And they say they set responsible investment requirements in their mandate agreements with external managers.
Heeps says: "We look at the ESG policy and approach of our asset managers as part of our ongoing monitoring and engagement with managers. We believe the best outcome is to work with our managers. As ESG is embedded in our unlisted investment process, it should be embedded in our managers' processes as well."
A spokesperson for REST Super says: "We believe investment managers who identify and effectively manage risks, including sustainability risks, are more likely to produce better long-term financial performance. A deep understanding of ESG issues is important to sound investing."
But REST Super adopts "a balanced" approach. "Rather than including or excluding investments solely on a single risk or issue in isolation, we balance each risk against the probable benefit of holding an investment," the spokesperson says.
Super funds also say they are not walking away from investments or managers that are not ESG-compliant – rather, they are working with them to foster change.
"We seek to actively consider and manage the risks," the REST Super spokesperson says. "This helps improve the sustainability of returns – through direct engagement with a range of partners such as investment managers and advisers."
McDonald sums up the thinking of her peers: "We are long-term owners. The infrastructure assets we are holding are for duration of 10, and sometimes, 20 years. The longevity of our investments is the reason we need to understand – and manage – the risks and opportunities that exist within our portfolio."
ESG data: Check your meter readings
1

2

Currently reading

Australian investors: Supercharged ESG

3

4

5

6

7