A greater proportion of institutional investors are active in infrastructure, and most plan to raise allocations, according to research by IPE and IPE Real Estate.
The latest IPE Institutional Infrastructure Survey, launched today in London, also suggests most investors no longer perceive the asset class to be expensive.
Last year's research showed that institutional interest in infrastructure continued to rise despite pension fund concerns over rising prices.
This year, notwithstanding growing competition in the market, the majority of investors surveyed (57.4%) no longer perceive infrastructure to be expensive – up from 47.2%.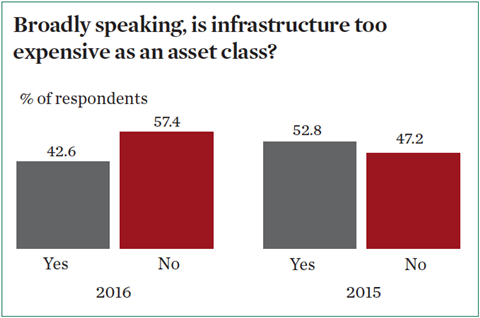 The survey, launched today at the Real Assets & Infrastructure Investment Strategies conference, shows that more than three-quarters of investors (76.1%) are investing in the asset class, up from 65%. Of those not active, the vast majority (70.1%) said they might invest in the future.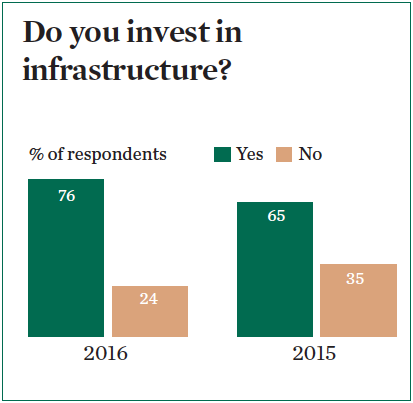 However, none of the 71 institutions surveyed had definite plans to enter the asset class, in contrast to the previous research, which showed 10.5% had plans in place.
The proportion of those with no intention of entering the asset class remained just below the one-quarter mark (23.5%, up from 21.1%).
Of those investing in infrastructure, approximately two-thirds (66%) expect to increase their allocations over the next 18 months, and nearly one-third (32.1%) plan to retain current levels.
A British exit from the European Union is also expected to have no effect on most investors' infrastructure strategies.
Nearly 80% said it would have no effect, although 18.5% said they would reduce their existing and future investments in the UK.
Other findings include the growing importance of social impact and environmental sustainability on investment decisions, and an increase in the creation of standalone infrastructure allocations.
The latest survey, conducted between July and September 2016, drew on data from 71 institutions from Europe, North America, Asia-Pacific and the Middle East, collectively owning €1.65trn of assets.