Mark Faithfull asks why the world's biggest REIT, better known for scale than innovation, is ripping up the retail rulebook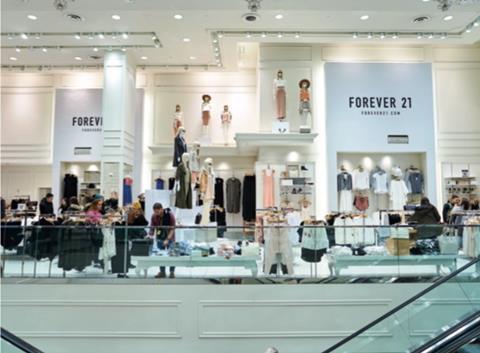 At a time when physical retail, and by default retail destinations, is being buffeted by ill winds in every direction, it would appear foolish to invest in shopping. Which in the case of US-based Simon Property Group, the world's biggest retail real estate investment trust (REIT), is true. And also not true.
Simon operates 235 shopping centres around the world, the vast majority in the US, and made its name and fortune on the kind of cookie-cutter retailing that once ruled middle America, and which is rapidly falling apart. Its response has been to embark on a process that the shopping centre industry has dubbed 'densification', redeveloping its malls to introduce a host of other uses, from co-working to apartment living, gym and leisure concepts to healthcare facilities.
At the same time, immediately after its latest earnings call at the end of July, CEO, president and chairman David Simon intimated that the solution to declining retail tenants might be to save them through acquisition. Simon has form. In October 2016 it teamed up with mall owner General Growth Properties (GGP), now owned by Brookfield Property Partners, to rescue embattled teen fashion retailer Aeropostale as part of a group that won an auction to buy the brand out of bankruptcy. At the time, Simon had close to 160 Aeropostale stores in its portfolio and GGP had 77 outlets.
On the prospect of doing something similar again, Simon says: "I think it's very possible – we're going to be very smart about it. We're certainly as good as the private-equity guys when it comes to retail investment. And so, I wouldn't rule it out. We'll work together on other distressed situations." He adds: "We're only going to buy into companies that we think have brands and that have the volume that is worth doing."
Simon is already a partner with Authentic Brands Group, an umbrella for brands such as Juicy Couture and Nautica, and there is growing analyst speculation that the next deal could be with fast-fashion retailer Forever 21, which is reported to have been asking its biggest landlords if they would consider taking a stake in the business as it explores restructuring options. Forever 21 swept into many troubled malls to snap up vacant department stores at rock-bottom prices, but cavalier expansion has left it with more than 800 stores and as Simon's seventh-largest in-line tenant in terms of rent roll, with 99 stores across its portfolio.
Even more significantly in terms of future direction, Simon Property Group's second-quarter 2019 earnings posting included updates on more than 20 projects seeking to turn areas formerly occupied by retail stores into hotels, offices and residential.
One such example is a proposed eight-storey Marriott hotel at its Sawgrass Mills shopping centre near Miami, Florida. The 174-room hotel will feature a luxurious lounge with an upscale bar and restaurant and a 24-hour fitness centre.
Another is The Shops at Clearfork in Fort Worth, Texas. The upscale, mixed-use development features a mix of retail, entertainment, residences and offices and is located just off the I-20 orbital highway and the Chisolm Trail Parkway, connecting Downtown where a convention centre and several large medical institutions are located.
That mix of millennial-attractive amenities has attracted WeWork which, along with other co-working operators, is increasingly looking to piggyback retail locations. In fact, Simon has been leapfrogged by some rivals, most notably Macerich, which has a multi-site deal with co-working brand Industrious, and Westfield, which pioneered the concept.
Simon is redeveloping 30 properties at a cost of $1.7bn (€1.5bn), a large portion of which is for densification projects. And this is hardly new. As far back as March 2018 the company put in a planning request for one of the US's oldest shopping centres – Northgate Mall in north Seattle – to reduce the retail, and to add offices and a large residential complex.
Simon has also made a $5m minority investment in Black Ridge Acquisition, which has signed agreements to acquire Allied Esports and the World Poker Tour. David Simon says he would like to use malls as exhibition halls for e-sports events to drive traffic and sponsorship income.
"This is exactly the type of innovative activation that excites our customers and drives traffic," says Mark Silvestri, executive vice-president – corporate real estate. "Simon's successful locations are ideally suited to provide these new and exciting community spaces, complementing our other dynamic offerings."
Vice-chairman Richard Sokolov adds: "Yes, some people could look at the demise of certain anchors as a sign of impending doom. We look at it in the complete reverse as a significant opportunity, because we're now getting the ability to take that space and redevelop it with accretive returns on investment and higher rents."
Outside the US, the company, which part-owns French retail developer Klepierre, also has stakes in 42 international outlets – a trend-busting retail niche – including pipeline outlets in Normandy, Malaga, Bangkok, and Cannock.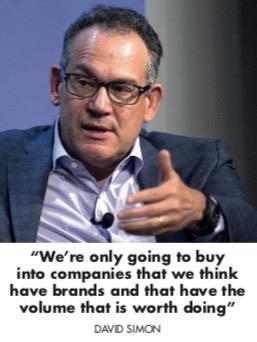 Not all shareholders are convinced by Simon's strategy. By late summer, shares were trading at a fraction off a five-year low, although this perhaps reflects investment sentiment over the volatility of the retail market and not the moves the company has made to diversify and densify uses. Even though Simon stock has not performed well lately, institutional investors and hedge funds own 93.79% of the company's stock and Simon also has a robust balance sheet. This means it has plenty of capital to fund more deals. It ended the latest quarter with more than $6.8bn of liquidity.
For investors, the present low share price might well make the REIT an unusually attractive prospect. Jitters over the future of physical retail appear to have spooked the market about anything to do with shopping centres. Yet, as ever, the devil is in the detail. The reality is that much of Simon's future is invested in better-performing and expanding sectors, and the company has almost unparalleled financial muscle for making the structural changes needed to re-imagine its portfolio.