The sector will become increasingly important for institutional investors as environmental policies kick in. But, for now, renewable infrastructure valuations remain high, writes Maha Khan Phillips
One hundred and ninety countries made history in December 2105 when they came together in Paris for the COP21 climate summit and reached consensus on how to tackle the world's growing environmental crisis. The outcome of the summit was celebrated by policy-makers around the world. Nations committed to a decarbonisation programme. They also committed to keep global temperature rises 'well below' 2°C.
Among institutional investors, there is genuine optimism about the outcome, and about the opportunities that might follow for energy infrastructure, and renewables in particular.
"What struck me at the conference was how many financial institutions are now speaking out on climate change," says Erik-Jan Stork, senior sustainability specialist at APG Asset Management. "There was an overwhelming amount of investors who also committed to decarbonising their portfolios, and to investing in solutions."
Stork, who attended the summit, said that he was surprised that the agreement to try to limit the rise in global temperatures to 1.5°C made it into the final text. "I think the result was above expectations, and I'm glad the agreement includes regular monitoring and valuations, and on where we are on meeting the targets."
APG has its own targets to meet for 2020. Last year, its pension fund parent ABP, which has approximately €356bn in assets, announced plans to radically overhaul its investment policy to focus on responsible and sustainable investing. By 2020, ABP plans to cut its CO2-related investments by 25% of the overall share portfolio. Investments that contribute to a 'better and cleaner' future are set to double from €29bn to €58bn by 2020.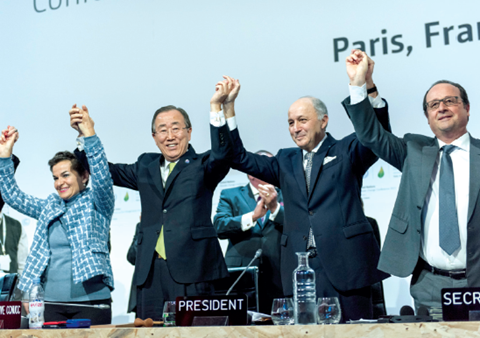 APG itself is increasing its renewable energy allocation from €1bn to €3bn over three years, and to €5bn by 2020. "It took us 10 years to reach the €1bn mark for renewable energy, so doubling that in three years requires a significant step up in the pace in which we make these investments," says Stork. "We are encouraged by some of the developments that we see, in terms of the bigger projects, and quality of the projects, and better policy frameworks. But if we want to achieve our new 2020 goals it is necessary that we get better policy across the world to make renewable investments a valuable investment opportunity."
But there is still a long way to go. Across Europe, institutional appetite for renewables is strong, according to survey commissioned by Aquila Capital, the alternative asset manager. Of the 100 institutional investors surveyed in October 2015, 61 expect to increase their exposure to renewable infrastructure and a further 30 plan to maintain it over the next three years. Just three respondents predict a fall in allocations. Nearly half of respondents (48) cited portfolio diversification as the main reason for investing in renewables, closely followed by reliable long-term cash flows (44) and portfolio returns (43). Environmental factors were cited by only 22 investors as their primary driver.
Despite this, figures compiled by data provider Preqin revealed that the number of merger and acquisitions worldwide in renewable energy fell from 392 in 2014 to 233 in 2015. Total value of deals declined from $85bn (€78.4bn) to $81bn. During the year, 15 funds raised $9.4bn, while 20 funds raised $12.2bn in 2014.
"What we see generally with infrastructure at the moment – and that includes renewable energy – is that there's a lot of money out there from institutional investors," says Andrew Moylan, head of real assets products at Preqin. "Fundraising remained relatively strong in the last year. But with the bigger assets, and ones where there is a public tender process, assets are getting quite expensive, and that is starting to have an impact on the number of transactions done. Some people are looking to just hold off at the moment."
Pricing is also affected by regulatory policy. "In 2015, there was a pronounced reduction in M&A activity," says Aaron Konrad, analyst for alternative investment funds at Scope Ratings. "In our view, and what we've heard from the market, is that this has a lot to do with high-priced assets. The regulatory framework is the main driver of this development. In the past few years, cash flows for renewable energy were very much underpinned by strong regulation fixed feed-in tariffs, but that regulatory framework has started to change."
One example Konrad cites is the German Parliament's reforms to the German Renewables Energy Act, which states that from 2017 Germany will move from feed-in tariffs to a public tender process – a pilot programme is under way. "It obviously puts uncertainty in the market and slows down the project pipeline," Konrad says.
In December, Renewable Energy Generation (REG), a company running onshore wind farms in the UK, sold out to BlackRock, citing 'adverse policy changes since the 2015 general election' as one of the contributing factors. One of the UK government's policies is to encourage more offshore wind energy.
It is one of the reasons why the £6bn (€7.9bn) UK Lancashire County Pension Fund has invested in renewable assets in Portugal, instead. The fund has partnered with EDF Energies Nouvelles to acquire a significant minority equity stake in its Portuguese wind assets. "Our most recent deal in Portugal was partly driven by the fact that their tariff was more generous than the UK," says Mike Jensen, CIO of the Lancashire County Pension Fund. "Over the last six months the UK government has been stripping renewable energy of their subsidies and tariff regimes. The Portuguese regime is very pro-renewables and provides the stable defined cash flows which we've decided we need from a liability-matching perspective."
The scheme has a target investment of 15% in infrastructure equity and 7.5% in infrastructure debt, and is currently nearly 100% invested in the renewables sector, although it expects that will broaden soon to other types of energy infrastructure. The fund's target is to invest two-thirds of its allocation directly, and one-third via funds. "It's been relatively difficult to find suitable vehicles until recently, because of fee structures, and because many active funds were US-based," Jensen says. "We wanted a balanced portfolio and decided that the only way to do that was to go direct."
Stork says the direct approach has also helped APG. "Whereas before we were in infrastructure fund investments, we have been doing more direct infrastructure investments ourselves," he says. "This increases our ability to participate in the big-ticket opportunities. At the same time, we aren't the only ones looking for these types of investments, so there is a risk of crowding out in the market. Some of the public tenders are very competitive. More institutional investors are looking for these types of investments, but supply is not significantly increasing, so that's a challenge."
Changing market dynamics
But infrastructure providers are confident that the market will grow to meet rising demand and that government policies will become more favourable as environmental planning sets in. There were $268bn transactions in renewable power generation over the five years ending in the second quarter of 2015, according to Dealogic. A report from the United Nations Environmental Program reveals that renewables accounted for 48% of new global generating capacity in 2014.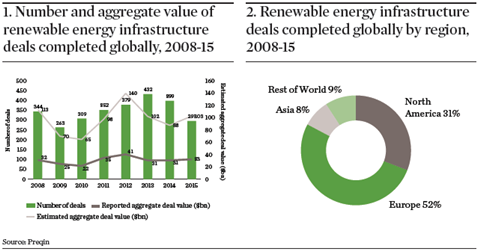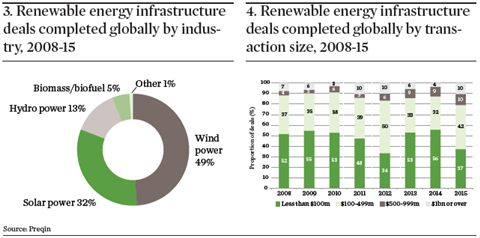 Construction and production costs also came down, making the market more accessible to investors. According to a report from the International Renewable Energy Agency, the cost of solar photovoltaic power decreased by half between 2010 and the end of 2014. Costs for onshore wind power also continued to improve.
In its September 2015 report, The Mainstreaming of Renewable Power, BlackRock makes the case that renewable power will be one of the fastest growing sectors in infrastructure in the future.
"Renewable power has become a mainstream part of the mix in most countries," says Rory O'Connor, head of European renewables at BlackRock. "Wind and solar are becoming a core and key component in a lot of countries and jurisdictions."
The low correlation of wind and solar assets to other assets is also attractive, he says. Over the past four years BlackRock has raised approximately $1.7bn in equity assets devoted to renewables infrastructure investment. It has also raised $4bn in infrastructure debt mandates, the majority of which include an allocation to renewables.
Infrastructure providers see opportunities in many different areas. Oliver Hughes, head of renewables at Oxford Capital, points out that there has been a striking lack of focus on the energy sector in the UK over the past 20 years, which will have to change. "In the UK, you are seeing a lot of coal power stations shutting down," he says. "That's not purely driven by decarbonisation; it's just that these things are past their sell by dates."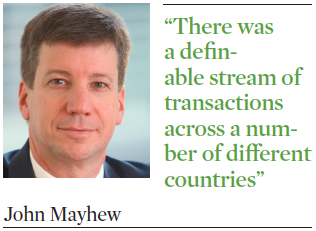 Amir Sharifi, director of Ardian, which manages or advises funds representing total commitments of $7bn, believes it is about taking a long view on technology. "The take-away for us is that now we see people in the market who are bidding just on the basis of the subsidy or the tariff for a certain amount of time," he says. "But we take the long view. We try to take all the technology that might have potential disruption or risk or opportunity and capture them in our approach."
Ardian has focused its efforts primarily in France and Italy, across wind, solar, hydro and biomass assets at different stages of project development.
John Mayhew, head of infrastructure finance at M&G Investments believes there will be consolidation in the UK solar sector. "As that happens, people will look to establish long-term debt platforms, putting in place economies of scale with large-scale borrowing platforms."
One of the big surprises last year was the attraction of offshore wind. "There was a definable stream of transactions across a number of different countries. It's an area where we expect institutional investors to put money to work during the course of the year. But there is still a limited track record in terms of seeing how risks actually develop, so how each transaction addresses that will be important," says Mayhew.
Another challenge is scaleability, warns Oldrik Verloop, co-head of hydro investments at Aquila Capital. "Scaleability for institutional investors, especially for some of the newer technologies, is a challenge. Institutional investors need to put a large-scale amount of money to work, and the legal structures and incentives need to be put in place before they can actually move into some markets."
There is also the fact that wind and solar provide intermittent supplies of power, and so any renewables portfolio would need to be broad-based, managers point out.
The legacy of COP21 is not yet clear
Infrastructure managers agree that the COP21 climate summit achieved more than was expected, but it is still to early to tell if that momentum will last, and what it will mean.
"It's a bit too soon right now to tell what the long-term implications will be," says John Mayhew, head of infrastructure finance at M&G Investments. "It's really for each government to make a decision to achieve the goals that have been set. That is likely to have implications for different parts of the renewable spectrum for different countries. What is clear is that fossil fuels are on their way out, but how each government balances the tools at their disposal is up to them."
Institutional investors know what is at stake.
Stephanie Pfeifer, CIO of the Institutional Investors Group on Climate Change, says that every estate asset owner, investor and stakeholder must recognise that they have a clear fiduciary duty to understand and actively manage environmental, social, governance, and climate-related risks as a routine component of their business thinking, practices, and management processes. "Failure to actively address these risks or, indeed, identify the related opportunities that arise from taking action to curb climate asset risk associated with real estate investments will not only hinder global efforts to address the climate challenge, but is likely to hurt long-term returns, undermine economic sustainability and reduce the calibre of the infrastructure passed to future generations."
One concrete initiative that has come out of COP21 is the Green Infrastructure Investment Coalition. Investors representing $11.2trn in assets have signed up to the coalition, the aim of which is to bring together investors, governments, and development banks to help increase the flow of institutional investor capital to green infrastructure investments around the world.
Participants want to better understand the forward pipeline of green infrastructure investments, examine barriers to capital flows and propose solutions, and shape the capital market instruments needed to ensure capital flows. "This is a way of making the COP21 decarbonisation commitments real," says Sean Kidney, CEO and co-founder of Climate Bonds Initiative. "It's a pre-sale market."
Renewable Energy: COP21 acts as a catalyst
1

Currently reading

Renewable Energy: COP21 acts as a catalyst

2