The consumption habits of Millennials means there are opportunities to succeed where traditional retail is failing. Christopher O'Dea reports
Institutional investors shopping for income in a market where many sovereign bonds are paying negative yields should take a page from the Millennial playbook – do not buy stuff, buy experiences.
Despite the headlines about the travails of traditional retailers, a fundamental change in lifestyles and retail habits means consumers are increasing their spending on dining, travel, entertainment and event services.
These services were previously delivered separately. Now retailers and property owners are bringing them under one roof to serve as the focal point for new superstores and lifestyle centres offering unique products, extravagant merchandising and high levels of customer service. The aim is to keep people in close proximity to selling space, in environments designed to increase the propensity to spend, thereby increasing the rent that can be charged.
Dining features highly on the new retail menu. In short, retail property owners are replacing the department stores that once anchored malls with a café culture catering to shoppers who frequently buy online but still want a community experience in what could be described as a sort of digital town square.
What is emerging is an age of experienced-based retail property, says Melissa Reagen, head of real estate and agriculture research at MetLife Investment Management. The potential to update property to benefit from secular changes in lifestyles and spending habits is a primary reason why retail is a bright spot in the US property market as the current market recovery enters its sixth year. In a recent paper, MetLife contends that these new lifestyle centres "are best positioned to capitalise on the shift towards experience-based spending".
While the new format is still emerging, the trend "is already starting to show up in retail property performance data", Reagen says. In five of the seven years leading up to the end of 2015, she says, quality mall and lifestyle centres outperformed other retail formats. Quality malls and lifestyle centres posted annual net operating income growth 150bps higher than non-mall retail property during that period, based on data from the National Council of Real Estate Investment Fiduciaries. Such properties also achieved a total return of 8% during that period, 290bps above other malls.
The attractiveness of high-quality malls and lifestyle centres is further enhanced, Reagen says, by their defensive positioning against e-commerce – the experienced-based nature of the goods and services their tenants offer are extremely difficult to replicate online.
The country's demographics suggest the trend will continue. Millennials spend the majority of their disposable income on experiences, Reagen says, but they also spend more on experiences relative to spending on 'stuff', such as furniture, than previous generations at the same age. That means total spending on experiences will increase as Millennials age and their incomes rise.
Perhaps best of all for retailers, Reagen says, is that post-war Baby Boomers and Generation Xers (born between the 1960s and 1970s) enjoy experiences just as much as Millennials – and they have more to spend. The ratio of spending on experiences relative to material goods began to rise for all consumers after 2008, MetLife says, as the first waves of Baby Boomers entered their late-50s – an age when spending shifts towards dining, entertainment and travel, and away from goods associated with raising children and furnishing homes.
Those spending patterns also show up in dining outlays. A recent study of consumer spending by TD Bank showed that Millennials dine out twice as often as Gen-Xers – and three times as often as Baby Boomers – but spend they spend 16% less in restaurants than Gen-Xers and 26% less than Boomers. The only categories where Millennials outdid older generations were coffee shops and to-go food, spending $80 per month on 11 visits compared with an average outlay of $67 per month over six visits.
While the relative spending of different age cohorts can help owners decide which dining format is best-suited to a given site, the message is clear, according to CBRE: retail landlords are in "a veritable food and beverage frenzy".
This is the conclusion of a recent CBRE study of the importance of dining to retail property owners, which are scrambling to shift their tenant mix from low-growth categories vulnerable to e-commerce to those that proven to drive sales of services and experiences. The dining sector reached a milestone in 2015 when the US Census Bureau reported that restaurant industry sales surpassed grocery sales for the first time in history. "As landlords scramble to attract the best restaurant tenants to their properties," CBRE says, "the result is the proliferation of new and existing restaurants taking up more and more retail real estate."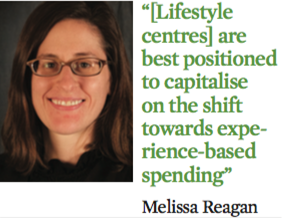 According to recent research from JLL and customer loyalty consultancy Coniq, food-and-beverage operators are expected to increase their share of the retail pie to at least 20% of leasable retail space over the next decade – from 15% today. The reason is simple, says JLL: customers who eat during a shopping centre trip on average roam the shopping venue for 27 minutes more than non-diners, and spend 18% more in overall transactions. "Food is now recognised as a key ingredient to increase dwelltime in shopping centres."
Echoing MetLife's view that experience sales are resilient and hard to replace with online channels, CBRE says the there is "mounting evidence" that growth in restaurant sales stems from fundamental lifestyle changes rather than cyclical trends. The restaurant segment fared better than any other retail category since the 2008 recession, CBRE reports. In 2009, while overall retail sales fell by 10%, restaurant sales fell only 1%, and restaurant sales growth far outpaced that of its retail counterparts after the recession. In 2015, food and beverage service sales were 37% higher than their pre-recession peak – the greatest jump of any retail category.
Retailers and mall operators are betting that beefed-up dining options will continue to boost sales even at the highest end of the retail market. Restoration Hardware (RH), which pioneered the model of selling luxury home furnishings that were once the preserve of designer showrooms, recently opened 70,000sqft superstores in Chicago and Denver. These extend the boundaries of experience services while blurring those between dining, retail and entertainment to create lavish venues that borrow the natural light and lofty ceilings normally associated with creative office space.
Its new Chicago flagship includes a hat trick of au courant dining options; a coffeehouse, a wine bar and posh American grill; as well as a music venue. All three are located in a street-level atrium crafted into the Three Arts Club building, a historic 101-year-old structure that served as a residence for women in engaged in music, painting and drama, then a cultural event space until vacated in 2003.
For its new store, RH fully restored the building, retaining barrel-vaulted period ceilings and re-opening a long-shuttered grand staircase to admit natural light from the rooftop conservatory. The eponymous Café provides the dining lore that has become de rigeur for lifestyle eateries. According to the urban legend developing in local Chicago media, Restoration's CEO met the proprietor of Chicago restaurant group Hogsalt through Thomas Keller, the chef who founded Napa Valley's The French Laundry, the mecca of the farm-to-table tasting menu, itself located in a building on the US National Register of Historic Places that once housed a French steam laundry. After experiencing all that, shoppers can be forgiven if they mistake the atrium with the main event – the 70,000sqft of luxury home goods spread over six floors of extravagant displays.
In Denver's Cherry Creek Shopping Center, RH replaced the typically windowless box of Saks Fifth Avenue department store with a new entrance composed of 13 double French doors, each 9ft tall, which integrates the 1m-plus sqft of mall space with the surrounding neighbourhood. Cherry Creek itself is transforming, from a district of retail boutiques in two-story walkups to an urban live-work-play area defined by glassy hi-rise office, hotel, and apartment property. More than 1,400 residential units under construction or planned, which could add 3,000 new residents over the next several years.
Alhough popular, these new retail formats carry risks for property owners. Restaurants, in particular, have a notoriously high failure rate, according to CBRE, and property owners must contribute substantial capital to outfit spaces for restaurant use. Some property owners, they say, forego immediate repayment of buildout costs or keep base rents low in exchange for an ownership stake in the restaurant operation. "There's a move toward financial partnership rather than traditional tenant-landlord relationships," said Melina Cordero, CBRE's head of retail research in the Americas.
Such partnerships give a property owner a share of restaurant profits even after the initial investment is repaid, which provides an owner a return on its assumption of risk. "That's something that landlords are going to have to be open to if they are pursuing some of these categories," Cordero says. "In many cases, the customer draw generated by these food-and-beverage categories and the atmosphere they foster make the investment worthwhile."
Retail: Europe - How cities overtook countries
1

2

3

Currently reading

Retail: US - Dining out on experience