Regional cities, often in the shadow of London, have been pushing hard to attract and expand investment since the Brexit vote. Mark Faithfull reports
Many of the UK's regional cities had to reinvent themselves after the dramatic and sudden decline of manufacturing in the 1980s, especially in the industrial heartlands of the North and Midlands. That transformation required radical rethinking and has led UK cities such as Manchester, Liverpool, Leeds, Newcastle and Birmingham to use retail as a catalyst for change.
There is a lot of talk about the negative prospects for retailing in an age of consumer caution, the rise of the 'experience economy' and multi-channel buying. But urban regeneration programmes will rarely take place without addressing the city centre retail provision and the rejuvenating impact of fresh and relevant retail destinations.
But development has been thin on the ground, as have active transactions, making the UK a difficult place to price major chunks of retail real estate. Identifying fair value has been further complicated by the whirl of contradictory predictions about the impact of Brexit.
There are planned retail projects in Oxford, Edinburgh, Barnsley, Hull and Sheffield, among others, plus a slew of local authority-backed schemes as councils get impatient about long-delayed private investment projects. Meanwhile, government aspirations for a 'northern powerhouse' and promises of infrastructure investment, led by the proposed high-speed railway line HS2, promise to improve connections between regional cities and London.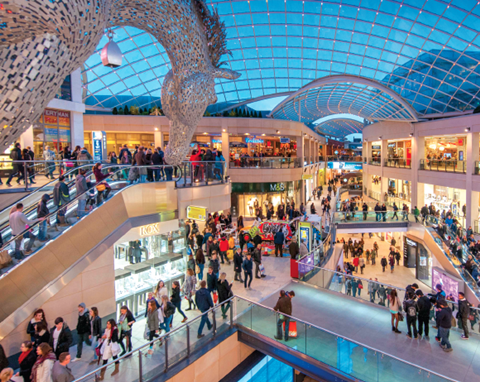 But the UK's planned departure from the EU – and a general election in June – means more uncertainty. As David Inskip, director, UK research at CBRE Global Investors, reflects: "Brexit is going to be a theme for 2017. Although the economy has performed better than expected, and that's been positive in general, risk does lead to business uncertainty and that is bound to impact investment and hiring."
Despite these challenges, Inskip believes the level of real estate development has lagged requirements. And this may prove to be the saving grace for many retail-led locations while markets await the longer-term impact of Brexit.
"The UK's major regional cities have all enjoyed a strong five years – notably Manchester which was the first to use its devolved powers," he says. "On the flip side, that has meant more development than many of the other cities, where supply constraints should mean they remain stable. That said, there are no signs of over-supply in Manchester."
He adds: "Another area where supply is limited is Bristol, which could enjoy a strong 2017. The same is true of Edinburgh, although the political situation and the prospects of another independence referendum are already at the forefront of investors' minds."
Two of the cities that have lagged the general regional upgrade also have major plans underway. In Nottingham, Intu is redeveloping two shopping centres, while Sheffield City Council and Queensberry became strategic development partners for the Sheffield retail quarter in June last year. The scheme will unite key retail areas in the city centre, including The Moor (see Case study: The Moor, Sheffield). Combined with Meadowhall, it will make Sheffield a top 10 UK retail location, says Paul Sargent, head of Queensberry.
He insists that the issue is not finding overseas investors but rather finding suitable investments for them to place capital. That, in part, is because of the focus on London and the south east, he says, stressing that the challenge is to encourage inward investment into markets that foreign investors have so far ignored.
One clear change in the UK's approach is that cities and regions are combining as strategic alliances, trying to benefit from greater critical mass. This was especially apparent at the recent MIPIM event in Cannes, France, where Leeds and Bradford came together, as did the various authorities in the Midlands. At the heart of this area is Birmingham, which has worn the mantle of the UK's second city more like a yoke than a crown for much of the past few decades. However, retail revitalisation of the Bullring, Grand Central and The Link has given the city a new retail and leisure heart and other sectors are catching up says Ian Stringer, regional senior director, GVA Bilfinger.
"A lot is happening in the city," he says, "not least, the upcoming relocation of the HS2 offices from Canary Wharf, plus the arrival of Deutsche Bank, and HSBC choosing to headquarter its retail banking in the city."
Stringer believes that more political autonomy and co-operation in the West Midlands plus the upcoming Mayoral elections – for which former John Lewis managing director Andy Street is a candidate – should help maintain that sense of purpose. He points to a "feeling of confidence I can't remember in a very long time", as retail and commercial development is supplemented by an increase in residential schemes.
Significant investment is being pushed through across the Midlands. Coventry City Council has chosen London-based Shearer Property Group to deliver the City Centre South mixed-use development. Shearer, which has already created a restaurant space at Cathedral Lanes in the city, will lead the £360m (€430m) development, which will transform a large part of the city centre. The 818,000sqft project will include a major department store, three flagship stores, 50 new retail units, a hotel, cinema, restaurants and residential units.
In March, Derby City Council exchanged contracts for the purchase of the former Debenhams building on Victoria Street and six related properties on Green Lane and Macklin Street. It also exchanged contracts for the sale of Eagle Market to retail developer Intu as a separate transaction. The purchase of the 110,000sqft former Debenhams building, along with other key pieces of real estate, will act a catalyst to regenerate the Becketwell area of Derby, through a public-private partnership.
Derby City Council started consolidating land in September 2014 with the purchase of Duckworth Square. Deputy leader of the council, Martin Rawson, who has responsibility for regeneration, says: "This area has been crying out for modernisation and development. There have been years of market failure to revive this part of the city due to fragmentation of property ownership and other factors, the council is now taking the lead to rectify these problems in order to stimulate investor confidence."
Such optimism is supported by the latest UK real estate market outlook from M&G Real Estate entitled 'Life beyond London', looking at regional opportunities.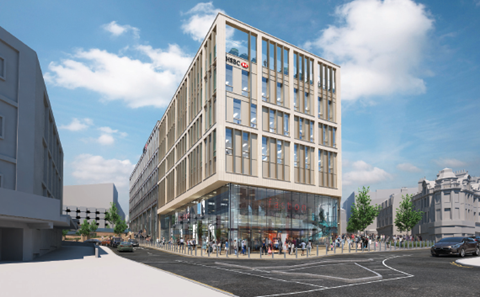 "We see a lot of opportunity outside of London, specifically in the large regional cities such as Manchester, Birmingham and Bristol. Occupiers in these cities benefit from a skilled workforce, driven by globally-recognised universities, cheaper labour due to lower living costs relative to the capital, and more affordable rents for commercial space," says Richard Gwilliam, head of property research at M&G Real Estate.
In the towns and cities below the top tier, the picture is much less rosy and Revo president Giulia Bunting has called on the UK government to push retail up the political agenda and recognise its importance to the economy. Bunting – who is both president of the UK shopping centre organisation and planning director at GL Hearn, says that reforms, in particular of business rates, are needed to encourage more overseas retailers to set up stores in the UK.
Revo, which has been advocating strategies to rejuvenate high streets, may also rethink its approach to government after "failing to gain much traction", Bunting says. Recent research by Revo shows that overseas retailers generally remain very positive about prospects in the UK, but that business rates and inflexible planning around building use are deterring some potential market entrants.
"We are seeing a lot of mixed-use within projects and even individual stores and yet the planning is often too rigid to reflect this transformation in the way retailing is moving," she says. "We would like to see fresh approaches which recognise the way retail has changed."
Yet, despite the challenges, the UK retail market remains a safe haven for many investors and an attractive opportunity for overseas retailers, says Peter Cole, CIO of listed property company Hammerson. Conceding that the next few years "might be a rough ride", he predicts that optimism about the market and performance levels that compare well with the US and much of Europe give cause to be positive.
"After the shock of Brexit, there does appear to be a 'let's go for it' attitude from the UK government, cities and companies," he says. "At the moment there seems to be good demand for UK retail property from overseas."
Case study: The Moor, Sheffield
Sheffield city centre has historically had a pretty feeble retail offering. Its sole shopping centre, The Moor, was built in the 1960s.
The Moor looked tired even before the giant Meadowhall shopping centre was built on the outskirts of the city in 1990. The 1.5m sqft development scared
developers off trying to improve the city centre's offering. The Moor spent the subsequent 20 years in quiet decline. But that is now changing.
After seven years of planning and redevelopment, The Moor is drawing consumers back to the city centre. Footfall over last Christmas was 14% higher than the previous year and visitor numbers were up 7.2% in 2016. The site always had potential. It is large, at 25 acres, and is close to all of the major transport hubs in the city.
The city itself is the eighth largest in the UK, and the area around The Moor has been going through a gradual regeneration over the past decade.
But traditional bricks and mortar retailers are facing unprecedented challenges. In a recent paper, 'No longer the mall the merrier', we highlighted some of the considerable challenges that shopping centres in particular face.
Technology is taking more retailing away from physical shops. Demographics is changing retail: young people are more indebted, have less disposable income and spend more online; older people have relatively more wealth but spend less on retail. Most retail locations are changing with these demographic shifts.
The paper concluded that the historically strong performance of shopping-centre investments is unlikely to be replicated in future. In such an environment, the difference between quality shopping centres and the rest will be stark.
Three key factors that identify whether a shopping centre might be a sensible investment are whether it offers convenience or destination status and the strength of competing retail locations. It needs to be a place where consumers can buy basic goods and services easily and one that draws them in to spend the day shopping, eating and consuming.
Aberdeen acquired The Moor in 2010 and the first phase of the redevelopment has given the site convenience and destination status. It also has an increasingly dominant position in the city centre.
Another part of The Moor's success so far has been an understanding of its catchment area. It caters to the city's large student population by offering affordable retailers. Meanwhile, the centre is a bus terminus, so offers convenience shops, such as grocery retailers.
The second phase of the development is nearly complete. It will include a brand new nine-screen cinema and restaurants catering to families, improving on what was available in the city centre before, drawing families into the area.
The second phase will create flagship stores for Next and Primark at the heart of the development, which will add to the existing Debenhams store that anchors the development.
But successful shopping centres now need to have unique features that keep consumers returning. Phase one of the redevelopment included a new market hall for the popular Moor Market. A conscious effort has been made to retain well-regarded independent operators on the streets near the main shopping street. A pedestrianised thoroughfare will be used for regular events. All of these measures give the development the feel of a destination.
Phase three will include the affordable fashion retailers H&M and New Look. A bowling complex will complement the cinema and restaurants for families wanting a day out. Purely retail-focused shopping centres are more susceptible to losing revenue if sales shift online. Offering leisure and entertainment to consumers is a defensive measure against the growth of e-commerce. It creates a development where people want to spend their leisure time.
The growth of e-commerce is enormously disruptive to traditional bricks and mortar retailing. It puts severe pressure on the amount of profit that is made from traditional stores and will hold rents on shops down in many locations. Advances in technology are ingraining behaviours in consumers that will be difficult to reverse. It is vital that retail property owners adapt to this structural change and offer experiences that consumers cannot get online.
Shopping centres with a mix of retailers, experiences and services will continue to play an important role as destinations where consumers want to spend time. In turn, retailers and leisure operators will be eager to trade from such destinations. Units will be easier to re-let and tenants will be more likely to renew leases in shopping centres with large numbers of regular visitors. As investments, they can therefore offer regular and durable income.
But shopping-centre owners must continually invest to encourage consumers to return if their centres are to stay successful. The Moor shows that shopping centres that unlock the potential of an area, and adapt to the changing face of retail, can thrive for consumers, retailers and investors alike.
Graham Porter is head of UK property research at Aberdeen Asset Management
Retail UK: A land of powerhouses?
1

Currently reading

Retail UK: A land of powerhouses?

2

3

4