Europe's shopping landscape is evolving at bewildering speed due to the challenge of e-commerce, which is altering retail markets and substantially escalating location risk. To help identify the potential winners and losers among cities in this new world of retailing, Redevco has devised an analytical model that measures 'soft factors', such as the concentration of points of interests in a location for visitors and the proportion of creative professionals in a population. These may be less tangible ingredients in the urban mix, but they are nevertheless increasingly vital in determining a city's relative quality and attractiveness alongside traditional benchmarks.
We have been able to show with our City Attractiveness Tool that the differences between rent levels and yields on retail properties in hundreds of European cities can be explained to a significant extent by the interaction of these soft-factor variables. The model allows retailers and real estate investors to consider a far greater range of criteria when making investment decisions, notably as they compare competing locations and assess the likely future development of retail markets.
The City Attractiveness Tool uses 19 different indicators. These fall into four main categories: population, economy, retail property market and city quality, which are weighted to derive a city's ranking. The population category, for example, not only takes into account the number of residents, but also the rate of growth in inhabitants. In the property market section, vacancy, prime rent and prime yield are important indicators, but we also look at how mature the city is in terms of the number of international retailers represented. In the economy category, the model also factors in the economic structure of a city as some urban centres are, for example, more vulnerable to developments due to their dependency on one industry.
The model analysed nearly 800 high-street locations in Europe and 1,450 regions within 25 countries, grouping them into five 'quality baskets', ranging from 'excellent' to 'poor'. The analysis identified a total investment grade universe of around 200 European cities.
We found through statistical analysis that, besides a strong population base and economy, soft factors are of significant importance in explaining the difference in retail rent and yield levels between cities.
Another interesting finding was that changes in rental value and yield compression are strongest over time in those cities that have a higher number of historic points of interest. While there is an obvious strong link between the size of an urban area and the number of historic attractions that a city is likely to have, the relationship holds true for those smaller centres with disproportionately high numbers of points of interest that attract more of shoppers.
Maastricht in the Netherlands is an example of this phenomenon. The city is ranked 19th in the country in terms of population size and is located in the economically struggling and depopulating region of South Limburg, yet it ranks as 'very good' and is in the top 10 of Dutch cities in the City Attractiveness Model. The difference is explained by Maastricht's appeal as a tourist destination, which also allows the city to punch above its weight as a magnet for international retailers.
Top 20 city retail locations
London (above) heads Europe's top 20 most attractive retail locations, followed by Paris, Munich, Hamburg, Vienna, Berlin, Cologne, Madrid, Amsterdam, Milan, Düsseldorf, Frankfurt Stockholm, Rome, Stuttgart, Copenhagen, Barcelona, Prague, Zürich, Lyon.
The City Attractiveness Model also enables us to use traditional measures to project what the expected retail rental levels of a city might be and then explain the deviations from these through the interplay of the soft-factor variables. Applying this overlay to the high streets of Cannes in the South of France, one would expect an average retail rent of €2,297 per sqm based on indicators like the size of its population and rental values in comparable centres in the region. However, the town's allure for the very wealthy and international congresses, like the film festival and MIPIM, mean that average retail rents there are in excess of €5,000 per sqm.
A city's population and the fundamental ingredients of its attractiveness generally evolve slowly over time, so it is economic and retail property market indicators that signal the more rapid changes that occur from year to year.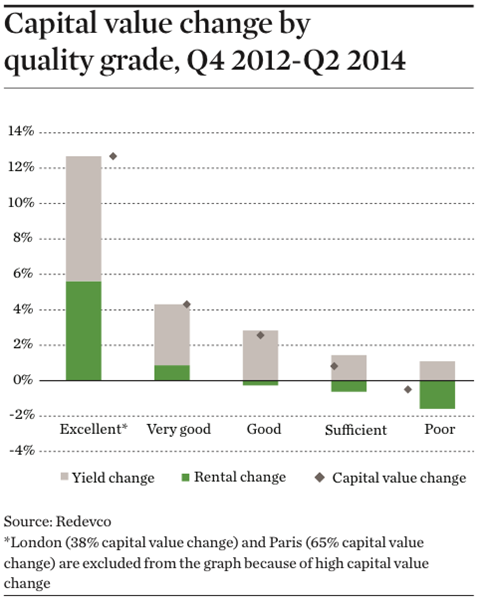 In Germany, a stable economy and strong investment demand have led to solid performance for retail property. As a result, top-tier locations have become relatively expensive, pushing investors up the risk curve. In response, they have been looking for quality outside the best locations, which has had a positive effect on the performance of those other, less attractive, but still 'good' cities in the Redevco rankings.
Berlin has also enjoyed very strong increases in city quality indicators in recent years, despite a relatively weaker economic base compared with some other high-ranking German cities. This can be seen in the very high quality of the city's living environment, its young population and fast-rising house prices. Media companies in particular have flocked to the German capital, demonstrating the powerful influence that hubs of creative professionals can have on the vibrancy and cultural life of a place.
London and Paris hold the two top spots in Redevco's city attractiveness rankings, reflecting their status as global retail destinations commanding the highest European prices and rents. Over the past two years, around 90% of 'excellent' cities have remained in the top 20 rankings (table 1), perhaps shifting position slightly without disrupting the general order.
For real estate investors and retailers with long-term investment horizons, it is important to identify those cities on an upward trend or in the process of decline. This means understanding how different variables are driving the overall market picture, particularly in the margins of the quality groupings.
Lisbon, for example, is a city with 'very good' quality and pricing indicators, but is still outside the top group of European retail destinations. Portugal's economy has been weakening, due to – among other reasons – the fact that international companies have been leaving the country. This has impacted on Lisbon – a market where Redevco might consider an investment, but would certainly take no location risk.
Only European cities with excellent and very good ratings have shown, on average, both rental growth and yield compression over the past two years. While all very good and good cities have shown yield compression, only excellent cities have also shown significant rental growth.
Limited improvement in rents and higher prices is a signal of a market overheating, which means that the careful choice of investment location and the availability of a wider range of analytical tools to facilitate this are even more critical today than ever.
Marrit Laning is head of research and strategy at Redevco